Creating this beautiful and stylish Guest Bedroom Makeover with Better Homes and Gardens was EASY!
Our guest bedroom is a challenge. Not only is it small, but it has limited wall space due to the 2 large windows.
There's not a lot of room for extras, so I wanted to redecorate and bring all the attention to the bed! I love that old brass bed. It was my husbands when we got married, I just wish it was larger than a full, or we'd still be using it. If I didn't love the style of this old brass bed so much, I might even try making a tufted headboard like my friend Amy. I could do that, right?
It's all about making the bed look like a cozy retreat! You want your guests to feel welcomed and at home.
You can imagine my excitement as one of the new Better Homes and Gardens Bloggers, because that meant I got to create the look I wanted!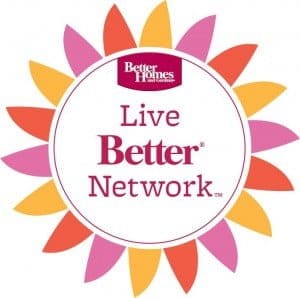 The last time I made this room over, I created a more masculine feel. All because those drapes were a bargain I couldn't pass up ($7). I already had the duvet cover and it blended just fine. But it wasn't me.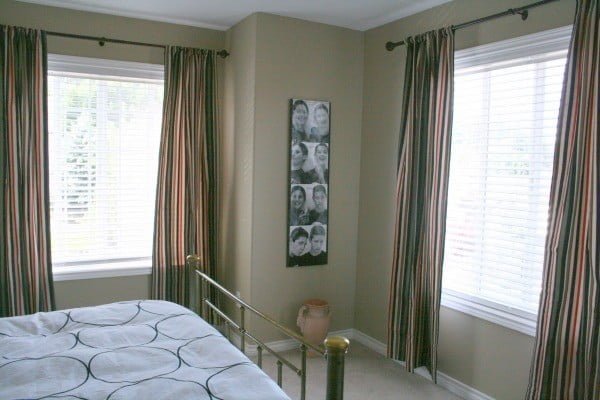 The room just never had my stamp. It had nothing to do with my personality except for my love of bargain shopping. I knew I'd eventually create a new look and I'm so glad I waited.
I am in love with all the Better Homes & Gardens products found at Walmart. I chose a more feminine comforter along with quilted shams for a pop of color.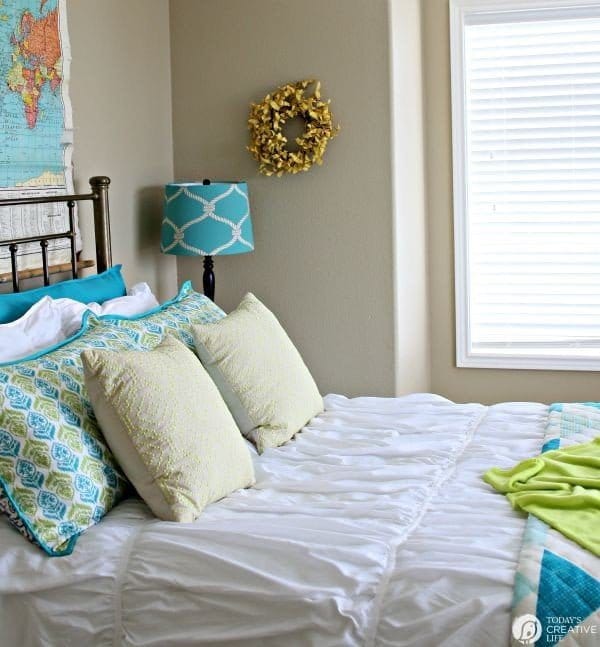 The simple ruching of the BHG comforter fabric makes it look so stylish. The fabric is to die for! It's so soft and inviting.
The BHG shams have a matching quilt I've ordered from Walmart.com since my local store was fresh out of the size I needed. I always forget that ordering online is a great option. My local Walmart had a king, but not a full size, so online to the rescue. For now I'll use a quilt with the same color scheme.
I love both sides of the shams. The greenish side is shown above and the bluish side is shown below.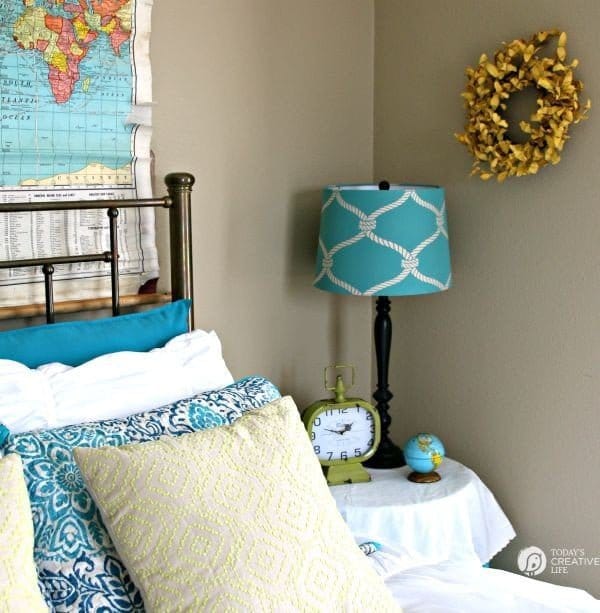 If you're trying to personalize a space on a budget, Better Homes and Gardens at Walmart has great style choices for any room. Furniture, frames, mirrors, candles, wall décor, pillows, and curtains. With so many choices, you really can shop the look you love! With the holidays coming, this is the perfect time to personalize your home.

I personally think you can change the entire look and feel of any room by just adding new throw pillows! Perfect if you're on a tight budget. Here are just a few of my favorites below.

Right in the middle of grabbing a few photos, my pup Maybelline decided it was nap time.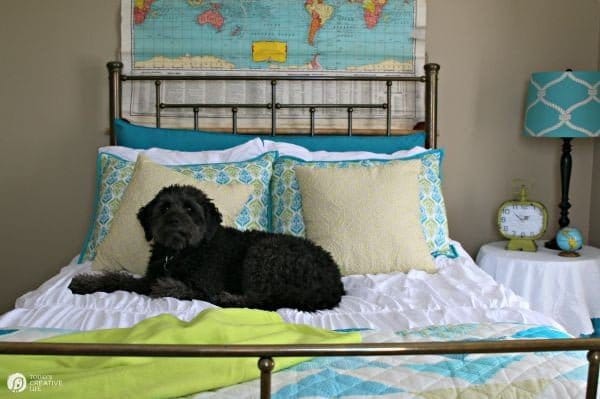 Good thing she's a non shedding dog. (She's a Multi-Gen Australian Labradoodle)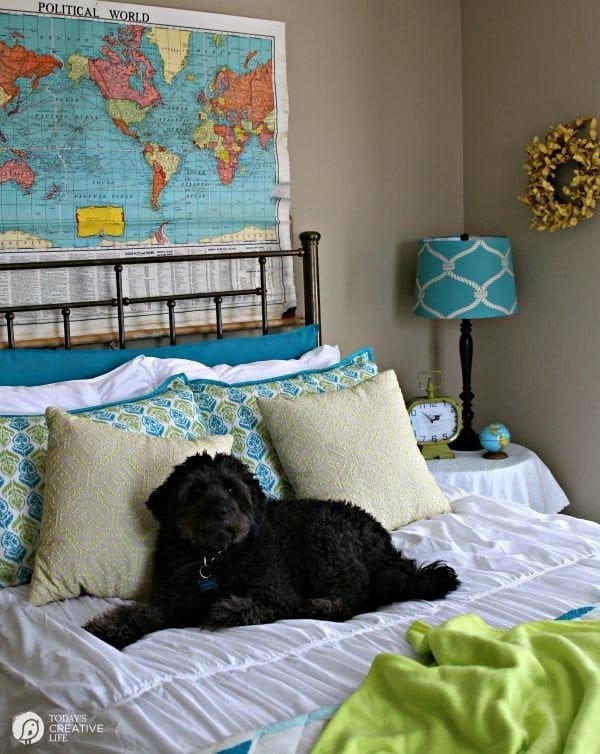 And it's a good thing she's so dang cute. How could I kick her off? It's obvious she approves of the new look! It's bright, fresh and full of color! Much more ME!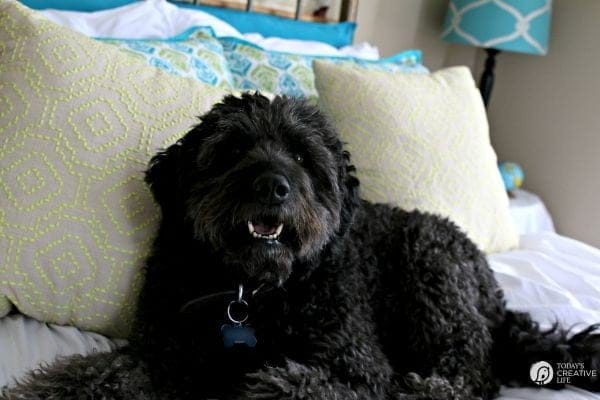 She's a true bloggers dog…….knowing just when to smile.
Looking at my photos, I realized I forgot to add back my Framed WiFi Password Printable and Be My Guest Printable. It's the little touches!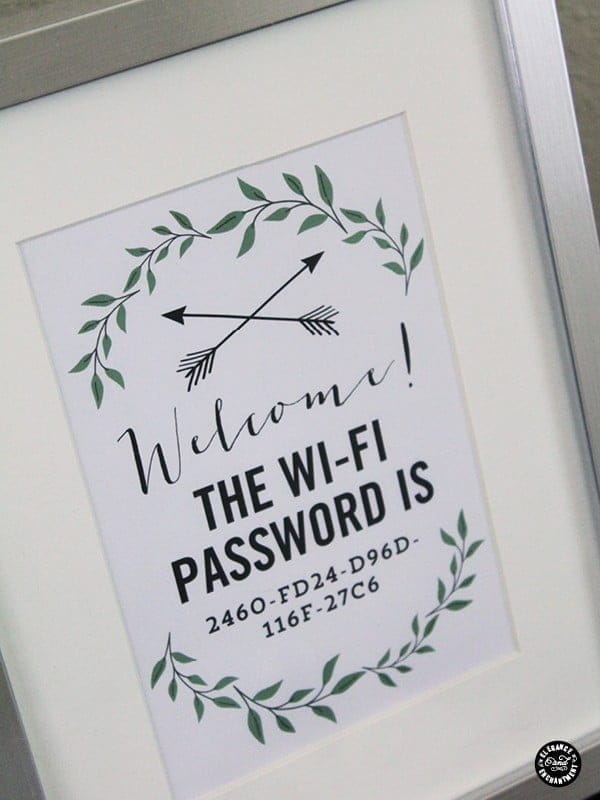 Check out the Better Homes and Gardens collection at Walmart.com and tell me your favorite item!
This is a sponsored post in collaboration with Better Homes and Gardens at Walmart.com. As one of the bloggers for the Better Homes and Garden's blogger network, I was compensated for my time. All products chosen and all opinions expressed are 100% mine.