The holidays are filled with holiday dinners and a lot of food. When there's food, there are stains. This Holiday Stain Guide will teach you how to remove stains from all those holiday-rich foods like red wine, gravy, and egg nog, as well as other holiday stains like tree sap, lipstick and candle wax. This is a downloadable digital book with everything you need to learn what to do immediately and then after the party.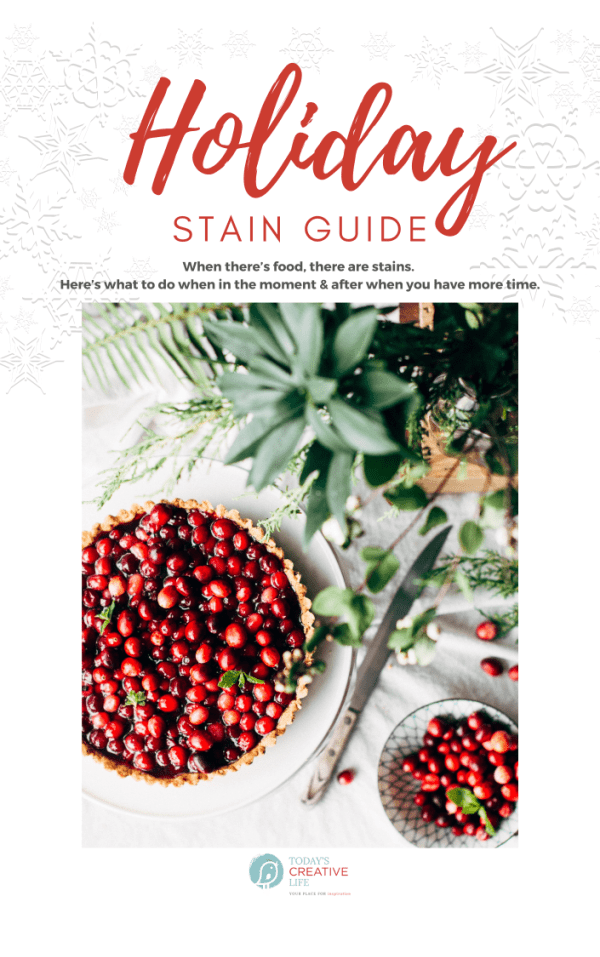 Holiday Stain Guide – How to Remove Stains
Don't let a few stains ruin enjoying your favorite meals and treats. Some of our holiday favorites can leave the nastiest stains but I found this list in one of my old Good Housekeeping magazines and have used it yearly.
When a stain is caused by a guest in our home, it's important to be a good host and not allow the guest to feel more embarrassed than they are. People over perfection is a mantra that allows for more enjoyable gatherings.
Years ago, my father-in-law knocked over a full glass of red wine on my cream-colored carpet. He felt horrible and then it didn't help when others were also shocked and horrified. As I jumped into quick action to clean it up, I remained cool as a cucumber, reassuring him that it wasn't a big deal, it will clean up, and handed him another glass of red wine. One of my house guests pulled me aside and asked how I could remain so calm and I simply told her that his feelings were more important than my carpet.
Here's what to do when in the moment and after when you have more time.
Simple Rules for Stain Removal
BLOT, DON'T RUB – Dabbing draws stains out of fabric and won't damage it the way rubbing can.
USE AN ABSORBENT CLOTH – Place underneath the fabric to "catch" residue as stains fade and keep it from spreading. Paper towels work great for this.
TRY THE CARPET TRICK – Once a stain is gone, cover it with a stack of paper towels and place a heavy pot on top. Leave for 24 hours. The towels will soak up stain residue that travels up the fibers as they dry.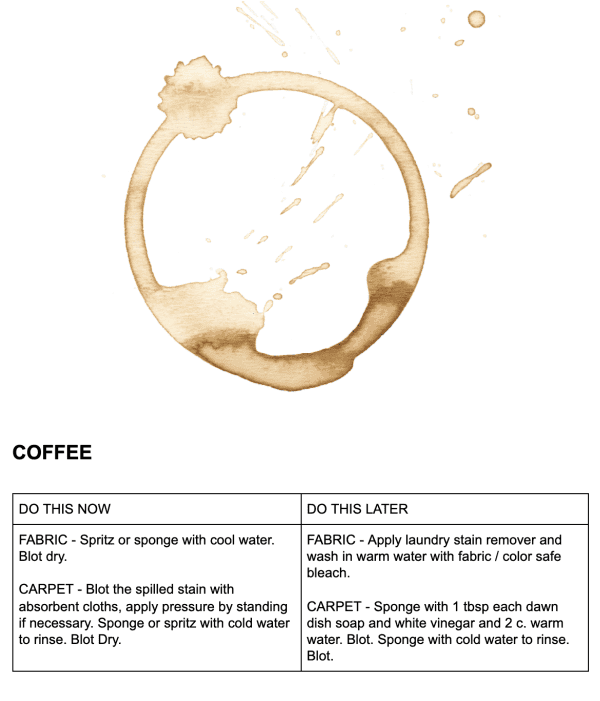 How to Remove Coffee Stains from Carpet or Fabric
This Holiday Stain Guide has each holiday stain listed with what to do now and what to do later for both fabric or carpet. Having this guide ahead of the festivities will allow you to be prepared and ready so you're not caught off guard.
How to Remove Gravy Stains from Carpet or Fabric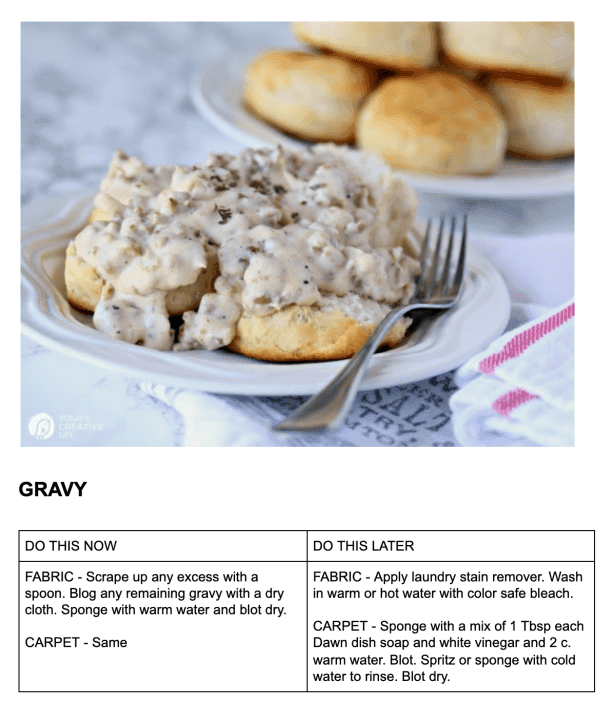 There is nothing better than Biscuits and Gravy for a holiday brunch, but someone (usually me) is going to drip a glop of gravy right on their shirt. Fatty stains are often the hardest, but with quick thinking, you can tackle them now and later.
Stain Removal Tips & Tricks
In addition to gravy and coffee, there are many more stain removal tips for all those holiday stains.
Butter – The butter is plenty during holiday gatherings. Eat freely knowing you have a plan for butter stains.
Tree Sap – Making wreaths, cutting the tree, making garland… tree sap is the WORST! These tips will share how to remove stains from tree sap.
Candle Wax – It's going to drip on your table cloth, the mantle, or onto your carpet. Don't panic! This stain guide will teach you how to get candle wax out of fabric and carpet.
Chocolate – This is one I could use year-round!
Red Wine – Red wine will be dripped or spilled. I share how to get red wine stains out of your carpet with no tears.
Lipstick – Hopefully, if you get lipstick stains, they are in fabric and not your carpet! 🙂
Cranberry Sauce – Those deep red stains can be scary, but this holiday stain guide will teach you how to treat cranberry stains.
Egg Nog – This high protein stain is easy with the tips found in my holiday stain guide.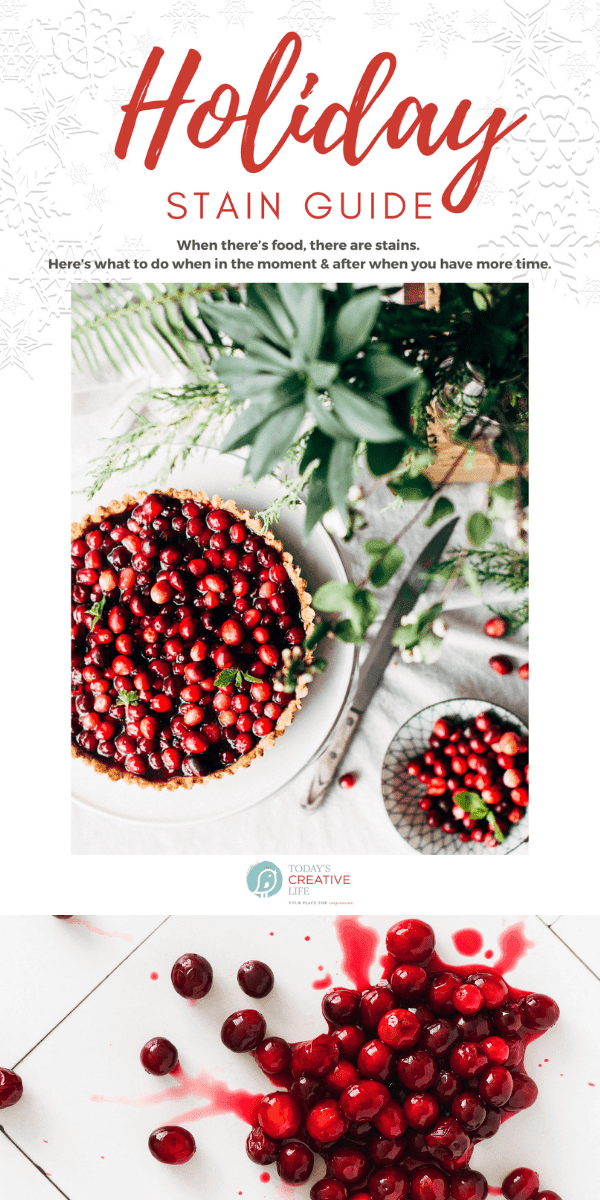 Purchase Holiday Stain Guide Here
Holiday Recipes
Holiday Recipes for homemade gifts, holiday parties and potlucks.