Create a function portable Homework Station packed with all the school supplies that are essential for getting school work done!
It's Back to School time for many of you. Which means homework battles for most of you. I thought I'd share my mobile work station again to help ease the pain and possibly create healthy study habits. This worked like a charm last year and I fully intend on using it again this year.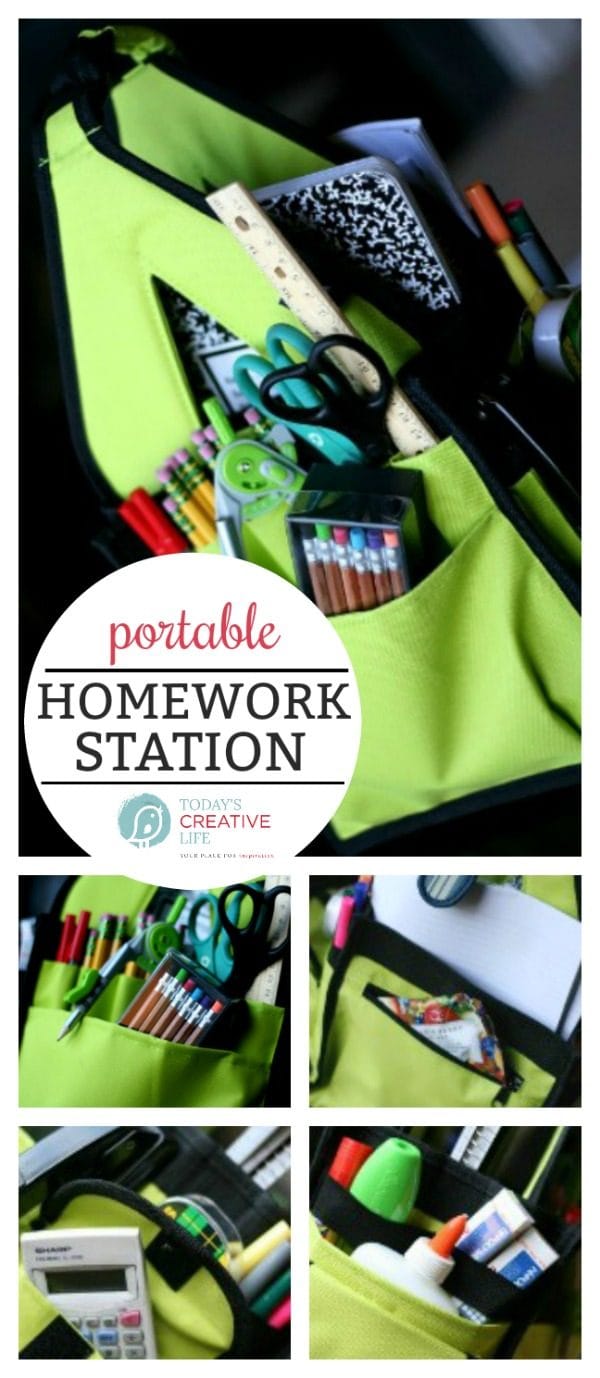 How to set up a Portable Homework Station
Depending on what grade your child is in, will determine what you'll need to put into your portable homework station. Stuff it full of all the school supplies for homework on the go, or at home.
My son can pick up this portable homework station, making anywhere his study area. He takes it where ever his 13 yr old body wants to flop down to study and tackle his homework. It's great for on the go too. Bringing this along for long rides in the car work nicely. It has everything he needs. I even stuff a few snacks inside with a bottle of water. If you are wanting to set up a designated spot for homework, check out these Homework and Homeschool Stations.
The craft tote is from Blue Fig, however this one from Amazon is nice too.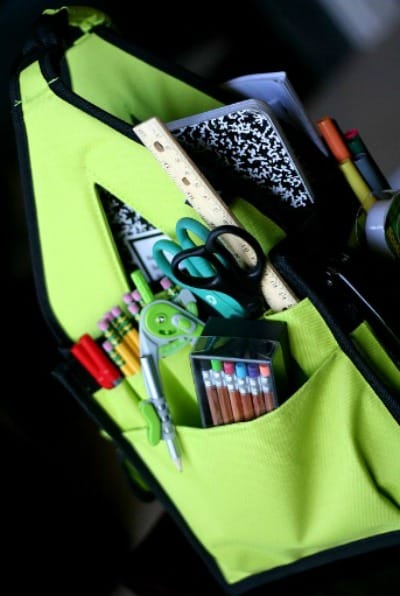 I've packed it with everything and anything I think he may need. This cuts down on the questions that contribute to stalling.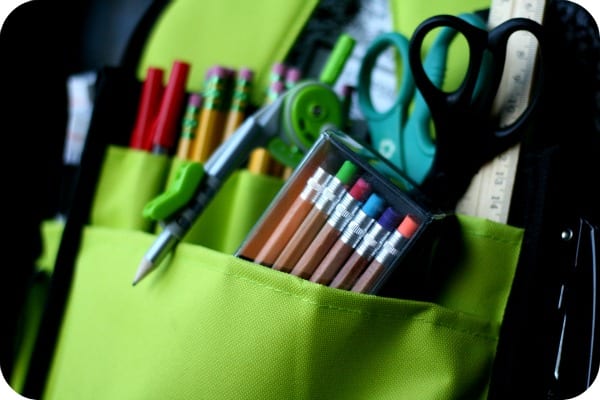 Mobile Work Station Supplies
Using a crafters canvas caddy gave me plenty of room(4 sides) to stuff this baby without taking up a ton of space in my home. This easily fits in my office closet when not in use. It also matches my sons bedroom……..and we all know how important that is.
Side 1: Pencils, pens of all colors, colored pencils, scissors, compass, protractor, ruler.
Side 2: Stapler, tape, colored markers, calculator.
Side 3: Pencil sharpener, glue stick, glue, erasers.
Side 4: Snacks
Inside: Paper, composite books, notebooks, graph paper
Having this tote fully packed means that I also know where to find scissors, tape or other household items that seem to always go missing. You could even place one of these printable lunch notes inside for fun!
If you have more than one child, they could of course share, but each could have their own color with items for their own grade.
Here's to a successful school year!
Edited: It's now 2017 and my son is starting his freshman year in college. I'm hoping the early study habits we tried teaching him will show! I should send him a portable homework station in a care package.
Back to School Ideas
Back to School ideas for a creative and smooth year.
Free printable lunch box notes.
Fun labels kids can customize.
Print a few of these ahead of time for smooth mornings.
Use this method to make reusable lunch bix notes.
Simple and nutritious after-school snacks.
This homework station makes it easier for kids to focus.
Get the kids ready with a fun game of charades.
Get that first day photo with these printable pennants. The year is updated.
Fill in the blank with these adorable first day printables.
Simple and clear start of the school printables!
Kids will love opening their lunch and finding one of these!
Print your own message on their lunch sack!
Print a few of these off for the whole year!
You'll never run out of sweet messages with these lunch notes!