The perfect hostess gift doesn't have to be elaborate. Finding something from your kitchen, your yard, or even from your wine stash is great. A simple gesture is often enough.
We were invited to the home of one of my husband's supervisors. Although I had heard her name several times, I had never met her or any of the other guests. I wanted to take a hostess gift, a simple gift, yet thoughtful. All my Cream Cheese Apple Bread was gone and I've heard you shouldn't take flowers, because the hostess is often busy and bringing flowers adds more work…..since now she has to search for a vase. Although I love fresh flowers and don't mind grabbing a vase.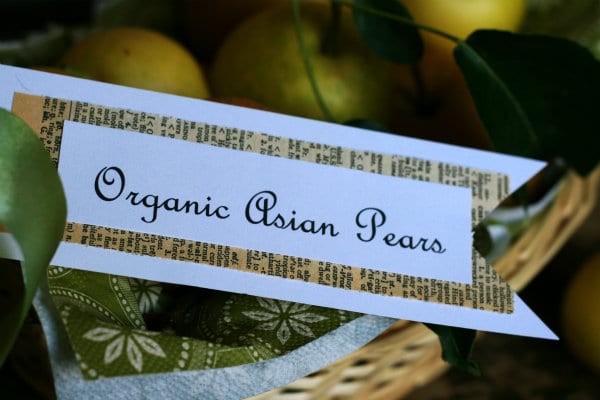 Simple Hostess Gift
That's when I thought of our over abundance of fruit in our own back yard. After searching my stash for a spare basket, I created a simple but cute tag with a pretty ribbon. I lined the basket with a pretty paper napkin left over from past parties. Done!
Gifts don't always have to cost money or take a lot of time to be thoughtful.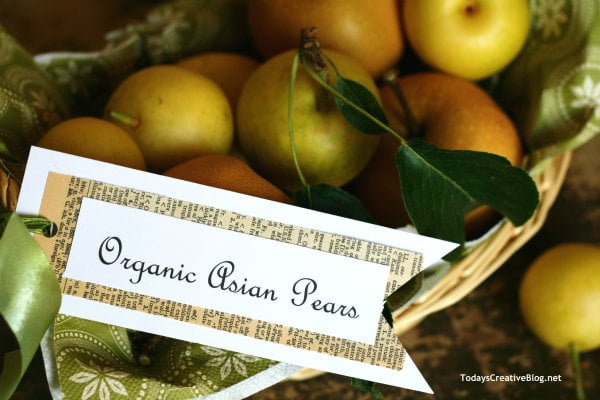 The BBQ was enjoyable and I think she liked the gift.
Items needed:
Basket- Any type of basket will work. I'd stick a smaller variety.
Cardstock
Patterned paper or and old book
Festive napkin
Ribbon
Gift item – Fruit, wine, fresh cut flowers, jam, etc… Think outside the box.