It's certainly that time of year where gatherings are happening and parties are being planned. Nabisco has asked me if I'd like to share one of their recipes with you, and a few of my own party tips. Of course, I would love too! I chose this Hot Apple Pie Dip Recipe!
Hot Apple Pie Dip Recipe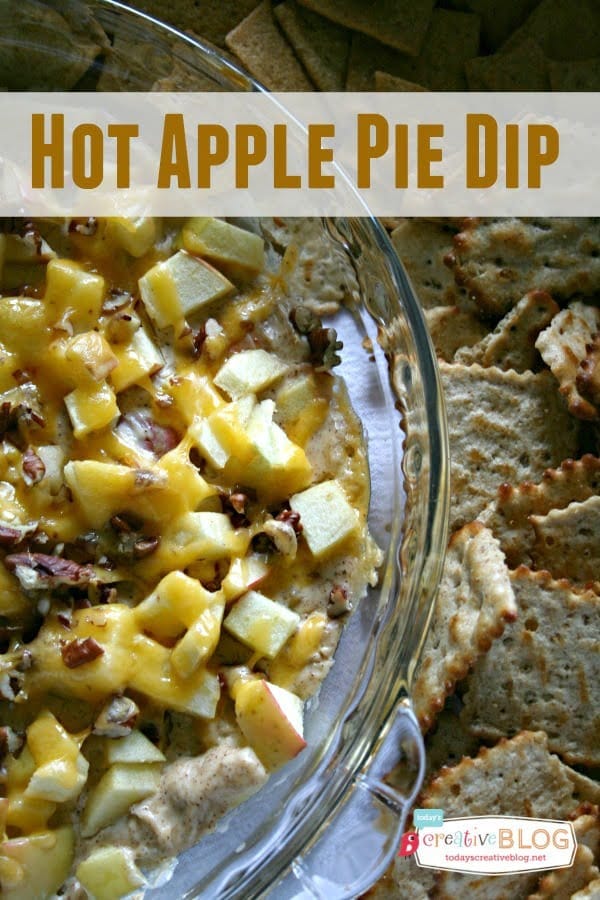 Let's face it, holiday gatherings and parties are all about the food, right? It's all about the appetizers and snacking our way around the party table.
Party Food & Party Tips
Keep it casual
Potluck Style
Variety of Drinks (non-alcoholic and alcoholic)
Lots of seating options
It's no shock that the parties I have are always very casual and always potluck. It's where I think most people are the most comfortable. I love seeing what people bring, even if it's something from the deli counter on their way over. It's all about being together, I'm just happy they came!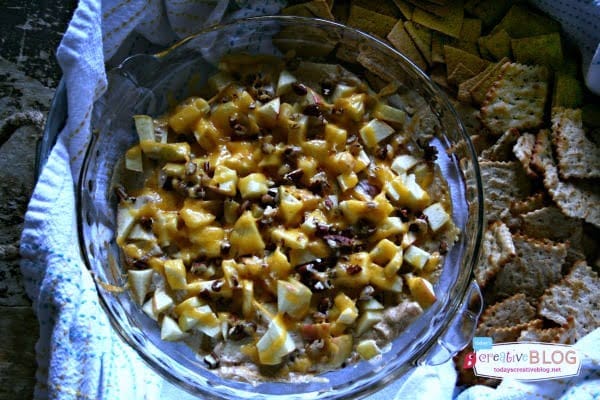 People LOVE dips, so I was excited to try this Hot Apple Pie Dip! I think every party needs a couple of dips and the perfect cracker for a dip, I'm sure you'll agree, is the Nabisco WHEAT THINS.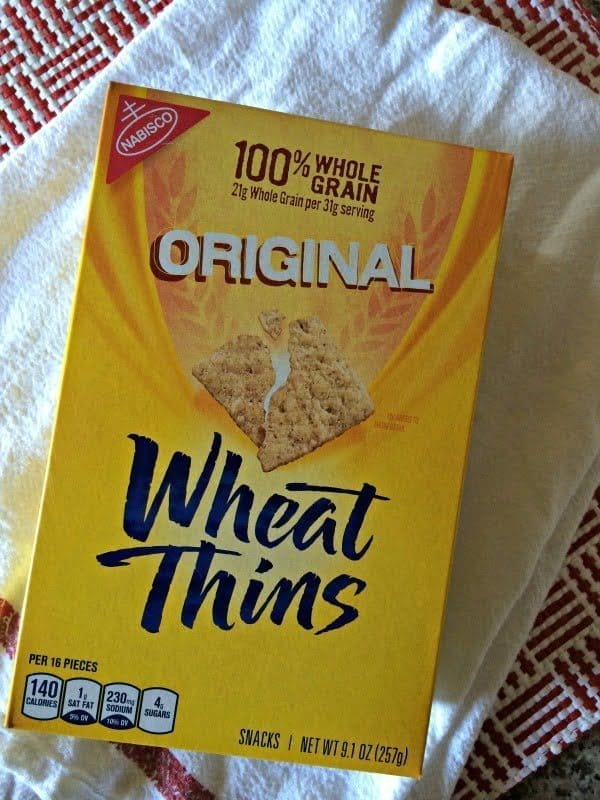 I also added a few of the Nabisco WHEAT THINS Toasted Chips too. Why not?! If it says WHEAT THINS, it must be good!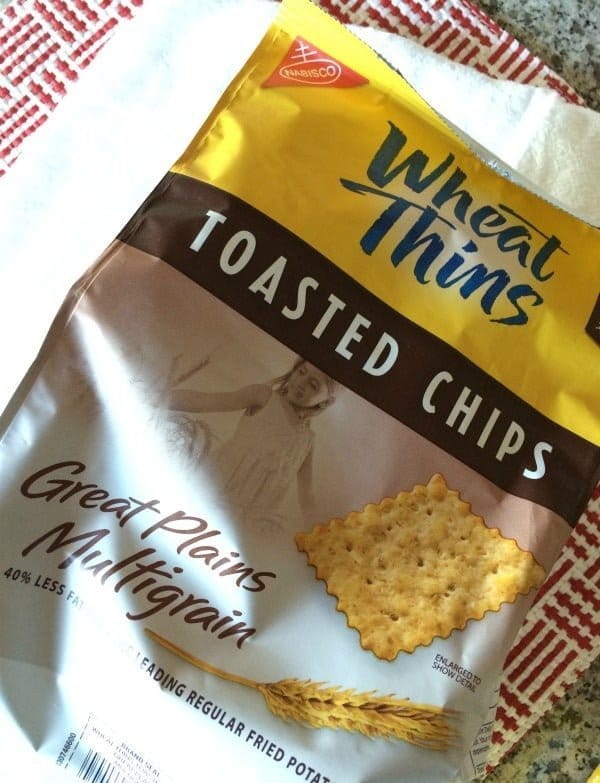 The Hot Apple Pie Dip was very easy to make and would be a great dip to make for any party or when friends just happen to stop by. With just a few simple ingredients and a short time in the oven, you'll have yourself a delicious appetizer in no time. Quick and delicious….that's what you need.
You'll need one apple. I used Honey Crisp because they're my favorite. Chop it up into small chunks. I would probably chop it up smaller next time, since my son thought they looked like potatoes. These apples are also great for making Mason Jar Apple Pies! Everyone loves those too!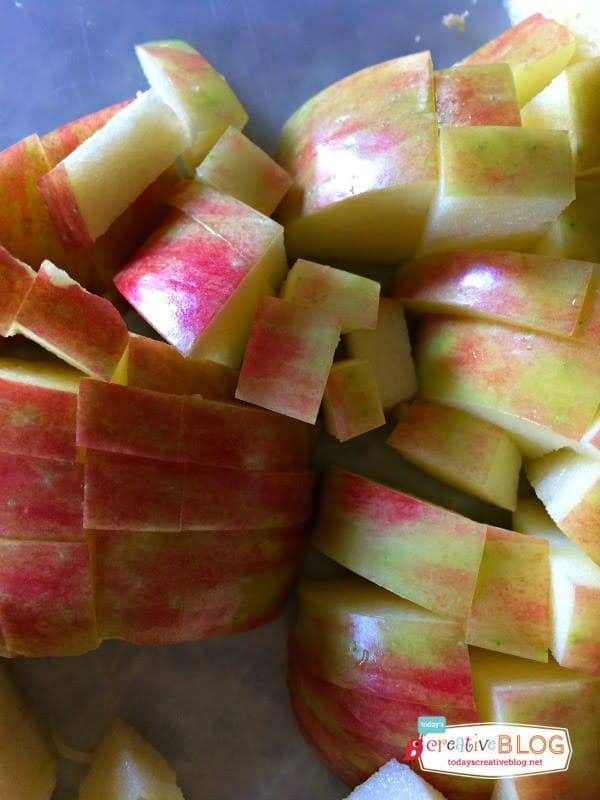 Combine your cream cheese, pumpkin pie spice, and sugar until it's well blended and smooth, then add just half of your apple chunks. Spread it out into a pie plate, then top with the remaining apples, cheese, and pecans.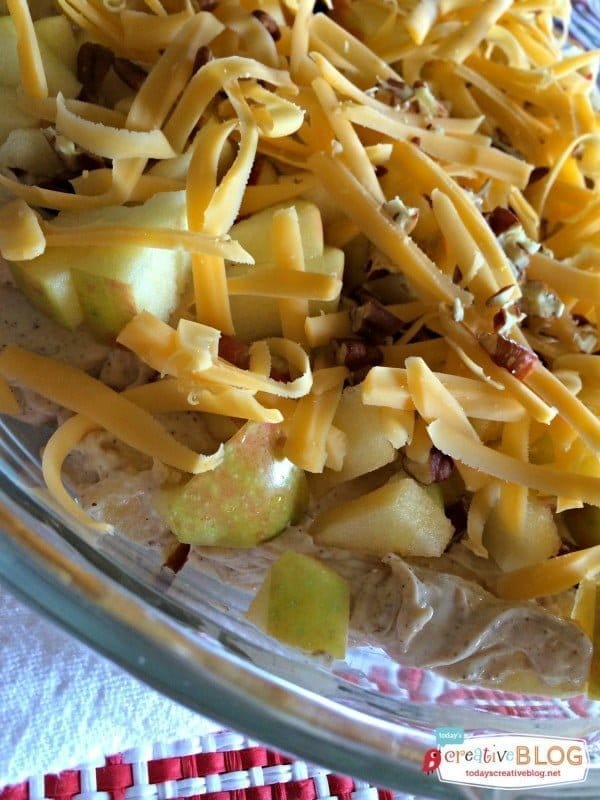 Bake for 10-12 minutes and enjoy.
That's it. This can be made up ahead of time and popped in the oven right before the party or as I mentioned, you could whip this up quickly when needed.
This is definitely a recipe you could make while having a conversation.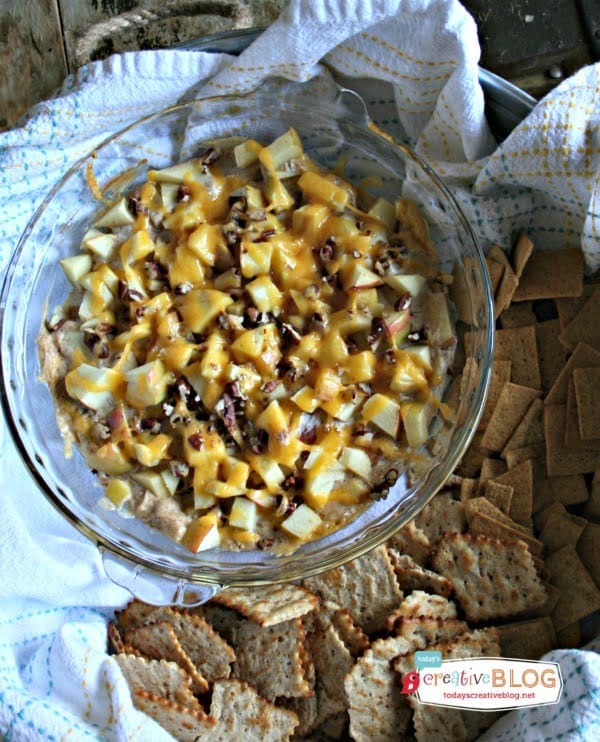 I placed the pie plate in a larger metal tray, so I could spread the WHEAT THINS around it and would be easy to carry.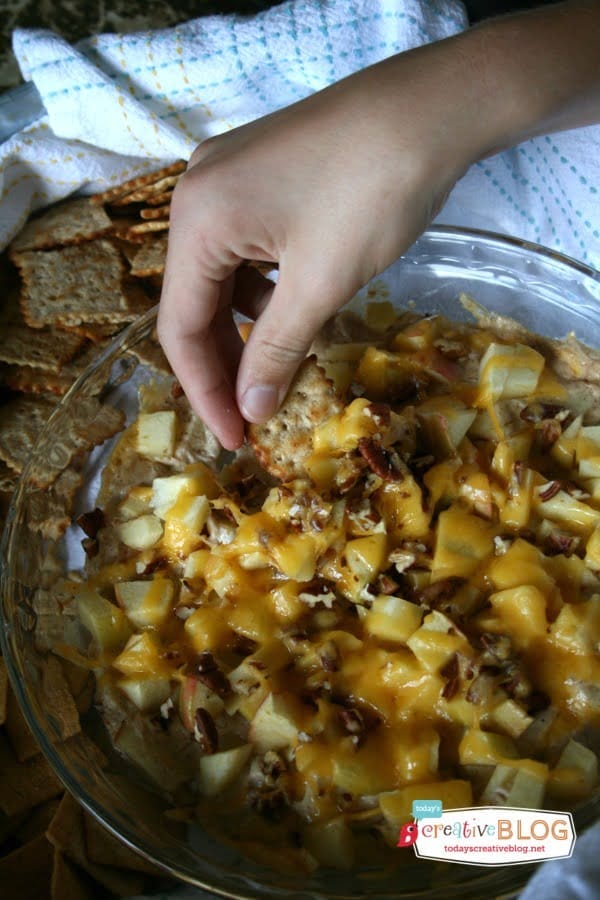 My son is my tester. He gave it the thumbs up and would have eaten the whole pie plate full if he didn't have to run off to practice.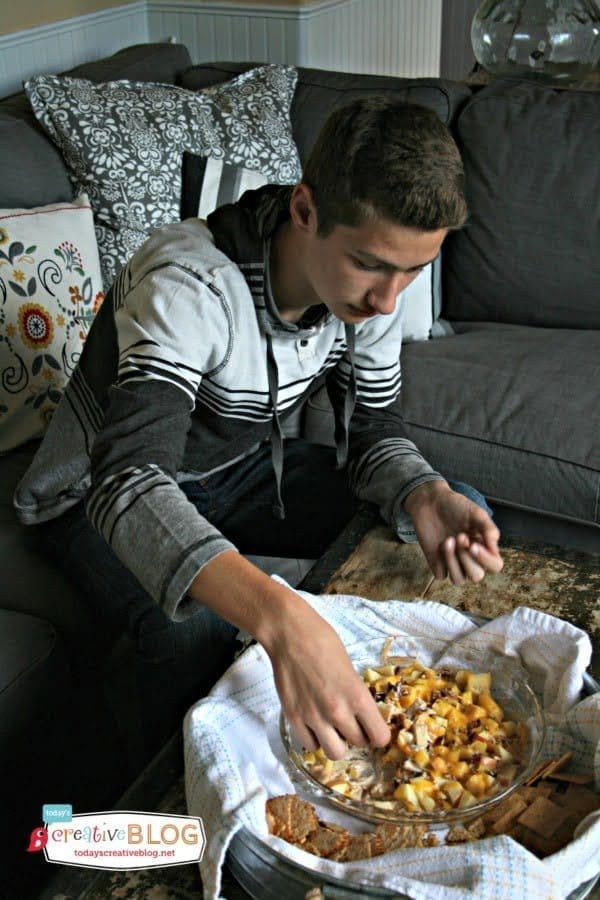 It just so happened that he matched the couch.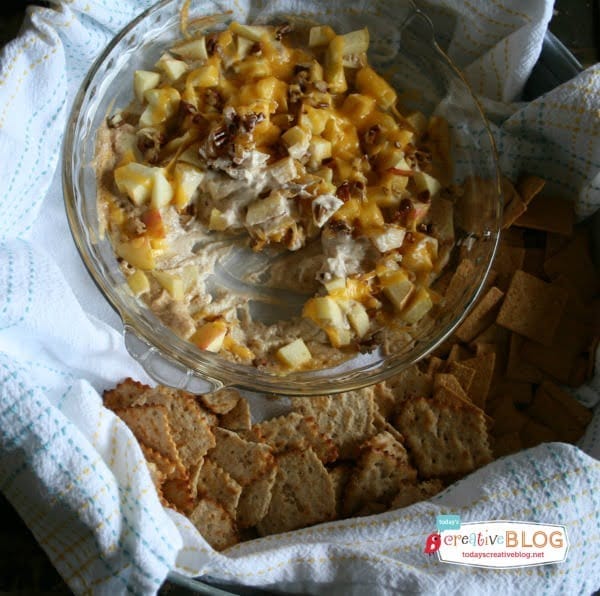 This recipe is a keeper!
Now that would come in handy for the holidays!
Hot Apple Pie Dip
What You'll Need
1 tub (8 oz.) reduced-fat cream cheese spread
1 Tbsp. brown sugar
1/2 tsp. pumpkin pie spice
1 apple, chopped and divided
1/4 cup shredded reduced-fat cheddar cheese
1 Tbsp. finely chopped pecans
Wheat Thins Original Snacks
MAKE IT
Heat oven to 375°F.
MIX cream cheese, sugar and spice in medium bowl until well blended. Stir in half the apples.
SPREAD into pie plate or small casserole dish; top with remaining apples, Cheddar and nuts.
BAKE 10-12 min. or until heated through. Serve with WHEAT THINS
Substitute ground cinnamon for the pumpkin pie spice if needed.
Nutrition Information Per Serving; 190 calories, 9g total fat, 2.5g saturated fat, 10mg cholesterol, 360mg soduim, 24g. carbohydrate, 1g dietary fiber, 6g sugars, 4g protein.
This is a sponsored conversation written by me on behalf of NABISCO. The opinions and text are all mine.