My husband and I are heading to a House Warming party this weekend so I needed to pick up a house warming gift. Something small, but thoughtful and useful.
House Warming Gift Ideas
Flower bulbs are a perfect house warming gift idea. New home owners are usually eager to put their stamp on their new home and what better way than with a fresh look in the garden? This is also the perfect time to plant bulbs, giving them something they can use now, but then also enjoy months later. Flowers usually fit everyone's style and personality.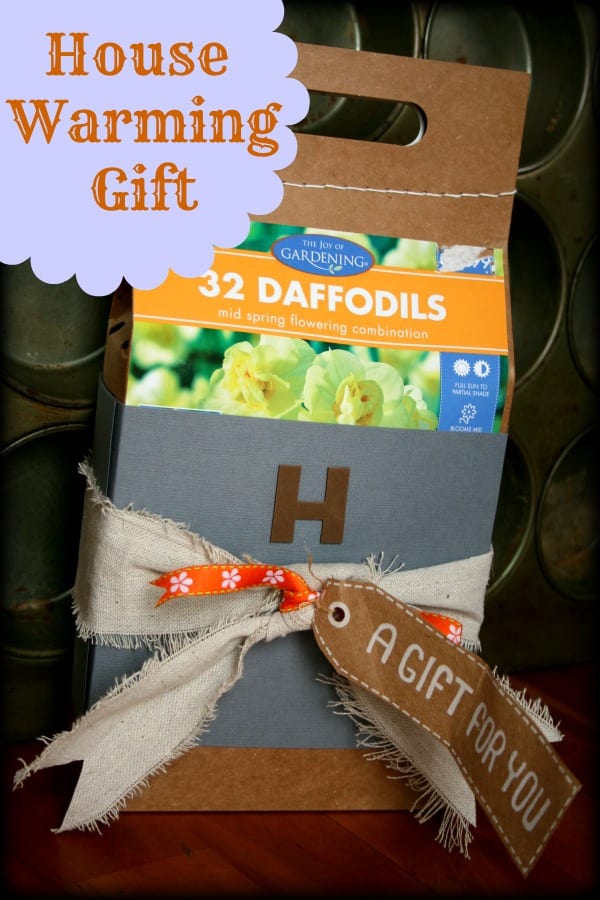 Since the package was already pretty cute and convenient, I waved my creative wand and added a thoughtful touch.
Items needed:
Cardstock
glue dots
fabric scrap ( I used an old drop cloth strip……of course)
Monogram embellishment to match the new home owners name. (from my scrapbooking stash)
Ribbon
Gift tag (mine is from an old Trader Joe's Holiday Grocery bag from last year)
I wrapped my cardstock around the package and secured with glue dots.
I cut a small strip of fabric and tied it around the cardstock and package.
Add the monogram above the knot.
Add a bright ribbon to the fabric knot for a punch of color. A silk flower would also be really cute here.
Tie the tag to the ribbon.
The new home owners are going to love it!