We eat a lot of garlic in this house. I crush it or dice it for sauteing and I roast it! Everyone must learn to How to Roast Garlic! It's one of the easiest things you'll ever do. I love EASY recipes!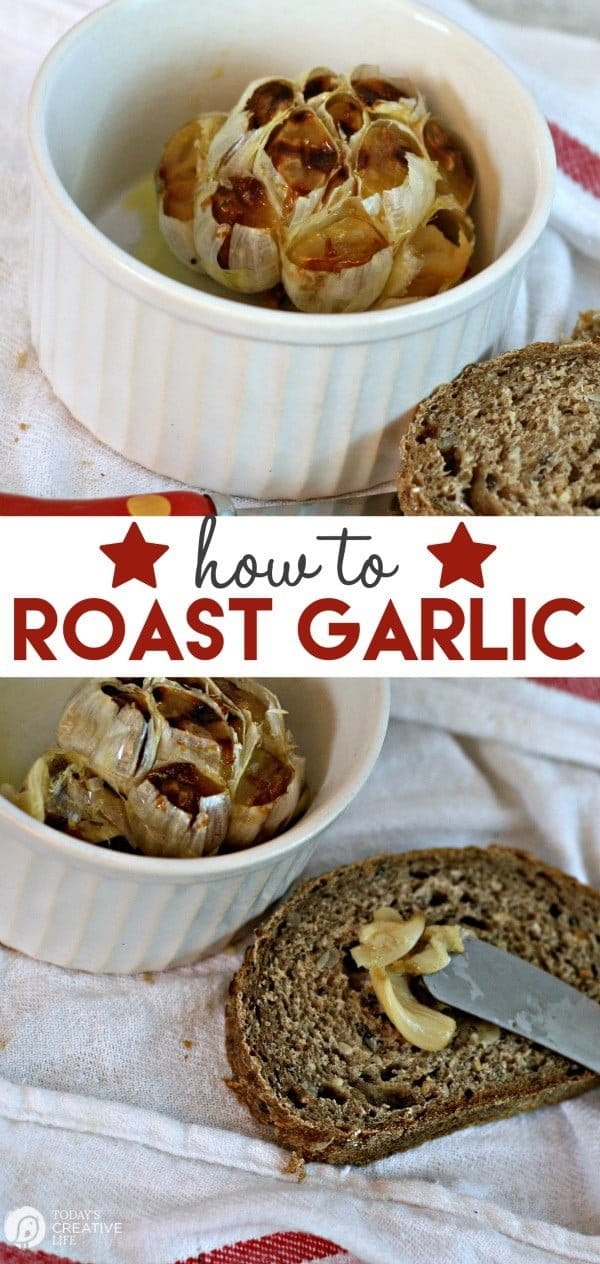 I didn't start buying fresh garlic til my late twenties. If I wanted garlic, it came in the form of garlic salt.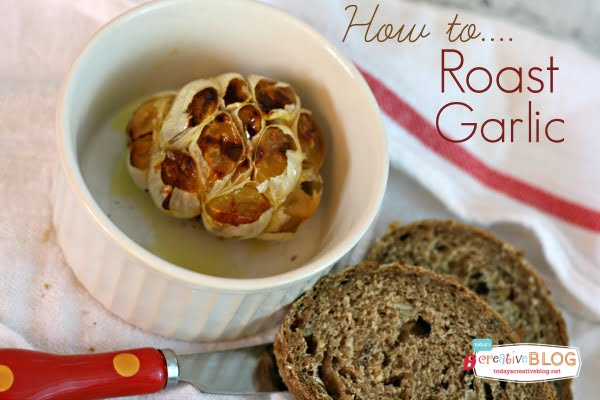 Funny Story: I remember back in college and I lived with my married friend and her family while I went to summer term. She left me a note with a bulb of garlic next to it and said to peel it and put it in the chili. So I peeled it and put the PEELINGS in the chili. When she returned, she asked why I didn't put the garlic in and when I told her I did and how, she about peed her pants laughing. She still laughs about that to this day as well as the time I made her brother in law slide his ID under the door to prove it was him.
Yes, I've always been very safe.
Back to garlic.
If you've never eaten roasted garlic, it's not as strong roasted as it is fresh. It's delicious! But the whole household better eat it so you all have garlic breath together.
How to Roast Garlic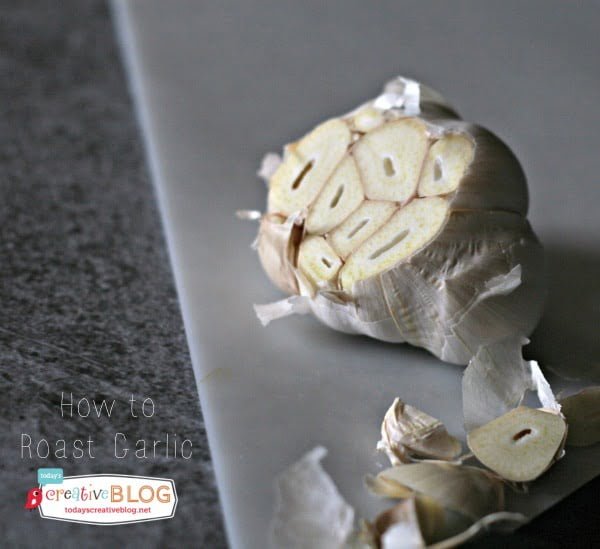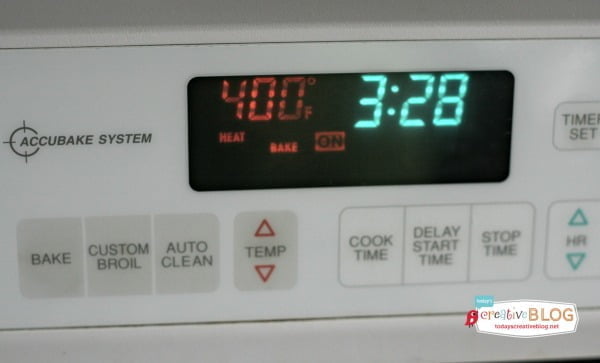 Pre-heat your oven to 400° F
Peel all the paper like skin away from the garlic bulb. Do not separate the cloves.
Slice the top of your garlic bulb off so a bit of the fresh garlic is showing.
Tear off a piece of tin foil and place the garlic bulb in the middle.
Pour about 3 tablespoons of olive oil over the garlic and a sprinkle of sea salt then wrap all the foil corners together at the top, wrapping the garlic inside so the oil won't escape.
Place the tin foiled wrapped garlic on to a baking sheet and place in the oven for 45 min.
When it's done, the garlic will be soft. You simply scoop out each clove with a knife or fork and spread it on your bread, cracker…….or just eat it plain. It's delicious, it's healthy and so easy to make.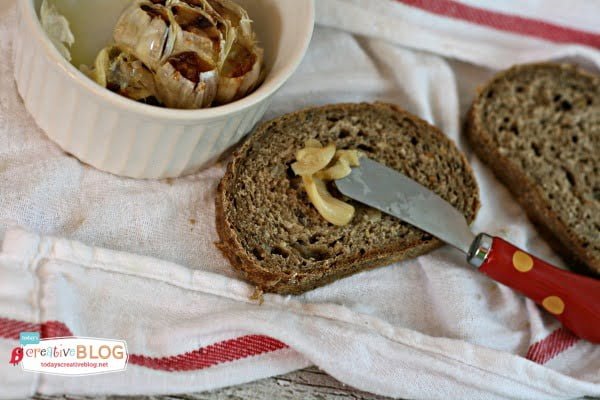 Is there anything better than garlic bread?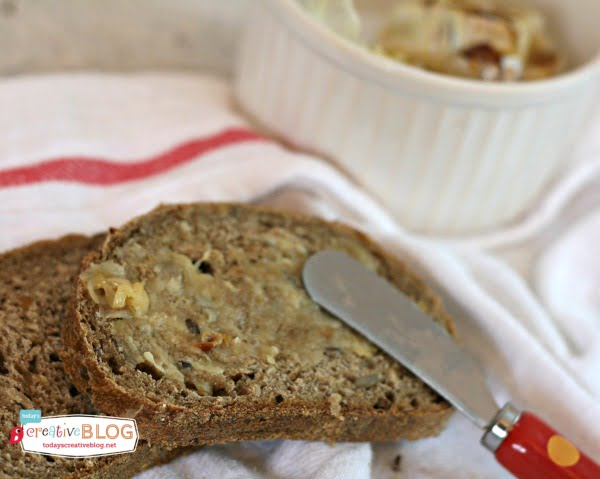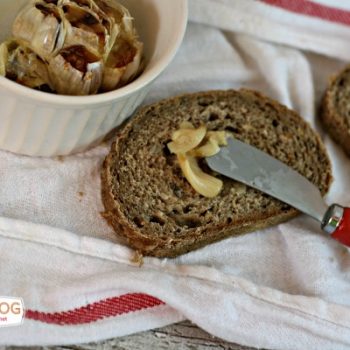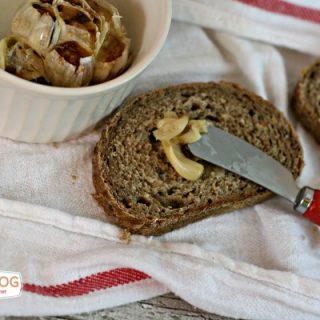 How To Roast Garlic
Ingredients
1 large Garlic Bulb
3 tablespoons olive oil
sea salt - just a sprinkle
Instructions
Preheat oven to 400°
Peel all the papery skin away from the garlic leaving the cloves intact.
Once you have it peels, slice the top of the bulb off, exposing fresh garlic.
Tear off a piece of tin foil and place the garlic in the center.
Drizzle with olive oil and sprinkle with sea salt
Wrap up the garlic in the tin foil and place on a baking sheet.
Bake for 45 min at 400°
I'll serve this kind of garlic bread with many of the soups I make. It goes great with my Crockpot Tomato Ravioli or my Crockpot Pasta Fagioli soups.
Join my Slow Cooker/Crockpot Pinterest Board for more yummy recipes.
Follow Kim Demmon (today's creative blog)'s board Crockpot & Slow Cooker Recipes on Pinterest.