Yes, it's much more convenient to open a can of beans while cooking chili's, soups etc.. but we are a generation getting back to the basics and many want to know how to soak beans the good ole fashioned way.
How to Soak Beans
Soaking beans can save you money! It may be more work and not as convenient, but it will save you some $$.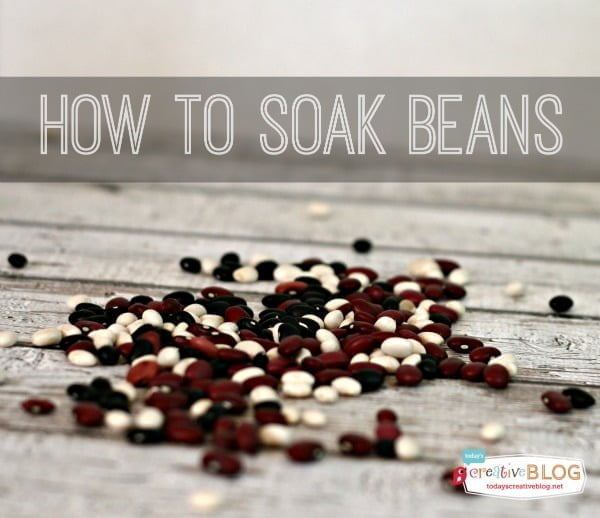 Over Night Soak
I usually pre-soak my beans overnight, when I'm organized and have planned my weekly menu. So if I know I'm having my Slow Cooker Chili, Slow Cooker Baked Beans or my Slow Cooker Pasta Fagioli Soup I will soak of a large batch on the weekend. I will also do up a batch of soaked beans and then freeze them for use later or place in the fridge up to 3 days. This makes cooking with beans much faster when they've been pre-soaked, cutting down on cooking time.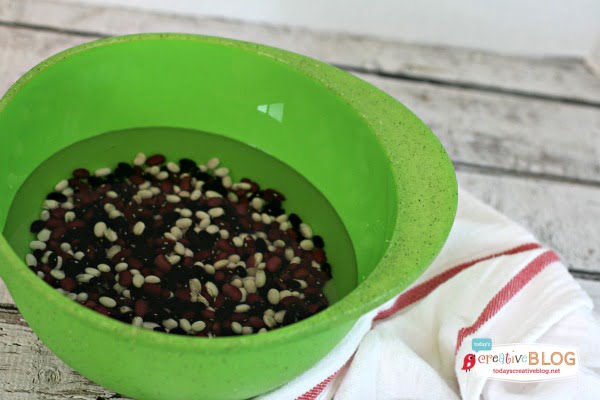 Whatever method you choose, be sure to always rinse your beans before. Removed any broken or damaged looking beans. For the over night soak, place beans in a large bowl. Cover the beans with water by at least 3 inches and set aside for the night, at least 12 hours. If you're freezing, I'll rinse the beans and lay out onto paper towels or an absorbent kitchen towel to dry before placing into a plastic freezer bag for freezing. Beans will keep in the freezer for months.
Quick Soak
If you're not prepared, but you REALLY want to use your dried beans for a recipe today…….do a quicker method by covering your beans with water….all sources say at least cover by 3 to 4 inches, bring to a boil and boil for 2 minutes. Take off the burner, cover with a lid and set aside for at least one hour or up to 4. Drain, rinse and use for cooking.
Baking Soda Soak
I remember my mom telling to add baking soda to my beans. I also remember people telling me it will help cut down on gas. So I looked into this and what I've learned is that adding baking soda makes the beans more tender, breaking down the amino acid thiamine, which makes it more digestible. Some say this affects the nutritional value of the bean. You decide.
I like soaking my own beans because it's WAY less expensive and hopefully I'm gaining a little more nutrition.
Do you soak your own beans?