Iced Tea Recipes are great any time of year! It doesn't have to be hot out to enjoy a freshly brewed glass of ice tea. Fruit flavored Ice Teas, Herbal Ice Teas… you'll find several ice tea recipes to try on this list!
Iced Tea Recipes
I'll be the first to admit that my craving for iced tea recipes goes up once the temps start rising because there's nothing like sitting on the deck sipping on ice tea while you've got your dinner on the BBQ.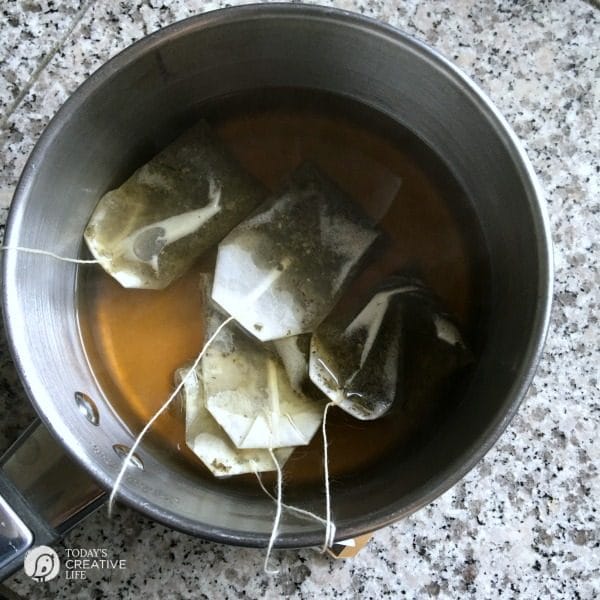 I have several iced tea recipes right here on Today's Creative Life. I'll be adding a few more of my favorites very soon.
How to Make Brewed Ice Tea
Brew a few tea bags in a small amount of boiled water.
Let it sit for a few minutes so it's really strong. I always use between 4 to 6 tea bags.
Remove the tea bags and fill the pot up with water.
Fill a 2-quart pitcher full of ice.
Pour the tea over the ice and stir.
Fill your glass with ice and pour yourself a refreshing glass of tea.
If you want it sweetened, I'd add the sugar during step 2. I usually use stevia lemon flavored sweet drops and will just add a drop of two to my glass.
20 Delicious Iced Tea Recipes
Delicious Drink Ideas
You'll find these drink recipes satisfying, delicious and easy to make.
Refreshing Summer Favorite.
Who needs hot coffee when you can have this delicious cold coffee brew?
One of summer's favorite drinks!
Save money and make your own frappuccino's!
You'll be surprised to know there are no lemons in this Brazilian lemonade.
The easiest way to get in all your water!
This makes a great snack or breakfast!