A couple of weeks ago, my son and I were asked to attend a special press trip to the Kennedy Space Center in Cape Canaveral. Exciting right?
You may have followed along on instagram or with hashtag #VisitKSC
My son loves science, so I was so thrilled to give him this once in a lifetime experience. Neither one of us had ever been to Florida, so we packed up our sun screen and off we went, not really knowing what adventure awaited.
We stepped off the plane on a late Thursday and felt the steamy humidity that we Pacific Northwest people aren't used to. My shoulder length curly hair was now a pixie. They had been having storms all day which made the humidity worse than normal and that storm worked out to be in our favor, as you'll learn ……keep reading.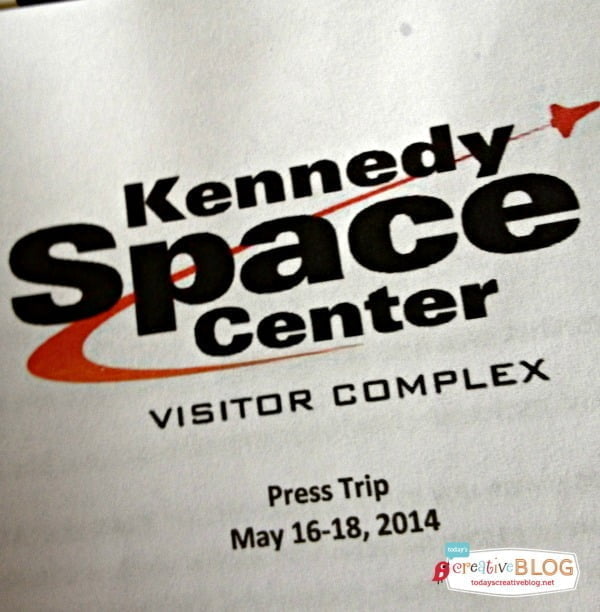 Once we traveled to our Cocoa Beach hotel about 45 minutes east of Orlando, we settled in, knowing the next day would come early for us west coasters. Our room had all our swag to prepare us for our adventures ahead!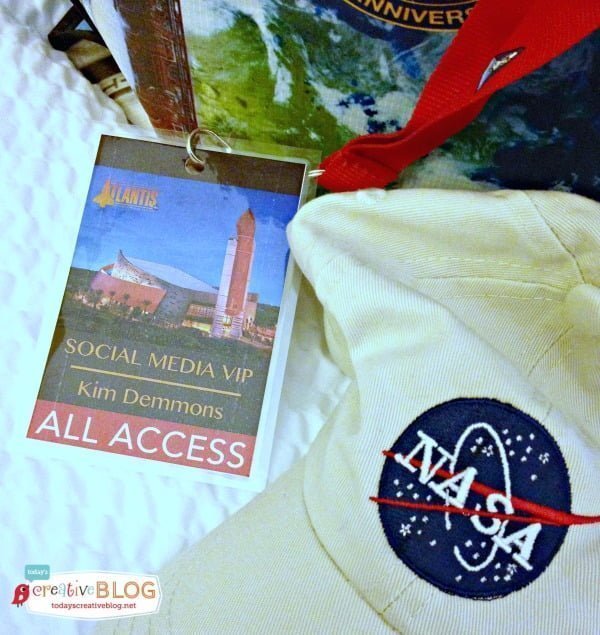 Friday morning we met up with the 4 other bloggers who were also attending and headed to Cape Canaveral where we boarded a shuttle bus and were given a VIP tour around NASA for the KSC Up Close Explore Tour. This tour gave us an insider's view of the space program from the launch site at Cape Canaveral Air Force Station.
I had no idea that NASA and the Kennedy Space Center took up so much space. I just hadn't really thought about it, but they have over 140,000 acres of land and water combined! Besides doing rocket science,the Kennedy Space Center is also a National Wildlife Refuge. We saw several turtles, a few alligators (the guide said that's their natural security system) and even couple of dolphins! I was hoping to see a manatee, but they weren't out when we passed one of their special places. But dolphins! And alligators! How exciting is that?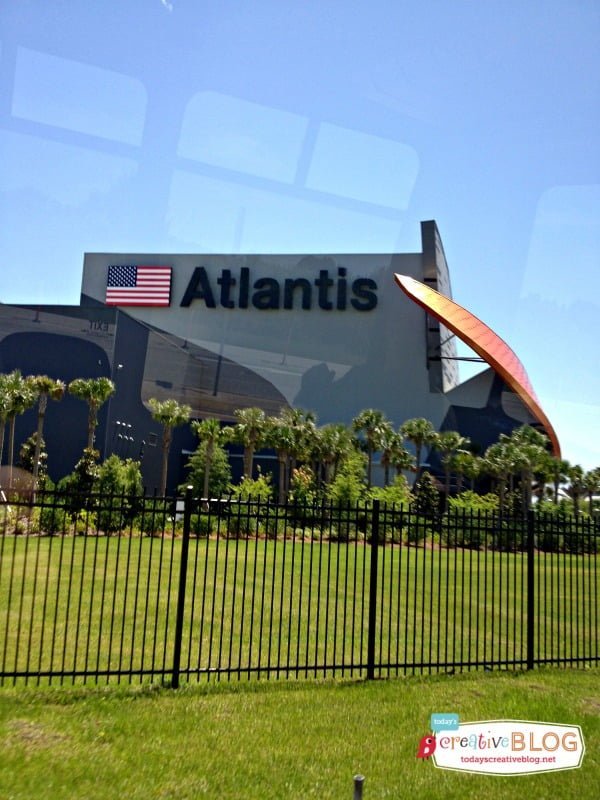 We passed this building above on our way to the shuttle bus and little did I know that it was only a very small portion of what we would be seeing.
Below is Launch pad #37 or #39…..I think. How can I remember numbers when we were being told that all 12 men to have ever walked the moon launched from this pad. Think about that for a moment……..Crazy!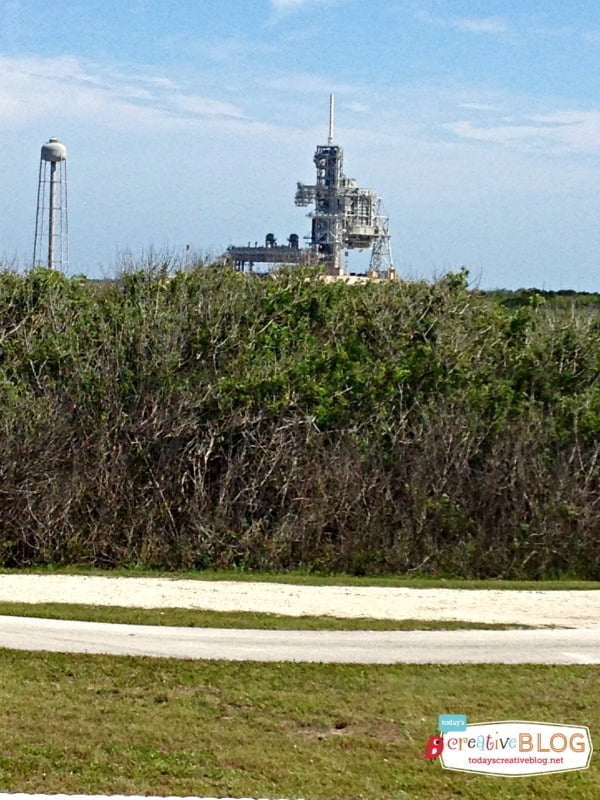 While driving around, I kept noticing these large rocky road dividers. We learned these are actually Crawlerways made from Alabama river rock. These Crawlerways are double pathways that run between the Vehicle Assembly Building and the two launch pads. This is how they transport the shuttles to their launch pads. If you look close you can see tire marks in the river rock.
You can find daily tidbits that will "rock your world" on the Kennedy Space Center's Facebook page.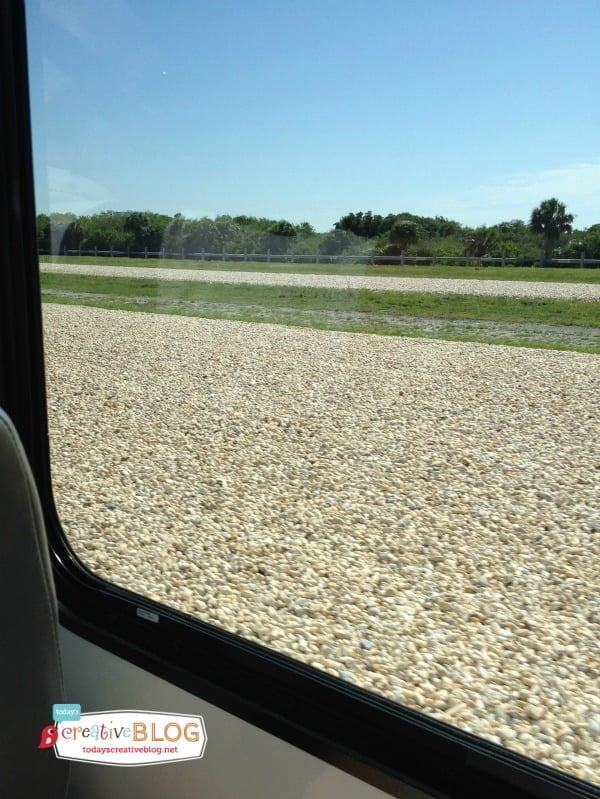 Here's a better photo I found. (source)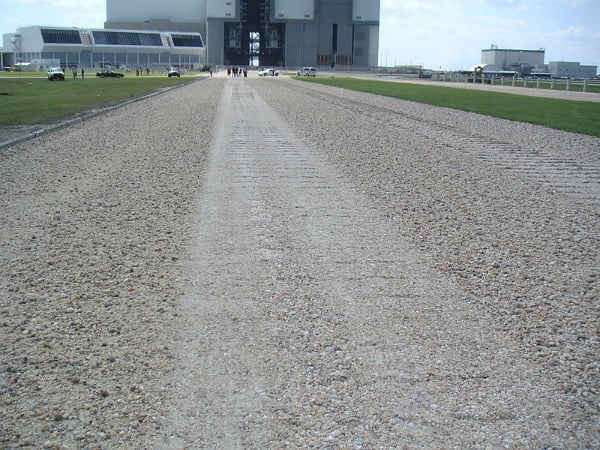 The Vehicle Assembly Building was pointed out to us early in the tour. Looking at the collage below, if you look where the yellow arrow is pointing, you can see it in the distance. It could be seen for miles. It is BIG!
The VAB is 526 feet tall, 716 feet long and 518 feet wide. It covers 8 acres, and encloses 129,428,000 cubic feet of space.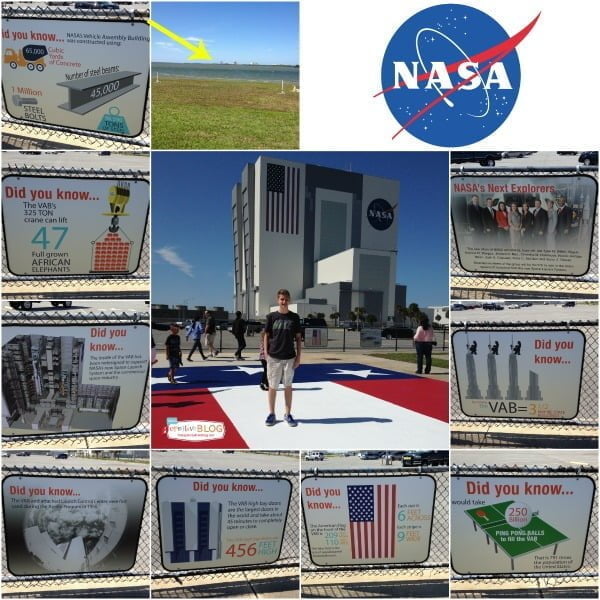 As you stand there taking it all in, they make it easy to learn even more with the interesting signs. The painted flag on the ground shows you the size the painted flag on the build really is. BIG!
Towards the end of the tour we stopped at the Apollo/Saturn V Center.
The Apollo/Saturn V Center is the place you can touch a moon rock and then stand under a rocket! Lucas is standing at the end of the mighty Saturn V Rocket. This was the largest rocket ever made (363 ft) and was America's lunar transportation for 27 brave astronauts who traveled to the moon and back.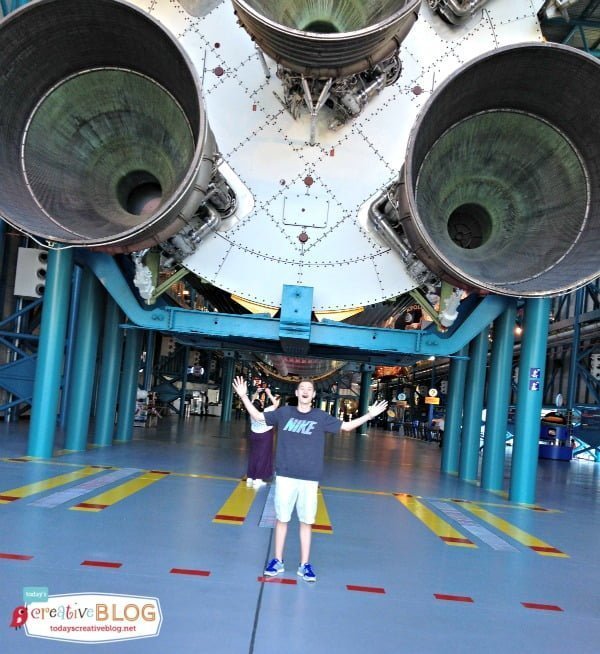 Stunning! If you're looking for a vacation destination that lumps entertainment for all ages with a dash of education, then you'll love the Kennedy Space Center. Take at least 2 days for the KSC and a couple more to explore the Space coast.
We spent about an hour in this facility and Lucas could have easily spent 4 hours.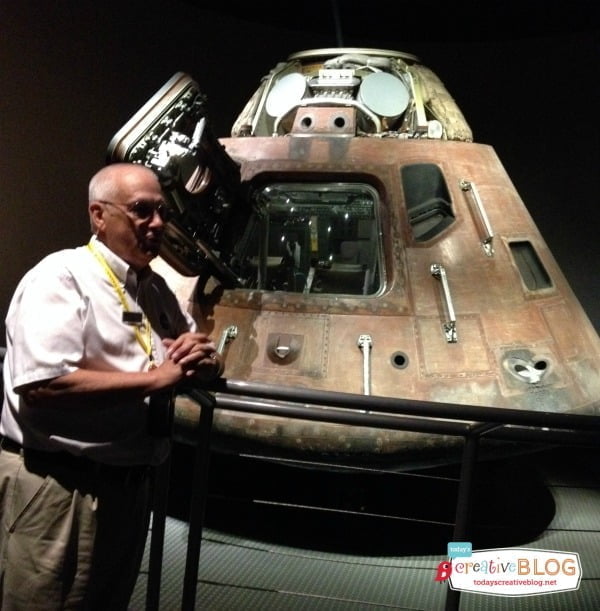 There is SO much to soak in for older kids and a lot of eye candy for young ones. The space is BIG like everything else at NASA, so the kids can run around a bit.
There are exhibits around every corner with REAL items that were once used. Pretty spectacular!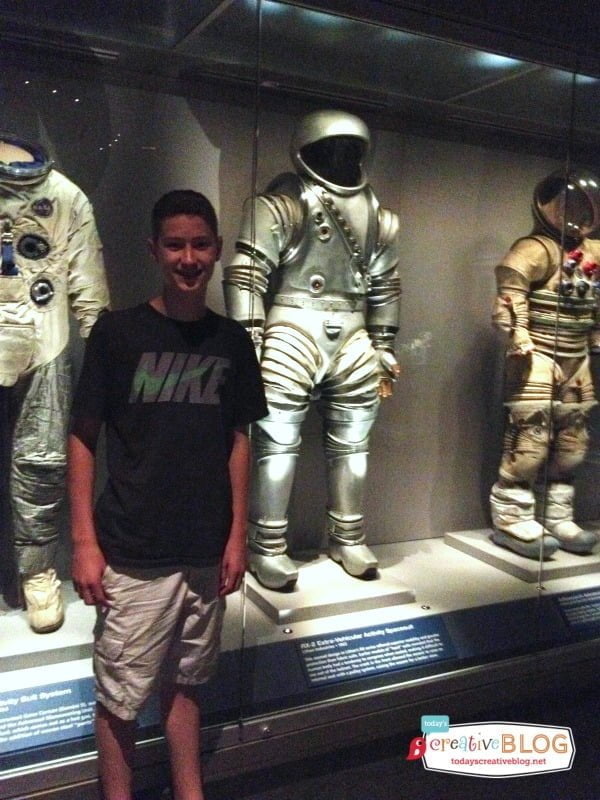 While touring we found out that because the launch was cancelled the day before, it was now scheduled for that evening and we would be able to see it from the restaurant where we would be having dinner.
Bob Springer, a retired Astronaut and his wife were meeting us for dinner. We were going to meet a REAL astronaut and we were going to see a real launch.
He couldn't have been more charming. He made his rounds, making sure to connect with everyone. I have to admit……..I was a little star struck……no pun intended.

As we got word the launch was about to happen, we all scurried outside onto the deck to watch. As I turned around, I see Lucas talking to Bob and that's when I lost it. Quietly. I put my sun glasses on and tried wiping my tears without making a scene.
Seriously……. Who gets to watch a shuttle launch while talking to an astronaut? Could you just die?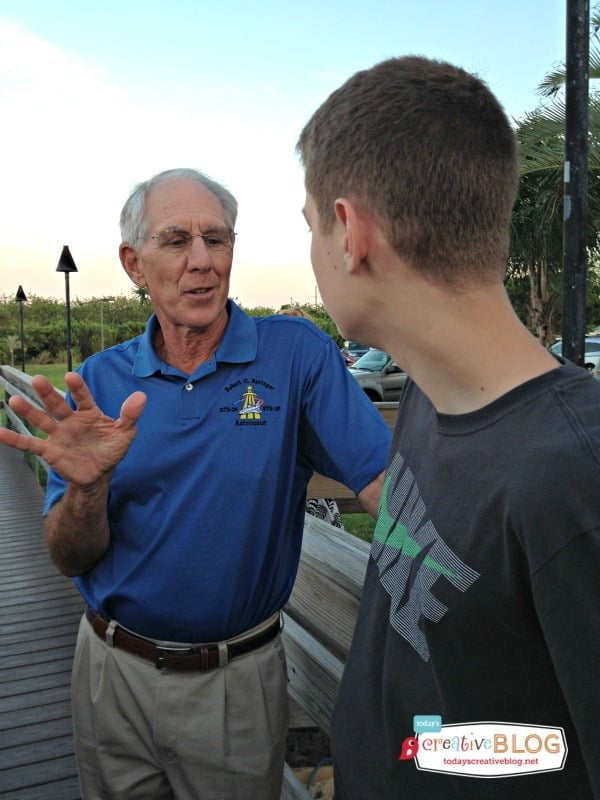 As the launch started, our new friend Bob (we're on first name basis) walked us through what was really happening. Again……..WHO gets to watch a launch and have it narrated by your new friend Bob the retired astronaut?!!!

It was the most perfect night. Lucas will remember this night for the rest of his life. So will I.
Have you ever been to the Kennedy Space Center?
The Kennedy Space Center is about 45 minutes from Orlando and shouldn't be missed if you're heading to Florida for vacation. The Space Coast area is a relaxing place to vacation with great food, hotels and entertainment. I'll be sharing more about the Kennedy Space Center in a couple of days, as well as a fun air boat ride where we saw a lot of alligators. My son may or may not have learned to surf too!
Follow Kennedy Space Center
This was a sponsored press trip, all opinions shared are 100% mine.