Designing this living room for La-Z-Boy was such a highlight. Using the spirit of my mother who gave me the decorating bug, I was able to pull together a comfortable and stylish room.
What the heck is a La-Z-Boy Design Dash?
Warning! Lots of photos ahead!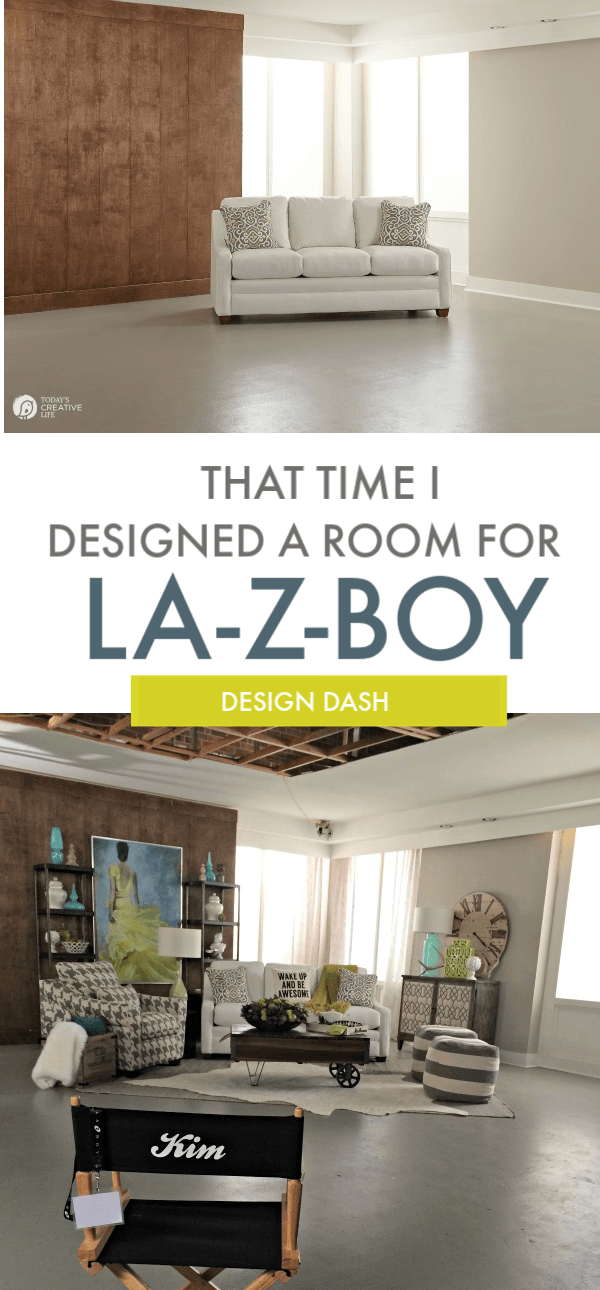 La-Z-Boy Design Dash | The Power of Makeup!
7 Bloggers were turned loose in the La-Z-Boy corporate showroom for ONE HOUR. We had to tag any items before the others to design our room the next day! ACK!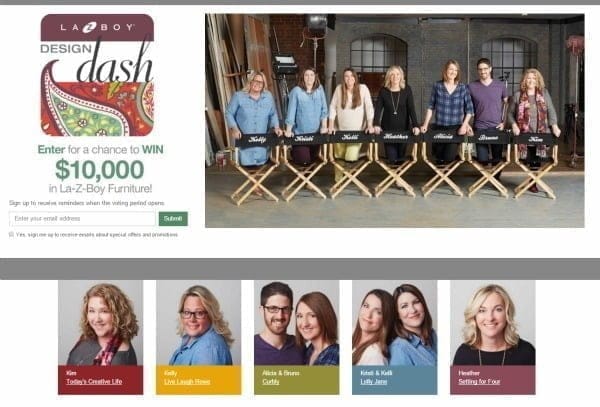 My own personal video with my room reveal is a little further down …… keep reading!
Let's back up……… Last month, I was flown out to North Carolina to attend the La-Z-Boy Design Dash. I had been looking forward to it for a few months, after they had asked me to head to my local La-Z-Boy to design my look using one of their sofa's. I chose the Nightlife Sofa and created a soft look. I chose a grey swirl with a hint of lime green color for the pillows. I love it!
The Power of Makeup!
I got all my decorating passion from my mother!

I was also a bit nervous about going because my mother had just been diagnosed with cancer and we weren't sure how long she had. She was still doing fantastic when I was asked, so I went ahead and accepted. My mom was so excited for me. She's had a love for furniture and decorating every since I can remember. It wasn't uncommon for her to move the furniture around weekly.

As the trip got closer, and she got sicker….. she let me know that no matter what, she wanted me to go.

Well…… on Oct 14th she took a fast turn for the worse. She was admitted to The Hospice House and was pretty much unresponsive, except for a few moments. In one of those moments she expressed once again for me to go…… my trip was Oct 20th. The nurses didn't expect her to make it past Friday, which was the 16th. As you can imagine, it was a very sad and intense time. I had several family members around, so of course that was helpful. If I wasn't spending the night in her room, I was driving back and forth (one and a half hours each way) daily. By Sunday, my sister had to leave to drive back to Utah and I left late that night saying my final good byes. She was unrecognizable and had been in a deep coma for a couple of days. I spent Monday trying to focus on getting packed since I needed to leave very early Tuesday morning. Between phone calls, texts etc…. I kept the tissue near and trudged forward. I woke up really early (4am) and checked my phone to see if I had a text from my aunt. Nope. As I was walking out the door on my way to the airport, I got THE text. My mother had passed away. It was Oct 20th. The same day my father had passed away, only 14 yrs earlier. As you can imagine, it was a very hard day… surrounded by strangers. But never once did I feel I shouldn't go.

I arrived with my red and swollen eyes, letting the La-Z-Boy Team know what had happened. They were fabulous. They booked a massage and lunch for me the next day and even sent flowers to my room. All the bloggers were amazing. I already knew the Lolly Jane gals and Kelly from Live, Lauge Rowe, but felt instant friendship with Heather from Setting for Four and Bruno and Alicia from Curbly. This was the perfect distraction. As long as no one mentioned it, I could hold it together. It was GO TIME!
Dash Time!
We were taken by a large stretch limo to the La-Z-Boy headquarters for the Design Dash!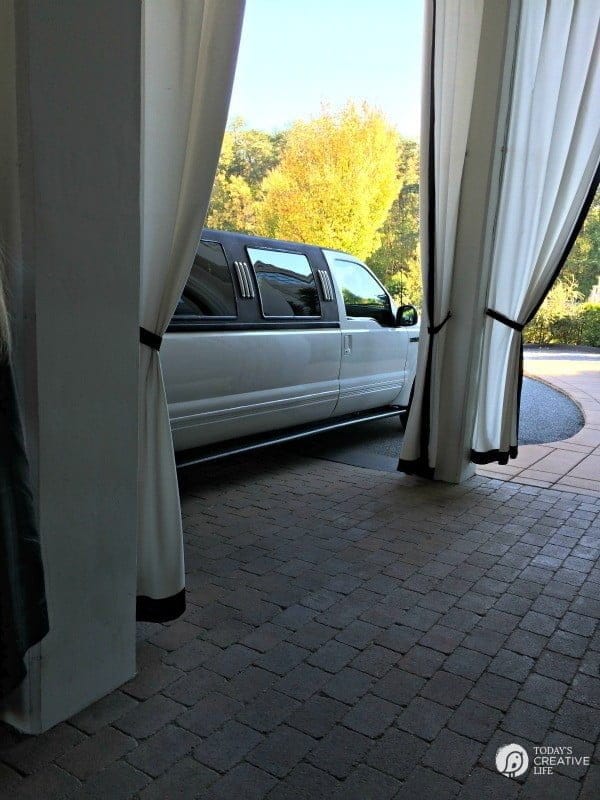 We had one hour as we ran through the tape to choose our items. We were teamed up with a couple of staff (Marie and Michael) that were there to help tag the items we wanted.
It was HARD, but not super hard. It was amazing to just state the word "That!" "THIS!" "Tag it"! By the end… I couldn't remember much of what I tagged, except for that fabulous Houndstooth Chair! I trusted my decision and didn't dwell on it.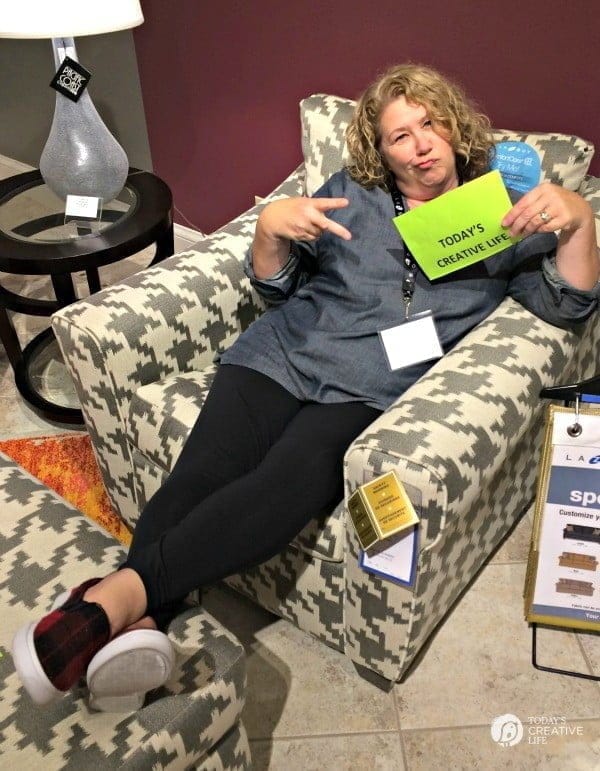 Designing my Room – Putting it all together
We arrived to the studio where all the magic was about to happen. We were directed to the bay which had been painted our requested color (Mindful Grey by Sherwin Williams).
Just an empty room with our sofa sitting in the middle and all our Design Dash items sitting near. I was overwhelmed where to start.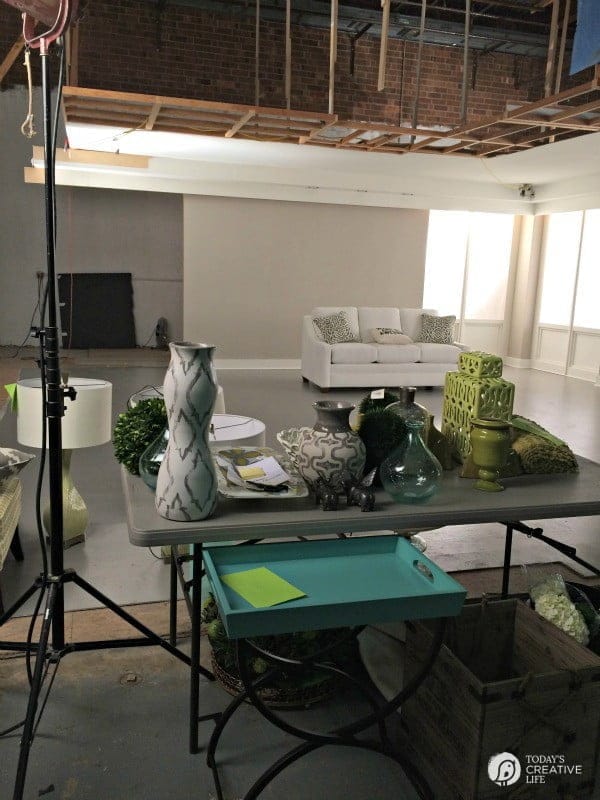 We were able to choose one prop, so I chose a wood wall. One of the designers suggested it and I doubted my decision immediately, but I was banking that it would all turn out fine. It's just decorating right?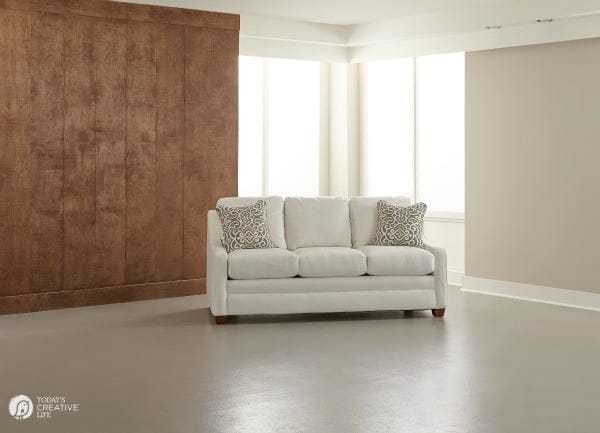 After about 3 hours, I was finished. I had to just walk away, or I'd keep tinkering.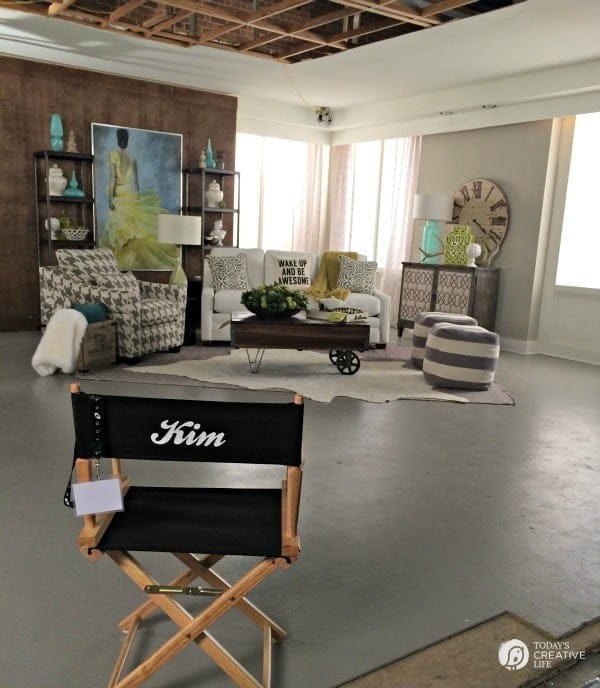 The name of my room is ReClaimed Chic! Comfortable, Stylish and relaxing.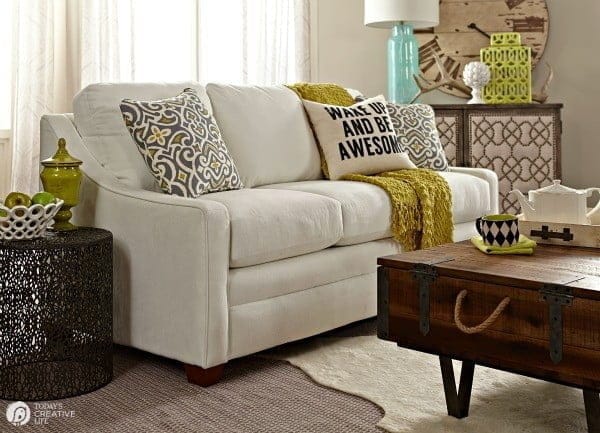 Doesn't this look like a room you could just sit down and feel good?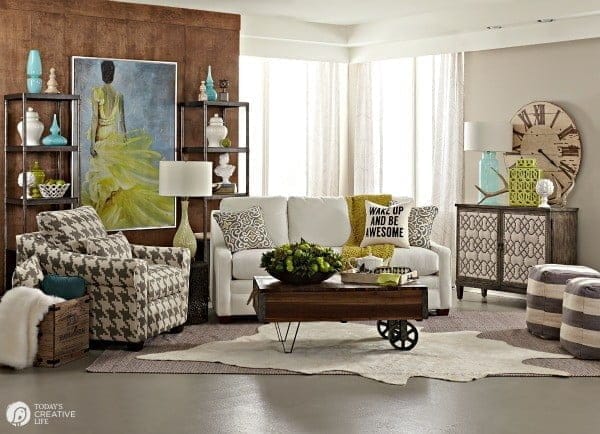 I was plum tuckered out, but I had to grab a quick photo with sweet Kelly! Kelly Edwards (from Design on a Dime) is one of the sweetest gals you'll ever meet.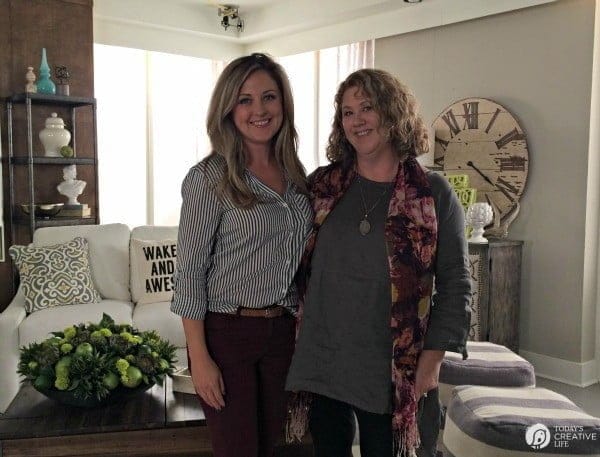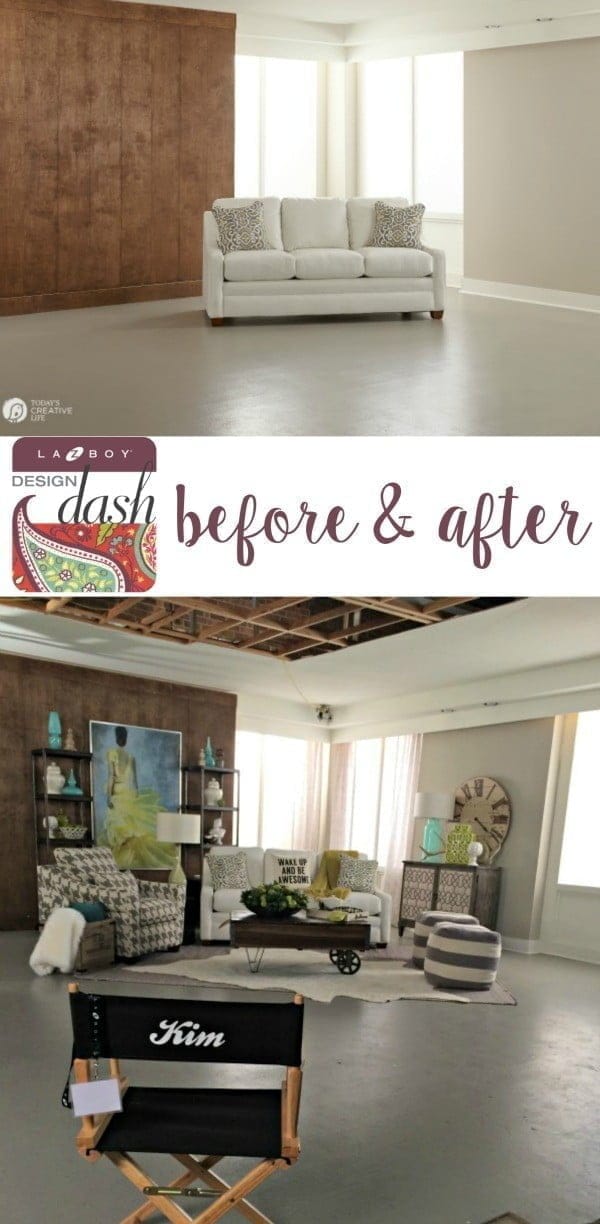 You'll love my friend Heather's room. Living Room Design Ideas. Neither of us won, but just having the opportunity was enough.
This post is sponsored by La-Z-Boy. All opinions are 100% mine.