Kari from AZ is the winner.
This is a Sponsored post written by me on behalf of McCormick & Company. All opinions are 100% mine.
Did you know that Lasagna is one of the most searched top 10 family dinners? Me either!
I love me some Lasagna and was thrilled when McCormick.com wanted me to work with them again and makeup their recipe for Lasagna Formaggio.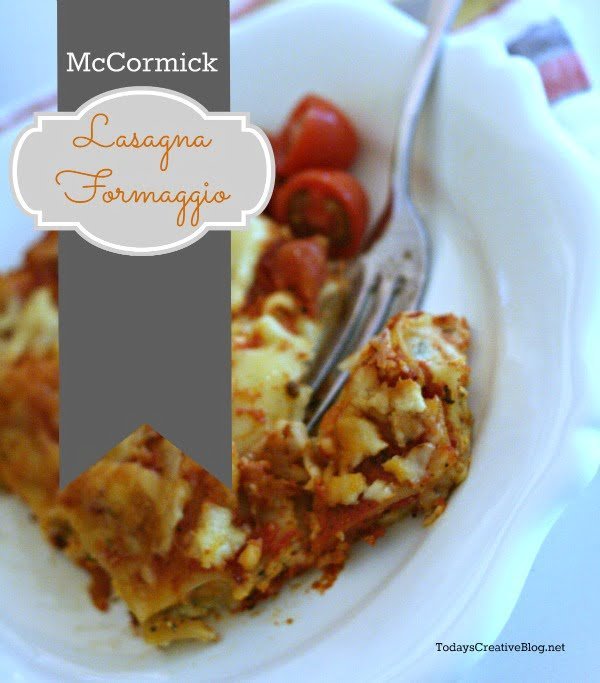 They're also letting TCB giveaway a Spice Kit to one lucky reader……..more on that at the end of the post.
I won't lie……I was skeptical at first since this recipe seemed to have a LOT of ricotta cheese. And my husband was skeptical because it didn't have meat. We gathered all our McCormick® spices and went ahead with it and …….. WOW! Not only was it super easy to make, but this was really good!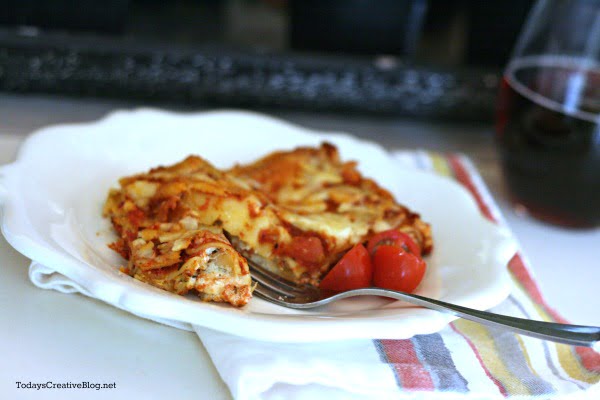 My photo doesn't look anything like the photo in the recipe….. do they ever? But boy howdy was it delicious! It also made for a tasty lunch the next day.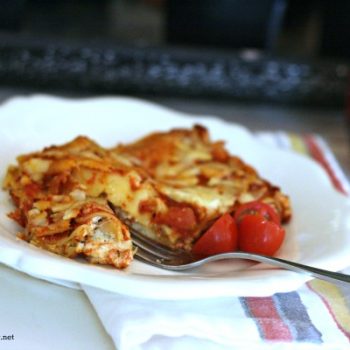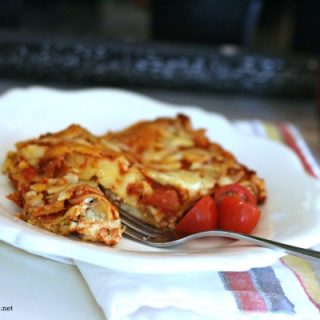 Lasagna Formaggio Recipe
Ingredients
Lasagna Formaggio
Under $1.50 per serving. Ricotta, mozzarella and Parmesan cheeses seasoned with Italian herbs are layered with pasta and marinara sauce.
Ingredients
Serves 12
2 containers (15 oz each) ricotta cheese
2 cups (8oz) mozzarella cheese, divided
2 eggs
1 teaspoon McCormick® Garlic Powder
1 teaspoon McCormick® Perfect Pinch® Italian Seasoning
1 teaspoon McCormick® Parsley Flakes
1/2 teaspoon salt
1/4 teaspoon McCormick® Black Pepper, Ground
1 jar (26oz) marinara or other pasta sauce
1/2 cup water
9 uncooked lasagna noodles
1/4 cup grated Parmesan cheese
Instructions
Preheat oven to 350°F. Mix ricotta cheese, 1 1/2 cups of the mozzarella cheese, eggs, garlic powder, Italian seasoning, parsley, salt, and pepper in large bowl until well blended. Pour marinara sauce into a medium bowl. Pour water into empty jar; cover and shake well. Add to marinara sauce; mix well.
Spread about 1 cup of the sauce on the bottom of a 13x9-inch baking dish. Top with 3 of the lasagna noodles. Spread 1/2 of the cheese mixture over noodles. Repeat sauce, noodles and cheese layer once. Top with remaining noodles and sauce, making sure to cover noodles with sauce. Sprinkle with remaining 1/2 cup mozzarella cheese and Parmesan cheese. Cover with foil
Bake 45 minutes. Remove foil. Bake 15 minutes longer or until noodles are tender. Let stand 15 minutes before cutting. Serve with additional marinara sauce, if desired.
Now who wants to win a McCormick Gift Set full of wonderful spices? All you have to do is leave me a comment on this post answering one of these questions.

"What's YOUR favorite McCormick spice?" OR "Which McCormick recipe are you interested in trying from McCormick.com?"