I was so excited to get another big box of Martha Stewart Craft Supplies. I mean, who doesn't like getting big boxes delivered, especially when it's full of Martha Stewart products! This box was full of Craft Paint in all finishes. Glitter, satin, pearl, high gloss. It also had other solutions to add for fabric paint, stucco finish etc…. I was a bit intimidated by those, but I can't wait to try them out. In addition to the paint, there were several packages of stencils. SWEET!
I received 3 or 4 packages of stencils. Regular stencils and self adhesive stencils. Can I just say that I'm in love with the self adhesive? I'm in love with them! So easy.

I had my son be my craft model. He's usually in my craft room with me, so I may as well put him to work.
I decided to make a bunch of gift tags. I'm going to need some anyway. The sticky stencils were the perfect size for tags.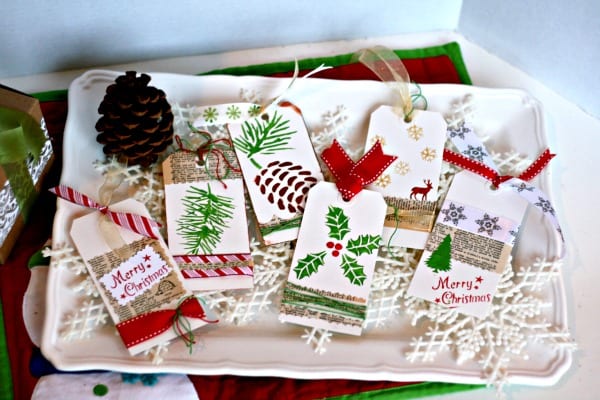 Martha Stewart Craft Paint
I only used a few of the paints. I found out that the glitter ones are not very thick and make for better use as a top coat for just the right sheen. I love that the stencil packs have a variety of themes for several holidays. I can see using these all year round.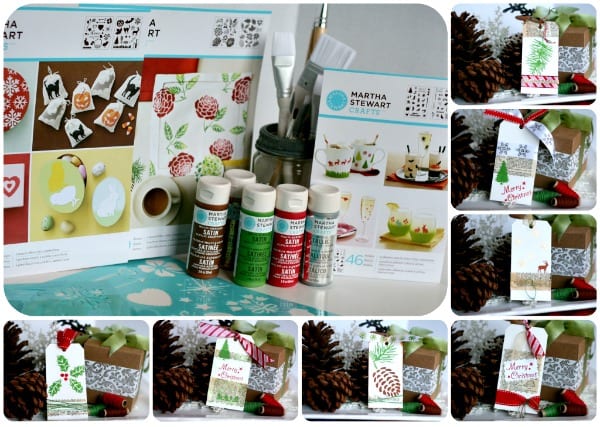 You can see all the different stencils and lots of really cool ideas on the Plaid with Martha Stewart page.
Yep, I was paid for this campaign. (shhh, don't tell them, but I would have been thrilled with just the box of goodies) All opinions are mine……did you expect anything less?
---
See more holiday ideas