If you've been following TCB on Facebook for awhile, then you may recall how much I despise carving pumpkins.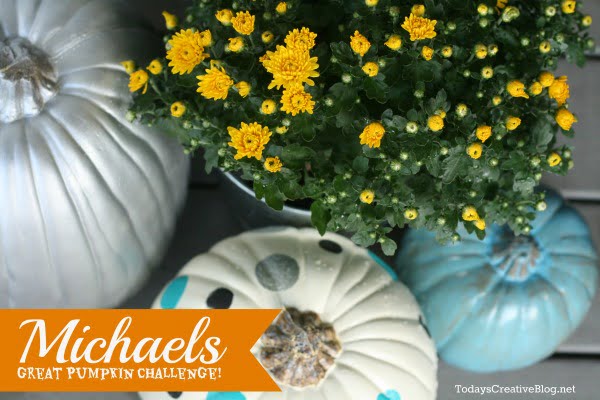 Every year when the time comes, I have plans to carve a masterpiece only to end up with the traditional triangle eyes, nose and one tooth mouth……..you know the one, the one we were taught when we were kids. An event that should be a fun family event has caused me to want to throw myself on the floor and throw a fit like a toddler. I've finally learned the past 3 years, to draw the design and let my husband carve it. This saves everyone, including myself. I've learned to use decorative vinyl to decorate pumpkins. Here are 3 other non carving ways to decorate. Or make a pumpkin topiary and call it good.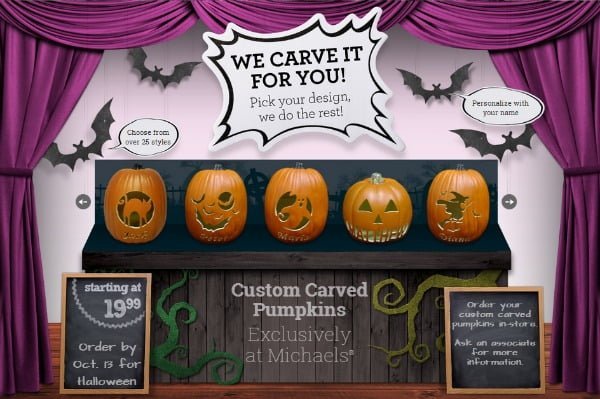 When Michael's emailed me and asked if I'd like to be a part of their Great Pumpkin Event, I about spit my coffee out, but decided that the fake pumpkins they would send me may be easier to craft.
They also sent me a hot knife, which I'll play with soon.
I decided to paint my pumpkins………I had big plans. I wanted to do a crackle glaze………I wanted to use the color scheme Silver, Light Turquoise and black……I thought adding a pop of turquoise to my porch would look great with my red door.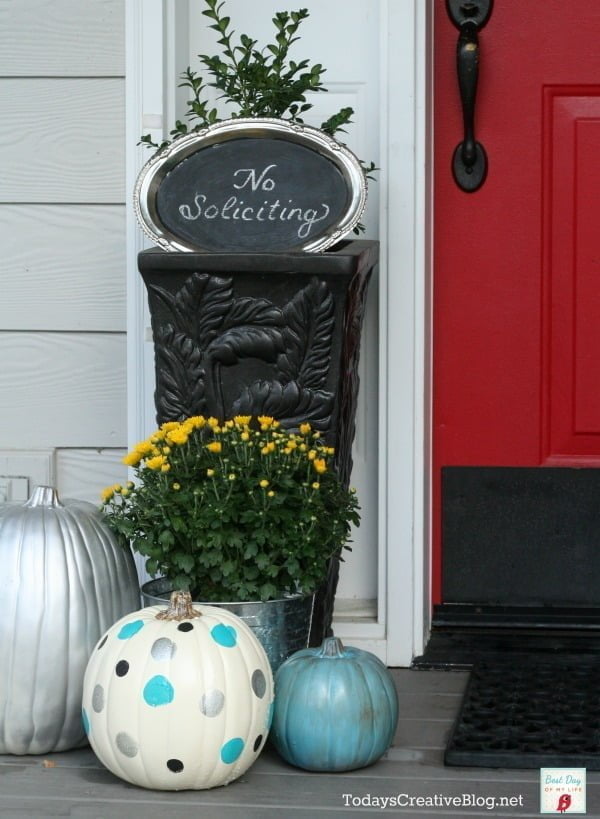 I should have known from my past pumpkin interactions, it wouldn't turn out how I envisioned. My husband complimented me on them, so I wasn't sure if it was the kind of compliment just to make you feel better or if he really liked them….he said he really liked them. They were easy enough.
I spray painted the big one a frosted metallic silver. Easy.
I painted polka dots on the mid size white one with my foam dabbers- so far every time I look at it, it reminds me of the elephant / misfit toys on Rudolph the Red Nosed Reindeer.
The small one was orange. I wanted a crackle glaze, but guess what? When you spray paint over a crackle glaze…….nothing happens. So I antiqued it by rubbing brown paint all over it and rubbing it off.
Good enough……..I think I'll let Michaels carve them for me from now on!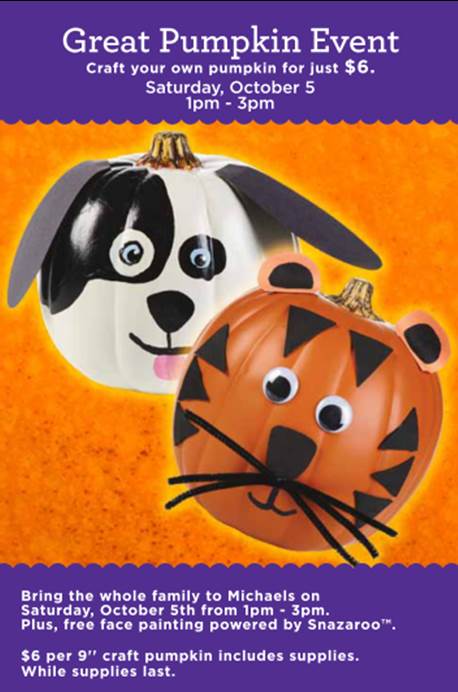 All Michaels locations are hosting a Great Pumpkin Event on Saturday, October 5 from 1 p.m.-3 p.m. For only $6 (which covers the cost of a 9" carveable pumpkin) kids can create their own pumpkin design and a free face painter will also be on hand. A great weekend event for the whole family!
Did you know that Michaels offers custom carved pumpkins that can be personalized with a variety of designs and names? Prices start at $19.99 and you can them order at all Michaels locations, just make sure to place your order by Oct. 13 so that it will be completed by Halloween. Visit www.michaels.com/custom-carved-pumpkins for more information.
How do you feel about carving pumpkins?