A couple of weeks ago while thumbing through one of my very old recipe books, I kept looking at the recipe for Old Fashioned Popovers. I love baking something up for my husband and son on the weekends, like my Monkey Bread with Butterscotch pudding, or my Banana Mango Coconut Bread.
I had never made popovers and I didn't have a popover pan (didn't even know what a popover pan was) and was wondering if I REALLY needed one. With a little research, some people think you absolutely need a popover pan, while others think you can get away with using a muffin tin.
Old Fashioned Popovers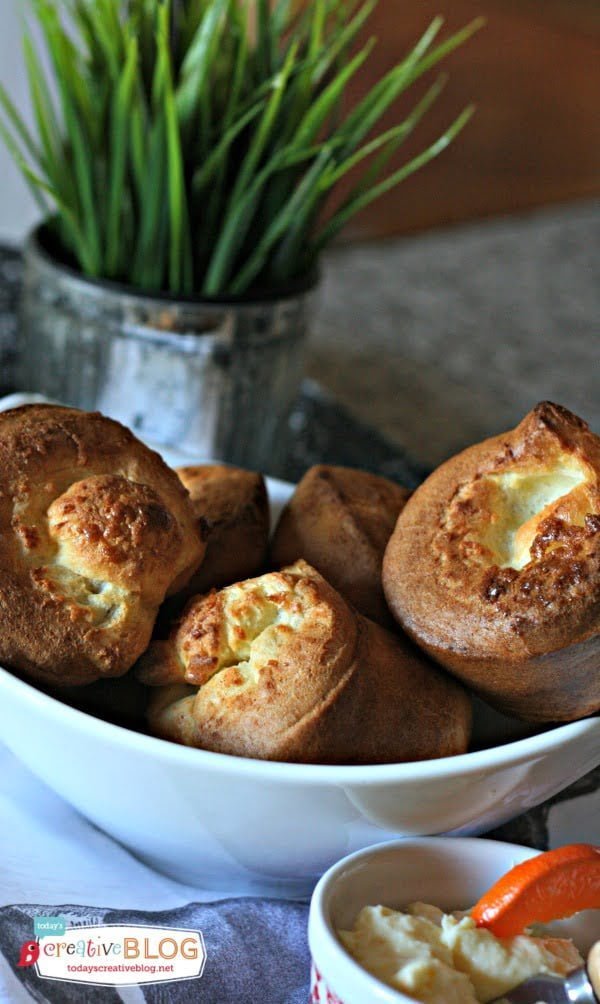 Knowing my ability to easily mess something up in the kitchen, I figured I'd better set myself up for success and purchase my own Popover Pan
. After looking in 3 different stores, and coming up empty handed, I finally ordered one off Amazon. If I were to order it again, I'd get the mini.
The recipe is very simple in ingredients. They don't even have any sugar. I was wondering how they could possibly be any good and decided to whip up a batch of Orange Zest Butter to go with them. (recipe will be coming tomorrow).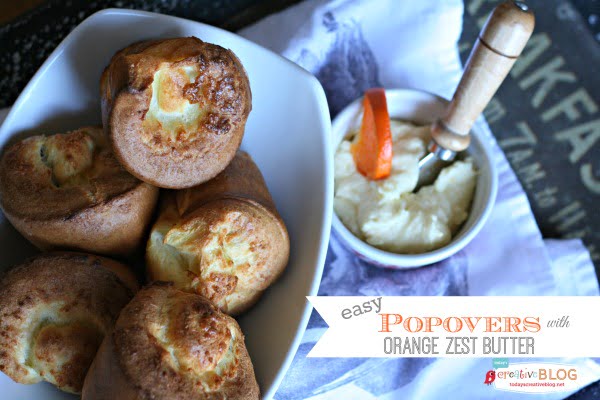 My first attempt was a flop. They looked more like muffins……but they were good! Instead of being kind of hollow, light and airy, they were dense……which actually was delicious. I didn't give up so easy and tried another batch. This time I didn't peek or open the oven. That was my mistake the first time. I just couldn't help it, I just had to open the oven door a couple of times and I guess they really do mean it when they say "no opening the oven door!".
My second batch were beautiful! Rising and puffing over the top. Light and airy with a slightly crusted outside with a hollow sound if tapped lightly.
I am the POPOVER QUEEN!
Hot out of the oven smeared with Orange Zest butter…….Mmmmmmm.
Ingredients
1 cup all purpose flour
1/2 teaspoon salt
2 eggs, beaten
1 cup milk
1 tablespoons butter
Instructions
Preheat oven 450°
Grease popover pan generously with shortening or butter.
Place popover pan in the oven and remove when you're ready to place the batter in.
Beat all ingredients together. I actually used my blender, but a hand mixer or kitchen aid mixer would be great.
Take out your pan.
Pour batter into your pan, filling each tin 1/2 full.
Bake at 450° for 15 minutes, then without peeking, reduce the heat to 350° and continue baking another 15 minutes.
Popovers will be billowing over the top and looking golden brown.
Serve with any topping you'd like, but I loved my Orange Zest Butter.
These were super fast to make and would make a great breakfast item anytime, but really nice for a weekend.
My supply list:
My convenient supply list includes affiliate links. This means that if you do click and decide to purchase, I will receive a very small, teeny tiny percentage.