Organizing Your Pantry may not be as big of a project for you as it was for me! Boy Howdy was it a mess! (scroll down for the before shot) There is some pride though for having my Party Pantry for party supplies organized and ready! After you've tackled your pantry, you can organize a DIY organized spice drawer with labels. Or check out how I recently organized my kitchen linens!
Organizing Your Pantry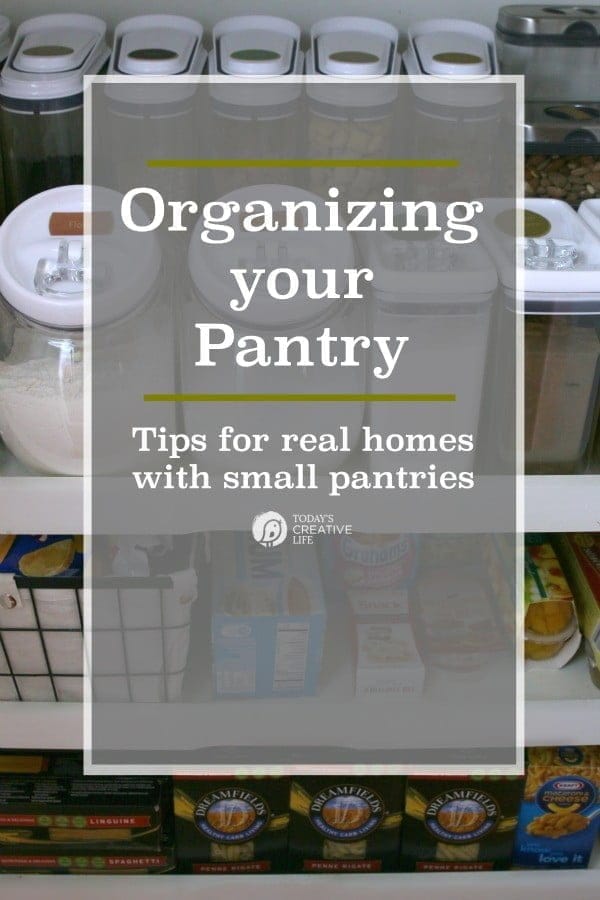 This past year I really let my pantry go. I think I last organized it about the time my mother was diagnosed with cancer back in April. Managing her care, traveling back and forth and of course managing Today's Creative Life….. got …let's say…. really creative. Organizing your pantry isn't usually on your list of priorities when you've got a lot on your plate.

It doesn't help when your husband, who is an over shopper when it comes to groceries and likes to sneak products in without me knowing. He and my son were able to sneak in a lot of junk food with my distraction. Then my 16 yr old son who lacks attention to detail… the pantry was one of the casualties. Not to mention that it's a really small pantry. Most the homes in my area have large walk in pantries. Sigh….
Here's the before. Just keeping it real, because I know many of you may be in the same boat. Life happens and it's OK!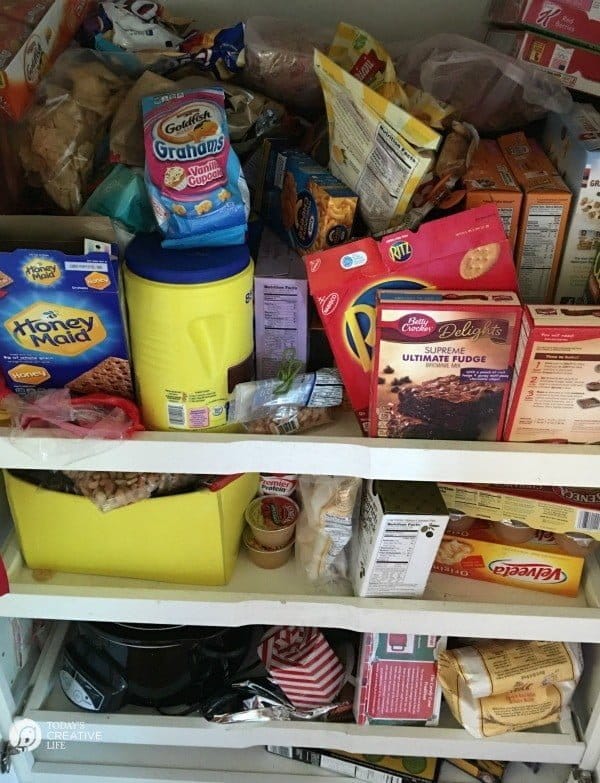 It's not pretty. Food was piled on top of food. Some items were stale or expired. Many products should have NEVER even been allowed and have been on our banned list for a long time.
Because I'm part of the Better Homes and Gardens Live Better Blogging Network, we are given a monthly challenge. My past challenges were my guest room makeover and a fun S'Mores and Hot Cocoa Fire Pit Party.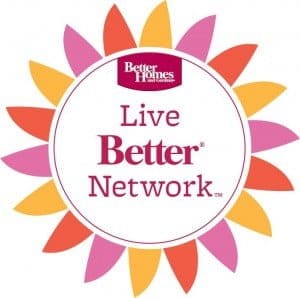 This month is all about organizing! January does that to a person, right?
Both my coat closet and my pantry were in serious need of a quick intervention and since I use the pantry more than my coat closet, the pantry won. (Remember when I organized my Linen Closet?)
I've also been dying to buy all the Better Homes and Gardens food storage containers from Walmart that I see every time I go shopping.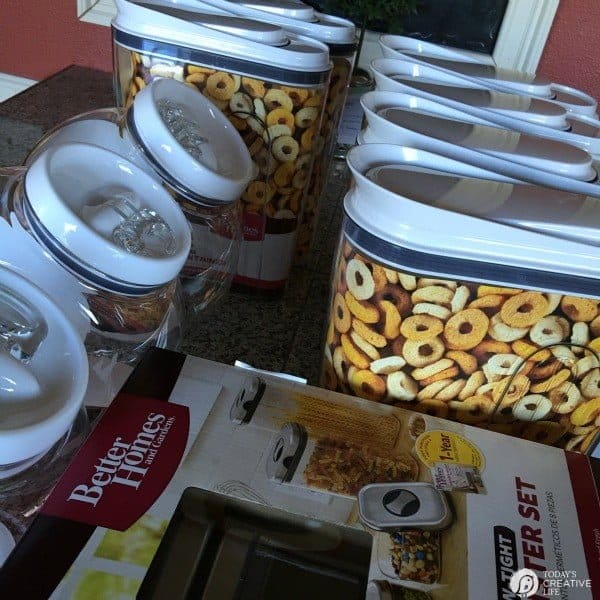 My store only had a couple of the items, so I went online and bought them from the other Walmart in my area, and picked them up that evening. Couldn't have been easier.
I picked up one 8 Piece Canister Set, 3 flip-tite cookie jars and 6 larger cereal containers, 5 medium flip-tite containers and two of the Better Homes and Garden's Canvas lined Wire Baskets . I didn't plan what I may need, I just bought a variety of small, medium and large containers to fit ALL my food into!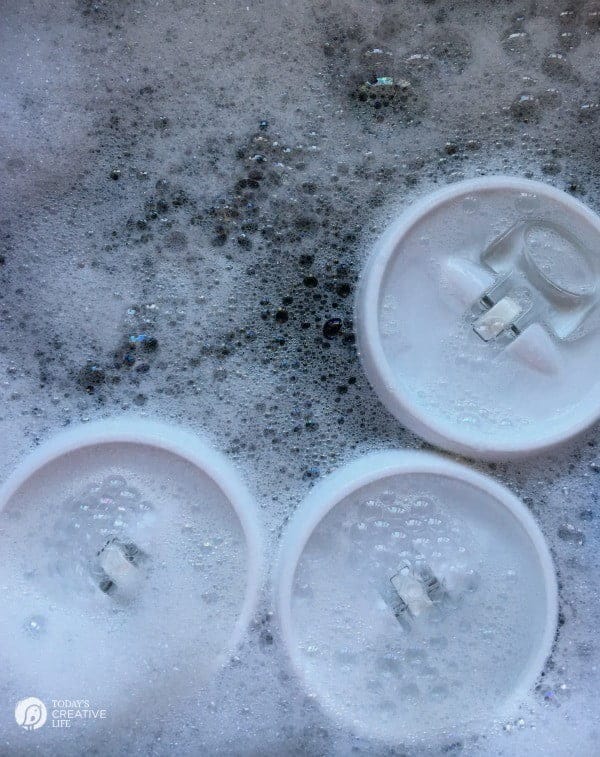 Wash Food Storage Containers
Once home, I filled my sink full of hot soapy water to wash all my new containers and lids. This is where I realized that water WILL get inside the lids, and after having a small fit, I realized it was easily remedied by removing the seal and draining.
Pull Everything Out
I have found that you must pull everything out when organizing your pantry. So while the containers were soaking, that' what I did. I pulled everything out of the pantry and tried to organize by type.
It was like digging for treasure as I pulled out box after box of food items that have been there for months. And duplicates! Oh my gosh, how much money are we wasting on buying items we already had? Organizing your pantry can save you money in the long run.
I love Jaunita's Tortilla Chips, but seriously…. I found 6 bags! My husband will buy them weekly if I don't tell him to stop. In our defense, we did have a nacho bar for a bunch of teens.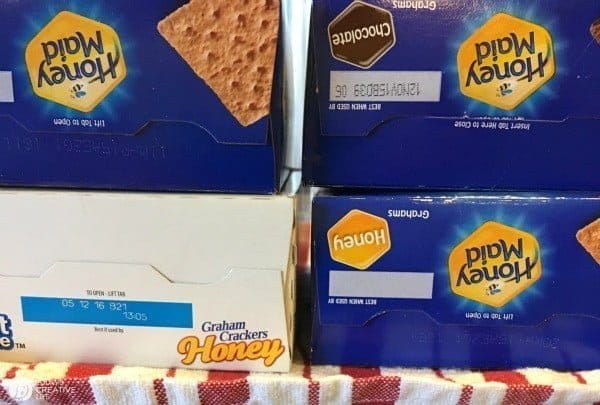 And Graham Crackers! Holy S'mores! Most of these are expired even!
Again, in my defense, I had purchased several for the S'mores party we had for the teens.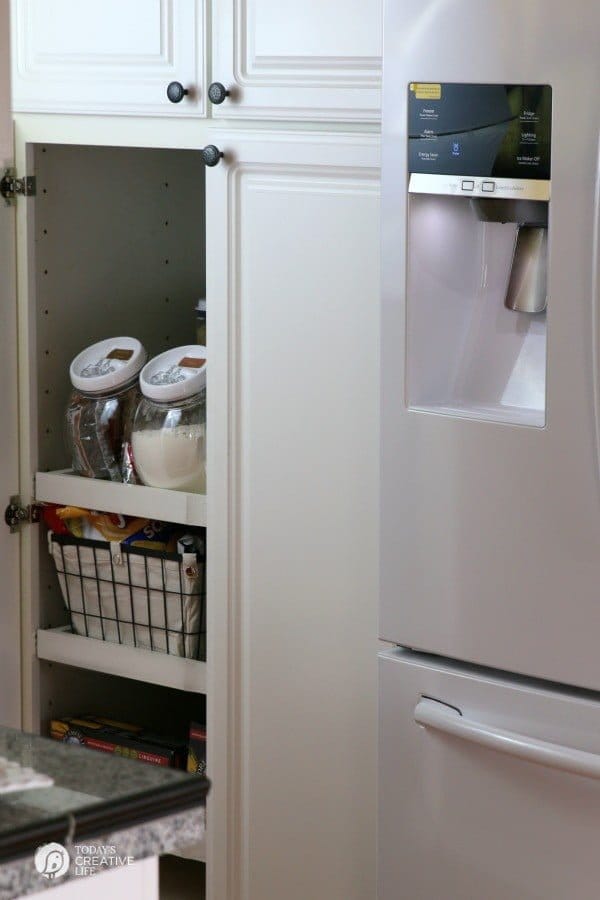 I evaluated my inventory, threw away expired items, and created a pile of unopened food I could donate. Then the fun started. I started filling all my containers! Just look at the beauty!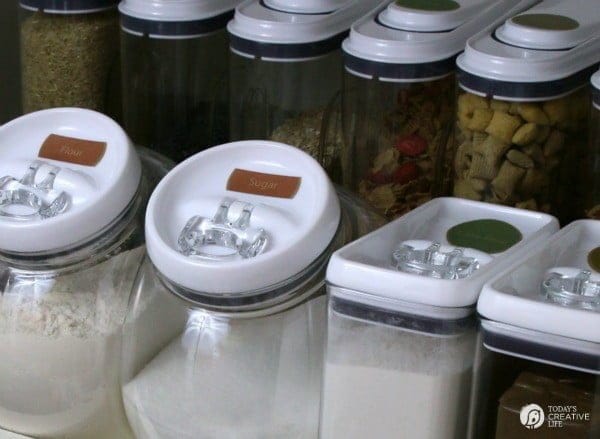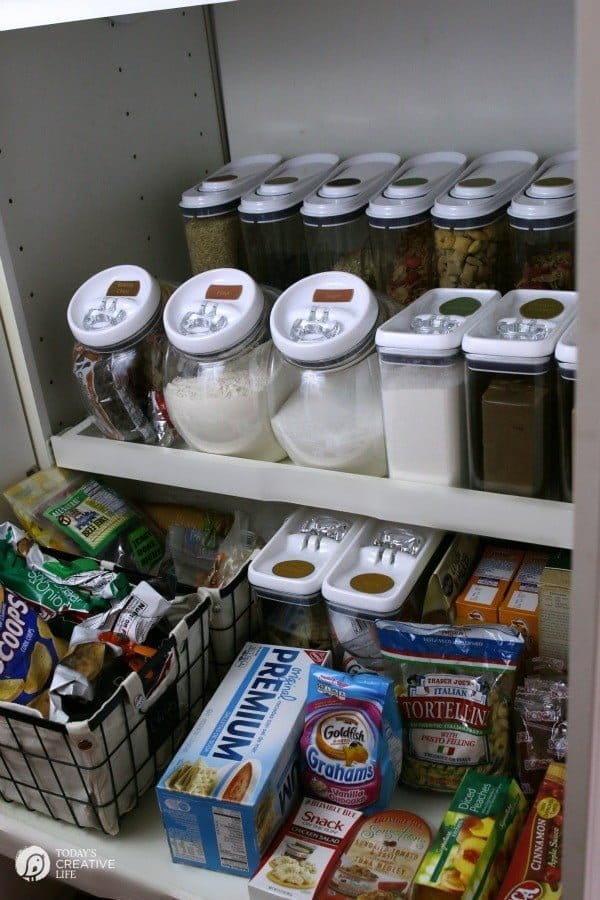 One thing I notice when I get going on an organizing project….. I get hyper focused on alignment. Does it bother anyone else that the saltine box is crooked? I have since straightened it, just in case you're wondering.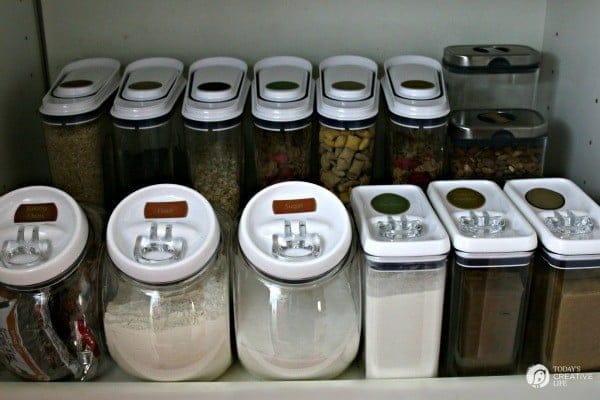 It just keeps getting better and better!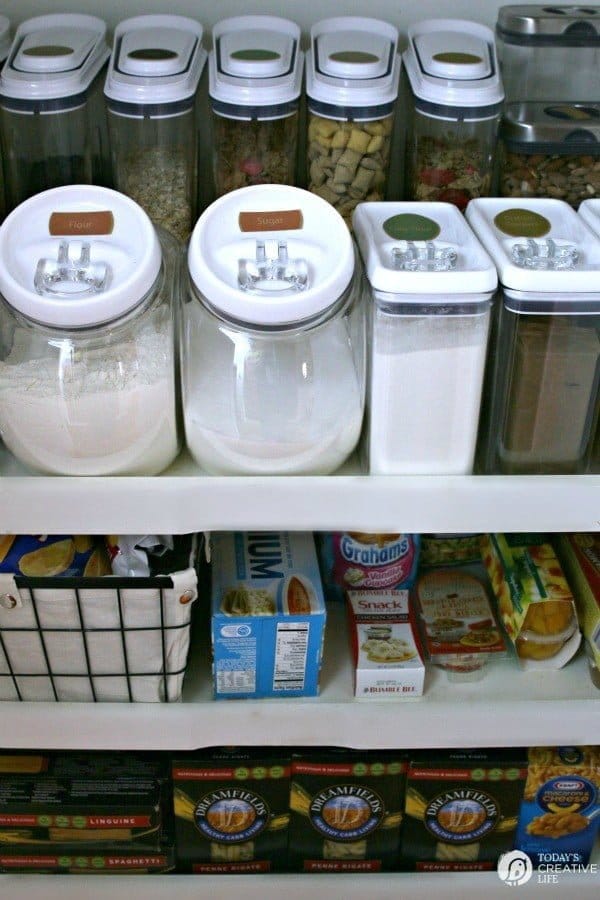 What a transformation! I was able to condense, organize and arrange in a way that makes my small little pantry more efficient.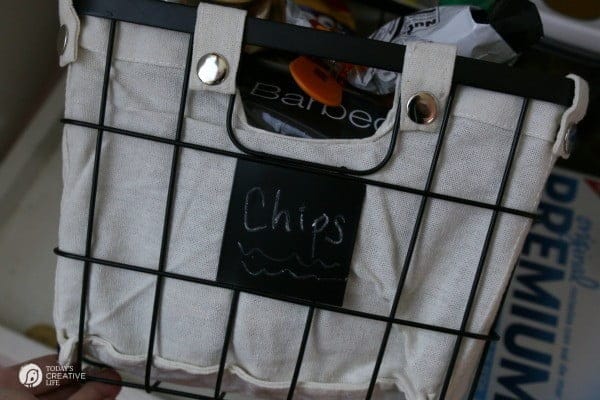 Once I placed everything inside my cupboards, I realized I needed cute labels. Since I was short on time, I headed to WorldLabel where he has a ton of free pantry labels.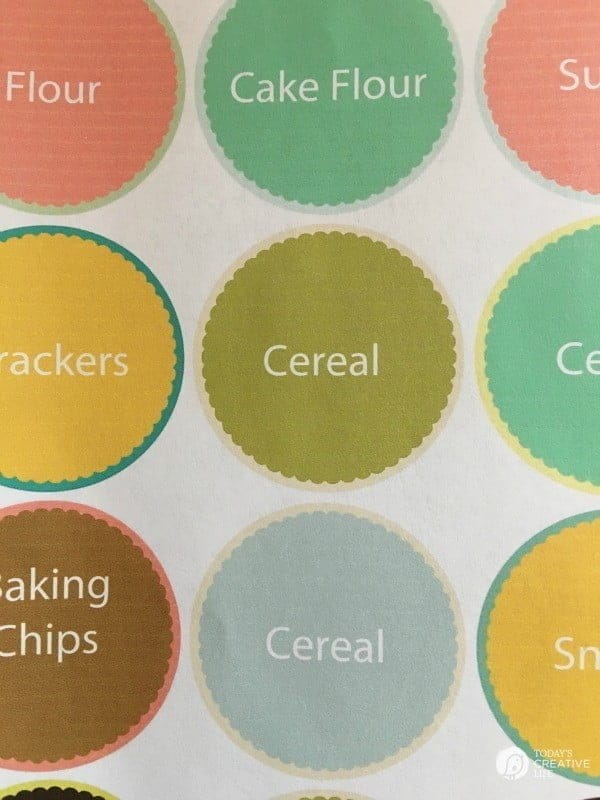 I also already had the pre-cut round sticker paper in the Kraft color, so I used those instead of white. The above photo is printed on white and I could have used my 2inch paper punch, but it was much more convenient to just use the pre-cut sheets.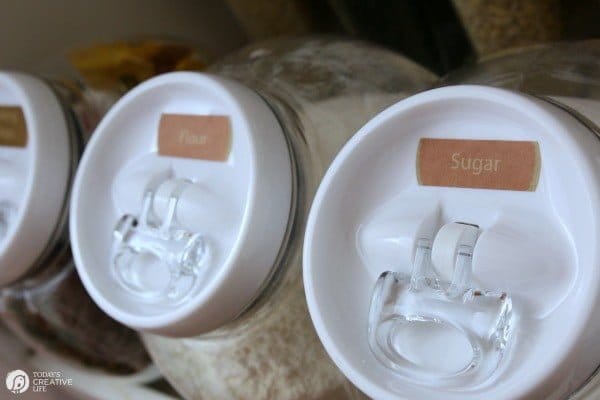 The circle labels were to big for the cookie jars, so I cut them to fit. Nothing was slowing me down at this point.
The first thing my husband asked was "How long do you think it will stay like this?" If looks could kill……
More Organizing Ideas
See my Fellow Better Home & Gardens Bloggers and their amazing ideas.