Early this fall, I was given the opportunity to review and drive the Kia Sorento for one week. I had driven one in the spring and LOVED it!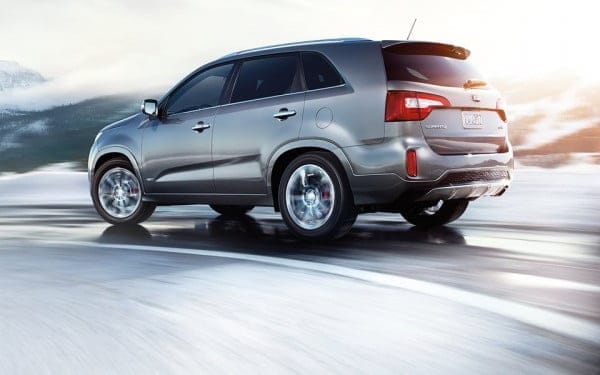 I told the guys at DriveSTI that we had a LOT of soccer coming up and would love to see how it worked with our family. And besides, who doesn't love driving a new car?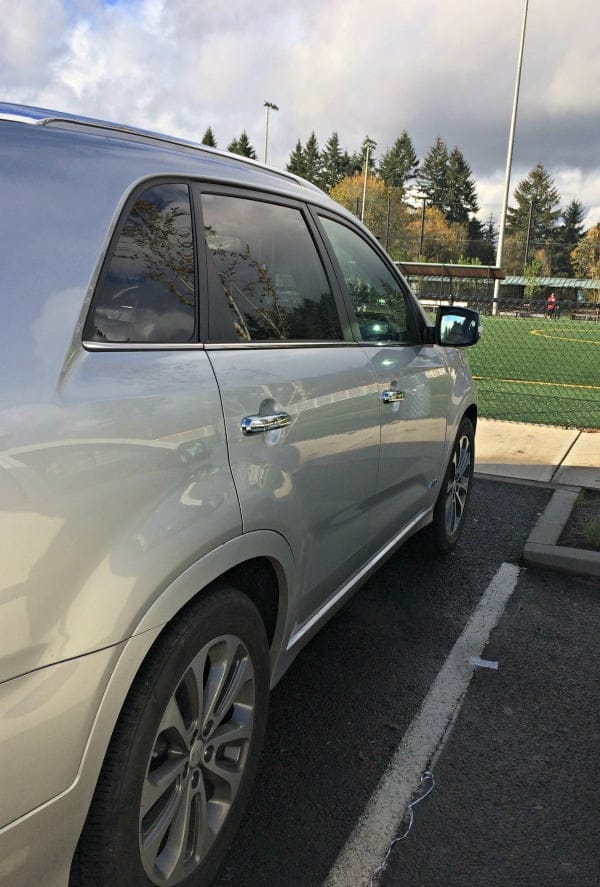 The week I had it, ended up being one of our wettest weekends. It dumped buckets and then would clear up for 15 minutes, then back to a downpour. Welcome to the PNW.
It was nice to drive it to my early morning Injury Prevention Classes that I teach on a daily basis in Portland. It's really early and it's really dark when I leave the house, but this Kia Sorento made the drive in the messy weather a dream. The heated seats weren't too bad either.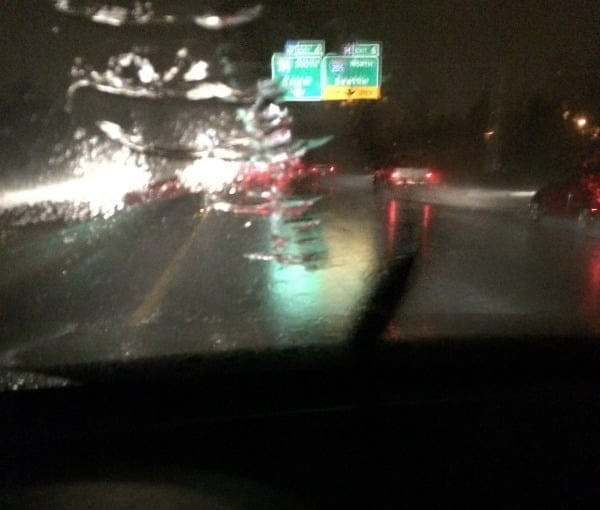 I had always thought of Kia as a budget friendly car……..and it is, but it's much more comfortable and luxurious than I expected. It was so easy to drive, making the driver feel a little spoiled. I didn't expect it to be budget friendly AND luxurious. I was surprised.
I loved all the bells and whistles they include. The ones that mattered to me the most, were the blind spot notification. When on the highway, a small light of a car will pop up on your side view mirror. If I happened to also put my blinker on and there was a car in my blind spot, the car dings, alerting you.
I love that! Because in these dark wet mornings…..it's hard to always see what's around you.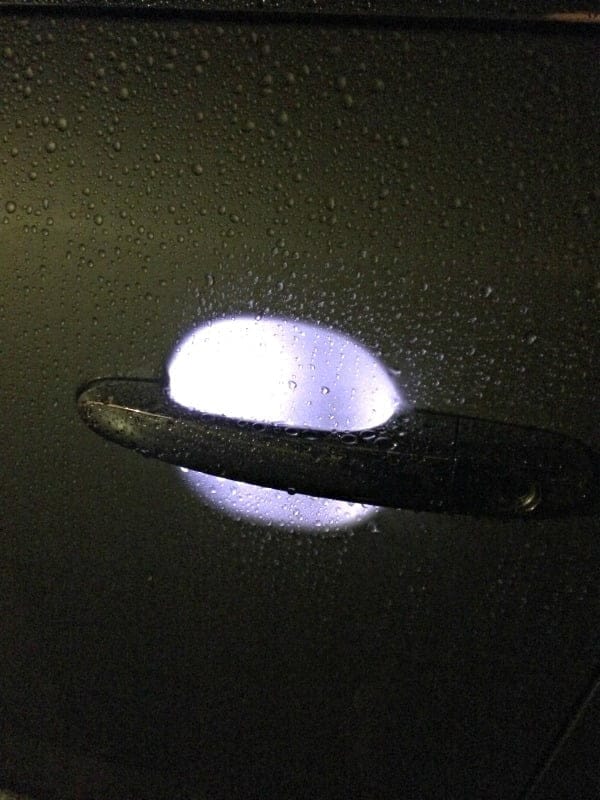 I also loved the key-less entry and always smiled when the door would light up for me when I got close. I also fell in love with the back up camera.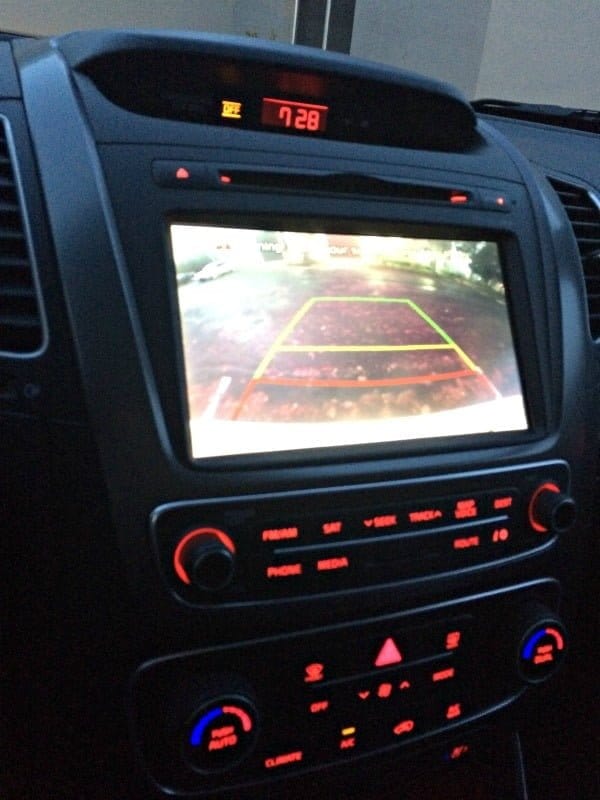 And see that full screen? It's the UVO system. Makes hands-free a dream.
With UVO eServices, an available infotainment system, it's simple to manage music, make hands-free calls, and much more. You can even use Google Maps™ and send locations to your car with the UVO eServices phone app.
We had a soccer tournament the weekend we had the Kia, so the navigation was very handy as well as having the room to stretch out in between games.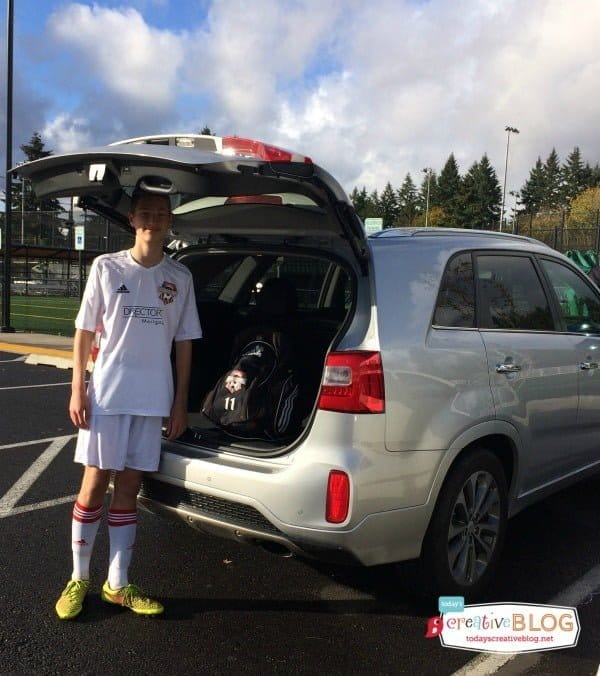 I loved how the top came up and allowed us enough room to stand underneath for quick "soccer wardrobe changes" without getting wet if it was raining. (These photos were taken on a brief rain break)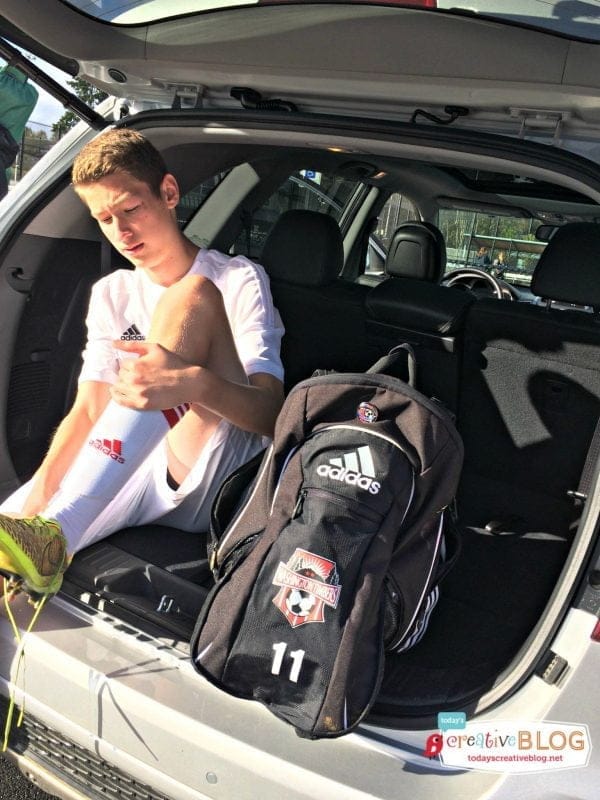 The one feature that I loved loved loved………and maybe it's the dark days we can have, but I loved the double sun roof. It rolls ALL THE WAY BACK!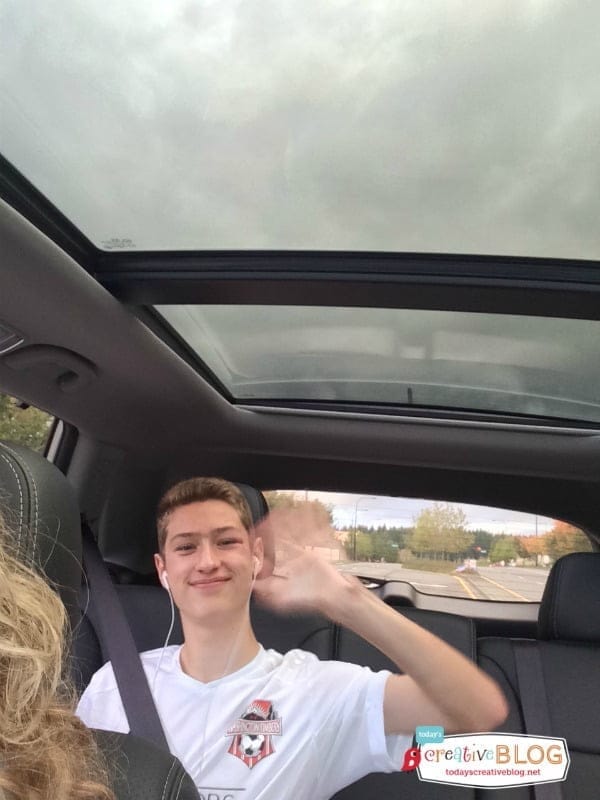 Before you flip……worried that the back portion of the sunroof also opens completely…….it doesn't. But look at all that light! They call it their Panoramic Sunroof. I call it genius!
Pros:
SEATS 7! Carry people. Carry cargo. With the spacious interior of the Sorento and available 3rd-row seating, you can seat seven. You can even split fold the 2nd and 3rd rows
UVO system – Loved the back up camera, the sirius radio, the google maps and being able to find where the nearest Starbucks in a second!
Comfort! – This car was comfortable. Even for my 6′ son and 6'1″ husband.
Blind Spot detection – LOVE LOVE LOVE!
It's not a HUGE car, but feels roomy. Still easy to drive around and easy to park.
The mirrors folded in with the press of a button. I loved not having to worry about them while parking in the garage.
View a full gallery here. See how others use the Kia Sorento.
Affordable.
Cons:
Gas Mileage- I averaged about 19 mpg. I know that's still great for most people, but since I drive to Portland daily (35 mile round trip), I would feel selfish being the only one in the car. But if I had to always cart people around and I wasn't traveling every morning…..I would go for it.
I really can't think of another reason why I wouldn't purchase one.
See more information about Kia and other models they offer.
This post is sponsored by Kia and DriveSTI- All opinions shared are 100% mine.