Add Farmhouse style with Painted Drop Cloths Recovering Dining Chairs. I have a really really old dining room table and chairs. I was told when I bought it, that it was once owned by Katherine Hepburn and came from her home in the Pocono's (that's my story and I'm stickin to it).
Matthew Mead from Flea Market Style even included me and my table in one of his magazines a few years ago.
Painted Drop Cloths Recovering Dining Chairs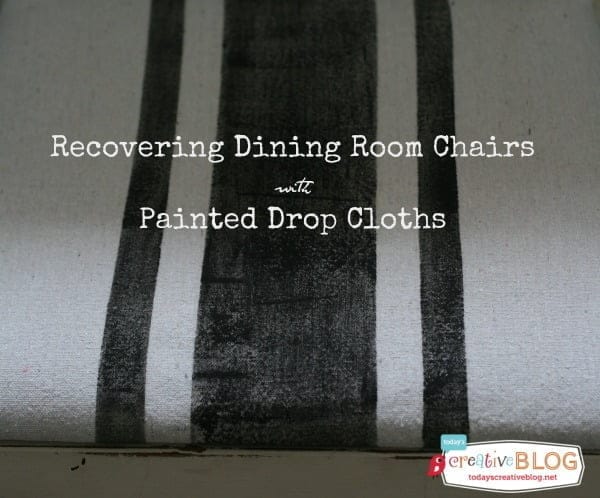 When you have old furniture on purpose, it comes with a price. It's not always pretty. These poor chairs have been recovered so many times before me and they were looking pretty nasty before I put the black and white toile fabric on a few years ago.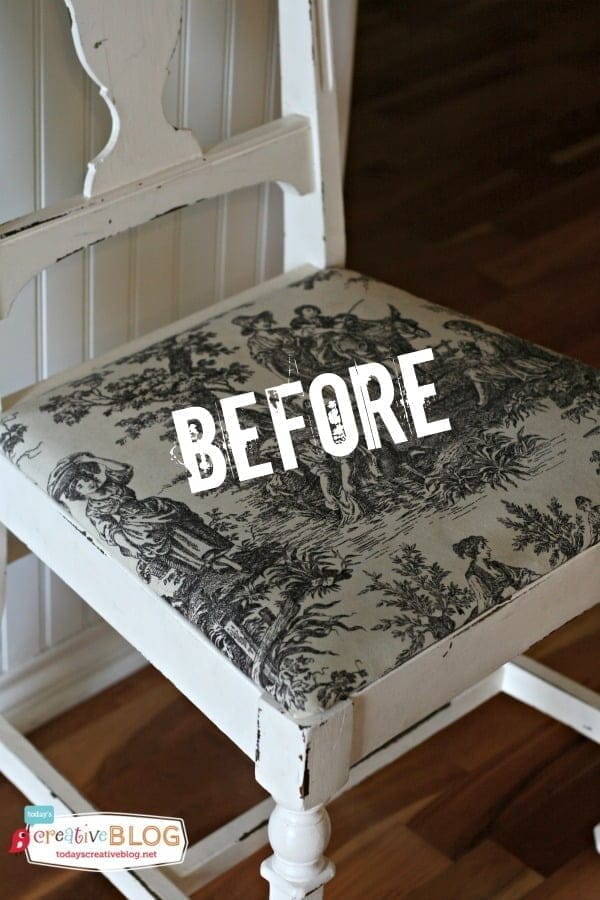 After a few years, this fabric too is looking a bit shabby.
I have never removed ALL of the past fabric, but I need to…….and I will. Soon. For now, I'm making them pretty with new batting and a fabric.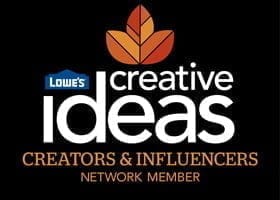 For my Lowe's Creative Ideas Challenge this month, I chose "furniture makeover" thinking it would force me to get this project done.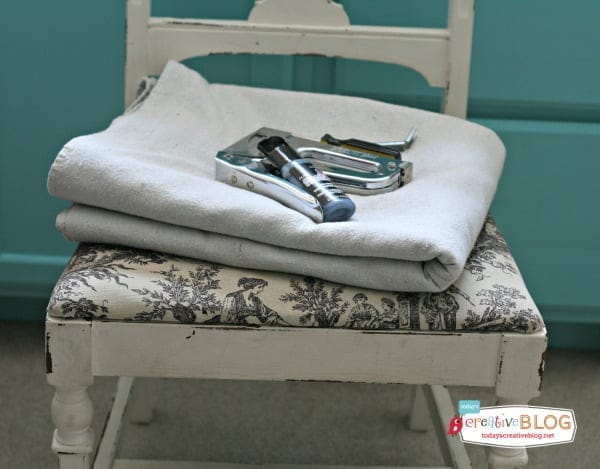 The drop cloth fabric is durable and I love the look of it. I knew exactly what design I wanted to paint.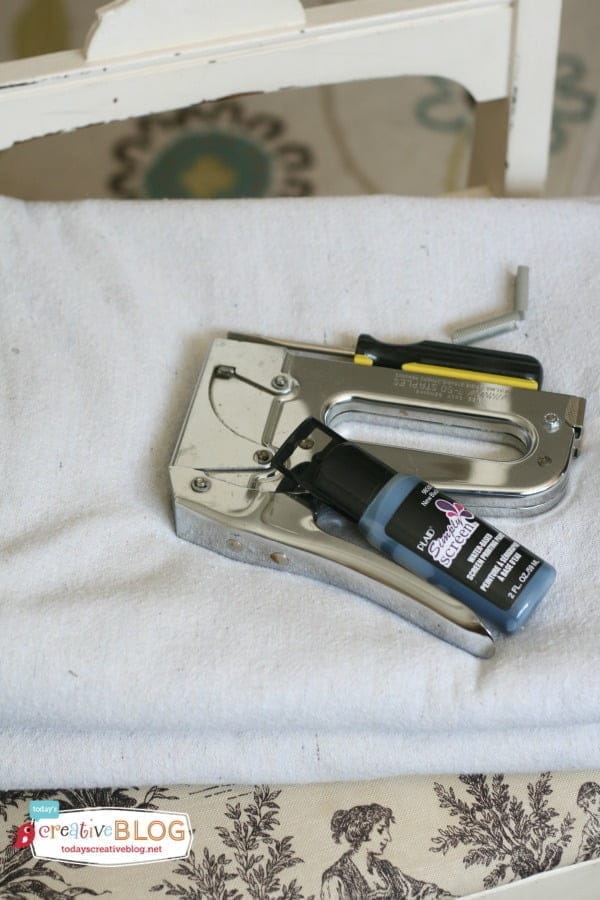 How To Paint Drop Cloths
Supplies needed for Painted Drop Cloths Recovering Dining Chairs:
I can easily take the seat off my chairs by unscrewing them. I don't think the seat is the original seat and is just a piece of wood cut into the shape needed.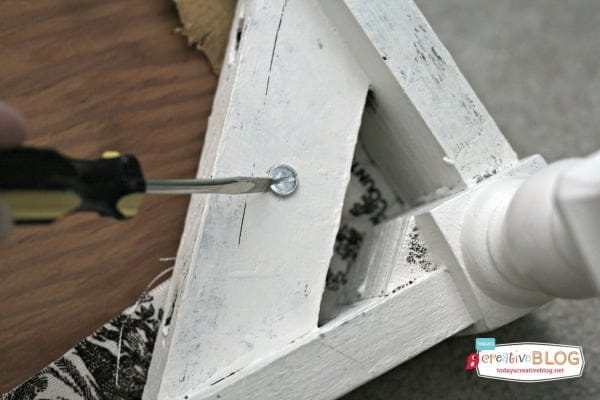 I should probably just cut new wood seat templates one of these years too.
I laid my drop cloth out onto my craft table, then laid the wood seat piece on top. Using your scissors, you're going to cut the drop cloth around your chair seat with an extra 2 or 3 inches for overlapping. The drop cloth square will be larger than your chair seat piece.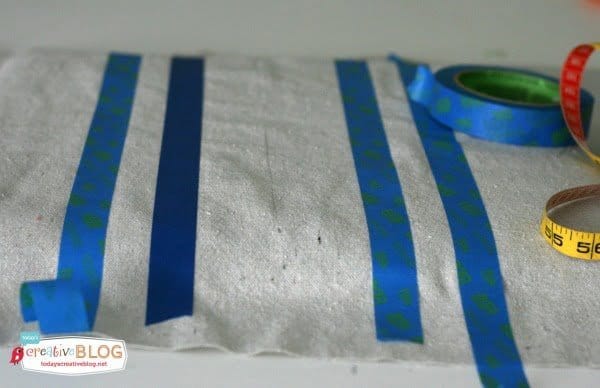 I flipped it over and aligned the fabric on the seat, then marked with painters tape for a centered stripe.
Using black fabric paint, I utilized a dry brush technique, gently brushing back and forth, careful to not soak the fabric all the way through. I wanted a worn look. I wasn't sure at first and thought it was going to be a big ole flop, but once dry, I liked it.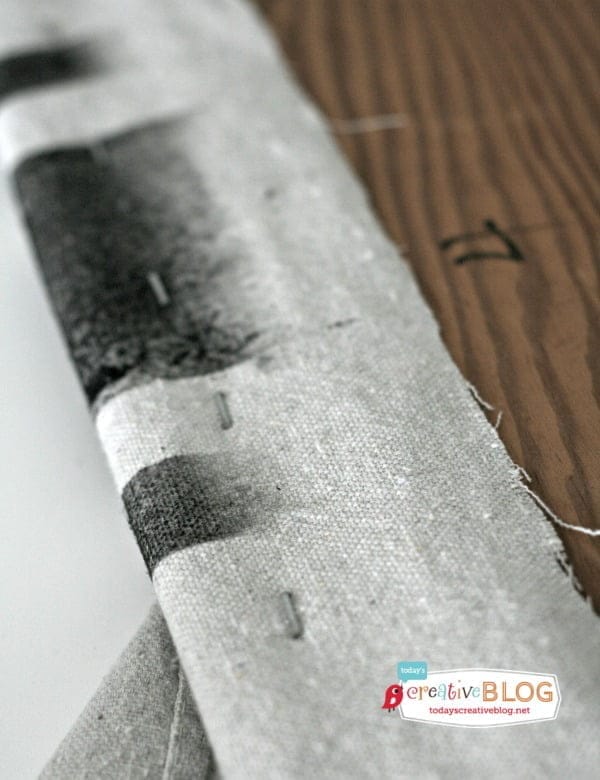 Once completely dry, I set the paint with a warm iron, by placing a thin dish towel over the painted portion, then ironing. We wouldn't want any of the black paint to rub off on anyone would we?
Now it was ready to be recovered. I flipped it over so the fabric was on the bottom and started folding the fabric around the wood seat and stapled into place.
The corners can be tricky. I just always think about how I'd wrap a present.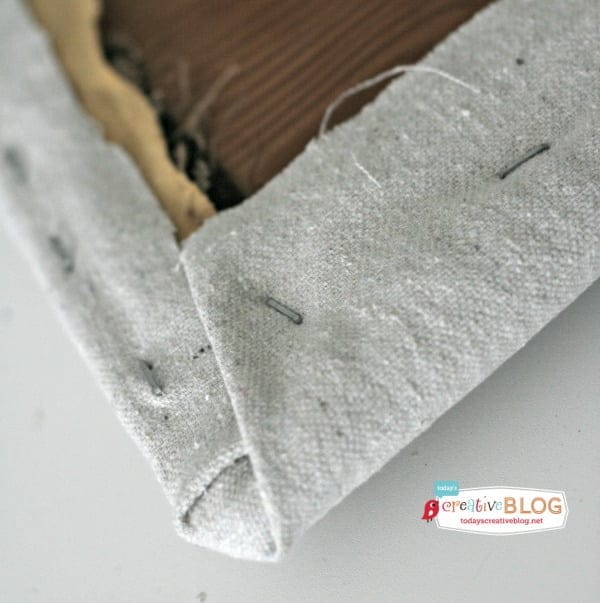 After all the staples were applied, I trimmed any excess fabric off, making sure the attachment holes were clear and screwed back into place.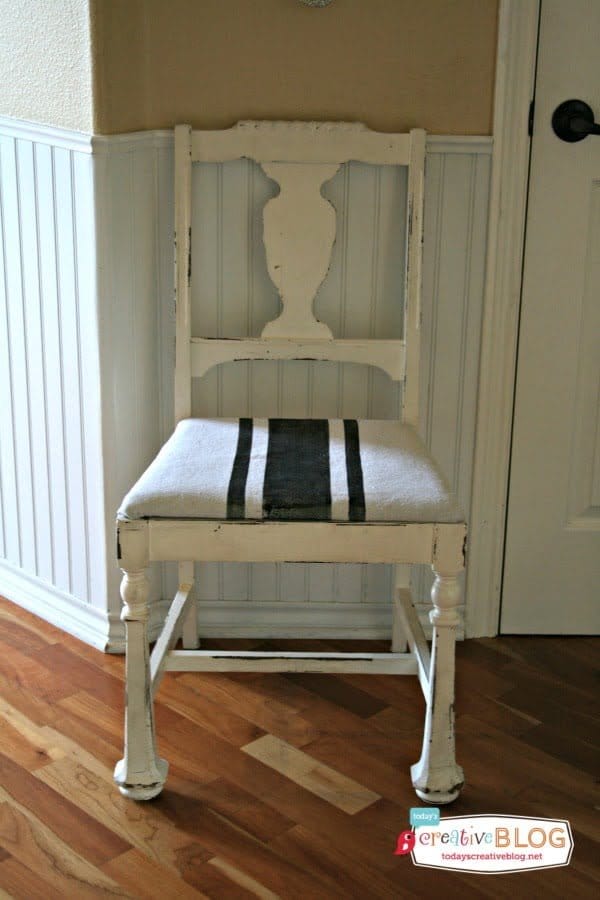 I'm loving it! It fits that "farmhouse" look that I love so much. If you have an old chair that you just can't fix, but you would love to somehow use it, you'll love this Repurposed Chair Back Coat Rack!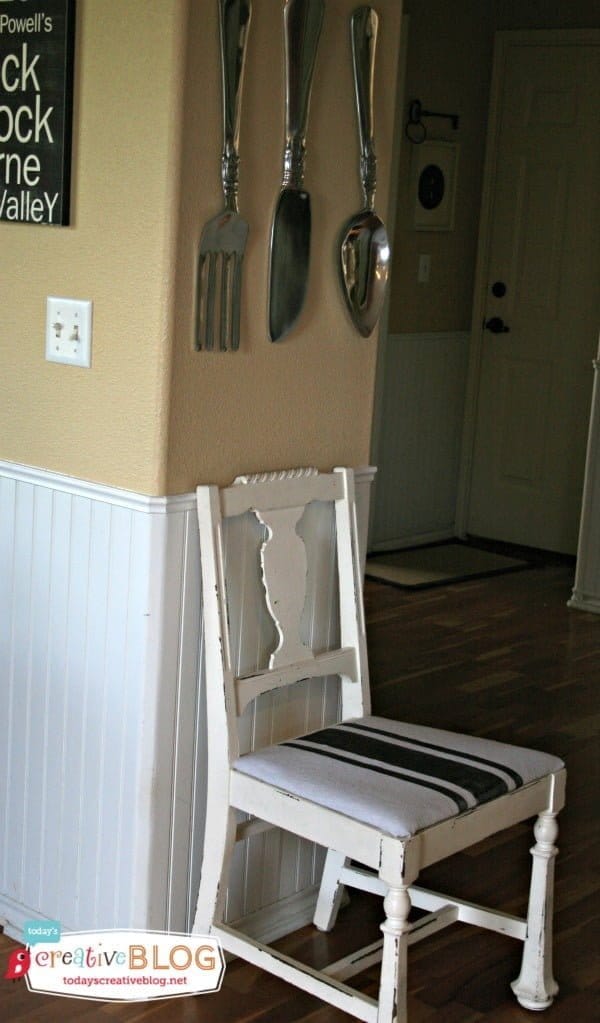 It's so fun being part of such an amazing team of Creative Ideas Bloggers! All so talented. Always great ideas and you can now use the app to find what you need. Have fun shopping around for fun projects.

This post is sponsored by Lowe's. The choice of project and my opinions are 100% mine.