This Peppermint Bark Recipe is a holiday tradition. Made with candy melts and broken candy canes, you can make up a quick batch for easy homemade holiday gifts.
I'm doing "Gifts from the Kitchen" on my AMNW segment this month. I'm a simple girl. I like easy recipes and easy gifts. I love Peppermint Bark and this Peppermint Bark recipe couldn't be easier! This makes a great holiday gift for neighbors, teachers, co-workers, even family.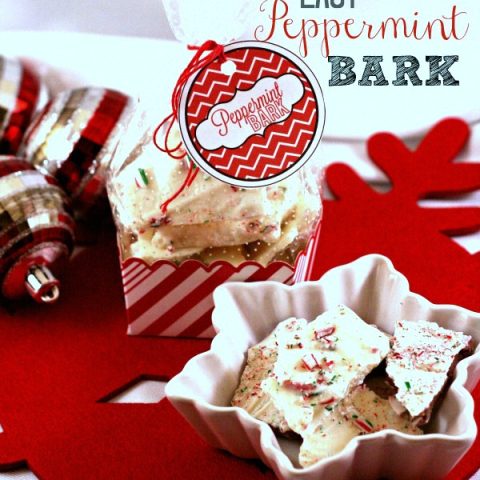 Peppermint Bark Recipe
Yield: 8
Prep Time: 10 minutes
Total Time: 10 minutes
Great for homemade holiday gifts!
Ingredients
1 bag peppermint candy melts
1 bag white chocolate candy melts
2 cups crushed or broken candy canes
Instructions
Place both bags of candy melts in a large microwave-safe bowl. I like using my 4 cup pyrex measuring bowl.
Melt in the microwave in 15-second intervals, checking and stirring each time.
When it's thin enough, spread into jelly roll pan.
Sprinkle broken candy canes on top.
Let it sit for a few hours before breaking apart.
I've even got an adorable free printable made my Kiki, one of my printable contributors. Choose the blank style or the ones already written in.
Download Free Printable Peppermint Bark or Blank Labels in the Printable Vault.
For more Gifts from the Kitchen: