Sometimes you get a hankering for cookies and you don't want a lot of fuss or mess. That's why I LOVE making Cake Mix Cookies!
Not only is it fast, but so easy and they always turn out! When I saw the Dark Chocolate Cherry Nestlé ® Toll House® DelightFulls™ Filled Baking Morsels and this pink velvet cake mix, the decision was made.
This Pink Velvet Cherry Chip Cookie Recipe is delicious! I love the pink color, making it the perfect after school treat on a sunny day.
Pink Velvet Cherry Chip Cookies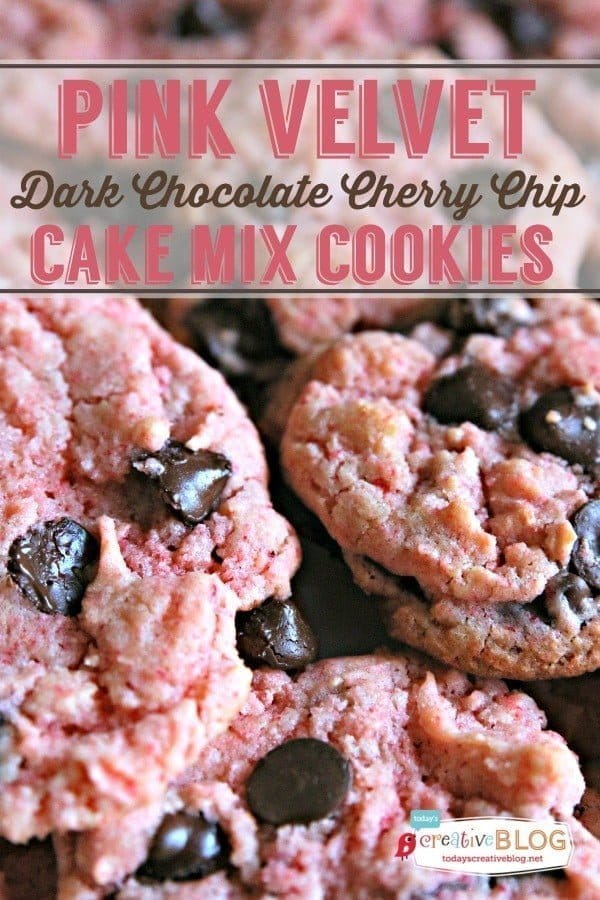 I was thrilled to be asked to work with Nestle Toll House. Whipping up a quick recipe like these cake mix cookies using one of the varieties of the Nestle Toll House DelightFulls Filled morsels made these cookies something out of the ordinary.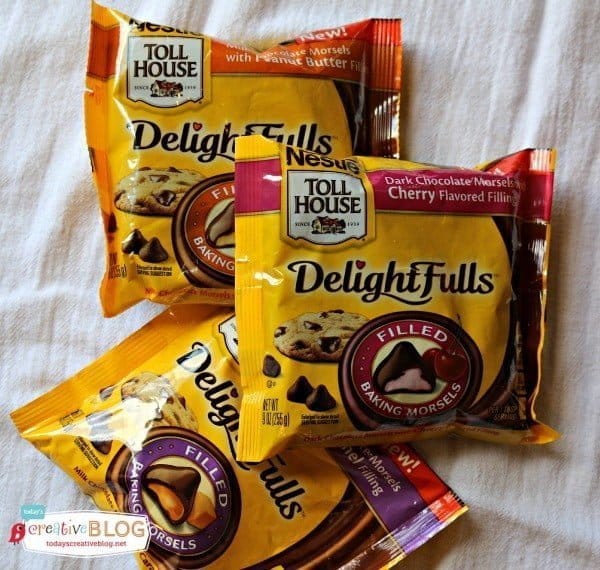 Nestle Toll House DelightFulls Filled Baking Morsels: each bag is 9oz. Flavors:
Milk Chocolate Morsels with Caramel Filling
Milk Chocolate Morsels with Peanut Butter Filling
Dark Chocolate Morsels with Mint Filling
Dark Chocolate Morsels with Cherry Flavored Filling
Typically I would go directly to the peanut butter filled, but the caramel filled also sounded pretty yummy.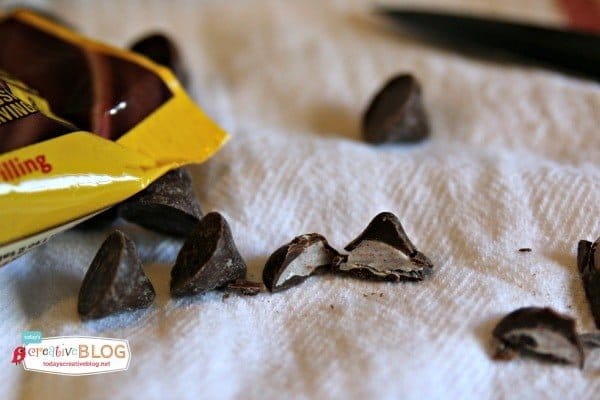 Then I saw the cherry filled and thought they would be perfect for a spring time cookie! They also have mint filled, but since my son isn't a huge mint fan, it made my buying decision a little easier. I couldn't however resist getting one of each of the others!
Making cake mix cookies is usually only 3 or 4 ingredients. That's it! Just dump in the cake mix, the eggs the oil and mix.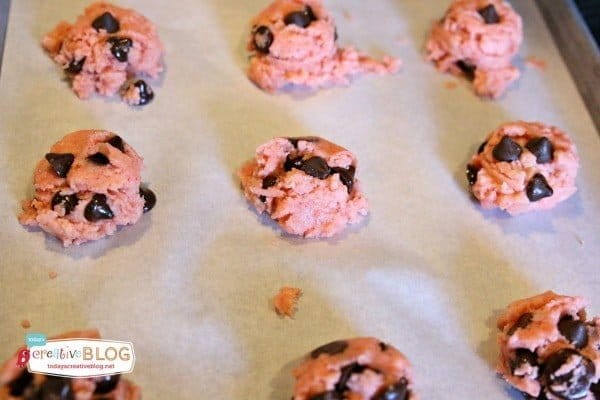 Blend in your DelightFulls Filled Morsels instead of regular chips for a new spin. Spoon onto a baking sheet and in 9-10 minutes, you've got cookies! It's nice they hold their shape.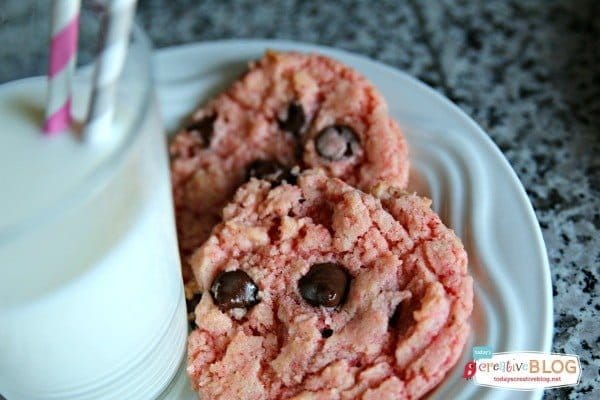 It's fun to eat pink cookies! Just looking at them will make you happy.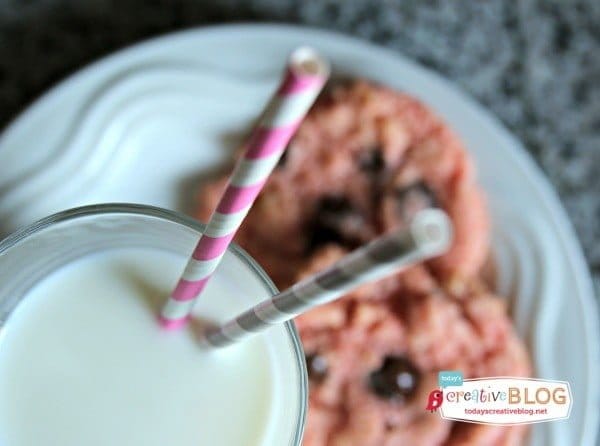 Because I'm "Mother of the Year", I had this waiting for my precious 16 year old boy when he walked in the door from school.
It's the little touches that make people feel special.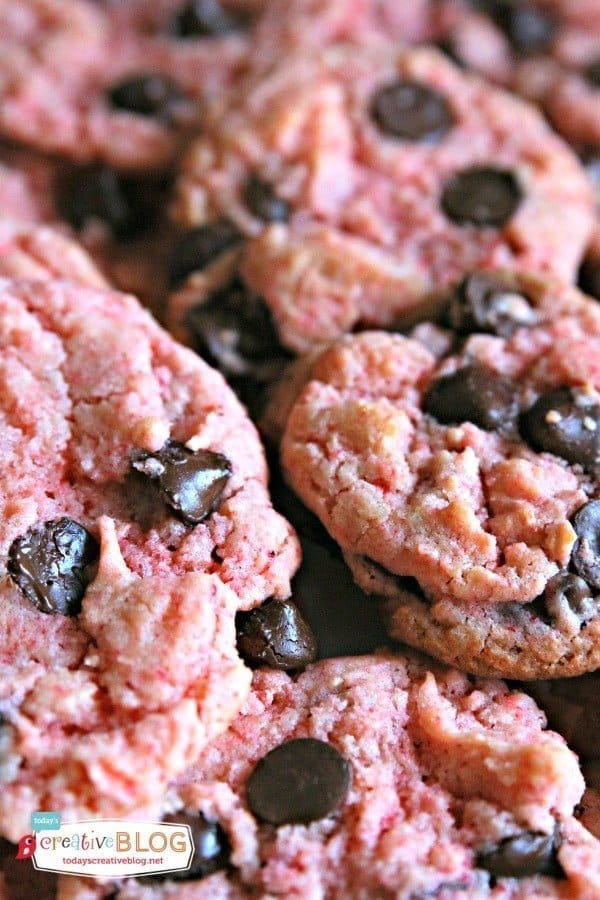 Who wants one of these Pink Velvet Cherry Chip Cookies? Or two?
To see more fun recipes and ideas using the Nestle Toll House DelightFulls Filled Morsels, click here!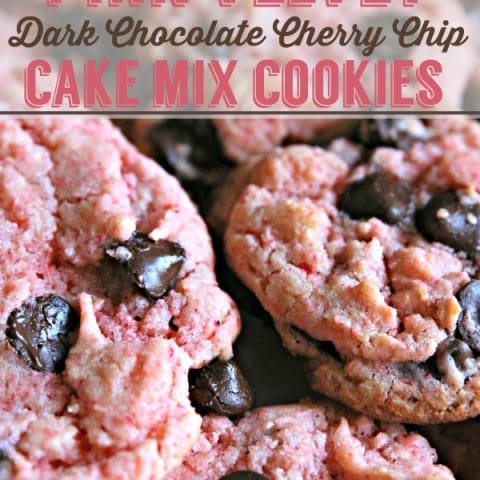 Pink Velvet Cherry Chip Cookies
Yield: 2 doz
Prep Time: 5 minutes
Cook Time: 10 minutes
Total Time: 15 minutes
Ingredients
I box Pink Velvet Cake Mix (16.5oz.)
1/2 cup vegetable oil
2 large eggs
1 cup Nestle Toll House DelightFulls Dark Chocolate Cherry Filled Morsels
Instructions
Combine cake mix, vegetable oil and eggs and beat with an electric mixer on medium until smooth.
Stir in morsels.
Drop spoonfuls onto an ungreased baking sheet. (I used parchment paper)
Bake at 350° for 8-10 minutes.
Cool on wire racks
Enjoy!
This post is sponsored by Nestle Toll House DelightFulls Filled Morsels. All opinions and recipe ideas are 100% mine.