Do you have a high school or college graduate this year? Will you be Planning a Grad Party of your own?
As if that wasn't enough to handle, but now you're thinking you should be planning a grad party and seriously……..who has time to plan one of those adorable parties you see all over Pinterest?
Updated: With my son graduating, I was now planning a grad party for him! See more Grad Party Ideas.
I am NOT a party planner, but sometimes I pretend I am and try to throw a fun and creative gathering for everyone to enjoy. Partnering up with Shutterfly, I'm going to show you a few SIMPLE ways to create a fun party table, the "kim" way! (The "simple" way)
I always start with an inspiration object.
Planning a Grad Party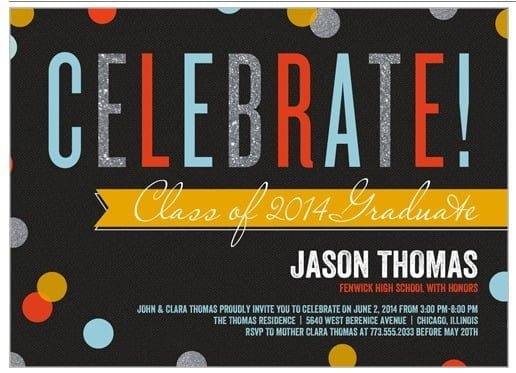 Shutterfly has SO MANY great Graduation Announcements and Invites that my wheels were quickly turning in no time! I used their "Celebrate" design and kind of went with the popular chalkboard theme.
It is a grad celebration after all.
I was instantly inspired, knowing I could figure out something fun to create.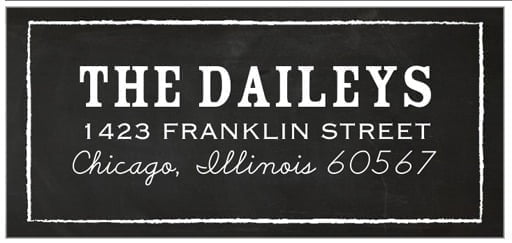 I also ordered these address labels, but I just didn't use them as address labels. You gotta think outside the box sometimes and I knew these would be perfect for some sort of label tags.
We have a daylight basement with a full kitchen / wet bar, which I thought would be the perfect place to set up a party. It's currently our Teen Hangout with lots of room. Don't worry if you don't have this kind of extra space. You can create a great party table using your kitchen or dining room table, leaving the table where it is, or scoot it up against the wall so you have an opportunity to create a backdrop of sorts. Poms and other party fans make quick and easy decor. You can buy them or make them. A quick search on google will show you a ton of tutorials.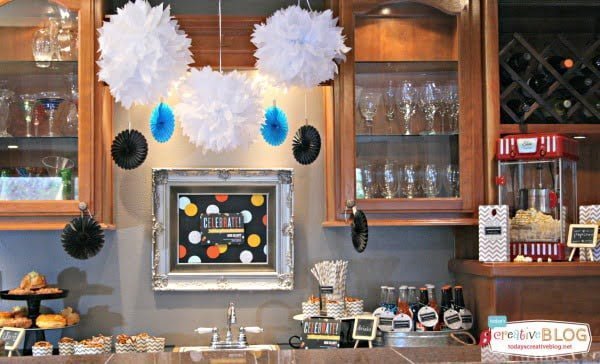 I have a lot of empty frames and had recently spray painted one a silver color for another project……I realized it would be perfect for showcasing the invitation. I painted a small stretched canvas with chalkboard paint, cut out several circles in coordinating colors and then added dimension by adding space between the circles and backing or by using several invitations.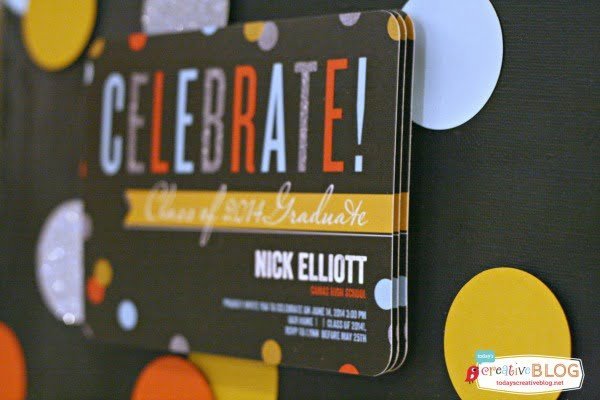 I think my framed inspiration is the perfect statement piece. You could hang this anywhere, even on the front door……or use an easel to prop it up on your party table.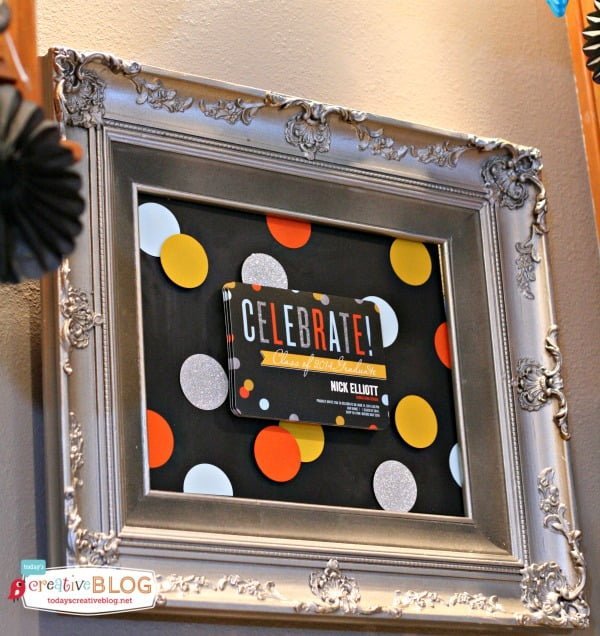 My matchy matchy didn't stop there. I found sodas in matching colors. I wanted the old fashioned soda's for added surprise and energy.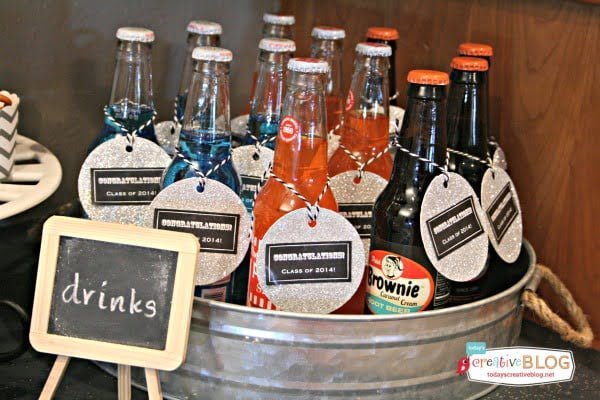 With all the fun party supplies now available, it was easy to grab straws, snack cups, and bags all in coordinating or matching patterns. This pulls it all together don't you think?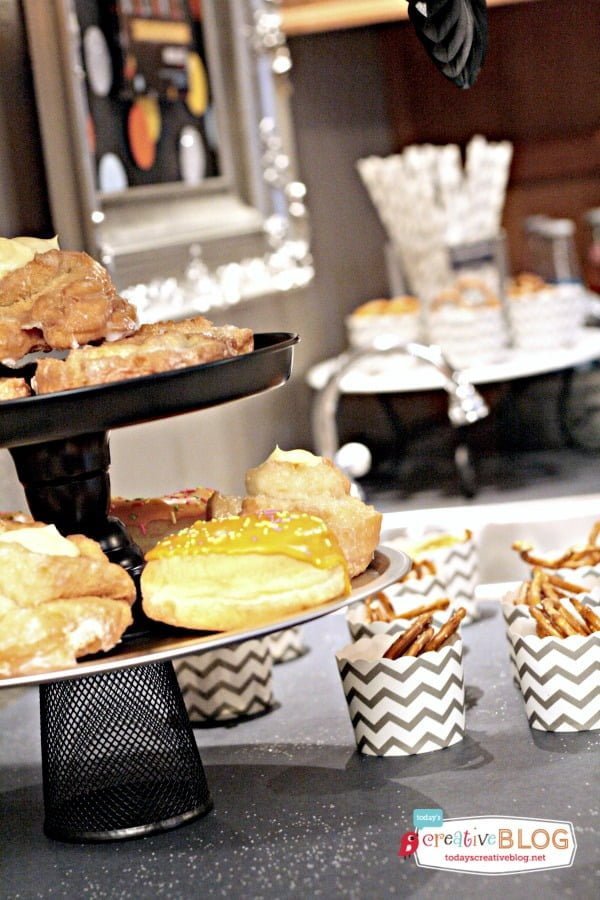 Always think about going vertical when planning your party. I used a cake plate I made out of a pizza pan and pen holder, then stacked another tin cake plate on top. Again…….not fancy. See How to Make a Cake Plate.
Using the address labels as a message came in handy several places. When ordering, I simply chose my message and the font. I love this idea!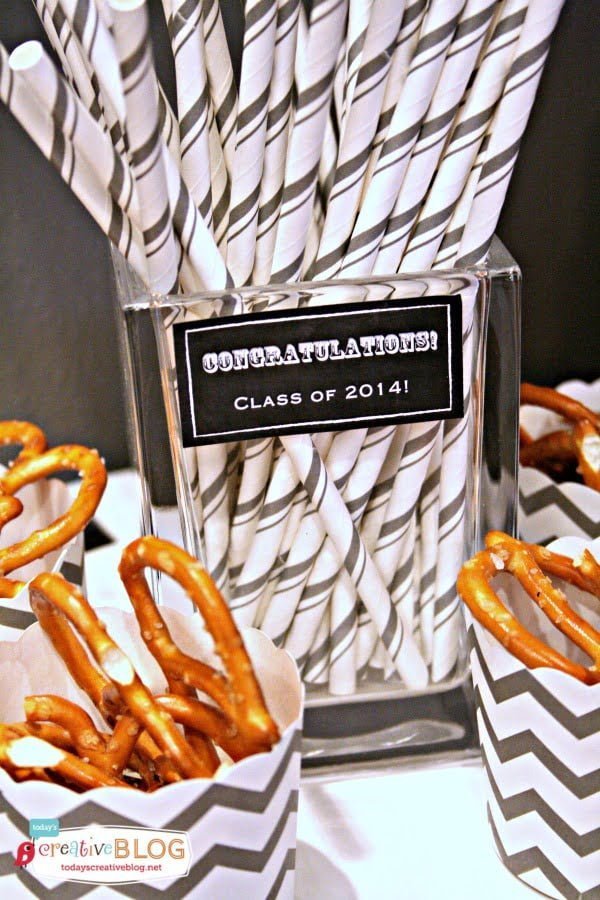 I used them not only on the pop bottle tags but also on the popcorn bags, keeping the theme going to blend it all together.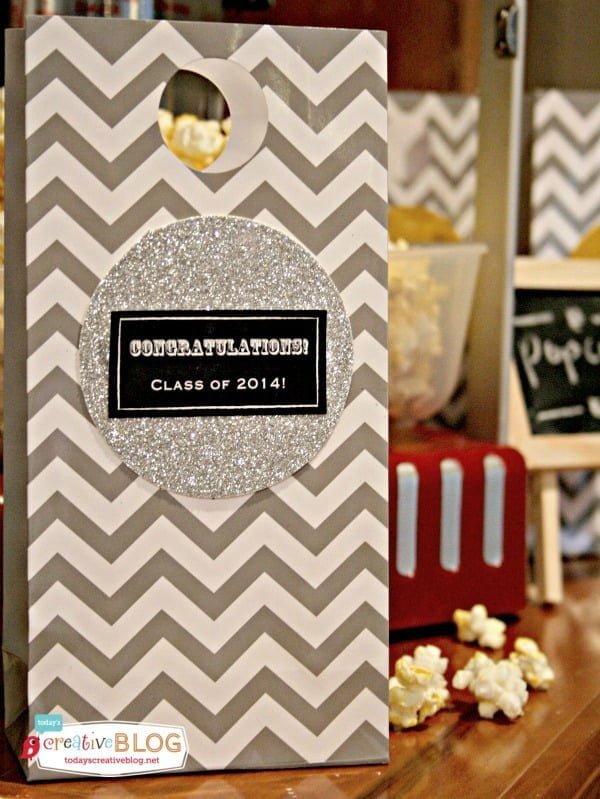 Adding a simple photo garland makes it personal. I ordered the photos of course from Shutterfly and if you have enough, you can order your Instagram photos for this.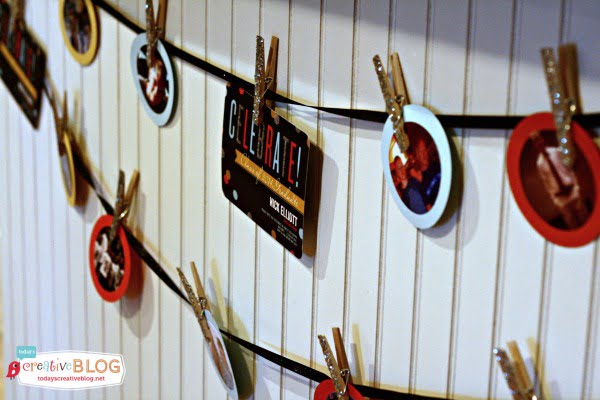 Photo garlands can be hung anywhere, they also make great backdrops for your party table. If you don't sew, do it the easy way like me. I transformed ordinary clothespins into designer clips!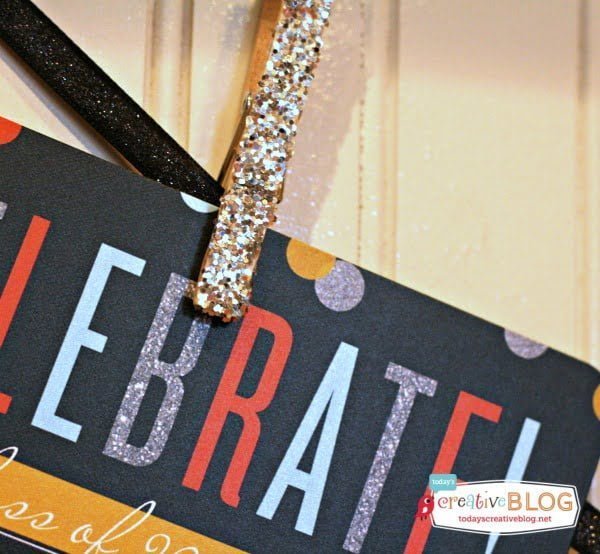 I brushed a bit of Mod Podge on one side, sprinkled glitter and let it dry. That's it!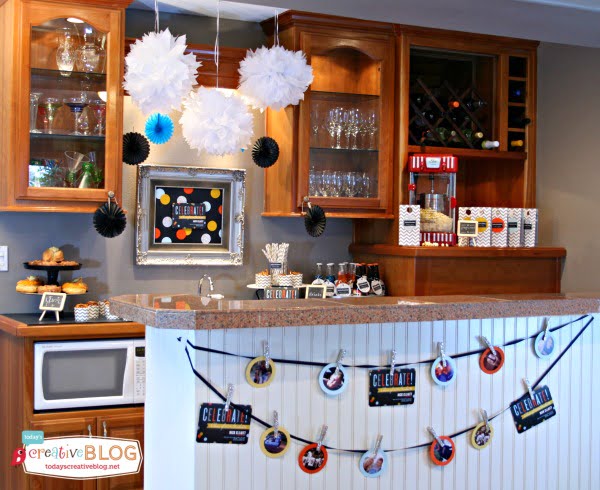 If you're inviting mostly young people, keep your party snacks simple. I thought offering a few favorites like donuts, popcorn and pretzels would be fine, but if I was having a variety of ages, I'd most likely have a buffet of sorts and maybe possibly put that wet bar to work!
All the ideas I've used, really are simple. All ideas you can duplicate for any party you're having. Using inspiration pieces from Shutterfly sent me on my way…….now let's PARTY!
If you're looking for party inspiration, whether it's for a graduation party or not, head on over and explore all the fun ideas Shutterfly has. Yep…..they also do photos, photo books, wall canvas, etc….
Shutterfly hired me to help promote their graduation invites etc… All the ideas, choices, and opinions are all mine. I had full creative rein to create to my hearts content!