Create your own Potting and Planting Area with these simple ideas.
As one of the creators and influencers for Lowe's Creative Ideas, Lowe's supplies me with a gift card to complete my project.  April brought several choices for our monthly challenge for the outside of our home. One of the project choices was Outdoor Storage. I love having monthly challenges, because it forces me to tackle projects like my garage clean up that would possibly go untouched longer than they should. Challenges have included decorating my porch, adding more curb appeal or just updating my kitchen. 
I knew immediately that I would be sprucing up and stocking my outdoor potting and planting area.  We have the perfect space on the side of our home that has been under utilized for years. We do use it, but not as much as we could or should.  I wanted to focus on making this planting area more functional and actually enjoyable to be in.
Planting Area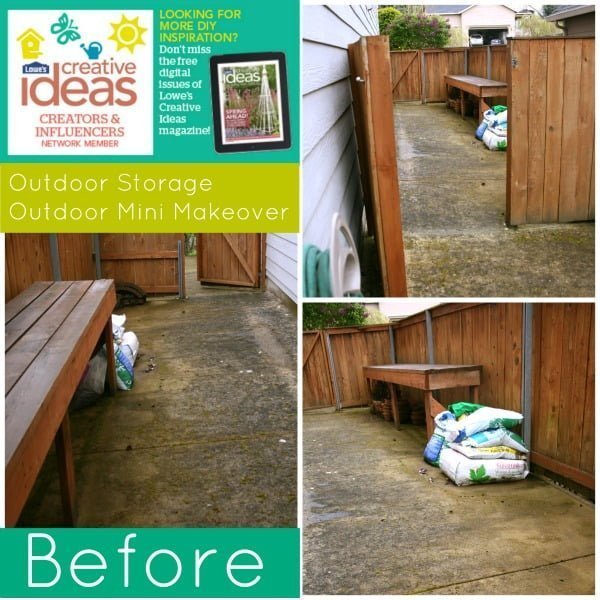 As you can see, it's got potential. A large table and enough space to store a variety of gardening supplies.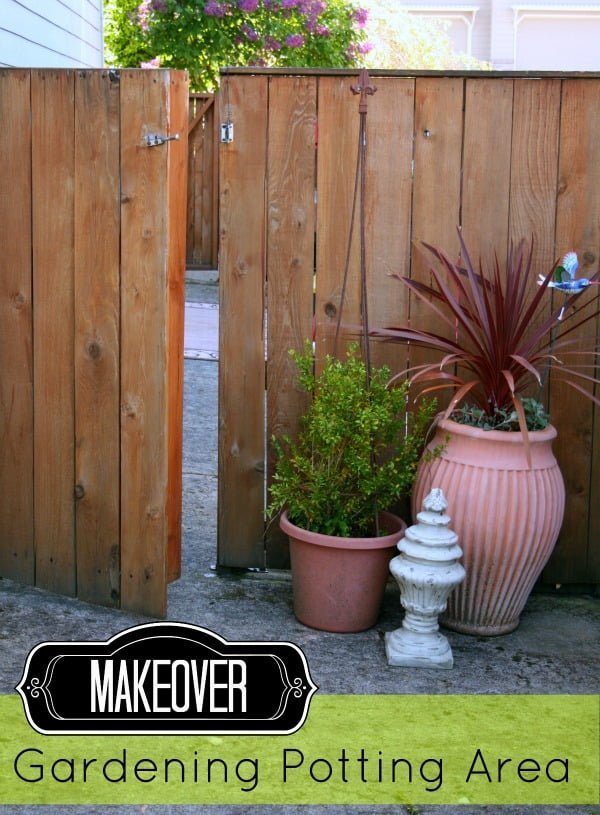 I decided to make the entry gate more welcoming. I may even go overboard and paint a cute Gardening sign for the gate. This gate isn't as darling as my other gate, but it was here when we bought the house and it's functional for now.
Organizing an Outdoor Planting Area
I love anything galvanized, so these locking lid mini cans were perfect. I can place items in and not worry about raccoon's getting into them. 

I have a basket that has all my seeds, bulbs etc….  Looks cute for now, but I'll have to place them in a water proof container or bring it inside.  This is the PNW after all. But it will be easy for me to grab on my way to my planting area when I need them. I have more than enough pots.  I love a good aged terracotta pot.

These totes are full of potting soil and compost.  I thought these were a bit loud for the area, but my husband said the wheels would make them easier to use since he could wheel them into the yard for re-seeding projects. Since he does all the yard work, he won.  
This is where I'll sit sipping on an iced tea while he does most the work.  I love my red chairs I picked up for only $18. They have other colors too.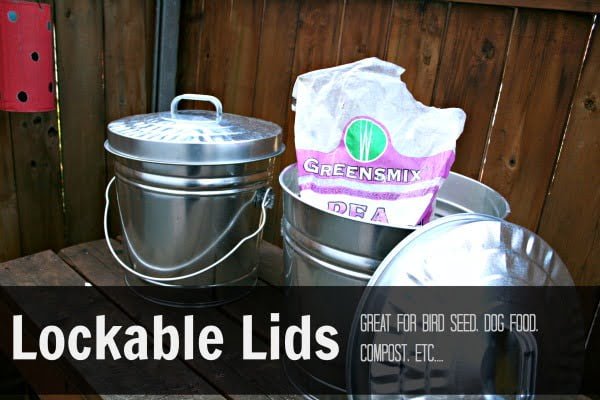 Aren't they cute?  I'm so happy they're also very functional. At $15 each, I would have bought them anyway. They would also make great ice tubs for BBQs.  Or speaking of BBQs, they would be perfect for hot coals after you're finished if you were to take your coal BBQ to a park or somewhere away from home.
I'm ready for planting season and it's pretty much here! We'll wait til the end of May to plant our veggies, but I'm starting with a few flower pots as you can see.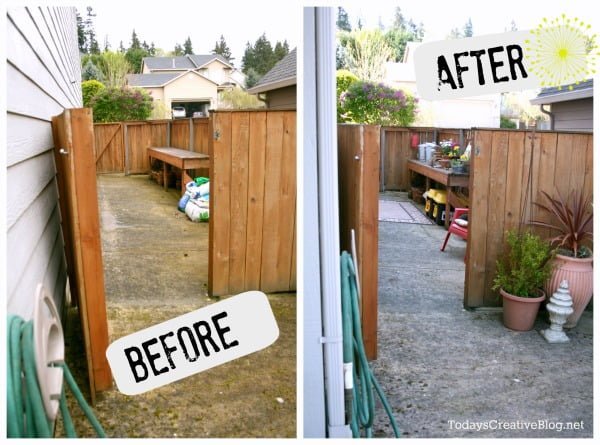 It's not going to be in a magazine anytime soon, but it sure looks better and is much more functional.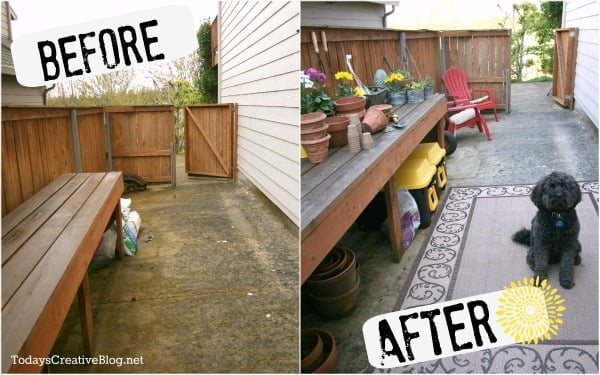 Even Maybelline likes it.

Time To Spring!
Do you have Spring Time Challenges?  Tweet Lowes at @Lowes using hashtag #TimeToSpring and maybe you'll get lucky enough for a personalized video like I did.  I was pretty impressed!
Other Lowe's Challenges I've completed:
For more inspiration, sign up for the free Lowe's Creative Ideas Magazine! You may see me in there one of these times………. you never know. It's fast becoming one of my favorite publications for great home ideas.