One way to get a few of those house projects done, is having holiday guests arrive. Prepping for Holiday Guests suddenly lights a fire under your tush to get that "To Do" list done.
Prepping for Holiday Guests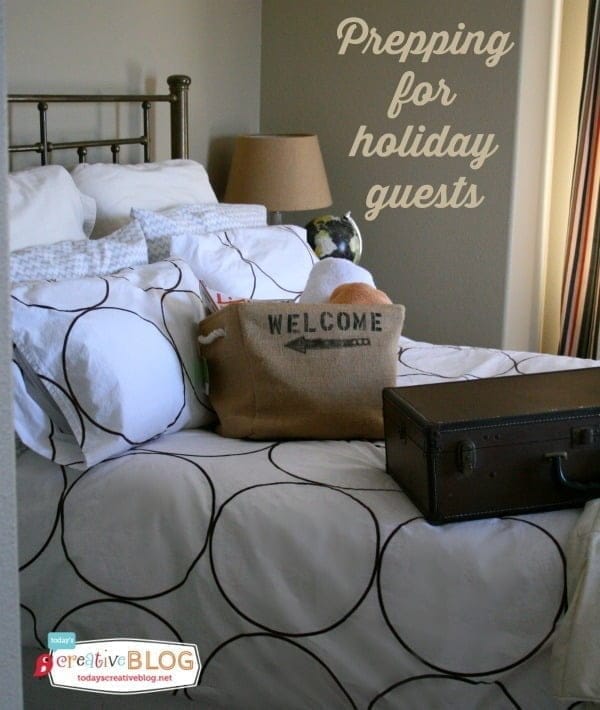 As part of the Lowe's Creative Bloggers network, one of our monthly challenges was Holiday Prep or Refresh for Holiday Guests. That was an easy one for me and much needed!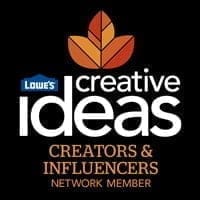 Ever since we painted the walls in the basement and stained the concrete flooring, we haven't replaced the window coverings, knowing we were going to put in bamboo blinds eventually.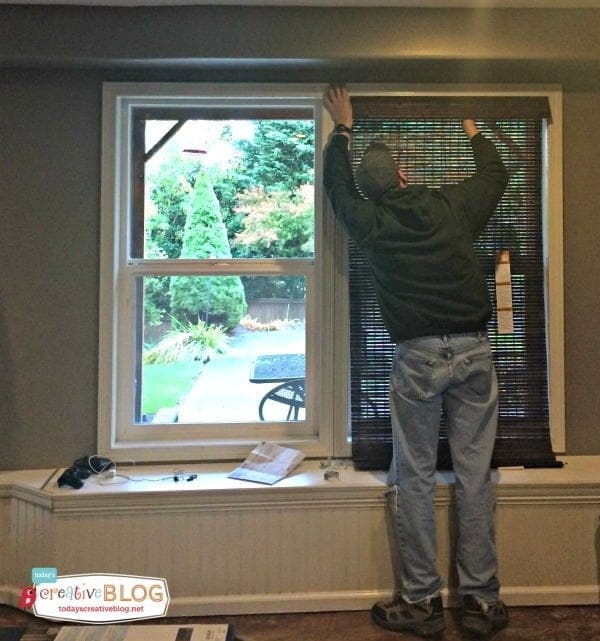 Since I don't spend a lot of time in this space, and the boys could care less about the aesthetic look in any room, the windows remained naked all year.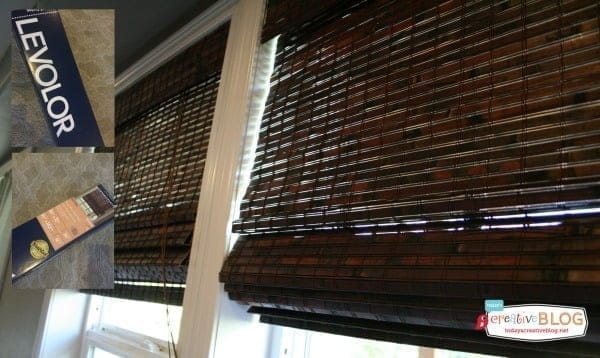 Now that we have my sisters family arriving for Thanksgiving and we usually place guests down here because we also have a mini kitchen, bathroom etc…. I thought they would appreciate some privacy. We also have a guest bedroom upstairs, so the choice is theirs.
I love the look of the Levolor Bamboo blinds, especially with the cherry wood accents we already have going on in other portions of the room. They come in a couple of different tints. I chose them from Lowe's and had them cut to the width I needed. They do the cutting right at the store. Perfect! Just take in your measurements and they'll be happy to assist you. Choosing blinds can be intimidating.
That's one thing to mark off my list.
Another thing I like to do when they come to visit, is make sure they have everything they need and more. Filling a fun tote full of items they need or items for fun is thoughtful!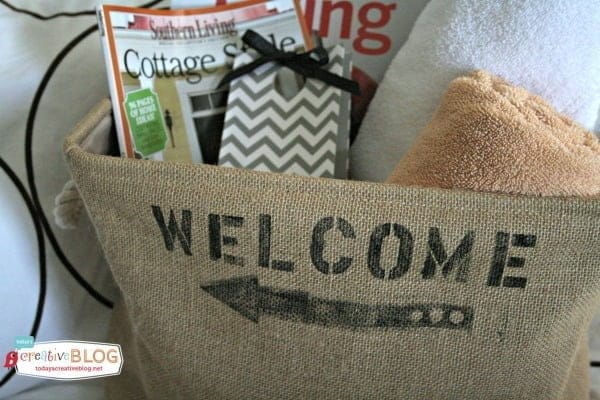 Nothing makes a guest feel more uncomfortable, than to need something after you've gone to bed. I like putting a collection of toiletries in the bathroom, just in case they forget something.
This is one of my favorite totes at Lowe's. It's burlap, which helps, and it's got great handles. I also use these for my Garage Pantry.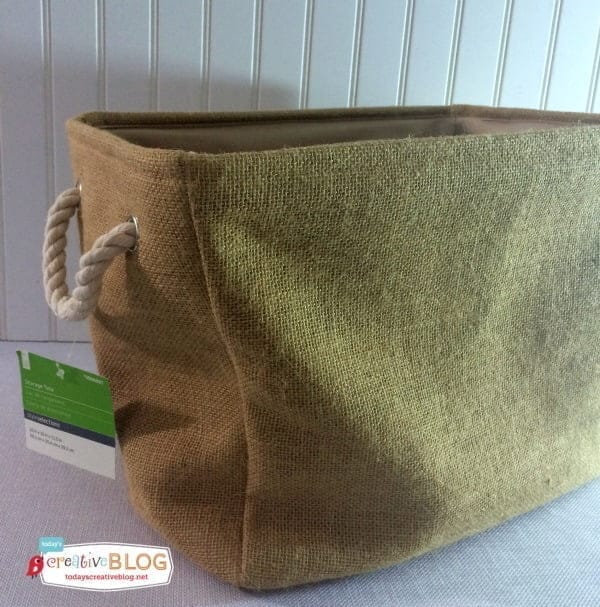 I bought a larger one, big enough to hold a couple of towels and anything else I want to stick in there.
I stenciled (poorly I might add) on the side for a nice welcome! Since I kind of messed up, it's now a distressed look.
I used some old foam stamps that I never bothered to wash off and a black fabric paint. Easy.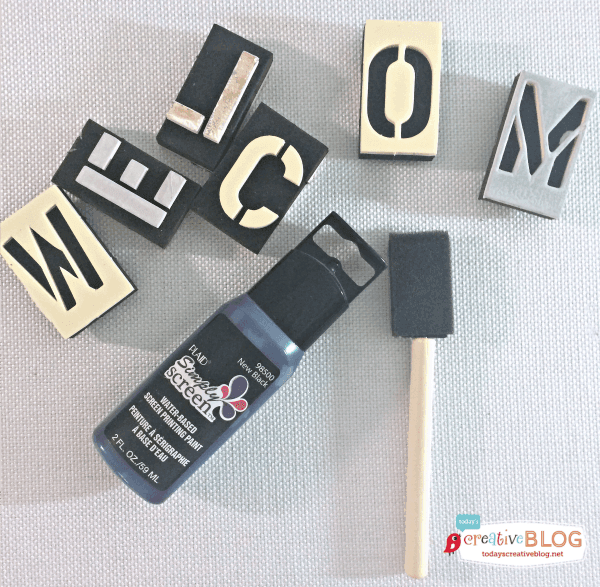 Fill your tote with:
towels
robe
snacks
water bottles
reading material
scrapbooks – if it's family, they would probably enjoy looking through family photos
pre-loaded ipad with a movie or tv series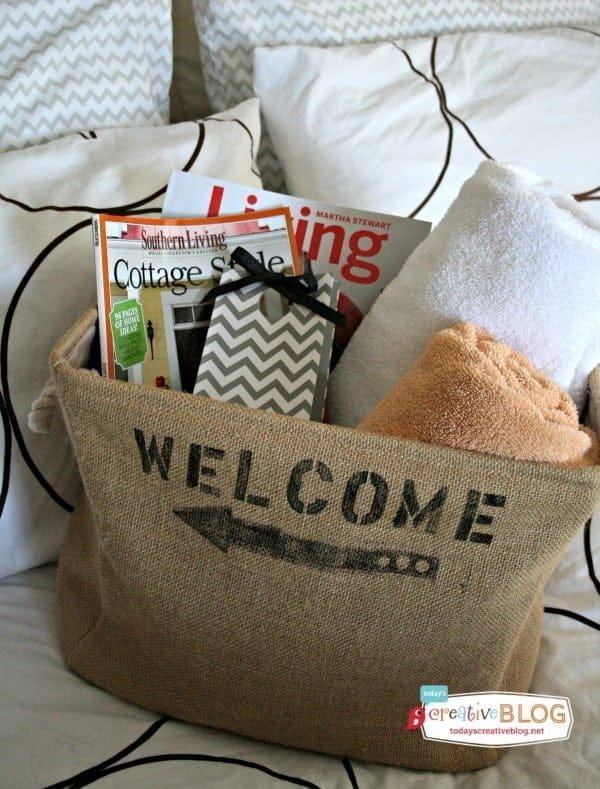 Adding this fun printable to your guest area is also a great idea!
Although I love cruising through the isles at Lowe's, they have a lot online that is not in the stores. Fun decorative stuff! Like these shelves! I have my eye on them for sure.
For more creative ideas, you can view their Creative Ideas Digital magazine! You may even see me in there from time to time!

Sign up for Lowe's Creative Ideas
As one of the creative bloggers, we are issued gift cards to complete the challenge we have chosen. All opinions are 100% mine.