January through December printable 2023 calendar with a To-Do List and Notes section to help you organize your day, month, and year. It also comes with a year at a glance which is really helpful. Designed with botanical mushrooms for a dose of creativity.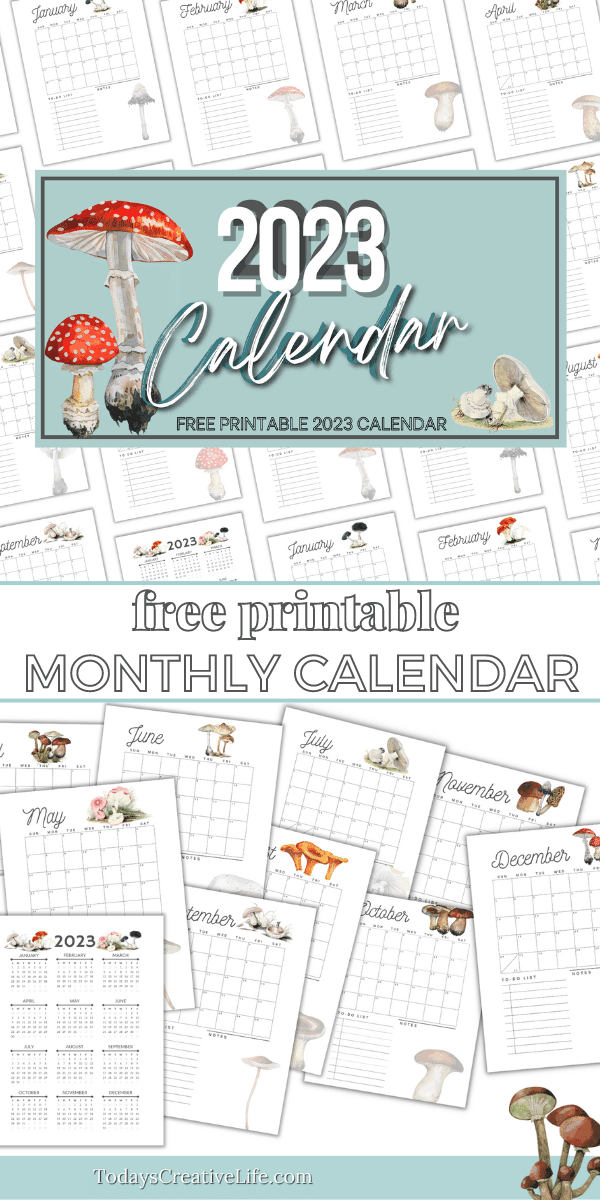 Free Printable 2023 Calendar
You know I love any and all vintage images, especially botanicals. I was so excited to create something with these mushrooms. This printable 2023 calendar was the perfect project.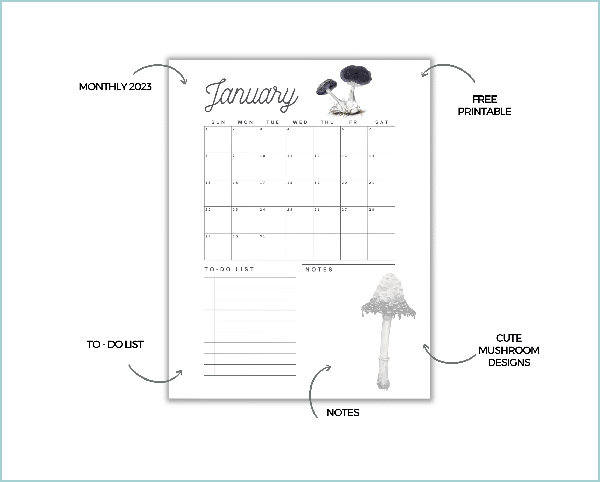 Printable Calendar with Notes & To-Do List
I am old school by still wanting to jot things down, so adding a Notes section and a To-Do section was a must for this 2023 printable calendar. This doesn't replace my planner, but it's a great way to see at a glance.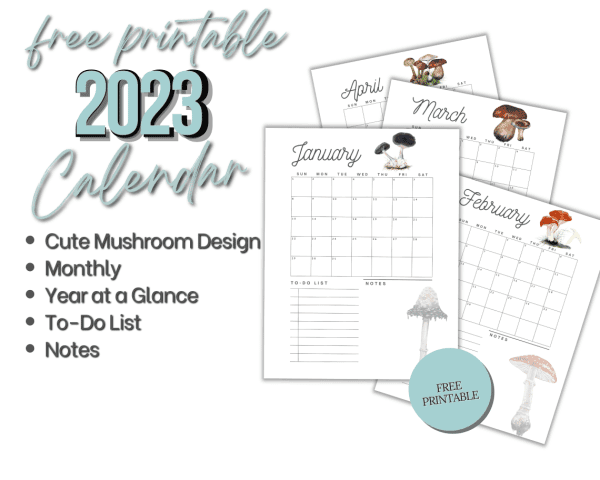 How to Print
This is a calendar you print at home with your at-home printer. You'll need the following.
Ink Jet Printer
High-Quality Printer Paper or White Card Stock
Downloaded Calendar File – Find it in password-protected The Printable Vault that is open to subscribers. You can subscribe here. Your password will be emailed to you.
You can print all 13 pages or print the Year at a Glance and each month as needed.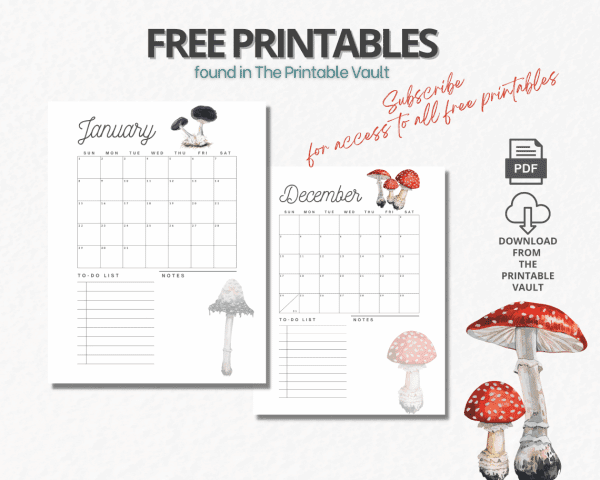 How to Use the 2023 Printable Calendar
After you print your calendar, it's up to you how you want to use it. I've used them a few ways.
Print all pages and staple the corner
Use a 3-hole punch and put in a small binder or folder.
Bind it – You can take it to Staples to have it coil bound, or perhaps you have your own craft binder to do it yourself. These two models are inexpensive options. Makeasy Comb Binding Machine and the UBind Machine.
Use a clipboard as I've done. This also serves as quick wall art for your office.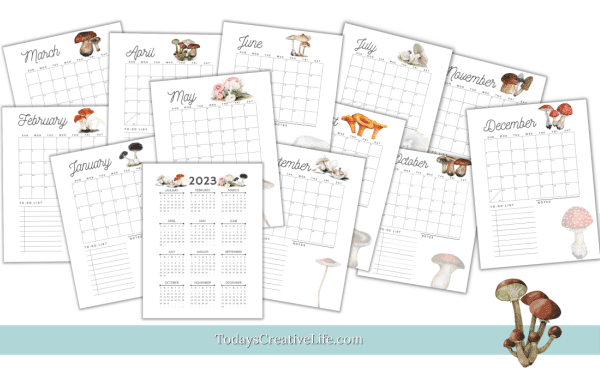 How to Download this Free 2023 Calendar
Subscribe if you haven't already. Joining the VIP list gives you access to The Printable Vault where all the free printables are available to you to download. Download as many as you'd like. Your password will be emailed to you. If you don't see it, check your spam folder.
Head to The Printable Vault and locate the printable 2023 calendar.
Click On the image or text of the printable you want to download. It should instantly download. If a download window pops up, locate the little download icon and click.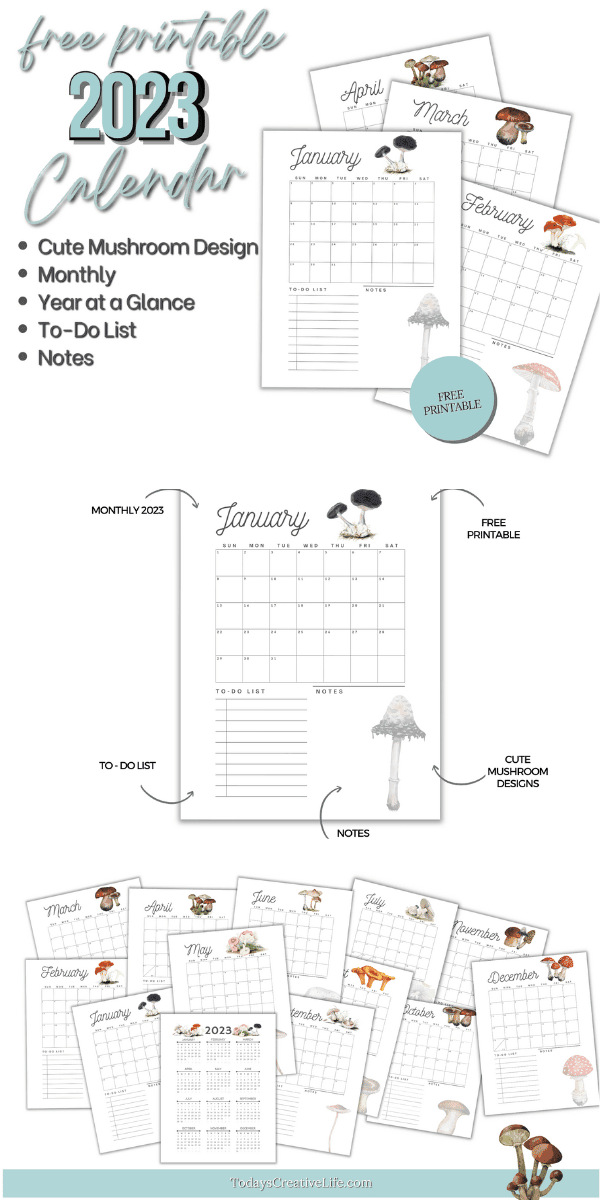 Organizing Ideas for Your Home
Simple and creative ways to organize your home.