Create a simple and stylish holiday with printable ideas from Today's Creative Life. Thanksgiving Printables make your holiday so much easier and more personal! Find printable free Thanksgiving place cards, Thanksgiving Invites and more to make your Thanksgiving holiday run more smooth.
These free Thanksgiving printables are designed by a couple of friends who have a fill in the blank option on their own site.
Printables for Thanksgiving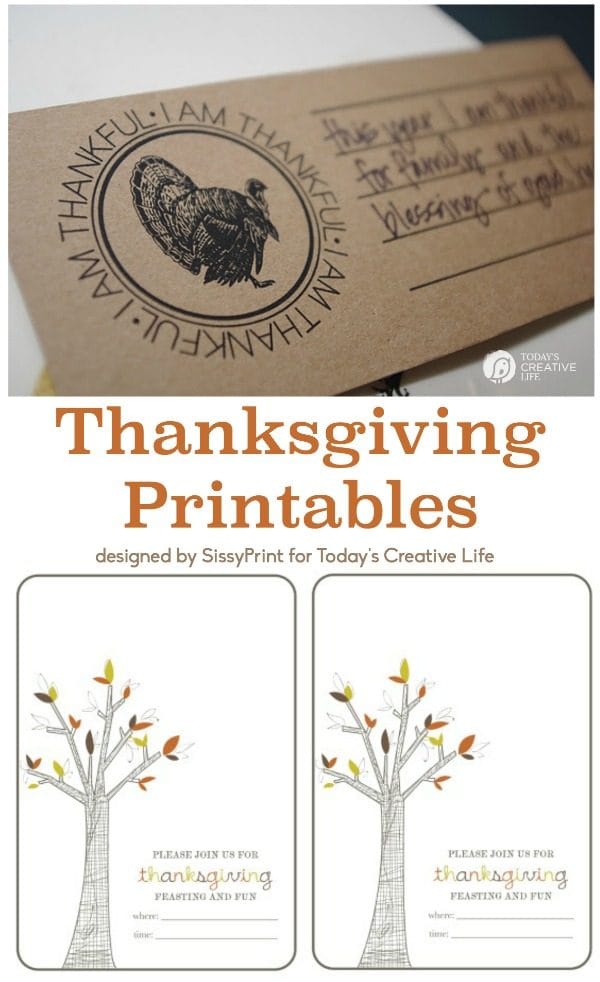 If you've got a crowd coming, how fun to send out these printable invitations. These printables are so well designed, they can be used year after year!
I'm thinking these printable Invitations for Thanksgiving would be great if you were inviting a group that wasn't family. Maybe you're surrounding your table with friends who don't have family nearby? I bet they would love getting one of these printable Thanksgiving invitations in the mail.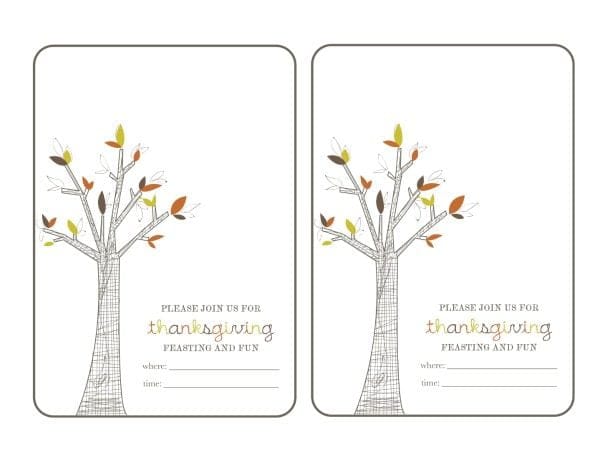 All free printables are found in the Printable Vault.

Subscribe here for access. Your password will be sent to you.
If you're looking for a more interactive Thanksgiving, you'll love these "I am Thankful" fill-in printables as much as I do. What a great way to get the conversation going at the Thanksgiving table.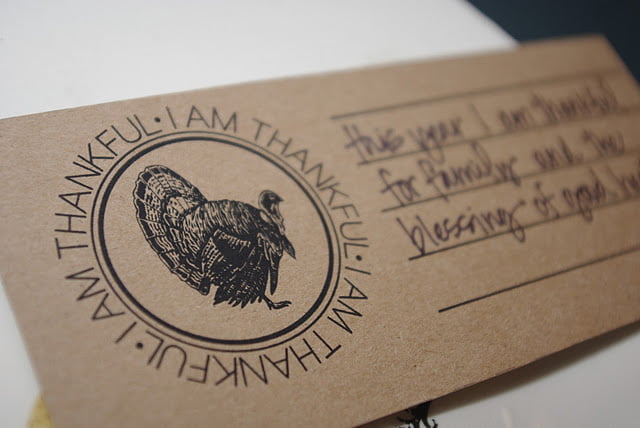 Who knew free printables would create a whole new feel for the holiday? Not to mention making it easier!
If you're not hosting, then you may need a simple hostess gift that's also easy to put together. It doesn't have to be fancy, just a simple basket like I've filled with an adorable tag makes it perfect!
Of course, the wonderful gals at SissyPrint did these for me. Those girls are AMazing! They're doing several Thanksgiving printables on their site. Don't miss their Etsy shop full of more great ideas.
This holiday printable was created just for TCL readers to use! Please download as many as you need! Enjoy.
Thanksgiving Holiday DIY
Creative ideas for a creative Thanksgiving!
Photo Credit: todayscreativelife.com
Budget-friendly ideas for easy and beautiful Thanksgiving Table Settings.
Print your own place cards for Thanksgiving. Find free printables in The Printable Vault
Decorate your outdoor areas too. Stick to nature for your guide.
Create a leftovers station for your guests complete with take-out boxes and food labels.
Find 10 different ideas for Thanksgiving table settings.
Create a great entry for your holiday guests. Using items from your yard to create a rustic fall porch.
I've got 3 different oversized wall art turkey images to choose from! Make your own Thanksgiving Wall Decor.
Simple and easy! That's always the best way to decorate.
Mix together faux and real items when creating a Fall centerpiece.
See this diagram that helps you set a formal or informal table. Useful for all holiday dinners.
Another fun fall printable for easy Fall decor.
Grab a few natural items like pumpkins, herbs, flowers and create a beautiful centerpiece.
Simple and easy Thanksgiving printables.
Today We Give Thanks Thanksgiving place cards are a free printable found in the printable vault.
Breakaway from traditional colors with these printable napkin ring place cards.