Oh  boy……I have a sugar hangover.  I had bunco at my house last night and I ate a bit of all table snacks……..then some Pumpkin Crunch cake.  I could barely get through my 3 classes today……..My knees ache, my head is fuzzy……….I need a nap.  So I am declaring today my Blogging day off.  Yep…..Today!  Plus Nie Nie is going to be on Oprah…..gotta watch that, and I need to show you my quick pumpkin topiaries.
How to Make Pumpkin Topiaries
I did however make new pumpkin topiaries……nothing like 11 women coming to your home to light a fire under your bum.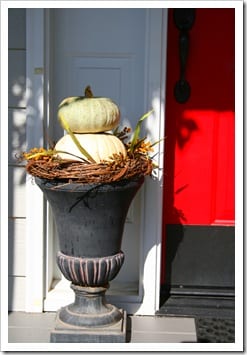 I bought two cheap grapevine wreaths from Michaels.  I bought a Fall pick, took it apart.  Bought two white pumpkins and since they didn't have stems, I bought two greenish ones.  I pulled the old plants out of my urn….left the dirt…..placed my wreath, then pumpkins, then stuck my pick pieces around.  TaDa!  I love them.
The photos are a bit bright, but it was take the photo now or never.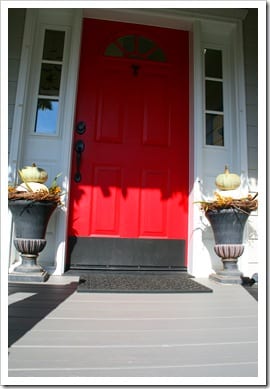 I'm gonna go take a bath now.