Easy to Make Pumpkin Topiaries using real pumpkins is a simple way to decorate your porch for fall.
It doesn't have to be fancy to create a stylish fall porch for your home. Making your own topiary out of pumpkins is probably easier than you think. You can use real or faux and a variety of colors. They always look great and it's easy to add different elements for Halloween.
If you like creating your own DIY home decor, then you'll love my DIY Indian Corn Wreath.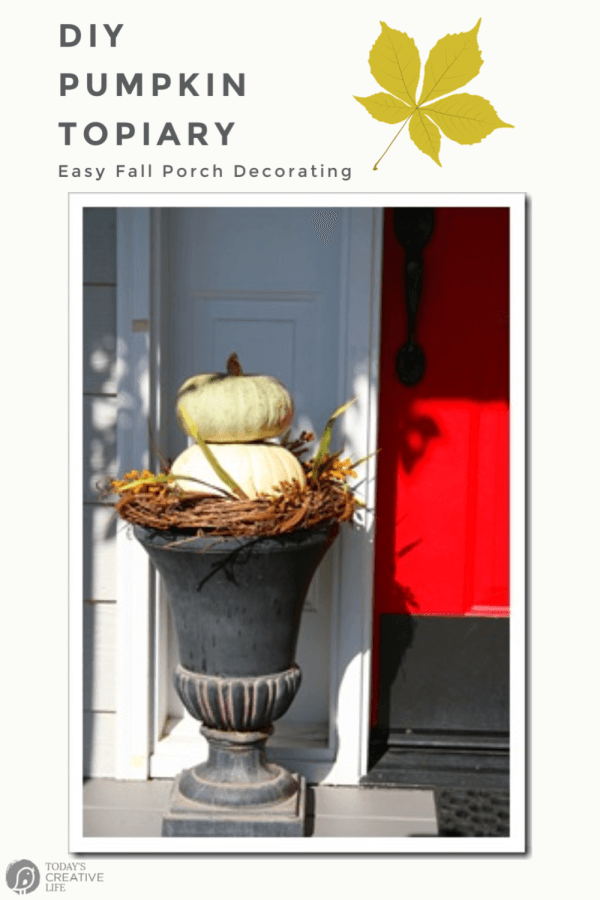 DIY Pumpkin Topiaries
I used the plant urns we already had, but any flower pot you like will work.
Supplies for Making a Pumpkin Topiary
Affiliate links for products listed are for your convenience only. This costs you nothing extra. If you happen to purchase anything as a result of clicking, TCL will receive a small percentage. Thank you for your support. This allows me to continue to offer you free content.
Urn, planter or galvanized bucket
4 pumpkins – Choose any variety or shape. If you want a taller topiary, you'll need more pumpkins.
How to Make Pumpkin Topiaries
Yield: 2
Active Time: 15 minutes
Total Time: 15 minutes
Difficulty: Easy
Estimated Cost: $10
Stacking Pumpkins for a quick porch topiary makes perfect Fall decor.
Materials
Urn, planter, galvanized bucket.
2 Grapevine Wreaths
Fall picks and sprays or Spanish Moss- this can be items from your yard, or faux.
4 pumpkins – two large that are flatter on top and two small. Choose the colors you love. You can even stack in threes. Use real or faux.
Instructions
1. Place the grapevine wreath on your planter and insert as many fall picks around the wreath to fill in as much as you'd like. I had bought a fall garland, then took it apart and added the pieces where I wanted.
2. Set the large pumpkin on top of the wreath. My urns already had dirt in them, which may help if the pumpkin is smaller than your wreath.
3. Break the stem of the large pumpkin off so the small one will set on top.
4. Place the smaller pumpkin on top of the large.

You can leave it as is, or you can continue to fill in between the pumpkins with more fall picks.
For Halloween, try adding a couple of decorative crows or mice. I found mine at the Dollar Store.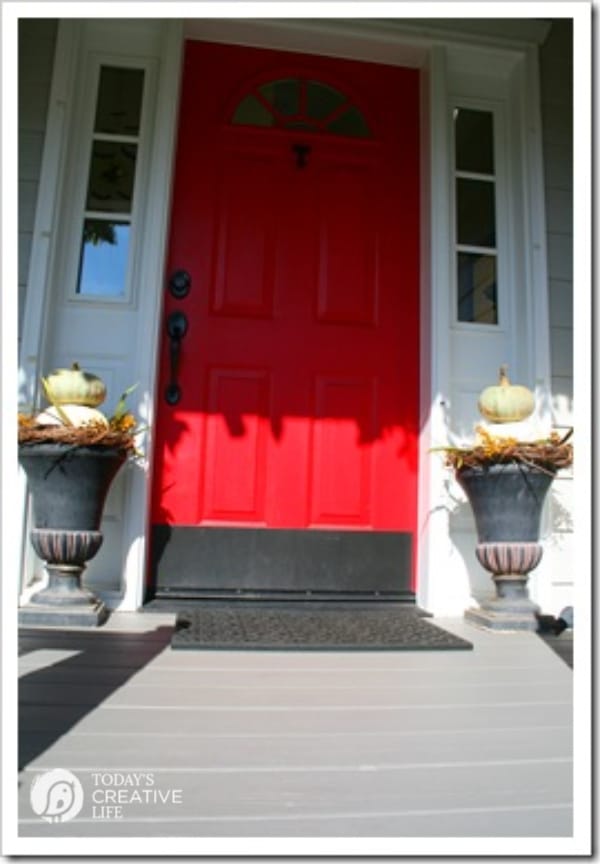 I love the rustic look these pumpkin topiaries bring to my fall decor. All I needed to do was fill in the porch with a couple of potted mums and maybe a couple more pumpkins or gords and my fall porch was complete.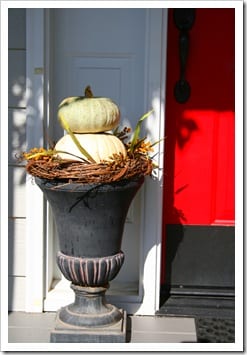 Follow along on Instagram | Pinterest | Facebook
EASY DIY HOME DECOR IDEAS FOR FALL
Simple, stylish and budget-friendly ideas for decorating for Fall and Autumn.
Easy to make wreath for Autumn
Make this simple fall decoration for your door.
Frame it or clip it to a clipboard for quick DIY decor.
Make your own Cloche to use with fall pumpkins and gourds.
This show stopper is gorgeous on your fall door.
Use natural elements from your yard to create this beautiful Autumn porch.
Grab all the pumpkins, moss, and picks from the yard to create this easy centerpiece.
Shop your yard for all the things you need to decor your home for fall.
Herbs, pumpkins and flowers. Another easy way to decorate.
Create your own DIY Home decor with iron-on transfer sheets.