I am addicted to Iron-on Transfers. This Recipe Iron On Transfer Dishtowel tutorial will show you how to print your favorite recipe onto a cotton tea towel. It's the easiest way to print on fabric.
I know that you have THAT recipe…. the one everyone loves. The one everyone wants you to bring to every potluck or family dinner. I know you have one!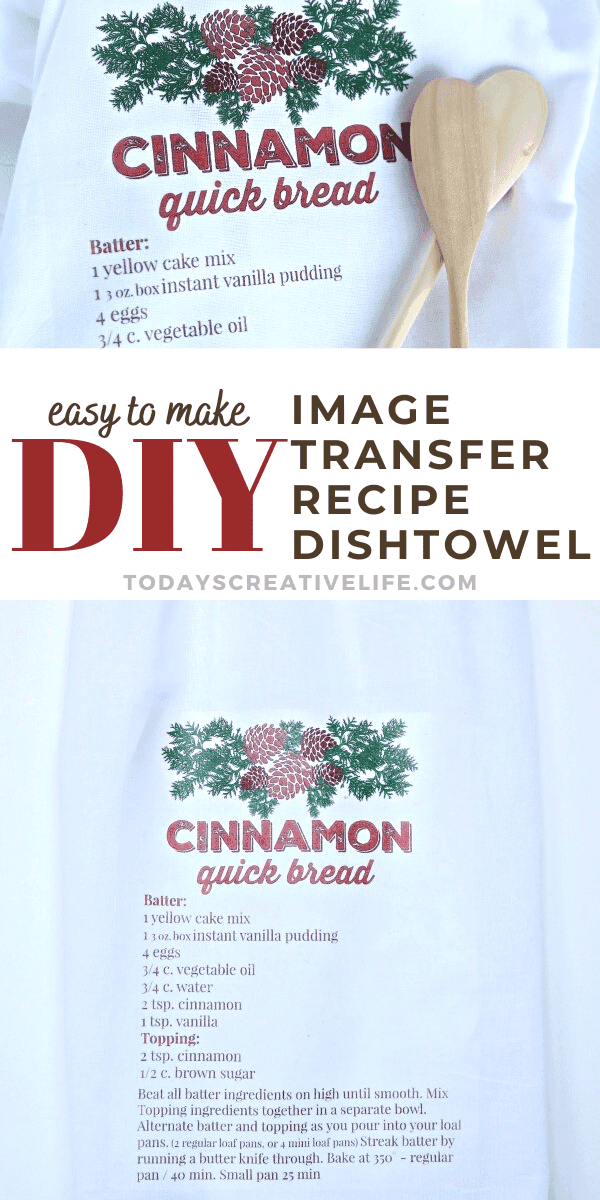 Recipe Iron On Transfer Dishtowel
I make iron-on transfers all the time for seasonal decor. I can create custom pillows for my living room or holiday dishtowels for my kitchen. It's such an easy and budget-friendly way to decorate. I thought that printing a family recipe onto a flour sack cotton towel would be a great gift idea, especially if included in a gift basket with the finished product.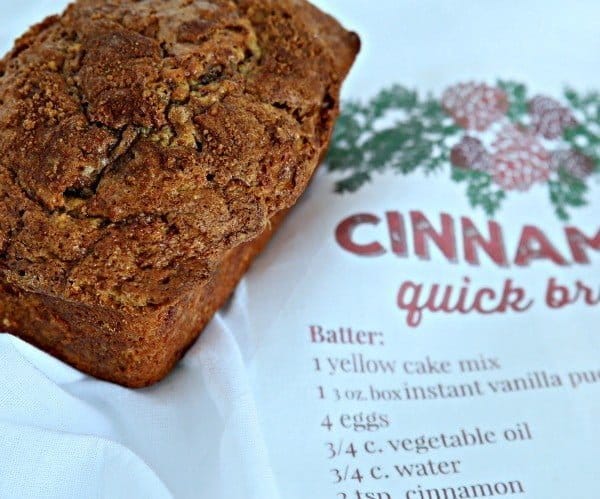 I created a gift basket with a loaf of my Cinnamon Bread, along with the printed recipe transferred onto a cotton tea towel. I added some extras to make it even more special.
It's easy to put together a quick gift basket using your recipe as the theme.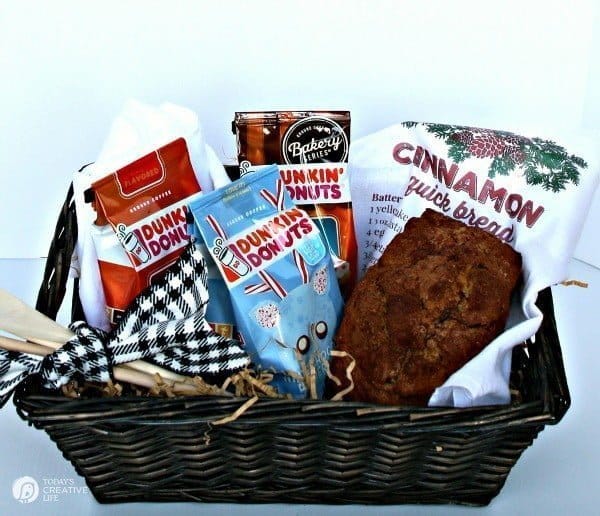 You can even copy my exact idea, in fact, I would love that. This Cinnamon Quick Bread with a good cup of coffee is a mini vacation.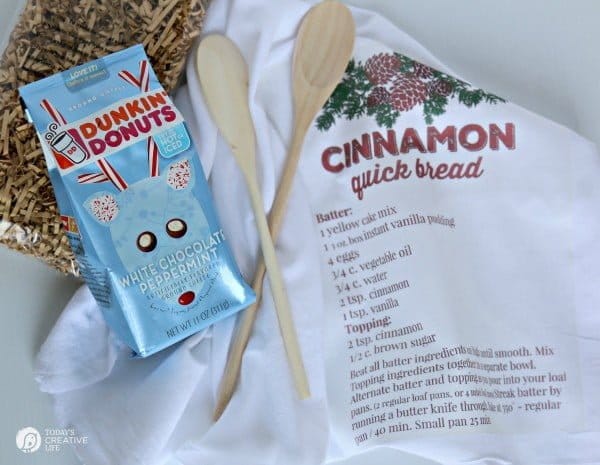 Almost everyone I know would love this basket, I know I would!
Another great idea is to Turn Kids Art into DIY tea towels. What a great idea for a gift too!
Iron-On Transfer DIY Ideas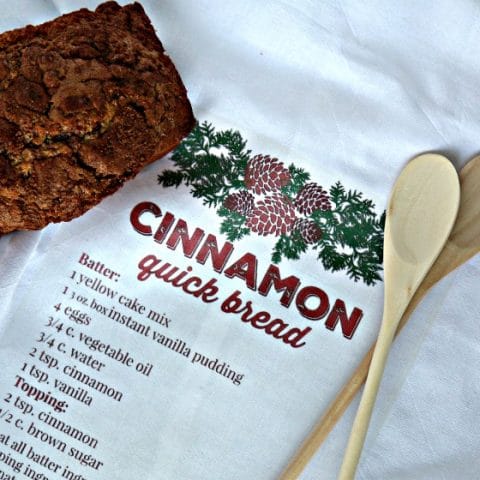 How to Print a Recipe on Fabric
Yield: 1
Prep Time: 15 minutes
Active Time: 10 minutes
Total Time: 25 minutes
Difficulty: Easy
Estimated Cost: $10
Print a favorite recipe onto a dishtowel for an easy homemade gift idea.
Materials
Cotton Dishtowel (or cotton fabric)
Iron-on Transfer Paper for light fabrics
Tools
Iron
Printer
Ironing Board or Pad
Instructions
Gather your supplies.
Design your Image - I used PicMonkey to design my image and type out the recipe, but you could type it up as a Word Doc.
Print Mirror Image - When you print, you'll need it in a mirror or reverse image. This can also be done while saving it from the design program onto your computer.
Follow printing directions on the transfer paper package. All printers are different. You want to print on the plain side.
Trim your image, taking off any excess paper, leaving at least a 1/2 inch surrounding your image.
Set your iron on the cotton setting with NO STEAM. Iron any wrinkles from your dish towel and place your recipe face down in the location you want it to be on your towel.
Once you've placed your image where you want it, iron the paper backing with slight pressure. About 30 seconds with continuous movement.
Let it cool, then slowly peel the paper backing away from your ironed on image. DONE!
Recommended Products
As an Amazon Associate and member of other affiliate programs, I earn from qualifying purchases.
Can You Wash Image Transfer Dish Towels?
I have always washed and dried any iron-on transferred fabric as normal. It will soften up the more you wash it. To avoid any cracking, dry on low. For items like pillow covers, I always line dry.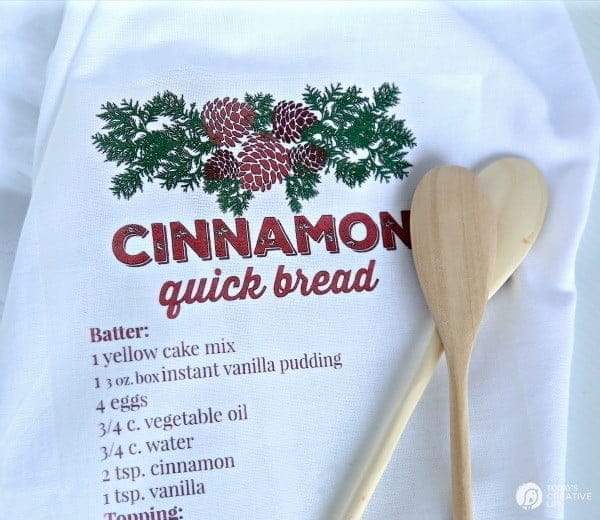 How Do I Add a Design?
I used a free design program called PicMonkey. You can also use Canva. They are pretty user friendly and don't require a graphic design background.

Iron-On Transfer Project Ideas
Transfer any image with Iron-on Transfer Paper. Create DIY home decor, DIY gifts, T-Shirts and more.
Simple to make farmhouse style kitchen towels.
Download free botanical graphics for this easy DIY decorating project.
Who needs to buy new holiday pillows when you can make your own.
Custom designed tea towels for your kitchen.
Halloween DIY decor with this iron-on technique.
Easy to Make Treat Bags for Easter
Table runner just for spring.