As much as we love the holidays, there is nothing better than reclaiming our home from holiday decor. Escape the chaos with these calming Refresh Your Home Simple Tips!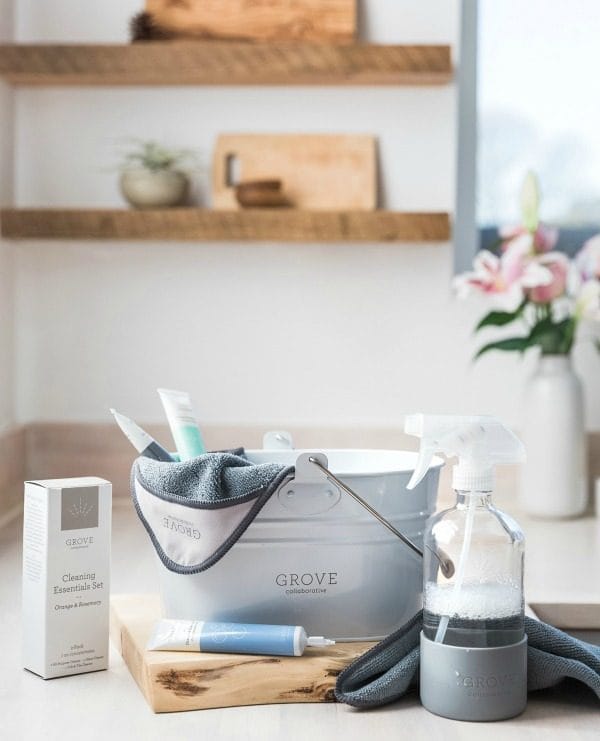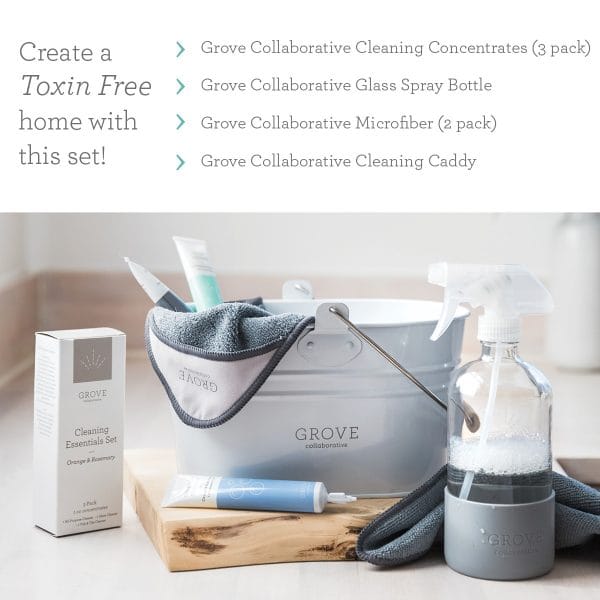 My home feels oddly empty after taking the tree down and putting all the decorations away. Since we also had to clear out and move everything from the upstairs for a new non-toxic carpet install, I have been on a BIG organizing PURGE! We have already taken 2 large carloads to goodwill. If you've been watching my Instagram Stories, then you've seen it!
While I'm enjoying the newfound space, I'm also itching to freshen up my decor. I'm craving calm, simple, and clean!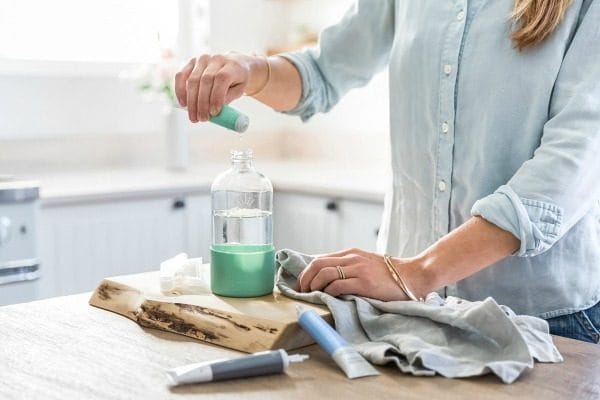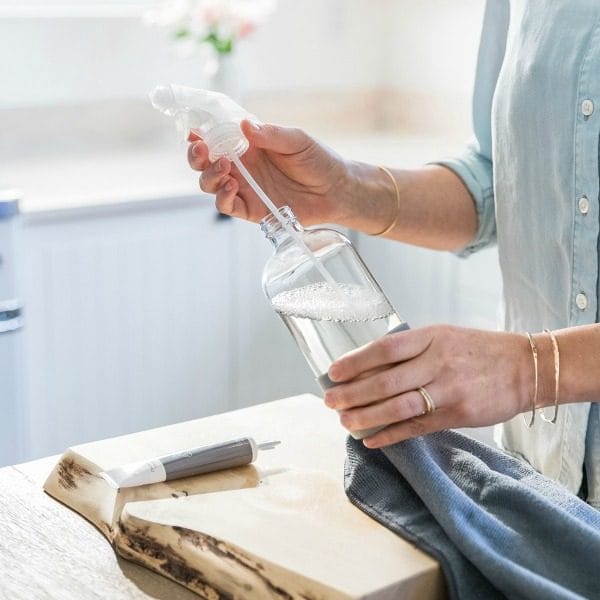 I have been cleaning like a mad woman and I have really loved using the Cleaning Concentrates from Grove Co.
Grove Collaborative is my secret weapon for creating a healthy, beautiful home. They hand-select the best natural products and deliver them (carbon offset) right to my doorstep, on my schedule.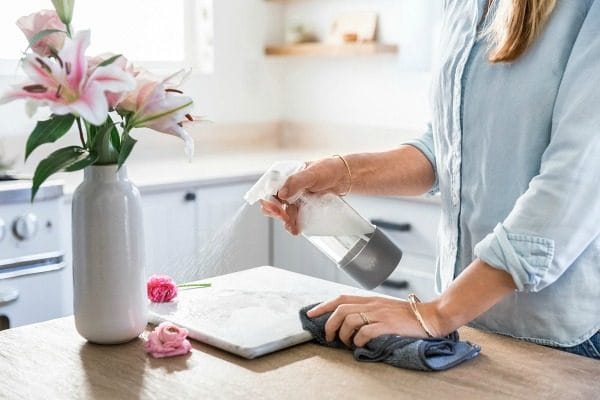 I've been using Grove for almost two years now. I became an affiliate so I could to share with you some of the products I use and love. First things first, you should grab this free Toxin Free Set with your first order of $20 – Click HERE to claim for FREE Product!
Free Grove cleaning concentrates (3 pack)
Free Grove glass spray bottle with silicone sleeve
Free Grove microfiber (2 pack)
Free Grove cleaning caddy
Free Shipping & 60 Day VIP Trial
Offer ends January 8th
Click here to claim your free products!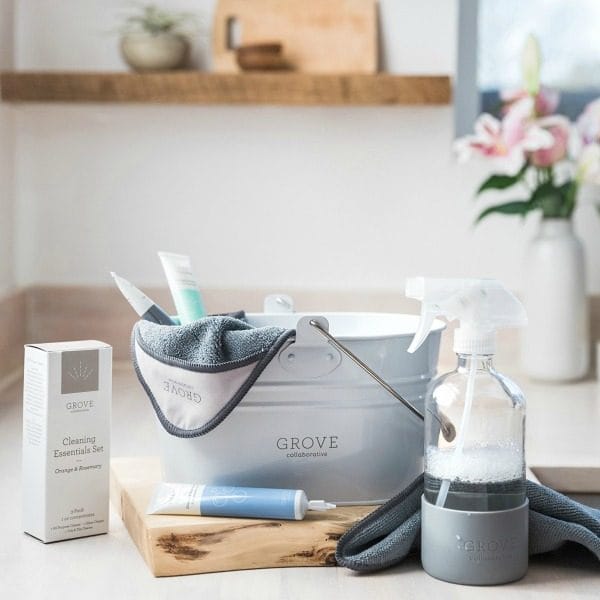 I think EVERYONE should rediscover pride in their home with this beautiful set of Grove cleaning concentrates + glass spray bottle + microfiber + cleaning caddy, which is free with your first order of $20 from Grove Collaborative.
ALREADY A GROVE CUSTOMER?
If you're already a customer, you'll receive a free set of Grove walnut scrubbers. They're perfect for tackling dishes or wiping down countertops.
The Grove cleaning concentrates have totally changed my cleaning routine. I love that they're toxin free and also create a minimal amount of waste compared to big bottles of cleaner. Plus, they come in my favorite scent: orange and rosemary!
In addition to the cleaning concentrates, you'll get a free glass spray bottle to mix them up and microfibers that are equally good for wiping down countertops or getting windows sparkling.
Stash everything in this beautiful white caddy, and you've got a stylish cleaning kit that's also healthy and toxin free.
---
10 Small Ways to Make Your Home Feel New for the New Year
Grab your free set, then check out my small but mighty tips for making your home feel new again:
You can change the look of your whole room just by swapping out your throw pillows. I love buying pillow covers because it's an inexpensive way to refresh a bed or couch without having to store bulky pillows.
Rearrange your furniture. It's a totally free way to see your home with fresh eyes!
Fresh flowers breathe life into a dreary winter room. Try a hibiscus for a touch of the tropics, or a few branches of fragrant eucalyptus in the bathroom.
There's nothing like unearthing a hidden gem at the flea market. My heart still swells with pride when a friend compliments me on the cool entryway bench I discovered last year!
Start making space for the products that make you happy and help you stay healthy. For example, I've been slowly using up rags and old bottles of cleaner, and replacing them with beautiful alternatives like this free Grove microfiber and Grove glass spray bottle. Little details like the colorful silicone sleeve always bring a smile to my face.
Grove makes creating a healthy, beautiful home effortless and affordable. They deliver my favorite natural products from brands like Seventh Generation, Mrs. Meyer's, and Burt's Bees to my doorstep, on my schedule.
It's amazing how much more in control I feel when I'm organized. For example, this beautiful cleaning caddy helps me neatly store my most-used cleaning supplies so I don't have to run back and forth.
I love the peace of mind that comes from using safe, toxin free products around the people I love. These Grove cleaning concentrates are a perfect example of a product that's ultra-effective without harsh chemicals.
Declutter one thing every day. By the end of the year, you'll have gotten rid of 365 things and you'll have more space for living.
It's easy to get caught up in comparisons like Her kitchen is always immaculate or I wish my living room looked like that — especially if you spend any time on social media. Be gentle with yourself and remember that you're comparing your behind-the-scenes with someone else's highlight reel.
Bonus tip: Once you've submitted your Grove order, you'll be signed up for the free 60 day VIP trial. For 60 days, save even more with free shipping, free gifts, price matching, exclusive sales and personal service. My free VIP gifts have allowed me to test-drive some products that I probably wouldn't have tried otherwise — and they've become staples in my home!