Christmas is a magical time! This Reindeer Food Poem Free Printable was a tradition year after year! Kids can easily whip up a batch of my Reindeer Food Recipe, mixing oatmeal and sprinkles to package up for themselves and friends for the big night!
When my son was little, one of my most favorite things to do at Christmas, was to order his letter from Santa and make Reindeer Food for him to sprinkle in the yard on Christmas Eve! He would have loved all the Elf on the Shelf Ideas that are now popular. The little guy hadn't even made his appearance yet.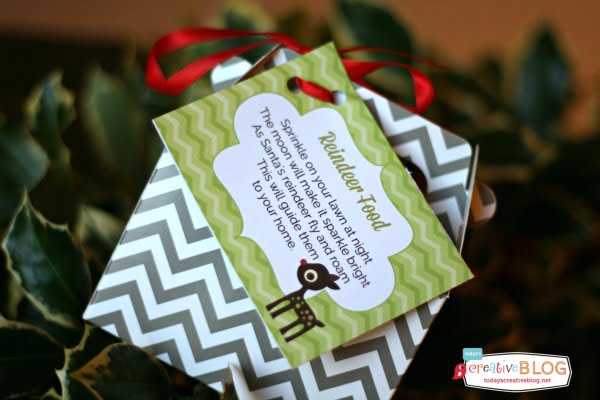 This free Reindeer Food Poem Free Printable is so dang cute, perfect for attaching the poem for neighbor kids. Here's my Reindeer Food Recipe.
Marlynn from Urban Bliss Life designed these and has a coordinating Dr. Santa Printable for you. She also designed last years Reindeer Food Poem Printable. She has her 12 days of Christmas giveaways going right now…….so you should check it out! We love winning stuff!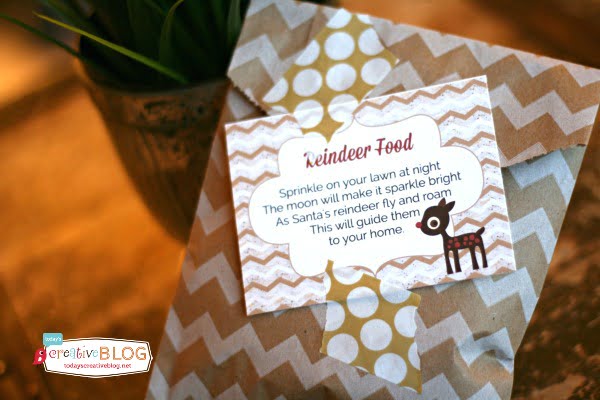 Instead of putting these in clear bags like I did last year……..which is still totally cool if that's what you're doing……I thought I'd use my cute chevron gift boxes and bags. I've been dying for a reason to pull these babies out!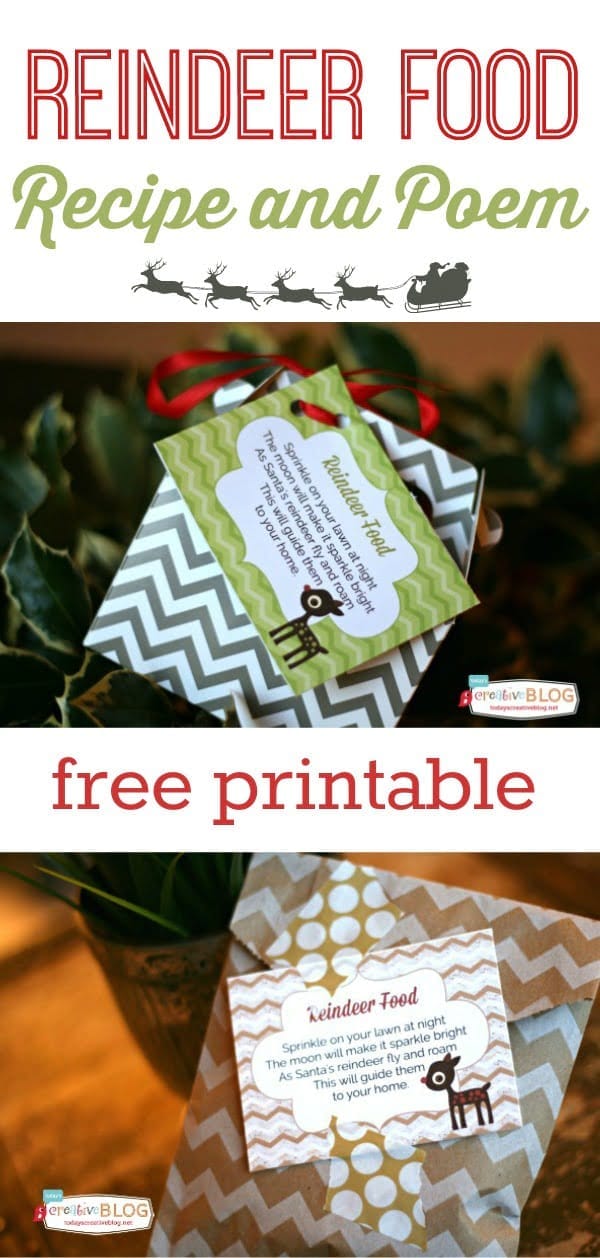 Making food for Santa's reindeer is so easy that it makes a great holiday activity for the kids. The Reindeer Food recipe and instructions can be found here.
How to Use Reindeer Food
Make up tiny bags of Reindeer Food with this poem and attach to all your gifts. Bring out the child in everyone!
Make up small lidded cups (you know those small plastic ones at Baja Fresh) with the poem taped to the top and place in a decorative bowl for your holiday party guests to take home as a party favor.
Deliver small bags with a Santa letter to the kids in your neighborhood.
Print it out and place in a small frame for holiday decor.
How to Print Reindeer Food Poem
Supplies Needed:
inkjet printer
white cardstock
paper cutter
Download the printable poem from The Printable Vault where TCL subscribers can access all free printables. You can subscribe here, your password will be sent to you. Check your spam folder.
Find the reindeer food recipe here.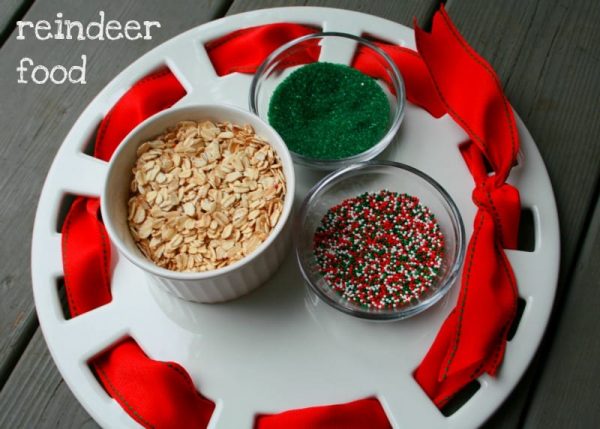 ---
DIY Christmas Gift Ideas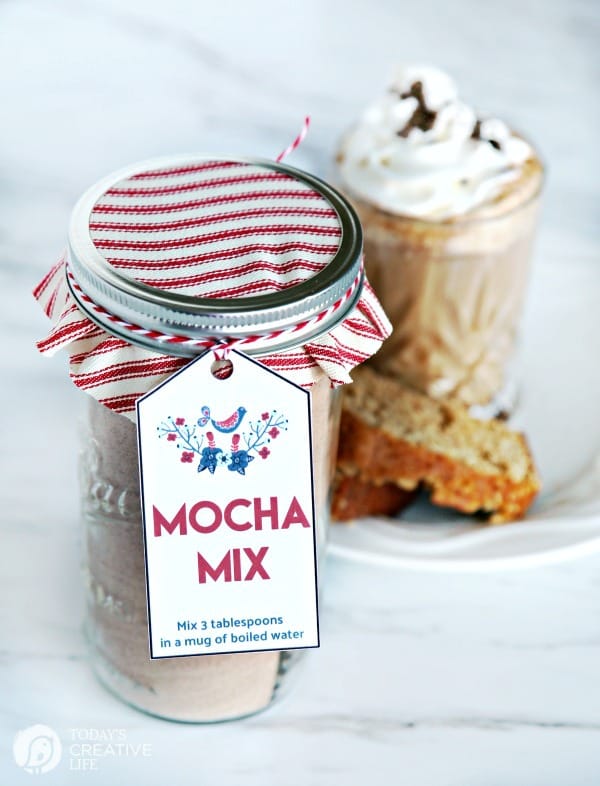 Homemade Mocha Mix with Printable Tag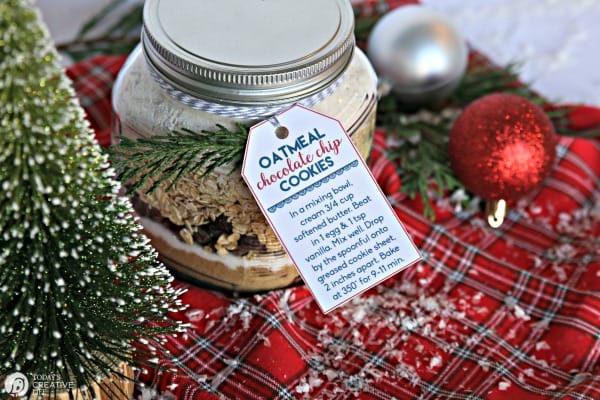 Oatmeal Cookies In a Jar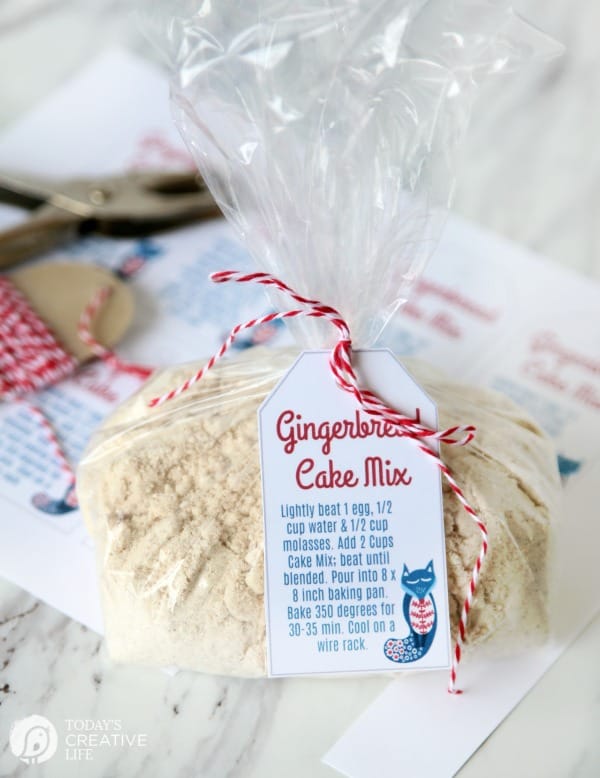 Gingerbread Cake Mix Gift Idea