My son loves spreading Reindeer food in the yard on Christmas Eve.  Now that he's 11, he said he'd still do it if I didn't post it on Facebook or my blog.  🙂
Creating simple traditions, always make great memories. Make up a large batch and divide into plastic baggies to deliver to the kids in your neighborhood. I've got two different free printable tags to choose from.
Woodland Green or Brown Reindeer Food Poem and Recipe
Red and Black Free printable Reindeer Food Recipe.
How to make reindeer food
Items needed:
Oats
Glitter (I was too lazy to go upstairs to my unpacked craft room to find my glitter, so I just used green sprinkles……..I really don't think the Reindeer will care.)
Sprinkles
Mix all together.  This is something your children can do.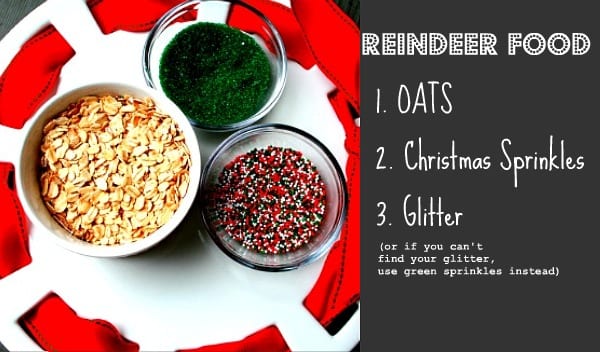 Then have your little darlings sprinkle it in the yard before going to bed.
MAGIC!
Now if you wanted to package up a few bags and give to a few of your neighbors, you might want to print up these free tags from Kim at TomKat Studios.  She's so good.  Such cute tags!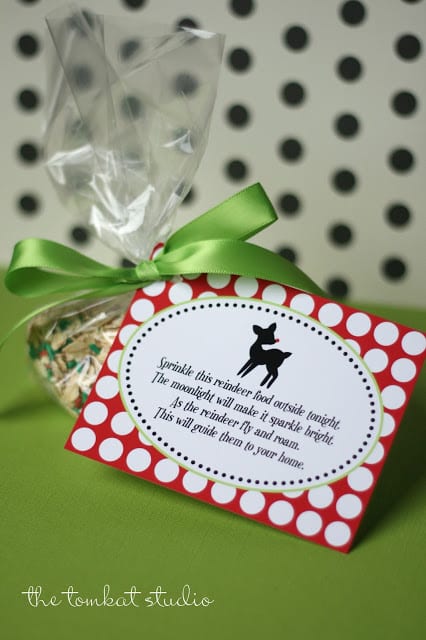 Happy Holidays everyone!
---
More Christmas Ideas