Occasionally I team up with the cool folks at DriveSTI in Seattle to review a car. It's not a bad gig at all.
Who doesn't like to test drive cars and tell people what you think?
I thought it looked perfectly color coordinated with the award-winning building, Pollution Lab in Portland under the St. Johns Bridge. (I teach injury prevention every morning…… I haven't always been a blogger)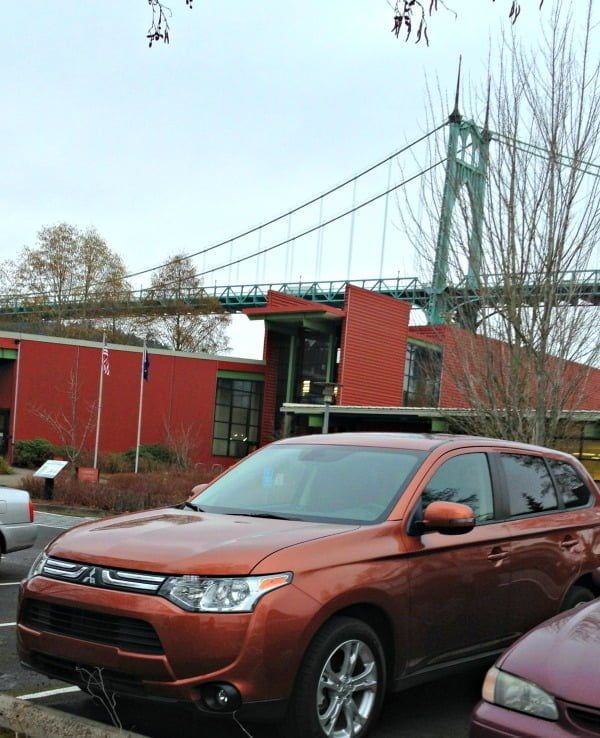 This time was for a Mitsubishi Outlander. Not just any Mitsubishi, but the Mitsubishi Outlander SE S-AWC with Touring Package. I have never driven a Mitsubishi before and thought it would be perfect for our road trip to Seattle, for a soccer tournament………which the field happened to be across the street from the Drive STI headquarters. If it would have been business hours, I would have taken them cookies as I spun a cookie in the parking lot just to make sure they know I'm a good candidate for their program. (just kidding)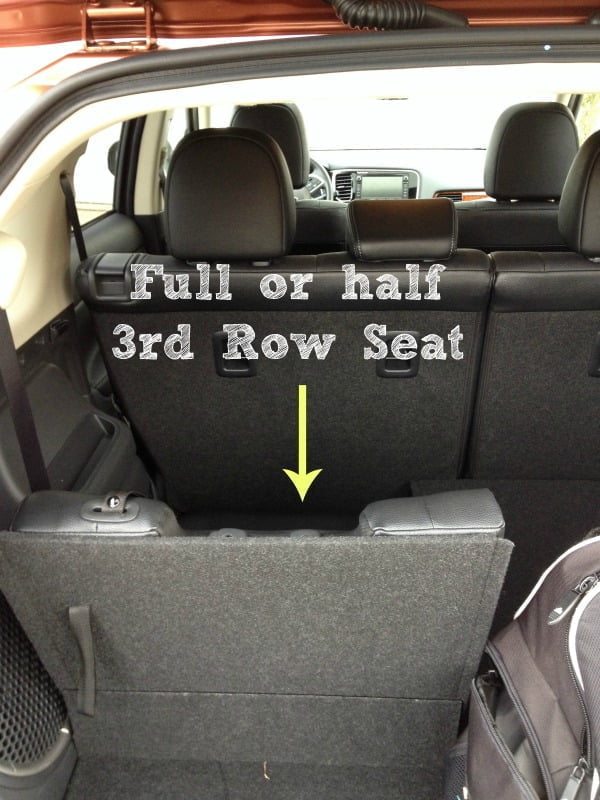 This car is so much bigger than it looks. It has 3 rows. 3! That really comes in handy since we usually have a friend or two of Lucas', plus the dog, not to mention gear. Soccer gear. I really liked how half of it could be lowered if needed for extra gear.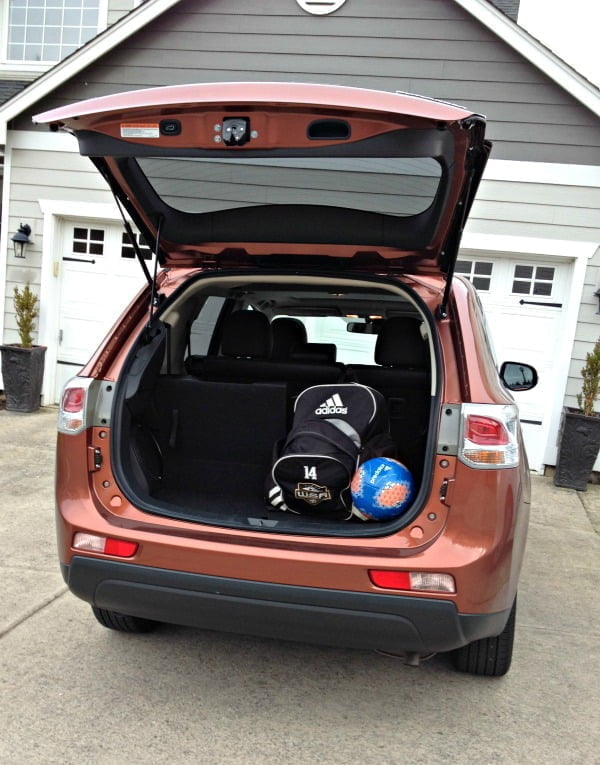 I loved the automatic trunk……….I guess it's really not a trunk, …….the back hatch. There is a button in the back hatch that lowers it.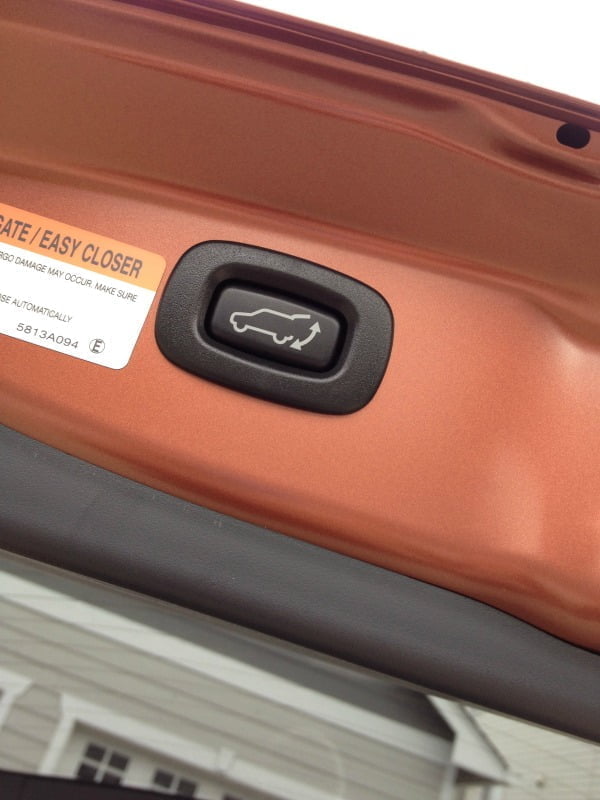 There is also a button for the driver up front to open or close it. I like that feature because then you don't have teen boys slamming the doors. It also has this feature on the key fob, making it pretty easy to load groceries or all my goodies from Lowes.
Speaking of the key fob. The car is keyless. Meaning that you don't HAVE to use the key EVER if you have it on you, or in your purse. No searching for the key as you run from a pack of wolves.
Since we were driving to Seattle, a good navigation was helpful. We had no idea where the soccer field was. The navigation was pretty easy to figure out. Lots of different features if needed.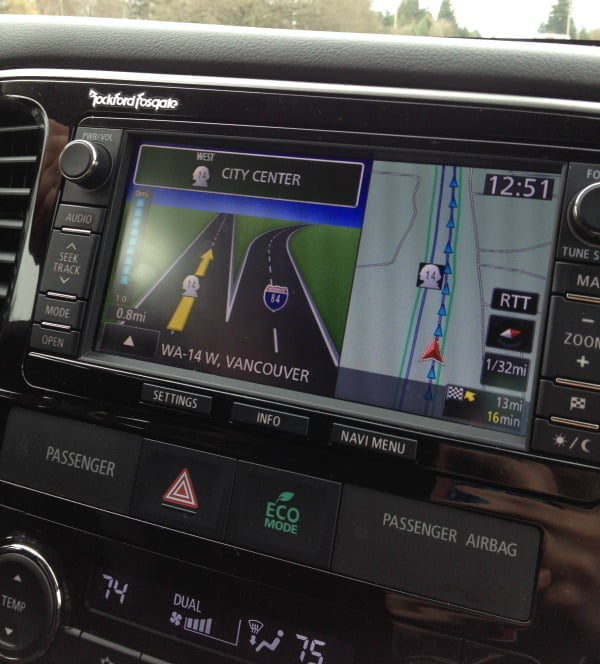 The whole dashboard had a few extras to make your drive more comfortable. Not sure why the heat was up so high, but I'm guessing I took this shot after a soccer practice when my son was freezing. He took full advantage of the heated seats too.
One thing this car ruined for me, was our "Name That Tune" car game. It shows you the song title etc.. which was actually pretty cool. I realized I could remedy this problem by just turning on the Map feature.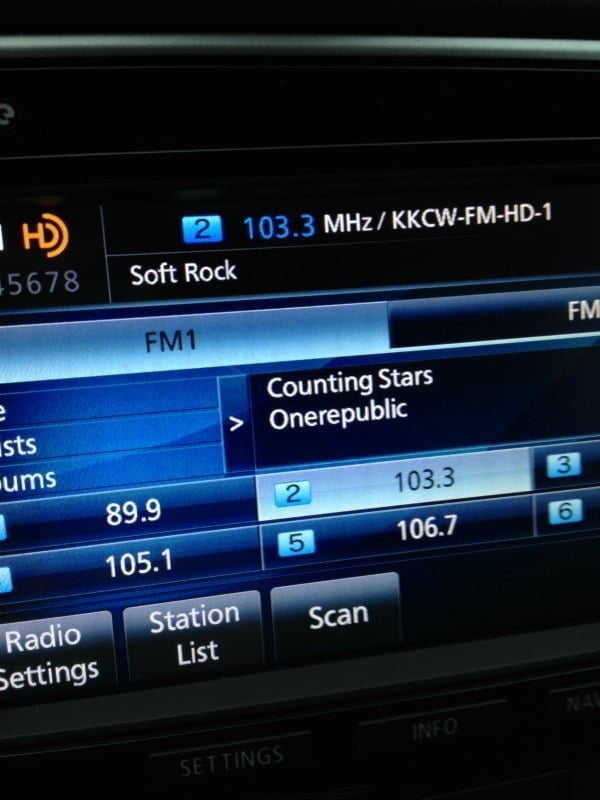 We loved that it has Sirus Radio……..we like to listen to NPR in the mornings and it was perfect for driving at 5:30am to Seattle.
The one option that made my husband gasp out loud was the adjustable cruise control. It ended up being one of my favorites too! You set your cruise control……and when you're approaching a car in front of you, it adjusts your speed. I LOVED it! I MADE my husband slow down without me telling him. You gotta love a car that seems to read your mind.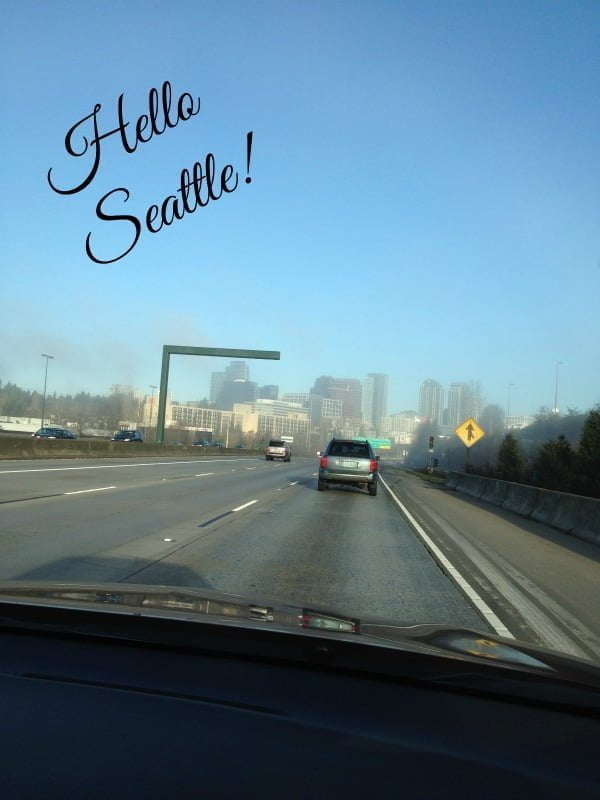 We arrived to beautiful weather in Seattle! The fog lifted and we sat there shocked that we were watching soccer IN THE SUN………IN JANUARY! Cold, but dry. (that was frost on the side of the hwy) Couldn't ask for a more perfect soccer weekend in January.
After the game, we headed to pizza for a nice relaxing meal. ………… NOT!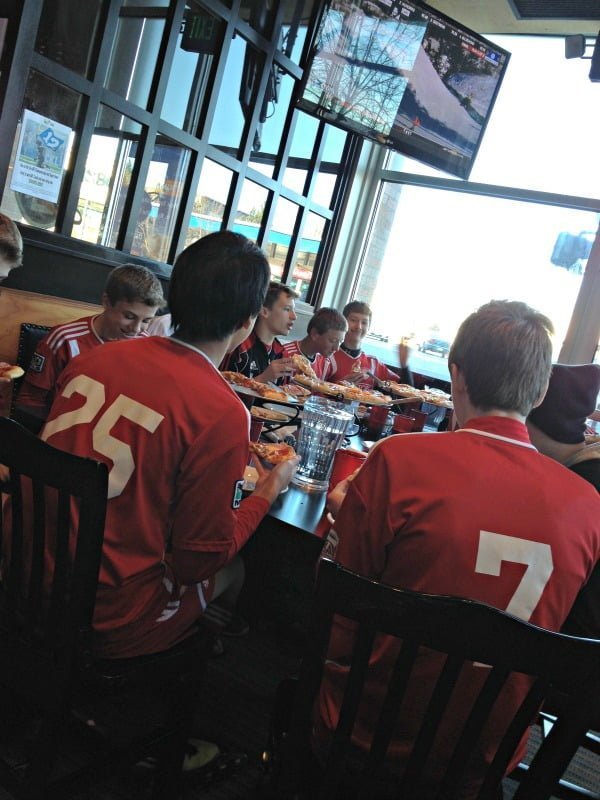 Actually, the boys were very well behaved……….just watch the hands when you set the pizza down. (I love how my son………the son of a blogger….is the only one aware and trained to smile for the camera).
Finding the pizza joint and our hotel was a breeze with the navigation. Whew. I didn't have to ask Siri once. It even got us to our nephews and his partners home for dinner. Easy.
Before leaving town, I thought I'd use the navigation to help us find a place to eat breakfast. It's like having your own personal YELP app, but in the cars navigation system. Using the features "breaksfast" and "near", we decided on a restaurant that had high reviews……I cross-referenced with Yelp. As we pulled in, I wasn't so sure. It didn't look so nice. But there was a line and that's always a good sign. The food was delicious.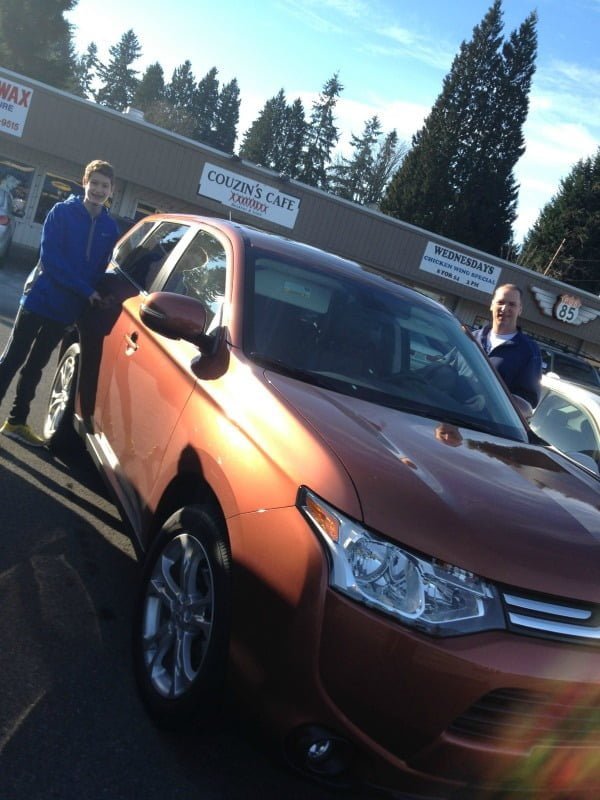 With our belly's full, we headed back home. We saw a ton of people on every overpass, people lined up on side roads next to the freeway…….when it finally dawned on us that the Seahawks were probably on their way to the airport the same route we were going. Pretty exciting.
We got great gas mileage……..about 30mpg, which is great! Especially for an SUV.
If you've got a couple of kids, want a few luxuries, but still great gas mileage…….this may be a great SUV to look at.
Thank you Mitsubishi for allowing us to test the Outlander GT for a week. No compensation was provided and all opinions about the car are all mine.