Spray paint is a girls best friend when it comes to updating or giving something a new look. My new love is Rust-Oleum Metallic spray paint. And no, I am not being paid to show you……..although I should. 🙂
My home is about 13 yrs old. My home had a lot of that "Carpenter's Brass", as Rhoda calls it. I hate brass. HATE! But I also don't feel like spending my money replacing perfectly good door handles and hardware. So I marched myself down to my local hardware store and bought some Metallic Paint. I knew it would work since we spray painted our front door hardware a few years ago and it is just now needing a touch up.
Rust-Oleum | Spray Painting Door Knobs
I am really pleased with the end result. However, I should have given my husband more direction.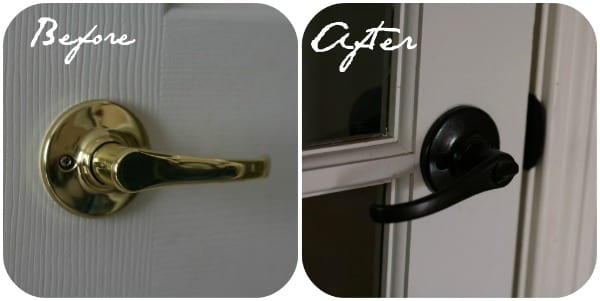 He wasn't so excited to be painting door handles and would have lived another 20 years or more not giving a second thought to the ugly brass ones.
Tips on Spray Painting Door Knobs
He took them all off while I was away teaching, laid them down on a drop cloth outside, sanded them a little and sprayed them……….then walked away to mow the yard. Which may have been fine had it not started to sprinkle. Water on wet spray paint makes it look a little more rustic with pits and bubbles than I was wanting. And he realized that it was kind of hard to get an even coat when they were laying on their sides.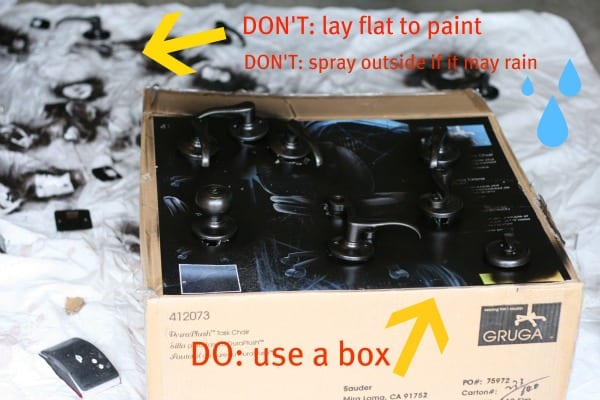 So I thought we needed something like a stand you use when making cake pops. We used an old box, punched small holes to hold the knobs and we were in business again. (after sanding a few of the bubbled ones off) See how nice they look? And that's the EXACT paint I used.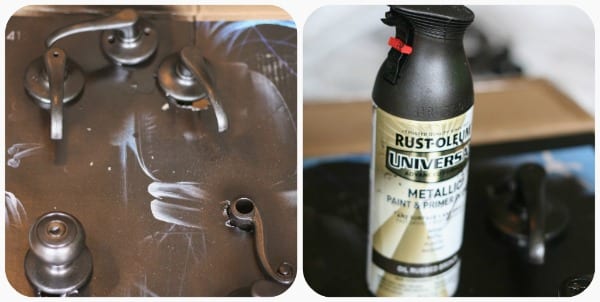 Here they are on my office doors. So much better, don't you think?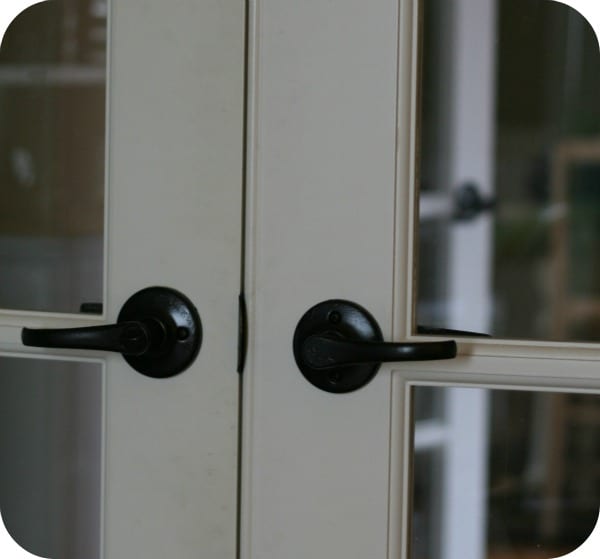 And it only cost me the can of spray paint……about $8.00 and maybe a cranky husband for a few moments. Totally worth it!
Warning: You will suddenly notice how filthy your doors are and proclaim to be the worst house keeper in the world. Thank goodness for the magic eraser.
Edited: I have since chatted with a few people who it didn't work so well for. Mine are still holding up great as of today (03/07/2014) as well as our front door hardware outside is going on about 7 or 8 years. We did sand a bit and made sure to use a paint suggest for metal. I used the exact paint in the above photograph. Good luck!