Slow Cooker Sunday is Back! You'll love all my other slow cooker recipes: Crockpot Lasagna, Crockpot French Toast, Crockpot Peanut Butter Cup Cake and more. 

Slow Cooker Air Freshener
This is going to come in handy this winter when we can't open the windows so often. I like my house to smell good…….who doesn't?  I'm not a fan of aerosol sprays…..I don't like spraying all those chemicals in the air. I do use my scensty wall plug ins, but I'm known to sprinkle plain baking soda in the bottom of the garbage can or on the carpets an hour before vacuuming. I can't wait to try this natural slow cooker air freshener. Sometimes you just need something to neutralize the odors….especially after cooking certain foods.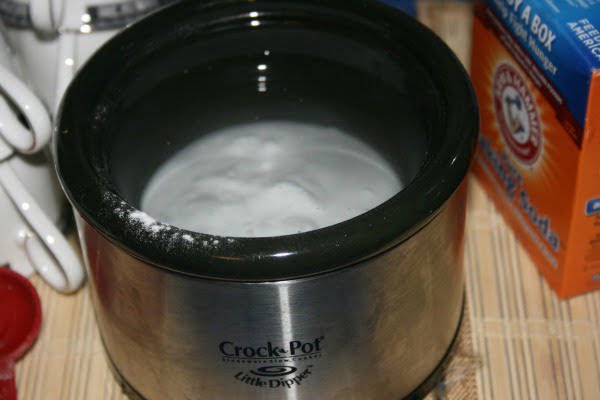 I'm thinking that adding a few drops of essential oils to this would be smelly in a good way!
My friend Stephanie from Crockpot365 has this recipe on her site……..as well as 1000's of other crockpot recipes. I just love her……we'll skype every month or so and we are certainly cut from the same cloth.  You'll find more than just crockpot recipes…….you'll find information on meal plans, how to make money blogging, time management and more.
Slow Cooker Air Freshener
Ingredients
water
baking soda (for the little dipper, I used 3 T)
crockpot
Instructions
Pour water into the crockpot you are going to use. Add baking soda. Mix. Plug it in and turn to low (the Little Dipper and some of the small ones don't have settings, they just plug in). Keep the lid off.
Let the baking soda do the job of soaking up unpleasant odors.
Notes



Variations
--drops of essential oil
--potpourri scent
--2 tsps of vanilla or other desired extract
--ground cinnamon, and cloves
--a cinnamon stick
--slices of lemon
You'll love Stephanie's Crockpot Cookbooks…….I use these more than any other cookbook.  Really.