I was sitting here hankering for brownies, but I also needed to run a few errands and didn't have time to make it. That's when I figured I'd try to put make them in my slow cooker! I was able to make this Slow Cooker Macadamia Brownie Cake when I wasn't even home! Gosh I love my crock pot! Who knew you could make desserts right? Well you can, just like this Slow Cooker Carrot Cake!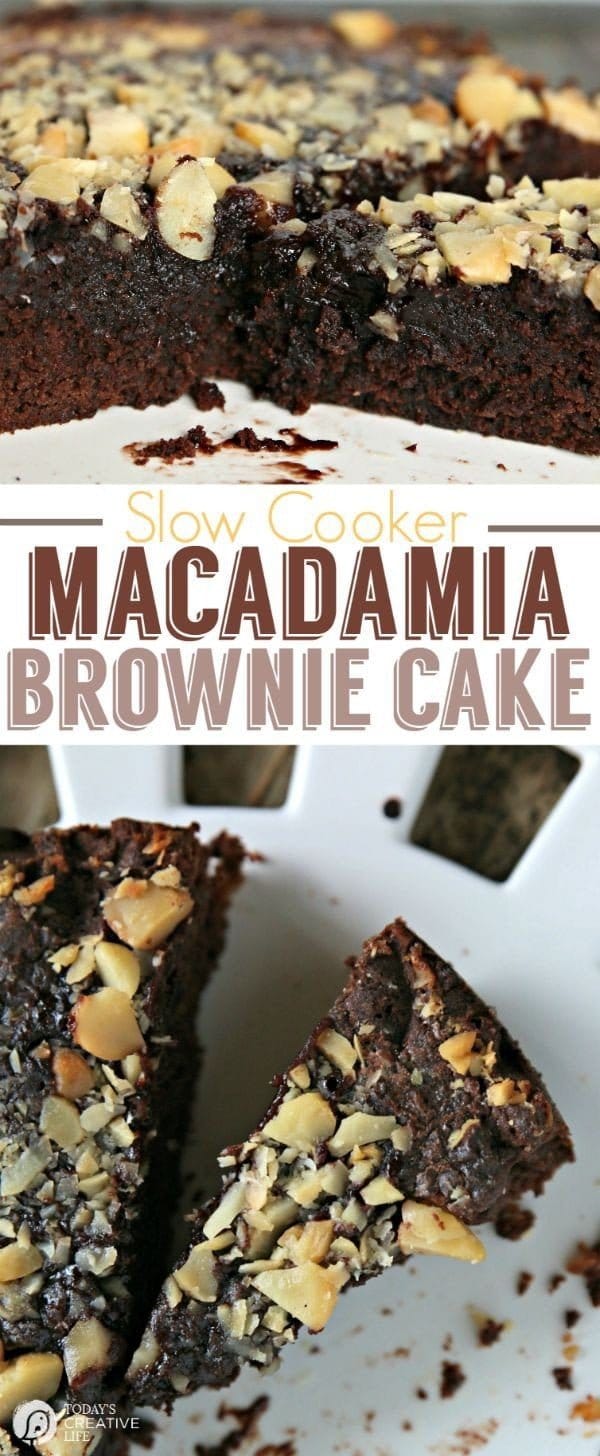 Slow Cooker Macadamia Brownie Cake
This recipe is simple, simple, simple. In fact, you use a brownie box mix. So if you're looking for a brownie recipe from scratch, you'll have to head back to pinterest and keep searching. But if you're looking for a recipe that jazzes up a simple box of brownie mix, then this is for you!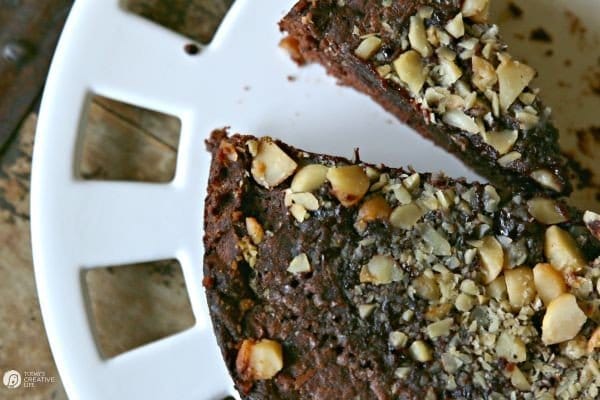 You'll also be happy that it isn't going to heat up the kitchen since you don't have to turn on the oven.
My husband has a weakness for brownies and although I make a mean brownie from scratch, he always picks up a few boxes of brownie mix for those late night cravings. When he came home and asked what was in the crock pot, I told him dessert. He assumed it was one of my slow cooker dump cakes that I love so much……. like my Strawberry Dump Cake. So good. When I told him it was a Brownie cake, I think he got whip lash.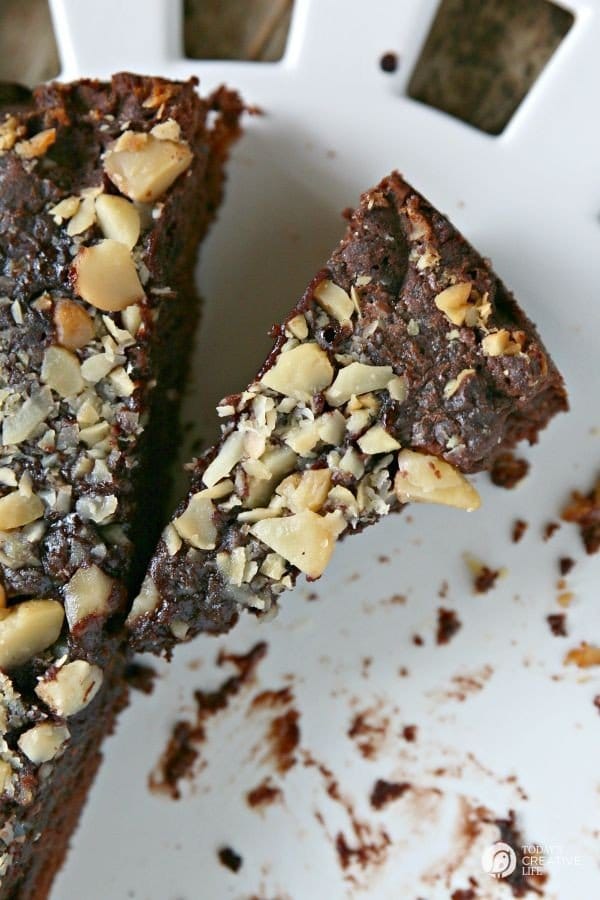 You'll want to cook it on low. I accidentally put mine on high and it started burning the edges way before the middle was done. You know what you do when the edges of your brownie cake are a little to brown? You cut them off and carry on.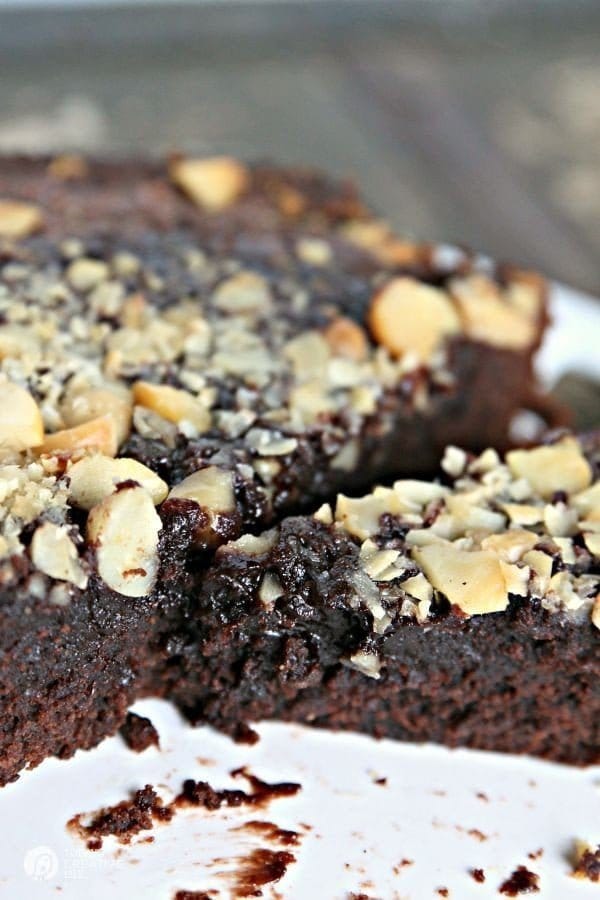 The middle was that perfect gooey moist texture that makes you drool before you can even get it on a plate.
It would have been SO delicious with a scoop of vanilla ice cream, but again….. I didn't have any. I had to suffer with the brownie alone.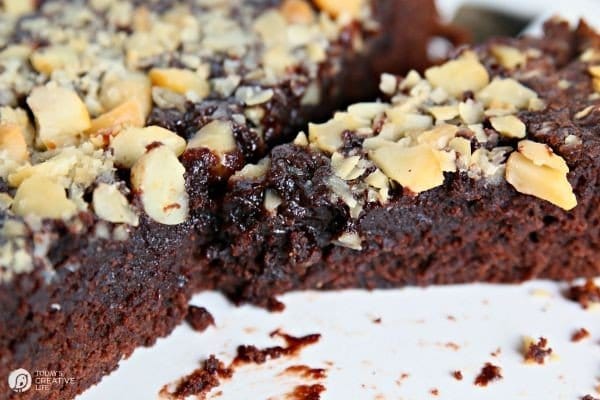 Usually when I make a dessert in the crock pot, it's the type you scoop out. Like my slow cooker Chocolate Lava Cake, or my slow cooker Butterscotch Vanilla Pudding cake.…… both you scoop. But this one looked firm enough to flip it! You let it cool for about 15 min (or longer) and you invert it and flip onto a plate! The bottom becomes the top. I'm embarrassed to admit how excited I was to try it.
I should have placed more nuts in the bottom of the slow cooker. The "top" had more and looked prettier, so I flipped it over making the actual top the top. Next time I'd be sure to place more nuts in first.
Here's how it looked when I inverted it and flipped it onto a plate. Meh….. unless I added a few scoops of ice cream to the center.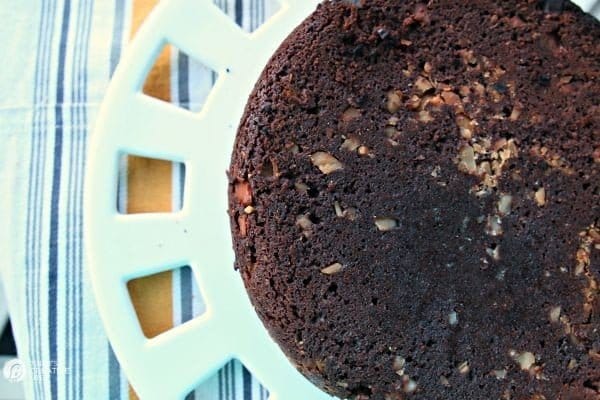 See? Much better when I flipped it back over. The nuts look so pretty!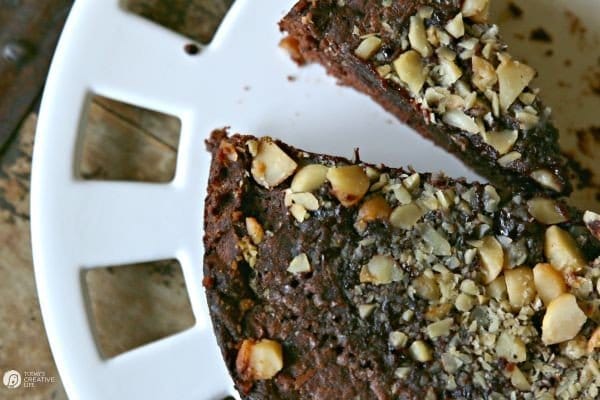 Enjoy your warm Slow Cooker Macadamia Brownie Cake!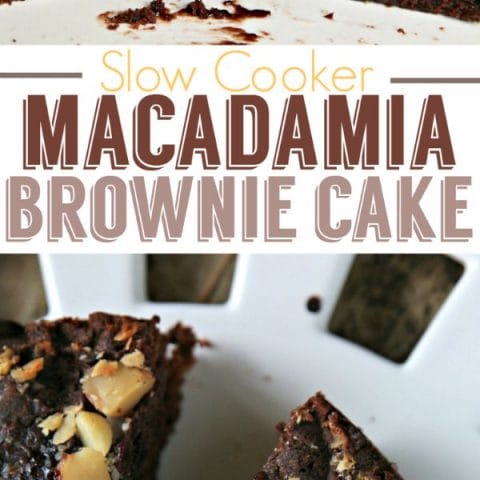 Slow Cooker Macadamia Brownie Cake
Prep Time: 10 minutes
Cook Time: 3 hours
Total Time: 3 hours 10 minutes
Ingredients
1 (21 oz) box Brownie Mix
1/2 cup butter (melted)
1 cup chopped macadamia nuts
Instructions
Mix brownie mix according to box instruction. I chose the extra egg for a more cake like texture.
Melt the butter and pour into the bottom of your slow cooker.
Sprinkle half of the nuts over the butter. Remember, these are the nuts you'll see on your finished cake. So spread evenly.
Pour your brownie batter over the nuts.
Sprinkle the rest of the nuts over the batter.
Cover and cook on LOW for 3 to 3.5 hours.
Let it sit for at least 15 min uncovered.
To invert - Edge the brownie cake with a butter knife to loosen the sides. Place a large plate over the crock portion of your slow cooker. Hold the plate down as you lift the crock, flipping it upside down. The cake should plop out onto the plate.
Serve alone or with ice cream.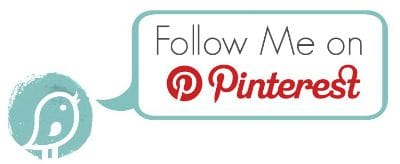 ---
More Slow Cooker Desserts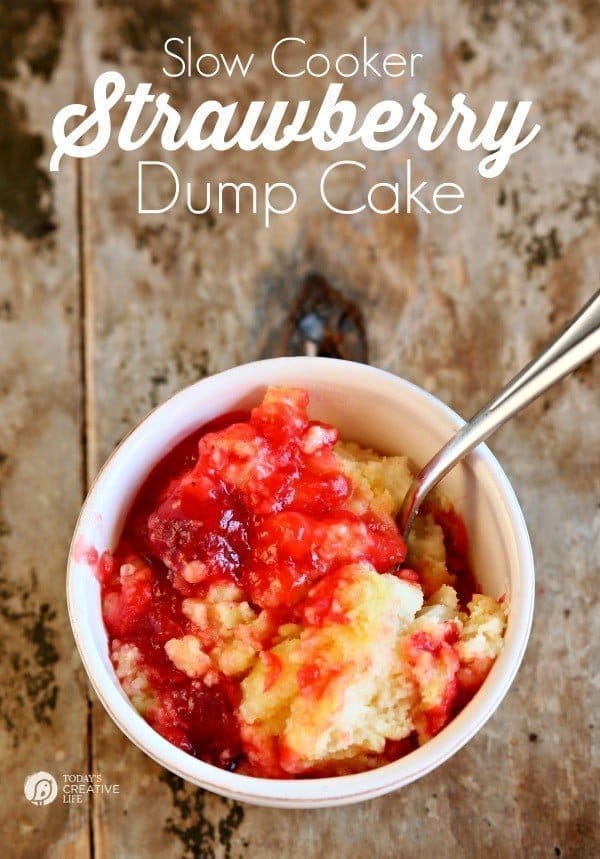 Slow Cooker Strawberry Dump Cake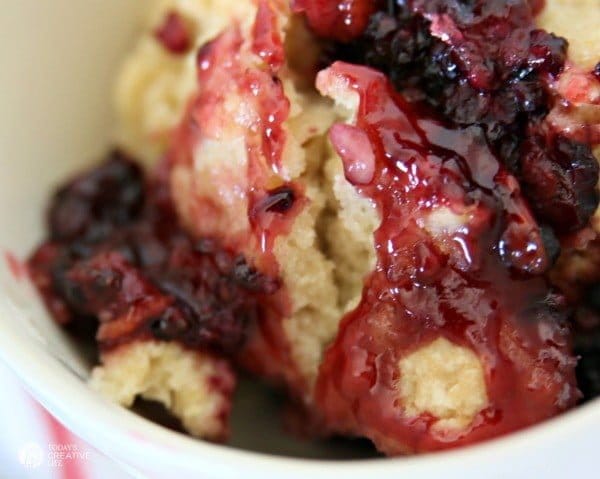 Slow Cooker Blackberry Cobbler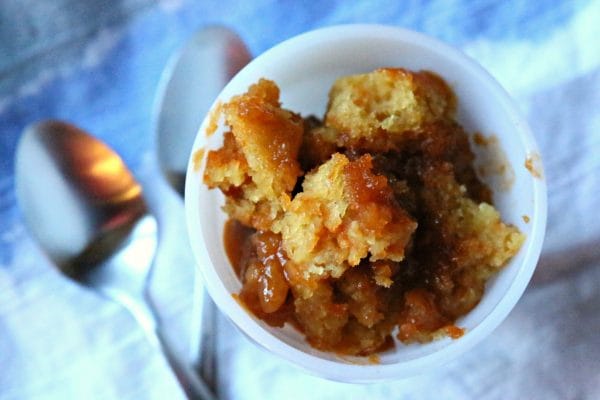 Crockpot Vanilla Butterscotch Cake