Sip on the ultimate summer refresher with a sparkling watermelon ginger punch cocktail. Juicy watermelon meets zingy ginger, all fizzed up for a vibrant and tangy twist on a classic favorite. This cocktail recipe is a refreshing drink for all summer long! SpaBettie has the best cocktail recipes! Remember the Grapefruit Thyme Mimosa-Ritas?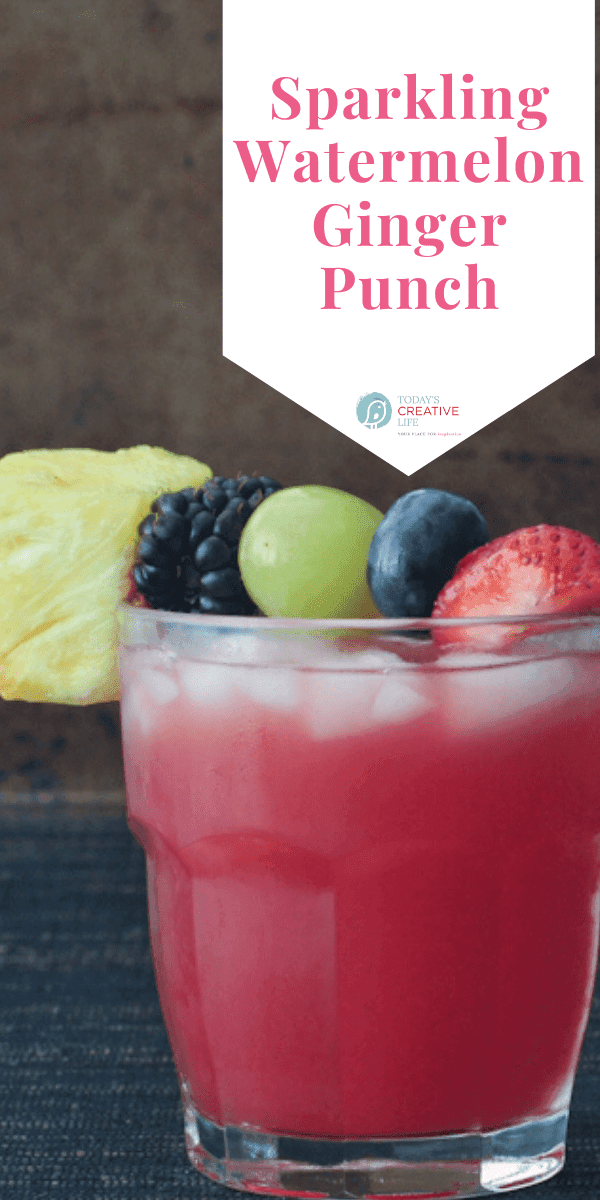 Sparkling Watermelon Ginger Punch
It is summertime.
Portland is hot right now – high temperatures are continuing this week, with triple-digit reads of the thermometer all week long. I am not at all complaining – Dad was born and raised in Hawaii, and this Island Girl loves the sun.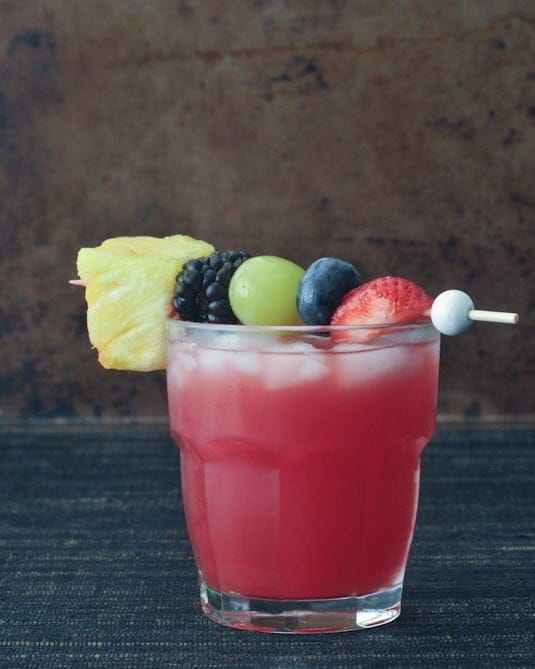 Still. It is time for something cool.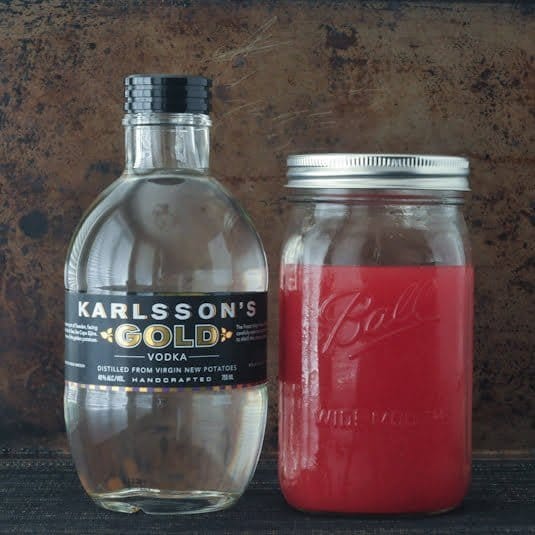 Summer Cocktail Recipes
Summertime for me is all about fresh fruit and light meals much of the time anyway, and when it is hot, even more so. We eat lots of salads and I go through a huge amount of fruit every day.
I have been doing some crazy fun things with watermelon lately, including a tasty cool beverage just perfect for your warm summer evenings. This tastes fantastic with ginger bitters, and if you don't have your own, fresh ginger is awesome too. We have tried both, several times.
In my extensive taste testing, I have made this with added sweetener (date syrup) and without. Both versions are good – a small amount of sweetener plus salt enhances the sweet watermelon. One watermelon needed it more than another – I had one that not only had no seeds at all, but was so juicy sweet it was perfect without anything added.
Well, we still added vodka.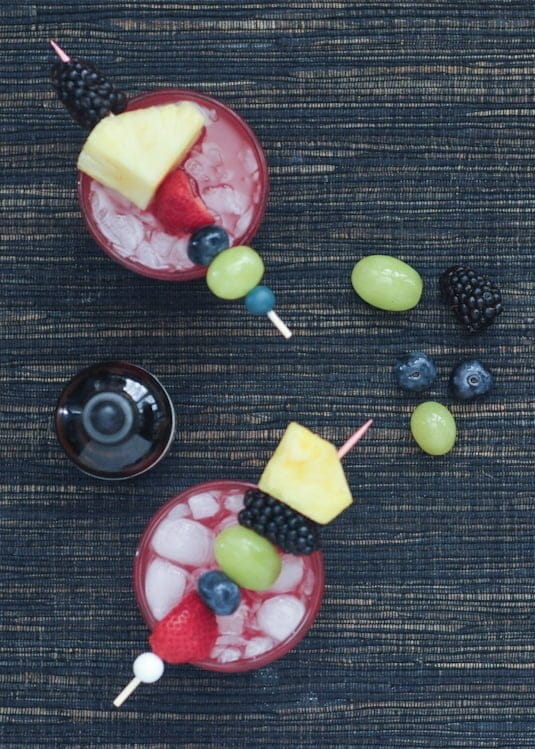 How to Make Watermelon Ginger Punch
(printable version below)
dairy, egg, soy and gluten-free, vegan
Cocktail Ingredients:
seedless watermelon
fresh ginger (or ginger bitters)
salt
sweetener to taste
vodka
club soda
crushed ice
fruit for garnish
Supplies Need for Making Cocktails
Affiliate links for products listed are for your convenience only. This costs you nothing extra. If you happen to purchase anything as a result of clicking, TCL will receive a small percentage. Thank you for your support. This allows me to continue to offer you free content.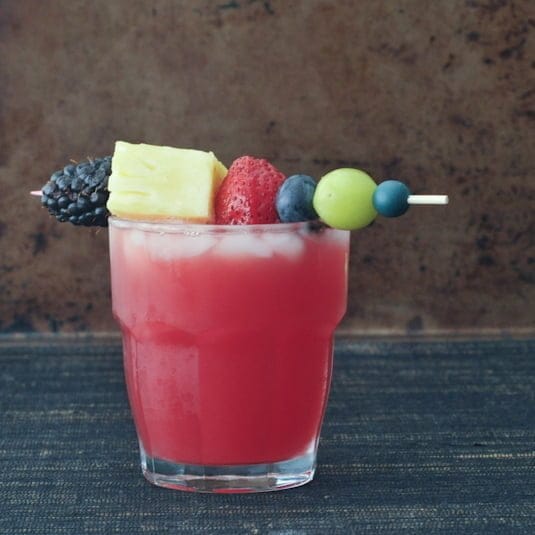 Cheers!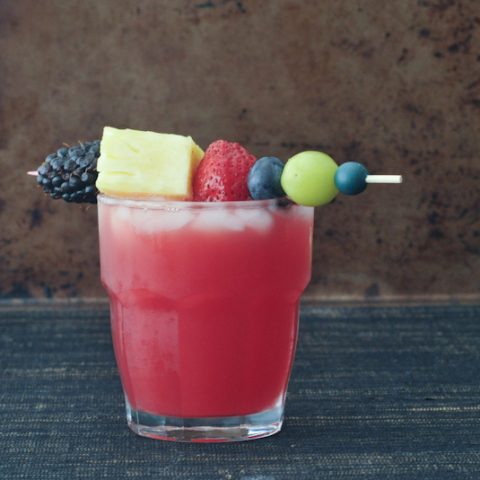 Sparkling Watermelon Ginger Punch
Prep Time: 10 minutes
Total Time: 10 minutes
This refreshing cocktail recipe is by Spabettie.
Ingredients
1 mini seedless watermelon
1/2 inch fresh ginger, peeled and minced (or ginger bitters)
pinch salt
sweetener to taste (depending on sweetness of watermelon)
your favorite vodka
club soda
crushed ice
fruit for garnish
Instructions
Slice watermelon, removing rind. Cut into cubes, add to blender (I did this one half watermelon at a time).
Add fresh minced ginger, if using. Blend at high speed, using tamper tool as needed.
Mixture should be slushy liquid. Using tamper tool, push this mixture through a mesh strainer over a large bowl, straining out the seeds and pulp, leaving watermelon juice.
Add salt and sweetener if using, stir.
To make cocktail: Add crushed ice to each glass, filling about half way.
Pour watermelon juice – 2/3 full.
Add one shot vodka, splash of club soda to fill glass, ginger bitters if using.
Garnish with fruit skewers and enjoy!
Recommended Products
As an Amazon Associate and member of other affiliate programs, I earn from qualifying purchases.
Nutrition Information
Yield 1
Serving Size 1
Amount Per Serving
Calories 284
Total Fat 1g
Saturated Fat 0g
Trans Fat 0g
Unsaturated Fat 1g
Cholesterol 0mg
Sodium 141mg
Carbohydrates 47g
Fiber 4g
Sugar 35g
Protein 3g
Cocktail Recipes
Refreshing home-crafted cocktails.
Fresh herbs make this drink special.
Grapefruit drinks with fresh herbs are delicious.
This cocktail is like a dessert!
The perfect cocktail for sitting around the bonfire!
This 4th of July cocktail has a bang!
Find a variety of simple recipes for the summer season.
This cocktail screams summer!