This Sports Feet Gift Basket is a unique but welcomed gift for the athlete in your home. Who doesn't love a gift basket?
Baskets or packages full of self care beauty products are always welcome!
My son plays soccer and has the worst feet, full of calluses on his toes and heels. If he'd listen to his mother, he'd take my advice on trying to get rid of them. Whatever happened to my darling little boy with cute adorable feet? He's now a 6-foot man-child with hairy legs and calluses.
Sports Feet Gift Basket
This summer, my sister and I hijacked both my son and nephew and took them to get pedicures.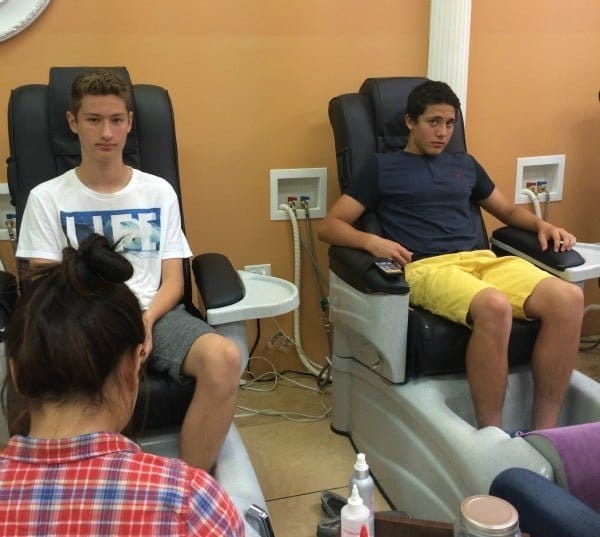 They were not amused, but ended up liking the massage portion and couldn't believe how smooth their feet were afterwards. Once home on his own turf, there is no way I can talk him into getting another one, so when I was asked to team up with Amopé, I knew exactly who needed it!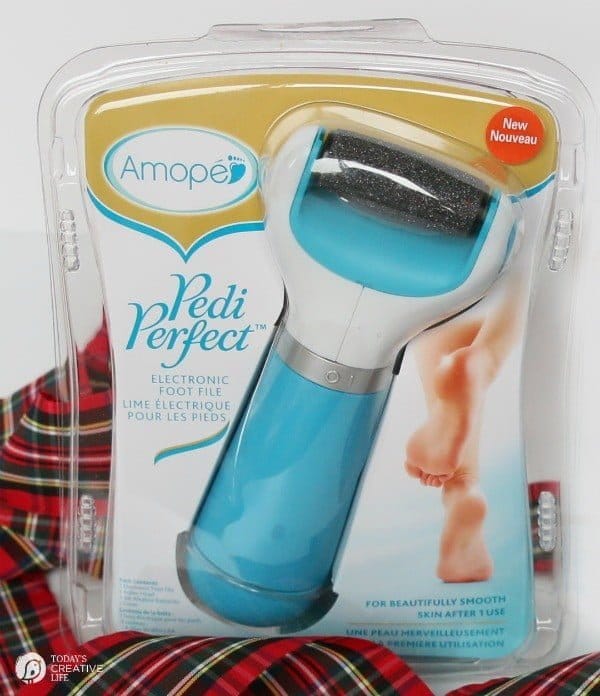 Sure it would be nice for myself, but mostly, I couldn't wait for my son to use it.
I told my son we were doing pedicures, no if's and's or buts…… and that his feet needed some attention. I asked him to grab the foot bath, the Amopé Pedi Perfect™ Electronic Foot File.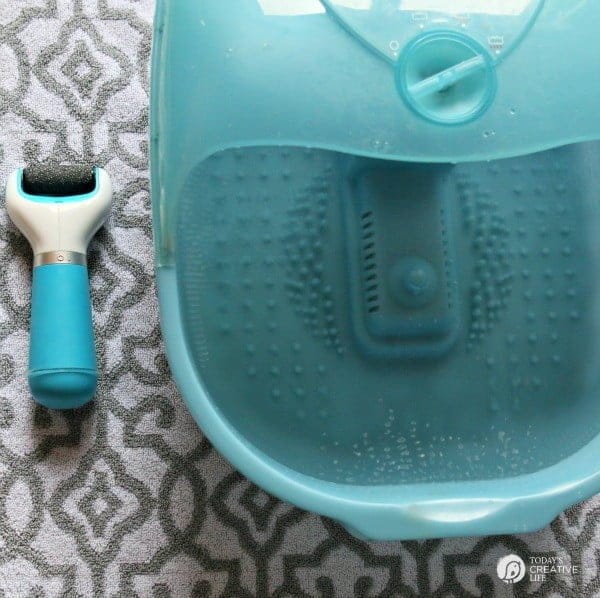 Here's a hint….. the more gadgets you can include, the more excited they'll be.
He couldn't wait to use the Amopé Pedi Perfect™ Electronic Foot File….. who could blame him. I was actually pretty excited to use it on him too!
Before he could dip his feet, I told him to go for it. We were instructed to not use on wet feet. I was skeptical at first, knowing just how thick his calluses were.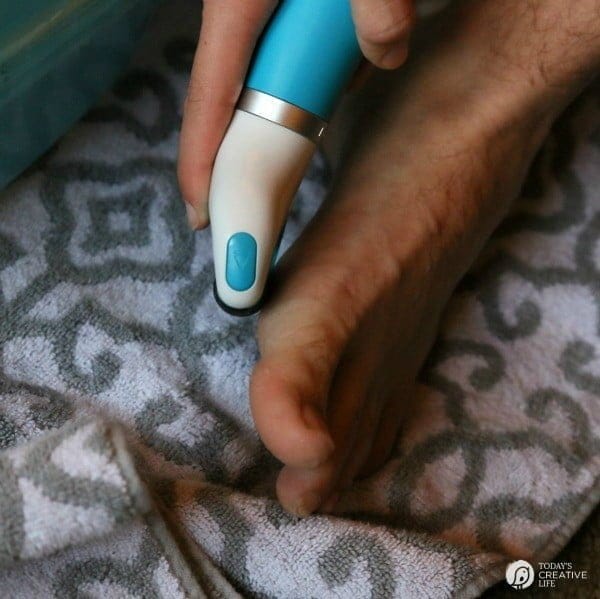 He filed and filed away, smoothing the skin slowly but surely. I was amazed how much progress he was able to achieve. Before and After photos coming up…… just keep reading.
The revolutionary electronic foot file helps to remove rough hard skin revealing smooth results after just one use! Specially designed with a Micralumina roller head, the file exfoliates the foot through a gentle and safe rotating action. The results: luxurious feet you'll want to show off!
Great…. like a 16 yr old boy needs another reason to show off. 🙂
Features and Benefits
Exfoliates quickly and easily
Ergonomically shaped head for easy handling
Microabrasive particles on roller surface work to gently remove dead skin
Contains no sharp blades for safe use
Easy to Get Started
Insert the roller into the device, making sure it is fully engaged. Insert the batteries and turn on the device. For best results, your feet should be clean and dry. Do not pre-soak feet.
Simple Operation
Move the unit in regular passes over the dry skin, applying light to medium pressure for no longer than 3 to 4 seconds in one spot. Continue with regular passes until the dead skin is removed and your feet feel silky soft.
Individualize Your Treatment
Use in successive sessions until your feet feel soft and are free from dry skin. Treatment length is different for each individual and their personal lifestyle.
His feet will need more than one treatment and I'm sure the Amopé Pedi Perfect™ Electronic Foot File will really come in handy during the summer and fall months when he's hitting it hard at the soccer fields.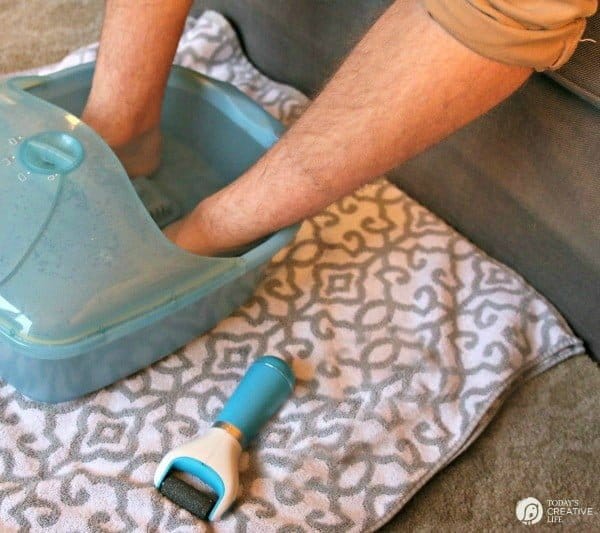 I'm going to share his before and after shots. If you're squeamish about feet, you should close your eyes and scroll down.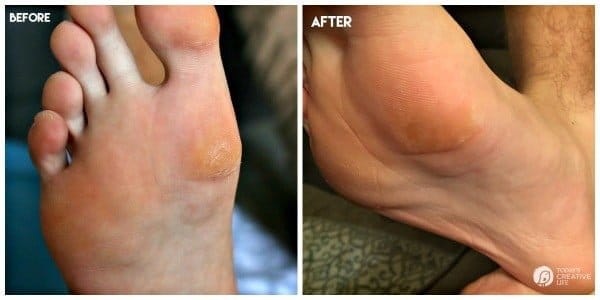 Putting together a Sports Feet Gift Basket is pretty easy, making the Amopé Pedi Perfect™ Electronic Foot File the highlight.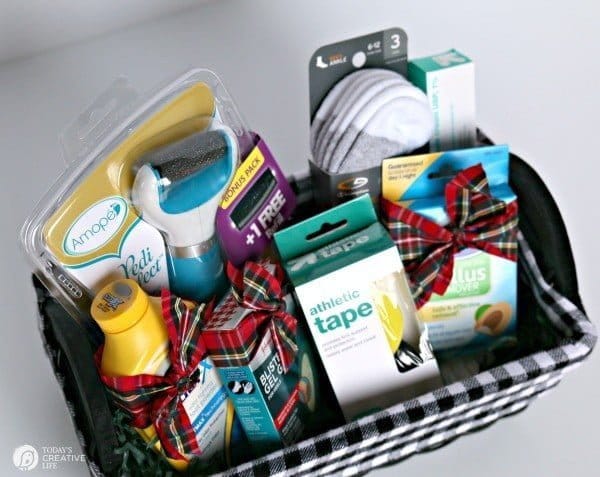 Things to include for a Sports Feet Gift Basket:
foot cream
foot powder
athletic tape
Blister bandages
Blister rub
anti-fungal cream
After we filed, then he just kicked back, turned on the foot bath with bubbling water and relaxed.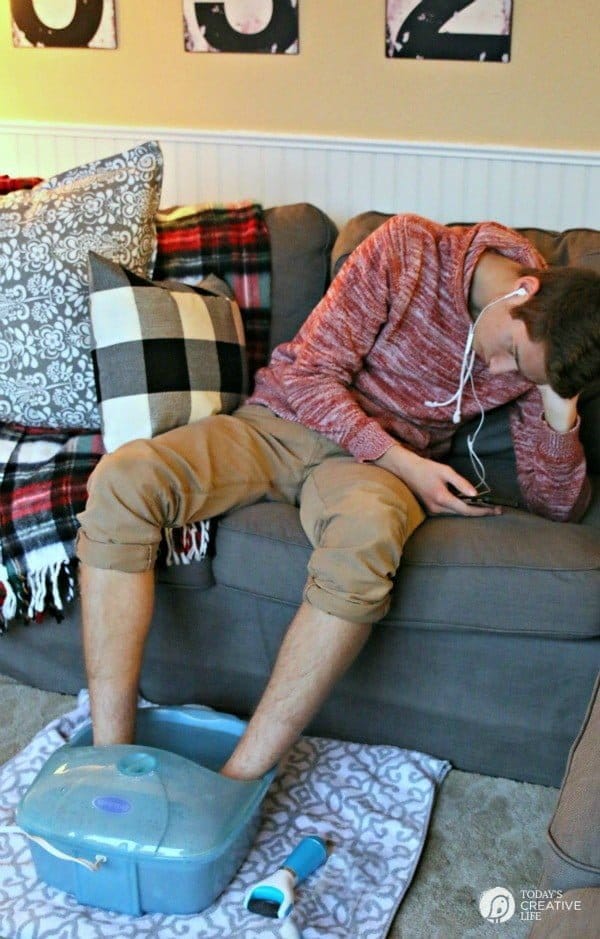 And that folks, is how you bribe your 16 yr old into a pedicure. Gadgets!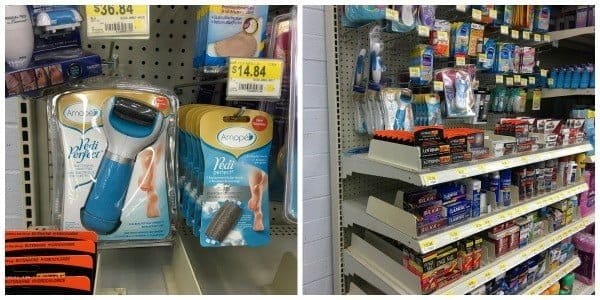 I found the Amopé Pedi Perfect™ Electronic Foot File in Walmart along with other foot products. It makes the perfect stocking stuffer too!
This is a sponsored conversation written by me on behalf of Amopé™. The opinions and text are all mine.