Oh I love working with Better Homes & Gardens! This month I'm bringing you a few simple Springtime Decorating Ideas from their spring line of products, mostly for outdoor entertaining. And I'm also giving away a $100 Walmart Gift Card, so keep reading for details.
Springtime Decorating Ideas with BHG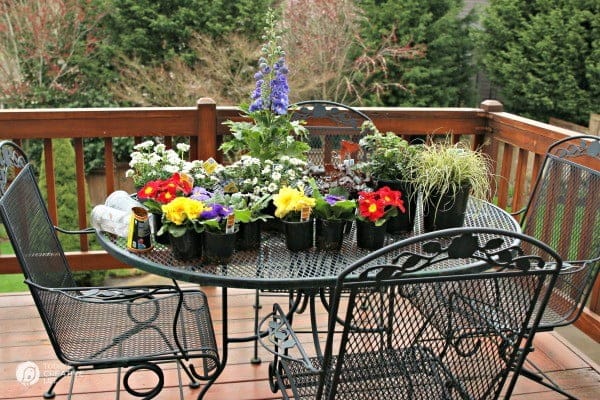 When I got my assignment for March and saw that it was all about Springtime Decorating Ideas featuring the Better Homes and Gardens patio and garden products, I got a little nervous.

I live in the pacific northwest. It rains. A lot! We really don't start seeing the sun on a consistent basis until maybe May, and then it's still hit and miss.
We have a saying here. "If you don't like the weather, just wait 10 min". It's certainly not weather you can pull out your patio chair cushions and umbrella. They would either get soaking wet or blown away. Let's just say we're not dining alfresco in March.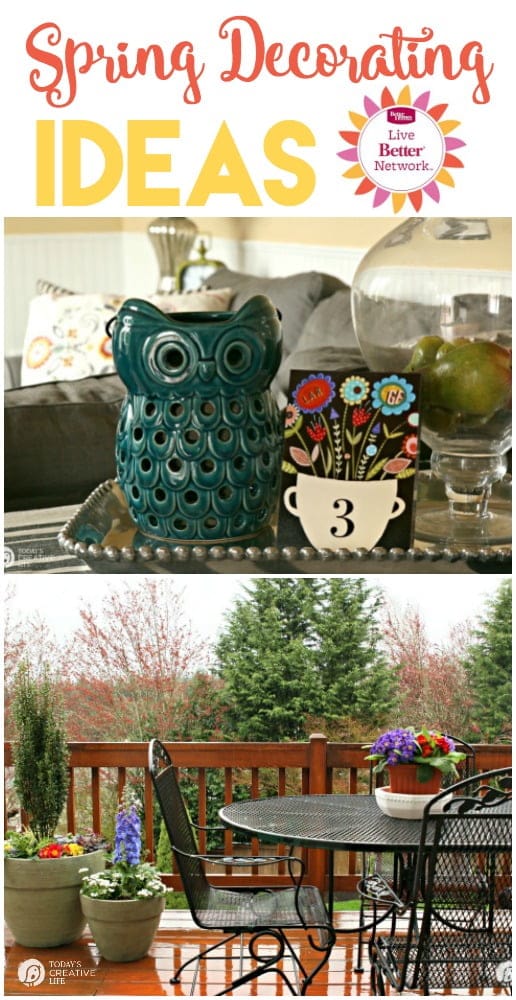 I looked at my empty and wet deck. My bare patio chairs and not one hint of spring color. Surly I could spruce it up a little, even if we weren't going to be using the deck anytime soon.
I had an idea to grab a couple of the large Better Homes & Gardens flower pots and fill them with bright colors and plants. I found the Dubai style online and ordered 2 of them for pick up at my local store. Since my deck is right off my kitchen and main living area, I thought it would be nice to add a hint of spring that we could see from inside. Rain is much more bearable with lots of flowers.

As mentioned above, I bought 2 of Dubai planters. One was much larger than I thought, but was thrilled with the possibilities. They don't come with drainage holes in the bottom, so we drilled a few holes in the bottom of each one. Since they don't come with drainage holes, I'm thinking they could be used for a DIY Fountain.
Before adding dirt, you'll want to add gravel or pebbles, that's what most people add, unless you're really into recycling and you line the bottom with a few cans, bottles etc.. Sometimes we save styrofoam or packing peanuts for this purpose too. After you add items to the bottom that allows for drainage, my husband filled the pot with soil, leaving enough room for the plants.

Since the pot was so big, I found a tall boxwood to place in the middle, then surrounded it with seasonal flowers and 3 plants that will last year round.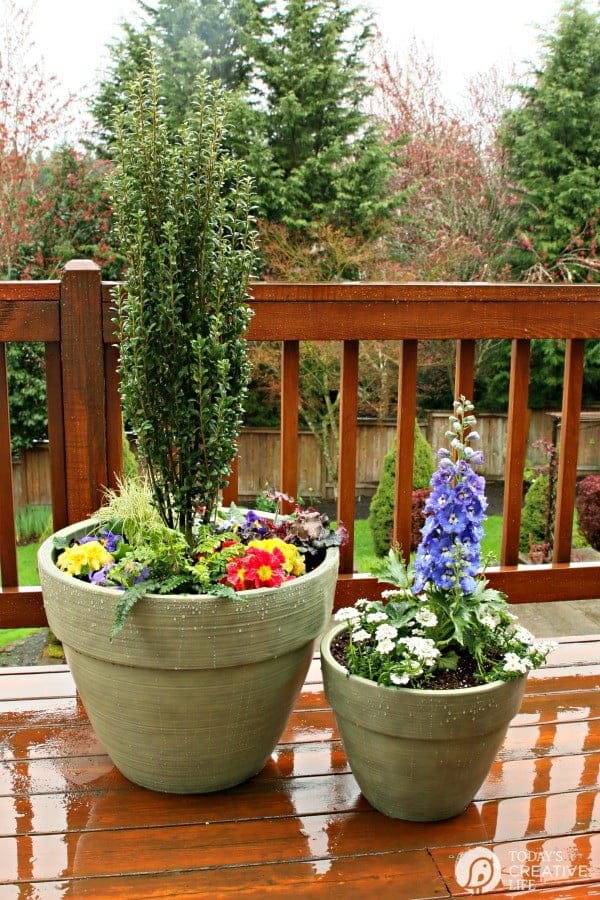 Look how wonderful they look. Now every time I look out the kitchen window or slider, I see color!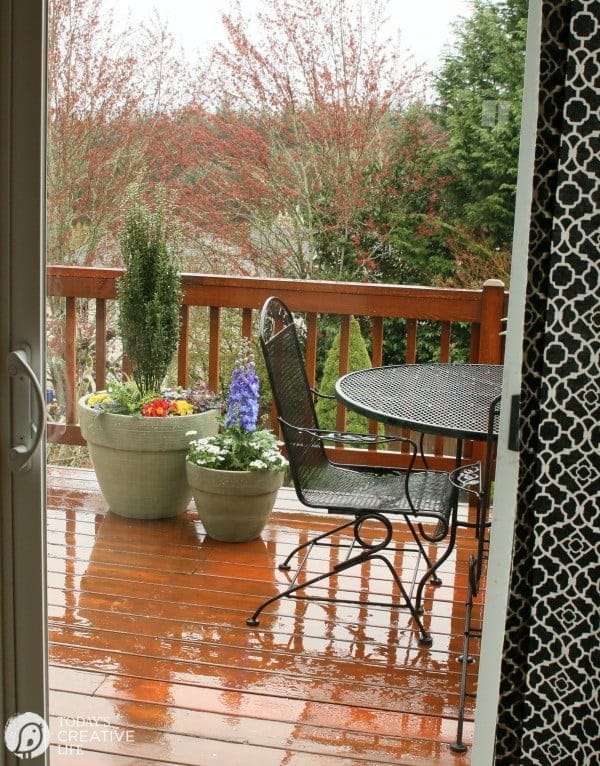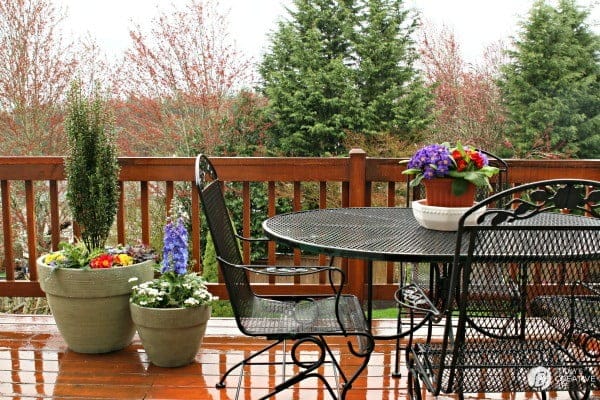 When I saw this white ceramic planter bowl, I had to have it and instantly envisioned it full of succulents. For now, while it's so wet, I'll just place another pot of primroses inside. It's still darling.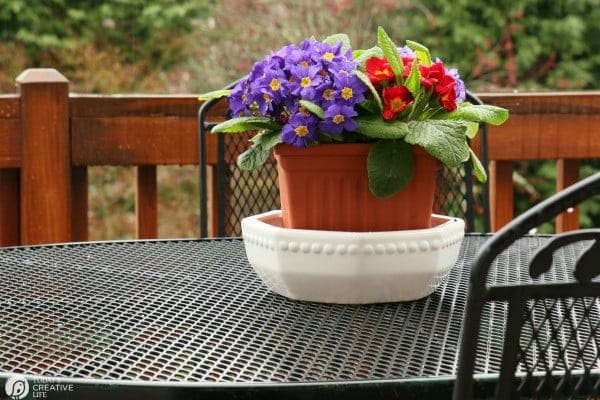 When I found the white planter bowl, I also eyed this turquoise owl lantern. I can't wait to place a candle or solar light inside for summer nights on the deck, but for now I think it looks great in my family room. I could place a candle inside, but I haven't bothered yet. It's got a small handle if I decide to hang it. Wouldn't be darling on one of those plate hook stakes?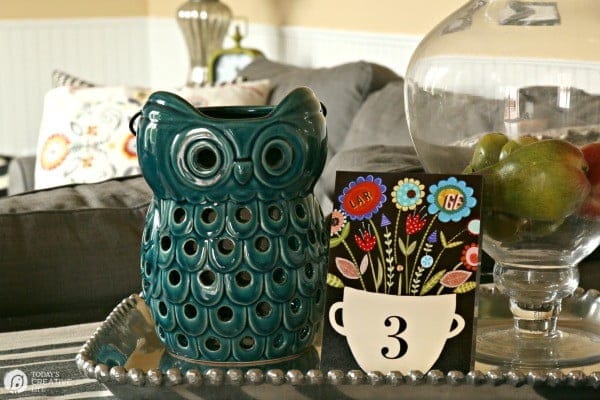 I love the pop of color it brings.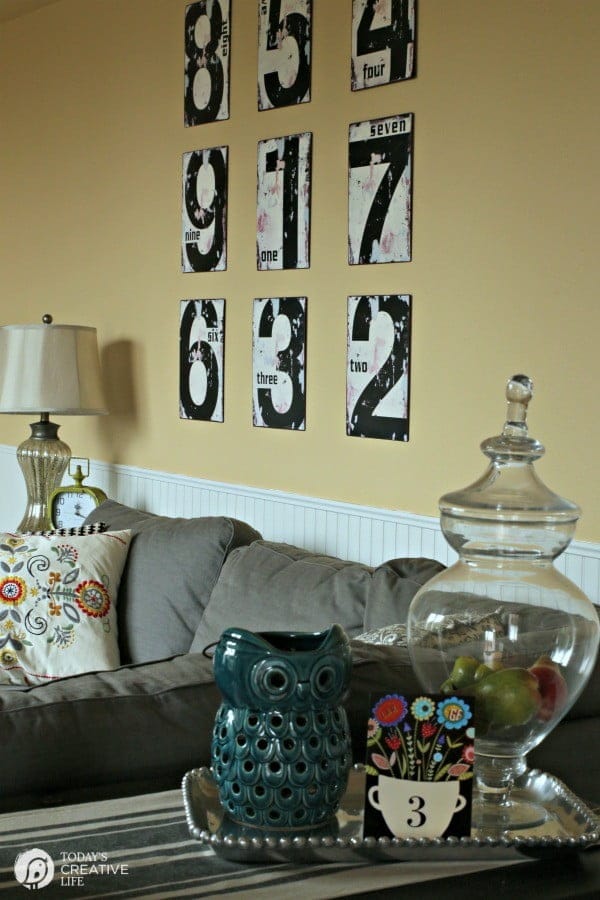 It makes making a quick little vignette pretty easy and fast. It goes perfectly with my favorite art pieces. (From Red Shoes Homegoods)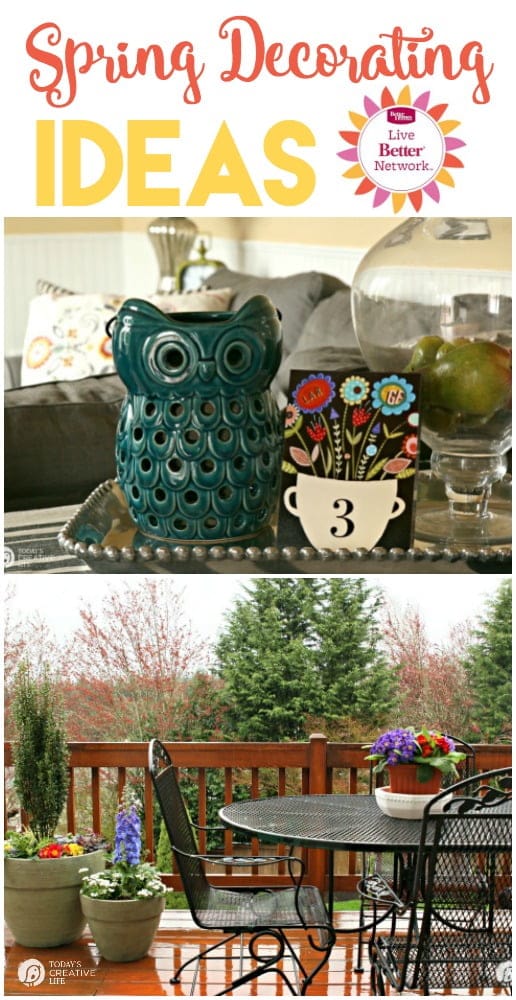 ---
GIVEAWAY!
Who's ready for a giveaway? I'm giving away one $100 Gift Card to Walmart where the Better Homes and Gardens line of home products are sold. I'm using the PromoSimple widget, so it may load slow. I'll be asking for your name, address, phone number, so be prepared. But don't worry. I will only see this information if you're the winner. Your information is not used for any other purpose or given to anyone else.
This post is sponsored. As a blogger with the Live Better Network, I am compensated for my time and product. All opinions are 100% mine.