Staining Your Concrete Floor – Staining and Etching with Valspar

This month my Lowe's Creative Ideas Creators & Influencers challenge was a Basement Makeover. Our basement flooring just got an update by going from carpet to concrete! You are going to love the results.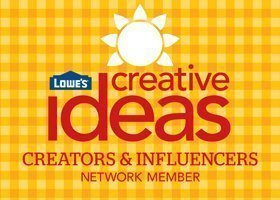 Our home has a daylight basement that the previous owners had remodeled, adding a full bar (who really uses those?) and very very light carpeting. The carpeting went up to the sliding glass door, which went out onto our patio and the part of the yard that tends to get muddy during the raining Pacific NW winters. Even though we placed down a throw rug , the very very light carpeting was so match for muddy little boys and our muddy pawed labradoodle. No amount of rug cleaning could stay ahead of this mess.
This photo below of my son's 13th birthday party was the only photo I could find that showed my basement. It's not a room I spend time in and obviously haven't decorated. You can see how it really needed a new coat of paint (it's now gray) and ……look how light that carpet is! (this is the perfect room for teens to hangout…..except for the bar of course)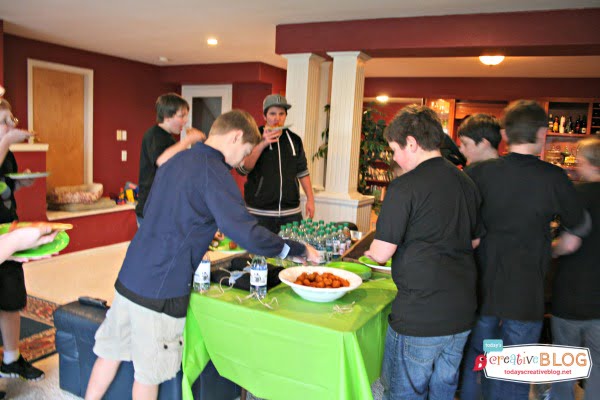 I hated that carpet and would curse it often.
Then the cat, who normally has never had an accident decided to start peeing on the carpet along the slider. (We later learned that a raccoon had been pestering her at night, so we think it was her way to mark her territory, who knows.) So now not only did I have a muddy stained carpet, but it was now a very smelly one too. I couldn't stand it!
Knowing there was the concrete sub-floor beneath the carpet, I told my husband that we should just tear the carpet up and stain or paint the floors. Simple right? It would be easy I said.
He wasn't keen on the idea since the "we", really meant most the work would land on him. After listening to me whine about the smell over and over, I guess he decided it was worth the work.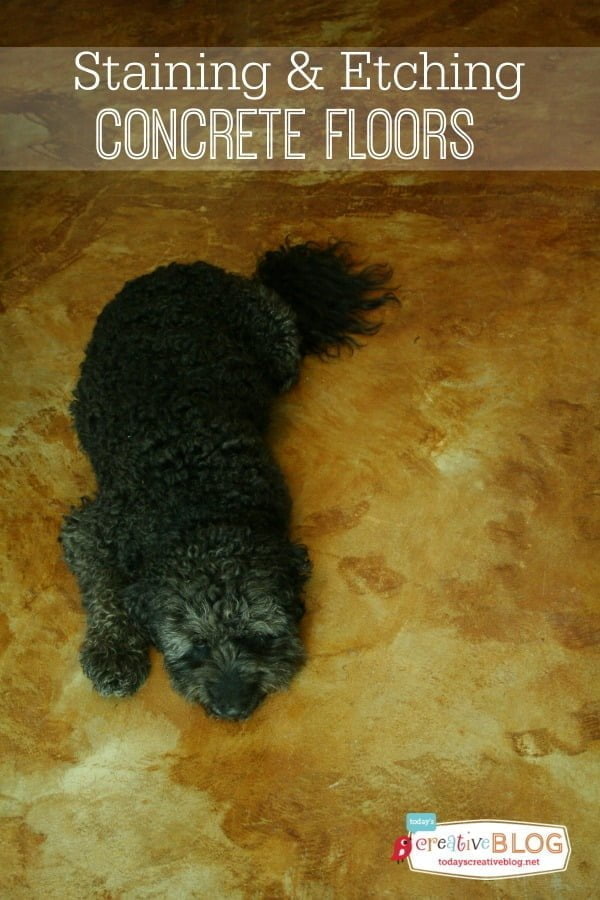 As with any DIY project, they aren't as easy or quick as you think they're going to be.
Tearing out the Carpet
You would think this would easy and I think the initial part was. But it's messy and then you need to find a place to store it before dumping it. My husband and son did this while I was a the Click Retreat. When you tear out carpet over concrete, it leaves a LOT of dried glue that will need to be sanded off. It also leaves the tacking strip along the edges which create more work.
Prepping a Concrete Floor
After pulling up the tacking strip, you'll see a lot of chipped marks and divots around the edge of your concrete floor. You'll need to fill those.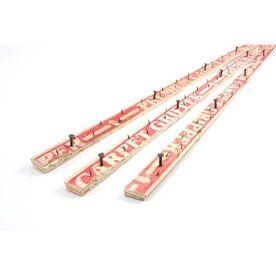 Your concrete floor will also most likely have a few cracks like ours did. You'll have to fill those too. My husband used a concrete patching product called Quikrete.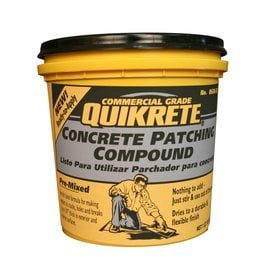 After filling them and allowing them to dry, you'll need to sand the floor down to create a smooth surface. My husband read he could use a heavy grade sand paper, but quickly realized he was going to have to call in the big guns and rent a disc grinder. This is when it gets real.
Sanding Concrete Flooring
This creates a huge mess, a lot of dust and will leave a burnt smell. Oh…..and it's really loud. (Tip: Do not pay to have the house cleaned the day before, because your husband will forget to close the basement door and concrete dust will cover your entire main floor) This is when you're ready to just install carpet again. But don't! It will be worth it. After you're finished, you'll have to of course clean the surface so it's free of dust and debris.
Staining and Etching Concrete
After you've sanded the floor, mopped up the dust, you are ready to stain and etch the floor. Be sure to prep the baseboards with painters paper and tape to protect them.
We used the Valspar Stain and Etching solutions in the coffee color. It also comes in a cayenne red and tan. Each gallon cost around $75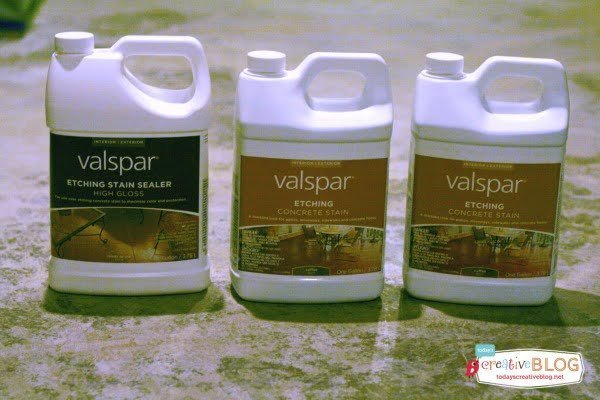 Reading the directions on the back will scare you to death and make you want to wrap yourself in a Hazmat suit. My husband used a regular face mask, protective eye wear and heavy duty rubber work gloves. We shut the door off to the rest of the house, hoping to keep the fumes and smell down. Following the directions on the package seemed too easy and it was actually pretty quick. He used a sprayer to spray the etching stain on……..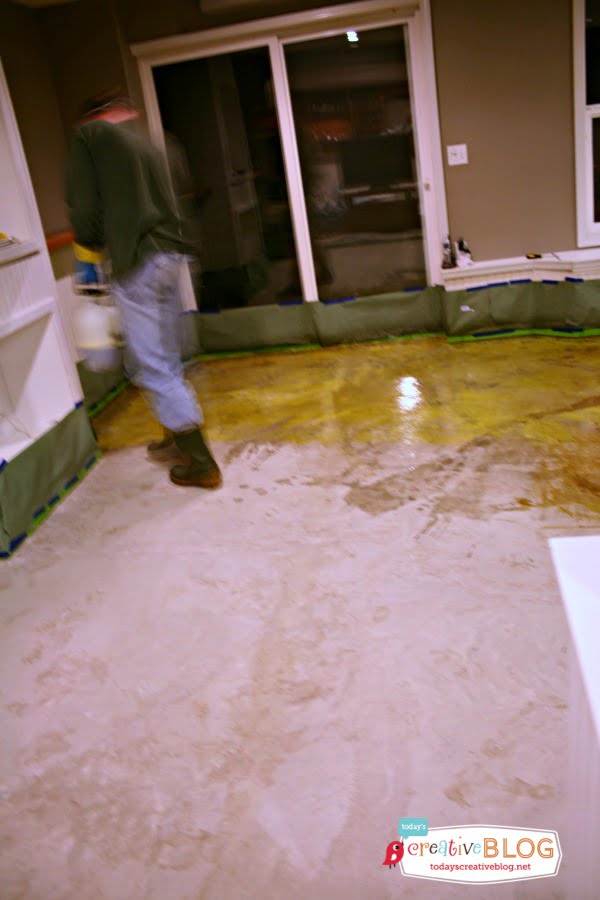 I didn't think the fumes were bad, but my husband did experience a small amount of irritation on his cheeks.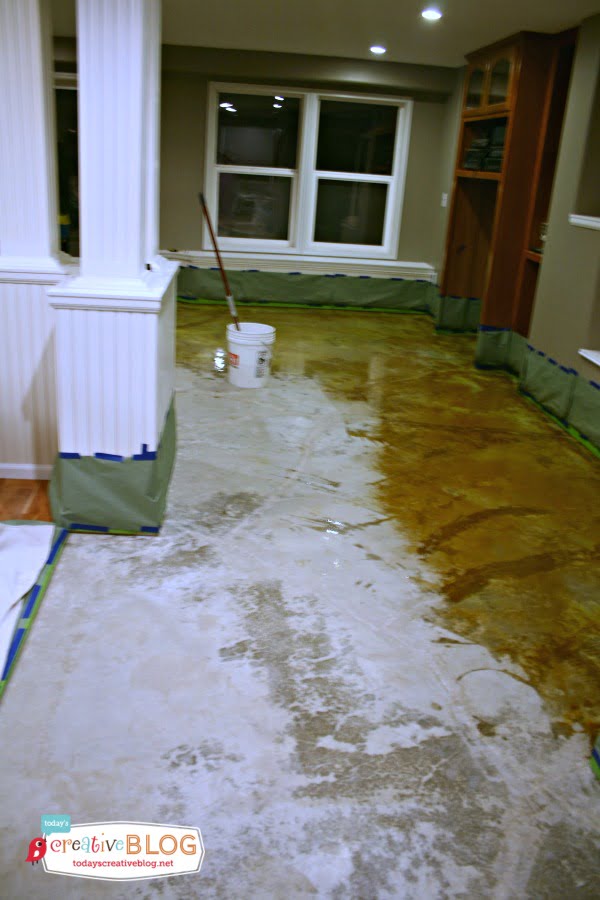 We let it sit and dry overnight (24 hours) then placed the final sealer on and we were done!
Now look at it! I couldn't be happier with out it turned out! No more smelly cat pee and I can easily wipe up any mud the dog or boy track in.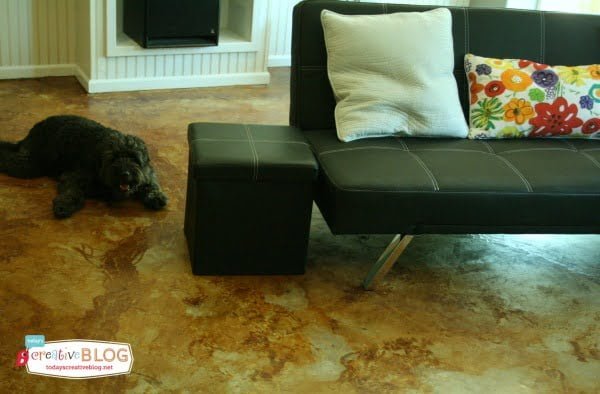 This project takes a couple of weekends, but you won't be sorry! We are loving the results and I just LOVE LOVE LOVE the variation in the colors and design. The full basement remodel isn't finished yet…….we've painted it a warm gray, brought in functional and teen friendly furniture and will be adding window treatments soon.
Supplies we used are:

Supplies can be found at your local Lowe's. While you're there, go ahead and ask any questions. Their knowledgeable staff is so smart and helpful anytime I'm stumped on anything!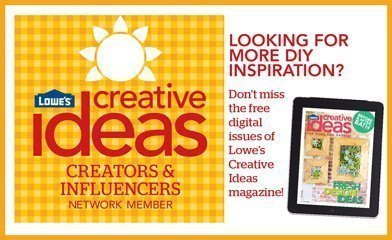 Sign up for Lowe's Creative Ideas
I am compensated for my time and effort by Lowe's. All opinions and challenges come from my pretty little head. 100% me!