It was perfect timing when I was asked to be a part of a Craft Room Tours Event. You'll want to check out the room tour posted before mine at Lolly Jane and then after me will be The Crafted Sparrow. Both AMAZING bloggers with SO much talent.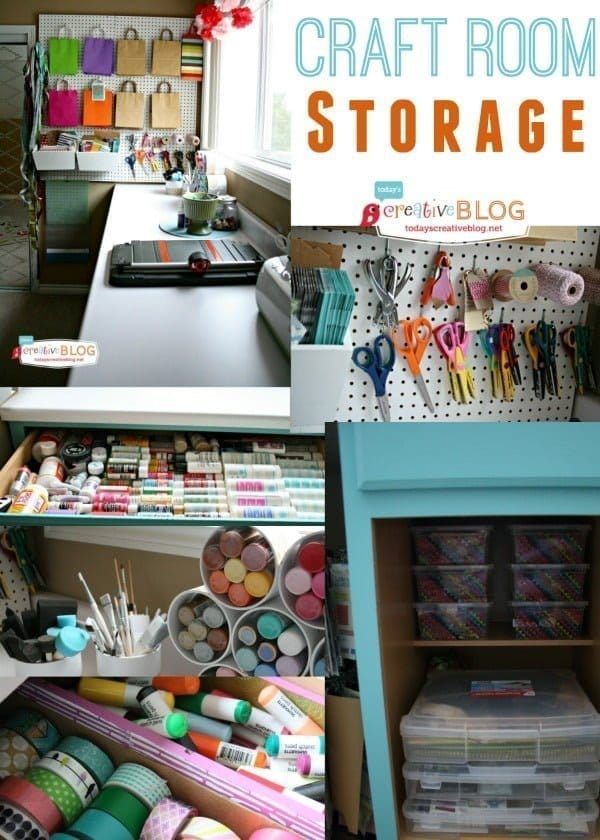 I had just completed my Craft Room Makeover and since I had a few asking me questions on Storing Craft Supplies, I thought I would share with you what I have learned works for me. As you'll see my room is more whimsical than elegant. I love how functional it is and so far, easy to keep clean.
Storing Craft Supplies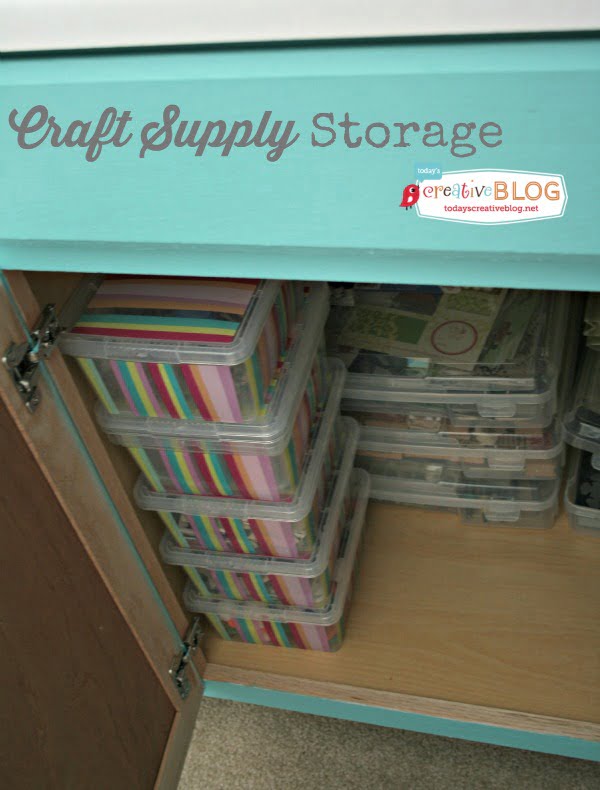 As much as I resisted………because I'm thrifty, I just didn't want to buy SO many storage containers. Even though I knew they would be great. But let me tell you…….it's more than great! It's fabulous to be able separate and group supplies by type into individual containers. These containers go on sale all the time and in fact the larger ones are on sale for $2.99 right now! (Michaels)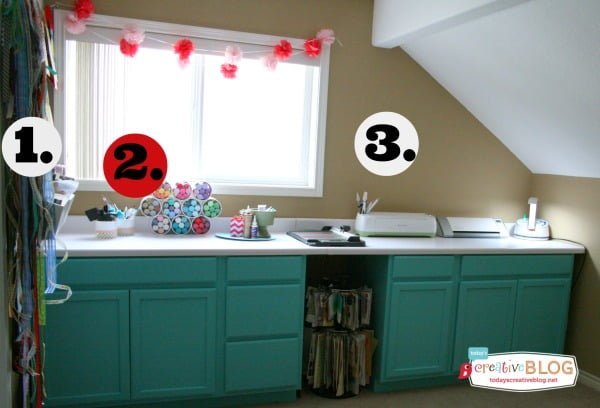 My cabinets will soon have hardware on them. Soon! I LOVE having a long counter for projects, but the key for me is having lots of storage options with cabinets! My BEFORE photo shows what happens when you have no storage. It's not pretty.
1. STORING RIBBON
Ugh! Ribbon is annoying to organize. I've tried threading it on a dowel, but I usually have more spools than dowel space and they're all different sizes. Then when one runs out or mysteriously unrolls, you have to take the WHOLE thing down and take it apart just to get that one empty spool. I now keep my spools in one of those drawers. I keep unspooled ribbon on a large round key ring sort of thing. I hang it on my peg board and it's all right there for me to grab a piece when needed.
2. STORING CRAFT PAINT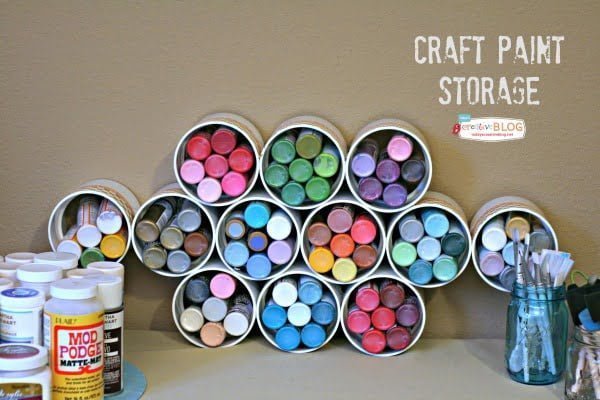 I made this craft paint storage awhile ago, but I had a lot more than that, so I also use the top drawer to store all my paint type mediums.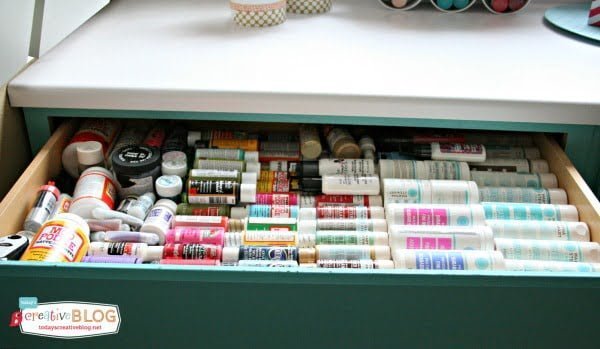 3. STORING WRAPPING PAPER
I have big plans for this wall. I'm going to use tea cup hooks and small wooden dowels to hang 3 rolls of wrapping paper. I'm also on the hunt for a tall wire bucket to store more.
4. STORING CRAFT PAPER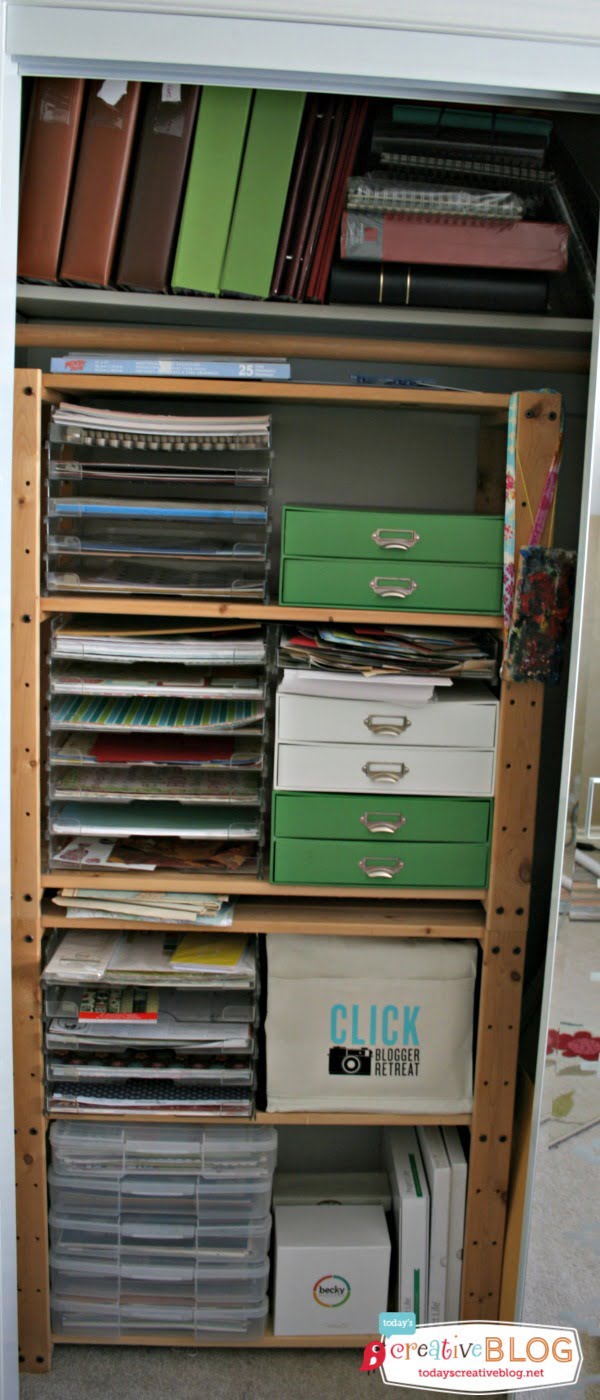 When I used to scrapbook daily, these paper trays were FULL and organized by color. I also use a lot of the plastic storage containers from Michaels to store paper sets. This shelf is tucked away in my closet.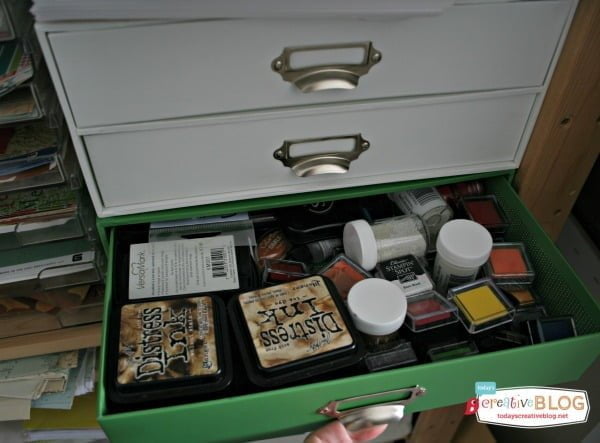 The green and white drawers are from Target a few years ago and hold inks, acrylic stamps etc…
5. STORING STICKERS, RUB ON'S, SCRAPBOOK EMBELLISHMENTS

A Few years ago, I started using the Clip it Up system and I LOVE IT! You can stuff a LOT of supplies on this and since I'm visual, I can just twirl it around and see what I have. Here is one of their wall mounts. Clip It Up Wall Mount
6. STORING WASHI TAPE
I used to store washi tape on my peg board, then I stored it in a cute jar and both worked out ok. For now, I'm trying in this drawer in this extra special cardboard box. It's just a hunch, but I'm sure this will change into a better container.
7. Storage Cubbies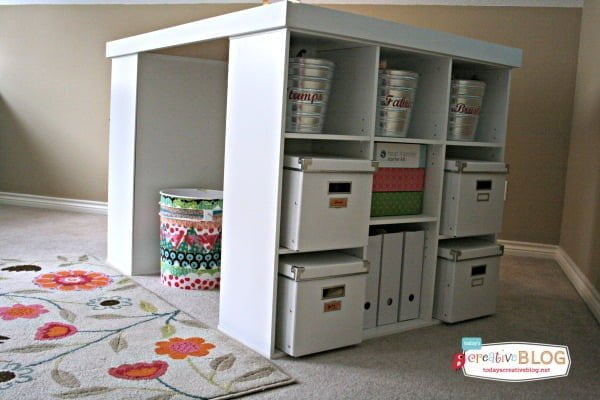 I picked up boxes from IKEA for my cubbies. They aren't a perfect fit, but it didn't matter to me. I store foam stamps in one, all my stencils in one, party supplies and one is full of shredded paper grass……..for gift bags. The buckets have more foam stamps, fabric and extra Martha Stewart painting supplies.
8. CRAFT ROOM STORAGE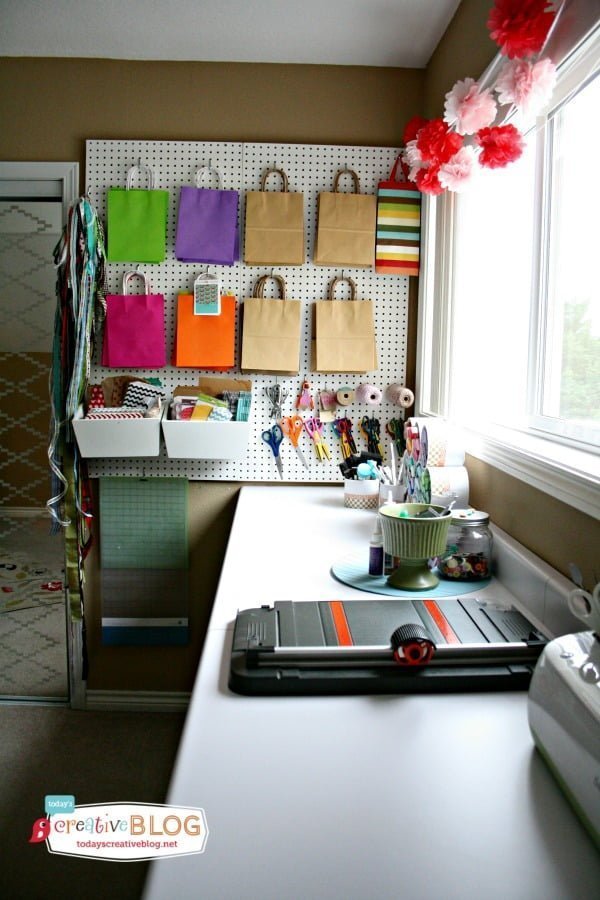 I love my peg board. Since I'm visual, I like seeing my supplies. I can consolidate the bags if I need more space.
And there you go! You can read more about my Craft Room Makeover Here.
Do you have any storage ideas?