As a regular customer and affiliate of the Grove Collaborative, I am happy to offer my readers these Stress-Free Way to Clean House for a Party Tips and products.
We host Thanksgiving and a couple of holiday parties every year. And every year, I will start to stress myself about having the house perfect. And then I give myself a reality pep talk. I remind myself what a girlfriend told me once…. "People Over Perfection".
I know what it's like to suddenly feel like everything is ugly, or unorganized or whatever story we start telling ourselves…. am I right?
When that happens, you need a way to make your home look and feel inviting without spending hours cleaning. I think you'll find these tips below helpful and tangible.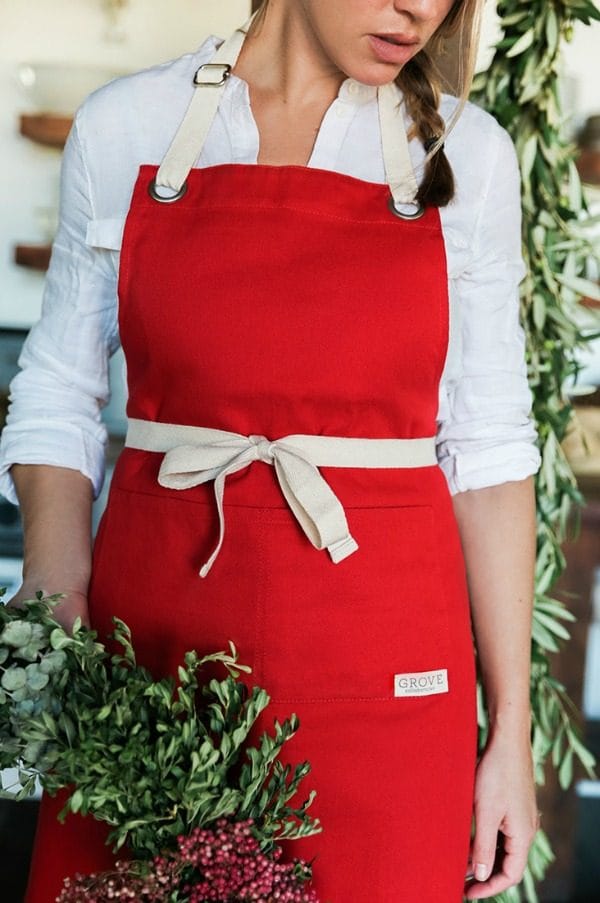 First, grab this free heirloom red apron + Mrs. Meyer's trio in your choice of seasonal scents with your first order of $20 from Grove Collaborative.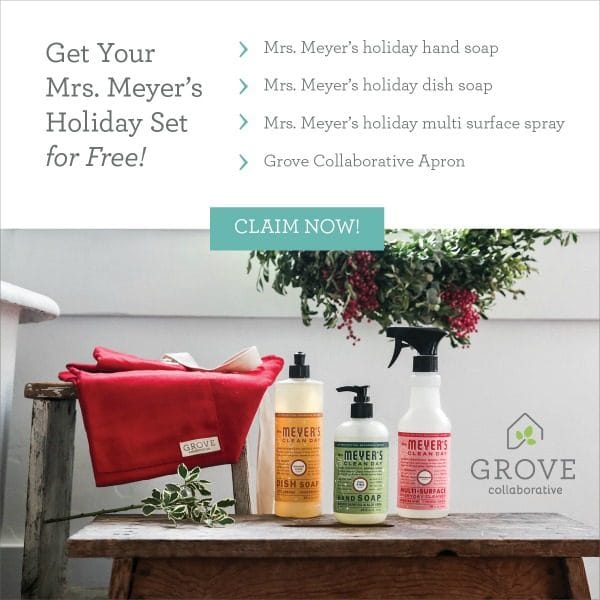 It's sure to make cleaning for a holiday party feel less like a chore!
If you're already a customer, you'll get a free set of Grove walnut scrubber sponges — perfect for cleaning up after a big dinner.
I've been offering kits and bundles via Grove Collaborative for a while now as well as being a regular customer. I LOVE their non-toxic Essential Oil Concentrates for making my own cleaning supplies. I am lucky enough to also be an affiliate for all these great products, which only means that if you join me, TCL receives a small percentage of sales.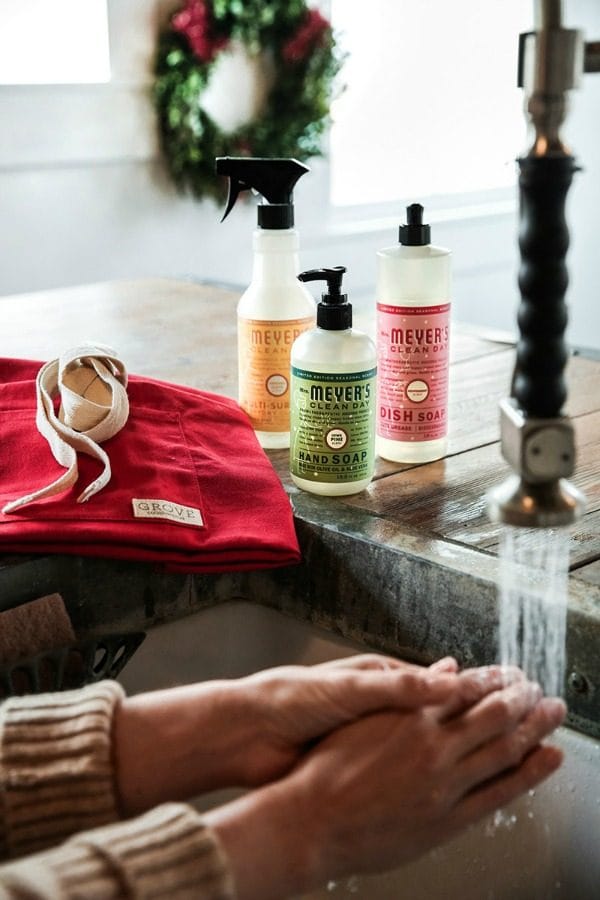 Then follow my stress-free cleaning tips to get your home ready for company:
Carving out time to clean can feel totally impossible with all the shopping, food preparation, and kids home from school. But if you can sneak in a little time to clean each day — even if it's just 5 minutes — you'll feel calmer when the big day arrives.
If you have a tendency to procrastinate (like me), use it to your advantage! I know that I work better with a deadline, so I like to set a timer for 10 minutes and pick just one area of my home to tackle.
Here's a trick from chic home decor stores: Create a "signature scent" for your home by using one clean, simple fragrance throughout. Mrs. Meyer's seasonal scents in Iowa pine, orange clove, and peppermint feel festive and are a healthy addition to your home.
Multi-tasking cleaning supplies are a must. I love Mrs. Meyer's multi-surface spray because I can walk around the entire house and clean countertops, floors, and light fixtures with just one product. Plus, it leaves my home smelling like the holidays!
Even if you don't have time for a deep clean, put out a fresh towel and new hand soap in the guest bathroom. Right now I'm using Mrs. Meyer's orange clove scent, and I always get compliments on how cozy and fresh it smells!
Nothing's worse than getting caught in your "cleaning clothes" when guests arrive. Instead, put on your party outfit and throw this gorgeous apron over the top. It'll keep your good clothes clean whether you're scrubbing the sink or baking bread. Which brings me to my next tip…
Choose an outfit that's festive and functional. Fancy cocktail dresses are fun, but I feel much more at ease in clothes that let me move, bend, and sit without fussing with my outfit.
Do dishes as you go. While the gravy is simmering, load measuring cups and utensils into the dishwasher. Then power through your holiday dishes with this hard-working Mrs. Meyer's dish soap. You'll appreciate being able to relax after the meal instead of worrying about the pile of pots and pans in the sink.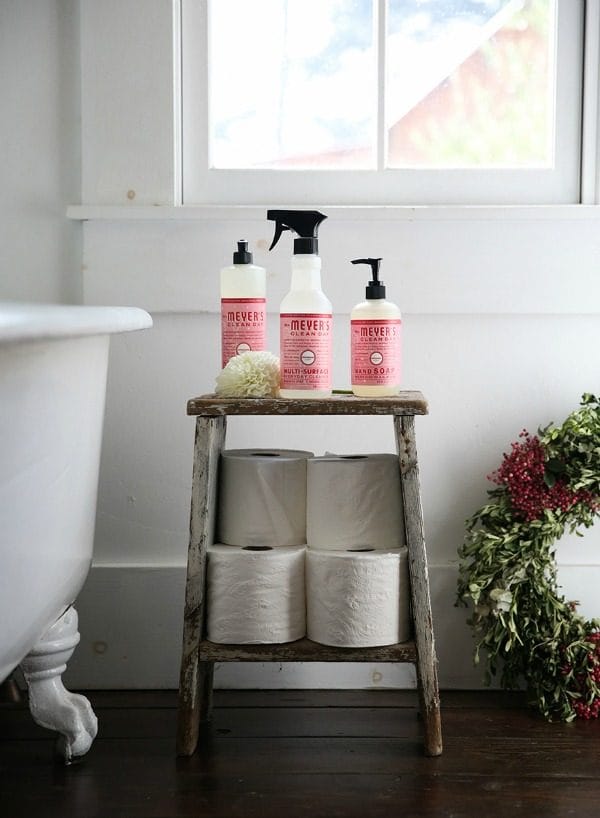 Bonus tip: The holidays are too hectic for last-minute errands, so let Grove Collaborative do the legwork for you. Grove ships the best natural household products like cleaning supplies, paper products, and vitamins to your doorstep, on your schedule. Once you've submitted your first order, you'll be signed up for the free 60 day VIP trial so you can save even more with free shipping, free gifts, price matching, exclusive sales and personal service.