Making sugar scrubs in 10 minutes is easy to do right in your own kitchen. Body scrubs are great for exfoliating and moisturizing all in one step while you shower. I make up one every other week for my own use, so when I want a quick sugar scrub with minimal products, I choose this sugar body scrub recipe using almond oil, sugar, and essential oils. Mix it up well, place it in a container and you're good to go.

Body Sugar Scrubs in 10 Minutes
Sugar scrubs are very easy and quick to make. You can keep them simple by using just almond oil, or add additional body oils for added benefits. You can use regular sugar, or turbinado sugar, depending on how strong you want the exfoliation to be.
How to Make a Body Sugar Scrub
You'll need a good oil. I used Almond, but I have also used coconut oil, apricot, and sesame. I find olive oil too thick and I don't enjoy the smell. I'd steer clear of regular vegetable cooking oil.
Almond Oil
Sugar
Essential Oils
Mix oil and sugar together until the sugar is moist. I eyeball it a lot but usually use a 1:3 ratio of oil to sugar. 3 cups of sugar to 1 cup of oil usually gives me the consistency I want. I usually use essential oils Jasmine, rose or sweet orange. You can get really creative my mixing up your own custom blend.
When I give it as a gift, I've given it in the lidded glass jars shown in the photo but have upgraded to a plastic container for safety. I always worry about a glass jar breaking in the shower.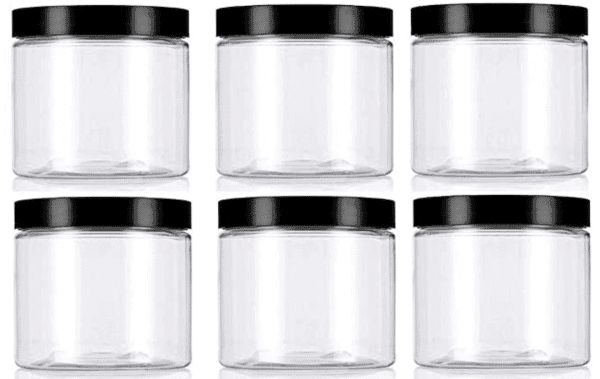 Getting into the jar was a cinch too. I cut the bottom out of a plastic baggy. Placed the open bottom end inside the jar. Using a large serving spoon, I scooped the wonderful scrub inside. Gently pull the bag free, close the lid and wrap your bow around it.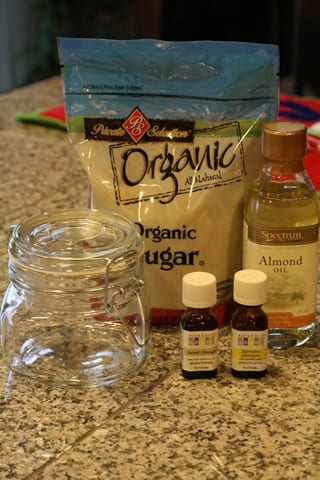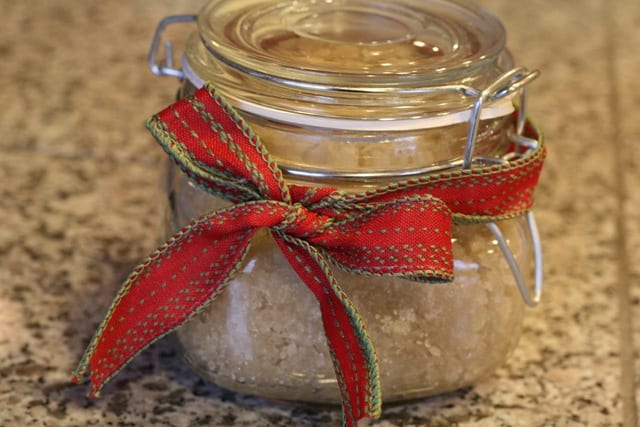 Can You Make a Body Scrub with Salt?
Body scrubs can also be made with salt. Just substitute the sugar for regular salt and you're good.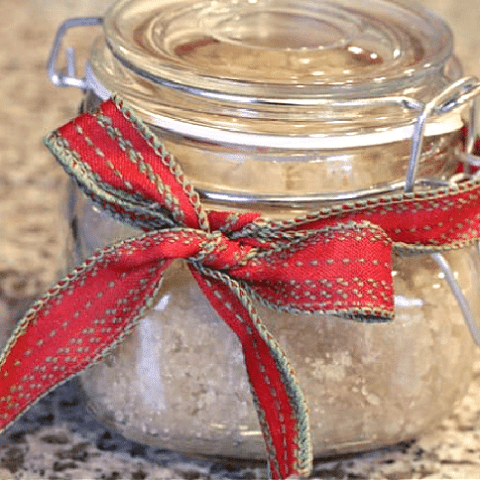 Body Sugar Scrub Recipe
Yield: 1
Prep Time: 5 minutes
Active Time: 5 minutes
Total Time: 10 minutes
Difficulty: Easy
Estimated Cost: $15
How to Make a Sugar Scrub in 10 minutes with Almond Oil, Sugar and Essential Oils
Materials
Sugar
Almond Oil
Essential Oils
Tools
Large Spoon
Bowl
Container
Instructions
Combine 3 parts sugar to one part oil. I usually use 3 cups sugar and 1 cup oil.
Blend well. Add more sugar or oil if needed to achieve the consistency you want.
Add 10 to 20 drops essential oil and mix.
Scoop into an airtight container. I have moved away from glass jars as shown in this post. Plastic jars are safer in the shower.
Notes
You can use any essential oil scent you enjoy. Add more drops for a stronger scent.
You can use salt instead of sugar if desired.
You can add or use coconut oil, apricot oil or sesame oils.
Recommended Products
As an Amazon Associate and member of other affiliate programs, I earn from qualifying purchases.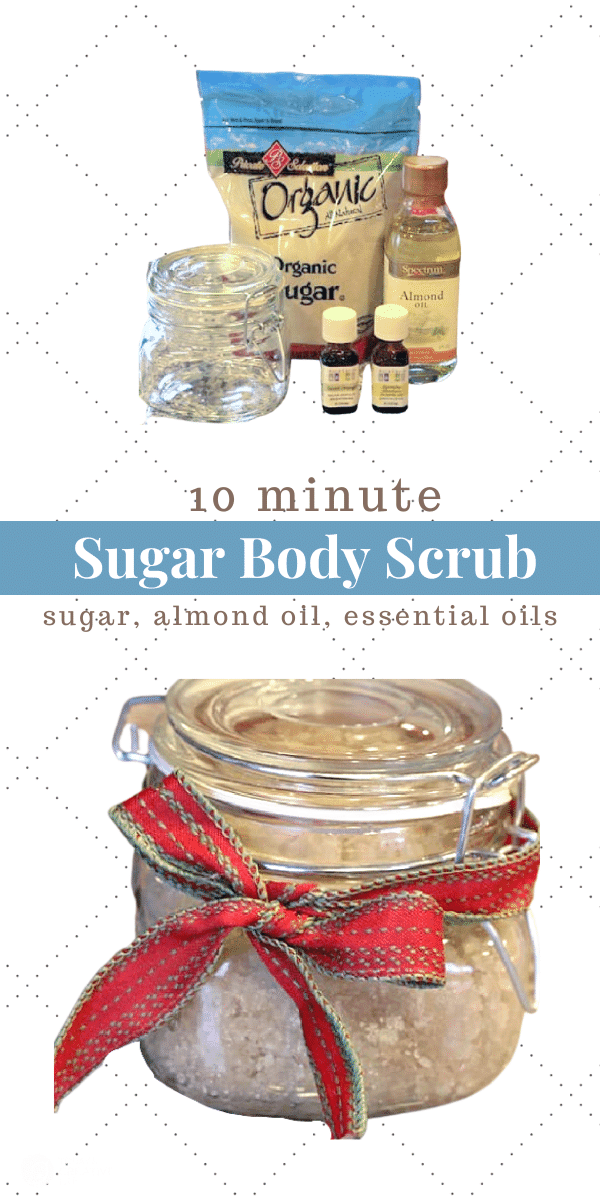 Homemade Beauty Recipes
Make your own beauty recipes for a homemade spa! Simple non-toxic ingredients.
Fresh homemade body scrub with grapeseed oil and oranges.
Remove and clean hands after gardening with this easy-to-make hand scrub.
Homemade body scrubs with cocoa butter and coconut oil are the main ingredients for smooth skin.
Homemade body wash is simple to make and healthy for your skin.
This soaking recipe is great for homemade gifts too.
Easy to make body sugar scrub with vanilla. The scent will be your favorite.
Get ready for fall with this homemade sugar scrub recipe. Makes a great gift too!
Essential oils give this body scrub that invigorating scent!