Creative Contributor, Allyson from Domestic Superhero is back! Follow her tutorial for The Easiest DIY Upholstered Bench to create extra seating in just a couple of hours! With the holidays approaching, we're always looking for ways to welcome guests into our home!
The Easiest DIY Upholstered Storage Bench
Hey y'all! It's Allyson from Domestic Superhero again, and this month I am here to share with you The EASIEST DIY Upholstered Storage Bench!
After we moved to our new house a few years ago, I struggled for a while on how to maximize storage and conceal toys. At that point I had a 2 year old son, and our house was overflowing with toys. Don't get me wrong, I love having toys around and things to occupy Austin's time, but, I really don't like having a living room full of toys. Our living room, while spacious, is also very oddly laid out, and we have this little peek through window from our kitchen, which turns this wall into sort of a half wall.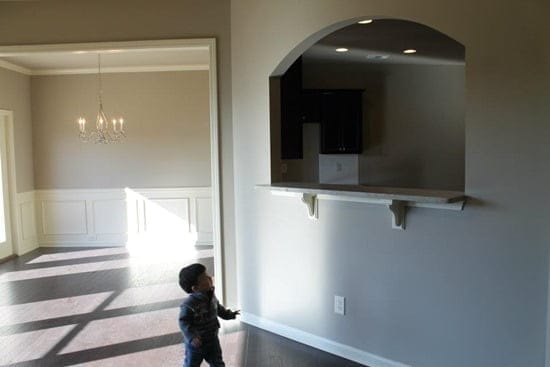 I had once thought I would put stools up to this ledge, but it just seemed too high. So, while browsing Pinterest one day I noticed someone had used and IKEA cabinet as a storage unit, and I thought to myself that it would be super easy to turn this into a little bench for the living room! I headed to IKEA, Home Depot and Hobby Lobby to pick up my supplies.
How to Make a DIY Upholstered Bench
Supplies needed:
Kellax Shelving unit (the unit I used was discontinued and this is the closest model)
thin piece of plywood, cut to the dimensions of the top of your shelf
2 inch piece of foam, cut to the dimensions of the top of the shelving unit
spray adhesive – do not spray near flames….. read the directions carefully
sticky back velcro, cut into 3 three inch long pieces (need top and bottom)
serrated knife (like a bread knife)
2 yards of fabric (outdoor or upholstery fabric work best), ironed so there are no wrinkles
(This supply list is for your convenience and contains my affiliate link. This cost you nothing extra.)
Directions:
1. First, you need to assemble your storage shelf if you haven't already. Measure the top of the storage shelf, where the cushion will sit. Make note of dimensions and use those when cutting your plywood. It should be the same size as the top of your unit.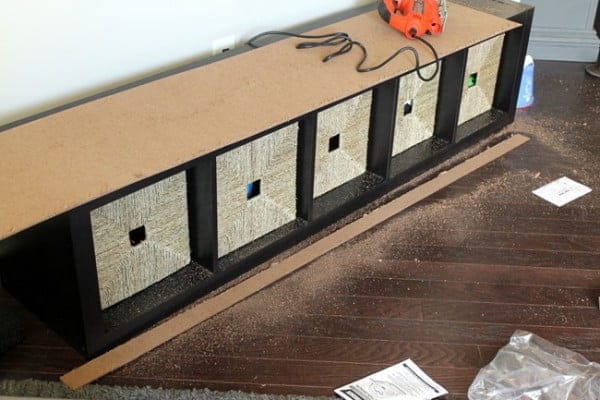 As you can see, mine wasn't cut to the exact size, so I used my saw to trim the front edge to make it the correct width.
2. Lay your board on top of your foam. Using a pen or marker, trace around the board onto the foam.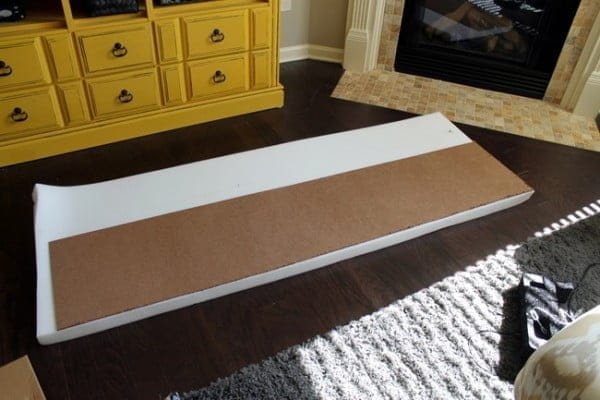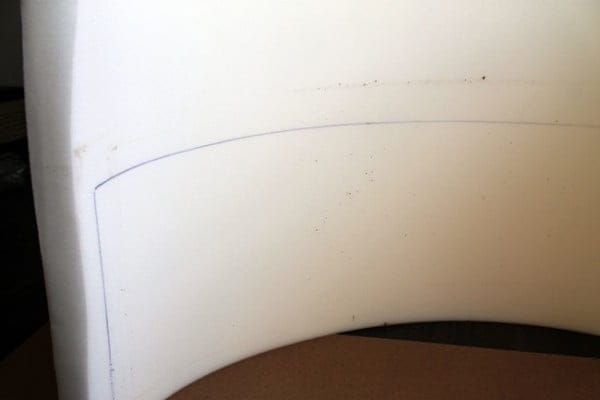 3. Using a serrated knife or thick scissors (for me, the knife just cuts WAY easier), cut along your line.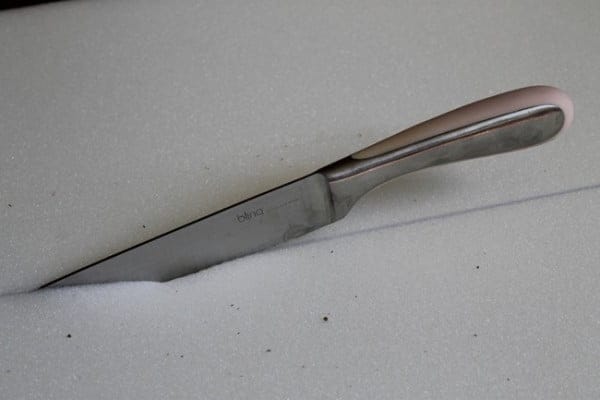 4. Place your plywood board on the floor, spray liberally with adhesive, then press your foam on top taking care to match up the sides.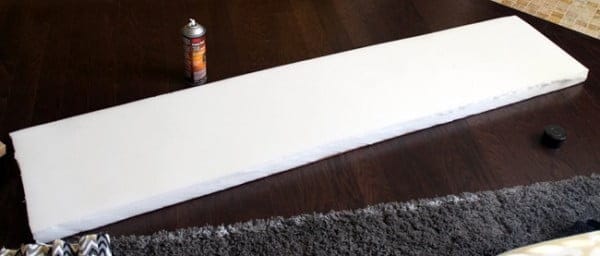 5. Place your fabric on the floor, so that he pattern is facing down to the floor. Place your foam/board on top of the fabric. Foam should be touching fabric, and your board should be on top. Pulling the fabric up and over onto the board, staple it onto the board. I prefer to do the long sides first. Make sure to pull the fabric taunt, as you don't want wrinkles in your cushion. Next, do the short sides and fold the corners neatly and staple to the board as well.
6. Flip it over and place on top of your bench – lovely!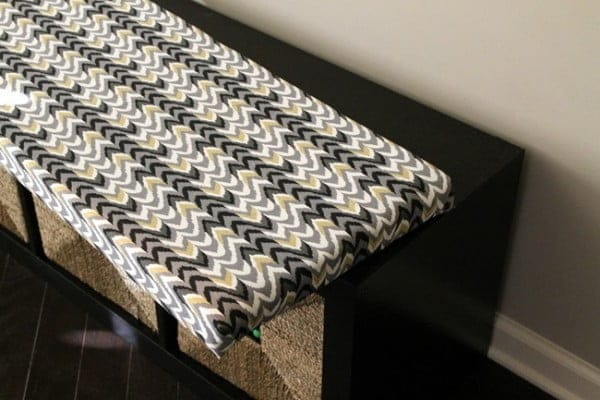 7. Now we will attach some Velcro so the cushion doesn't slide around. If you don't foresee yourself ever taking it off, you could also use heavy duty double sided mounting tape. Remove the cushion from the bench. Add Velcro strips on each side and one in the center. The photo below shows where I attached my Velcro, but you attach it DIRECTLY to the shelving unit (I didn't take a photo of this, but I wanted to show the positioning of the velcro). You will place both the bottom and top of the strip onto the shelving unit. Peel off the backing so the sticky part it exposed.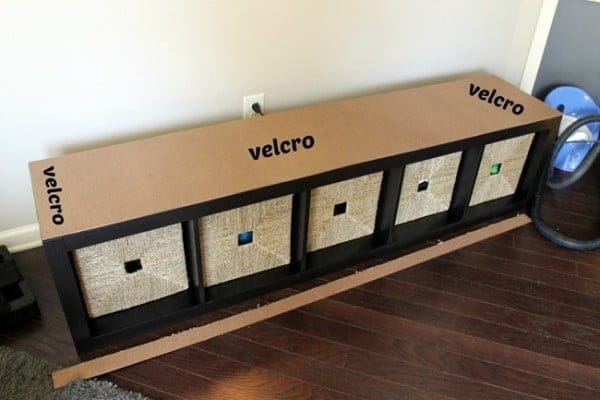 8. Now, place your cushion on top of the shelving unit/velcro, with the board facing down, and press down on the areas where you attached the Velcro. This will secure the cushion to the bench. When you need to remove it, the velcro will come apart and you will have a piece left on the storage unit, and a piece on the bottom of the cushion.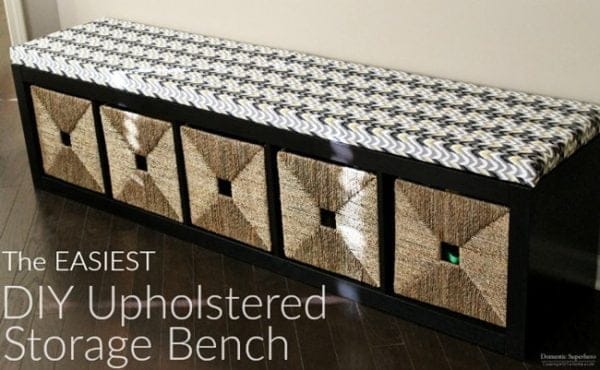 Voila! You are done! This project is really super easy. Once I had all my supplies, it took me less than an hour to put it all together. I am constantly getting compliments on my storage bench and I love being able to conceal the toys!
And, as you can see, it is a comfortable bench (my husband agrees!) and we are able to utilize the space under that kitchen ledge! The kids especially love sitting on their 'special space'.
For more DIY projects, come on over to Domestic Superhero and check these out!
DIY Tufted Ottoman from an Upcycled Pallet / DIY Farmhouse Hutch
Stenciled Dining Room Makeover
You can also connect with me here:
Thanks for visiting!
– Allyson