If you follow TCB on Instagram, Twitter or FB, you may have noticed we spent Spring Break in New Orleans.
Things to Do in New Orleans
Visiting New Orleans with teens I'm sure is different had it just been my husband and I, because I'm sure I would have hung out on Bourbon Street topless all week……..NOT! There are definitely places to avoid in the late afternoon and evening when you have teen boys with you.
Arrival & Day One
We boarded the Southwest airlines from Portland Oregon with our son and nephew (from Utah), and arrived around 10pm in New Orleans. The vacant airport is no indication of the party atmosphere in downtown.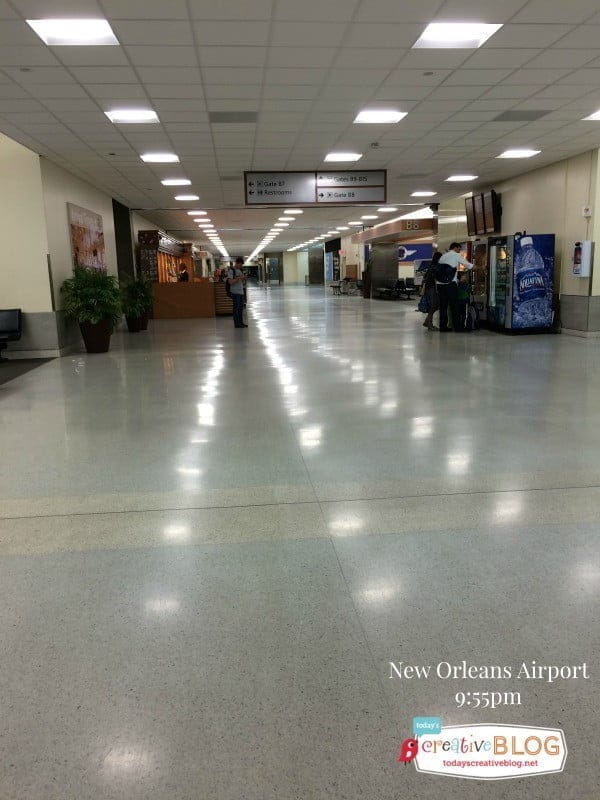 The airport is easy to navigate and we were on the shuttle with our baggage within 20 minutes of landing. The humidity hit us and while we were fanning ourselves, the rest of the people on the shuttle were embracing the climate with welcome arms. We had a car waiting for us at the Park N Fly from the nice folks at DriveSTI (soon to be DriveShop).
The shuttle dropped us off at our Mazda CX9 SUV and all I wanted was the air conditioning! Any car you can figure out quickly at 10pm in the dark is a keeper in my book. The navigation was a dream and we all fit very comfortably inside with plenty of room for our luggage. We made it without incident to the hotel and checked it.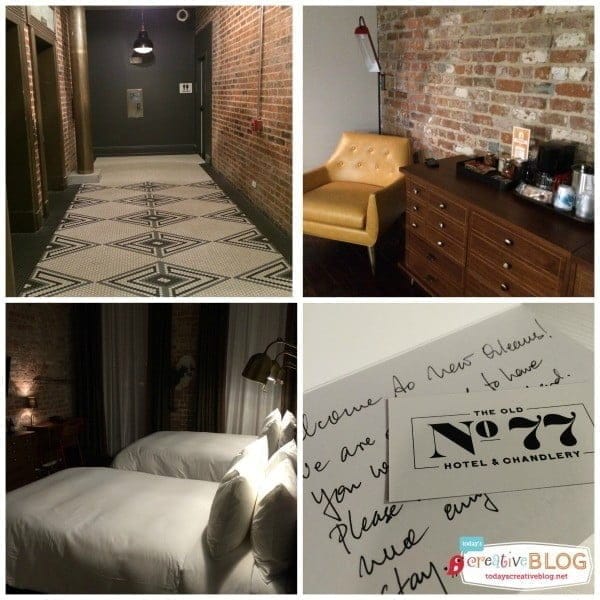 We stayed at the Ambassador, which is now being remodeled and rebranded into the The Old No.77 Hotel & Chandlery. I had found them online, they were reasonable priced and instantly fell in love with the rustic charm. This hotel is part of the Provenance Hotels group, which I didn't know when I found them. We've got several of those here in the Pacific NW.
I wanted a boutique hotel, something with New Orleans charm and we found it! We were warned about the lobby being unavailable while being remodeled, but we didn't plan on spending time in the lobby anyway!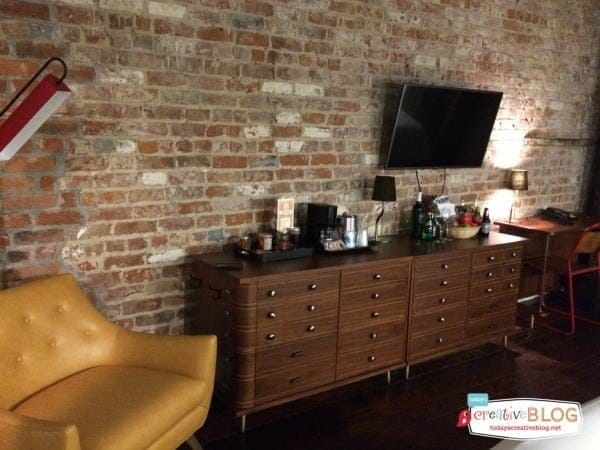 We entered our room and I fell in love! The exposed brick walls, the wood floors, the modern and mid century touches and of course the poofy comfortable beds! We quickly dropped our bags and headed out to find a quick bite to eat. We felt safe walking around, but soon discovered most the restaurants near where we were either closed or for 21 and up. We could have walked a block and found more, but we didn't really know our way around yet.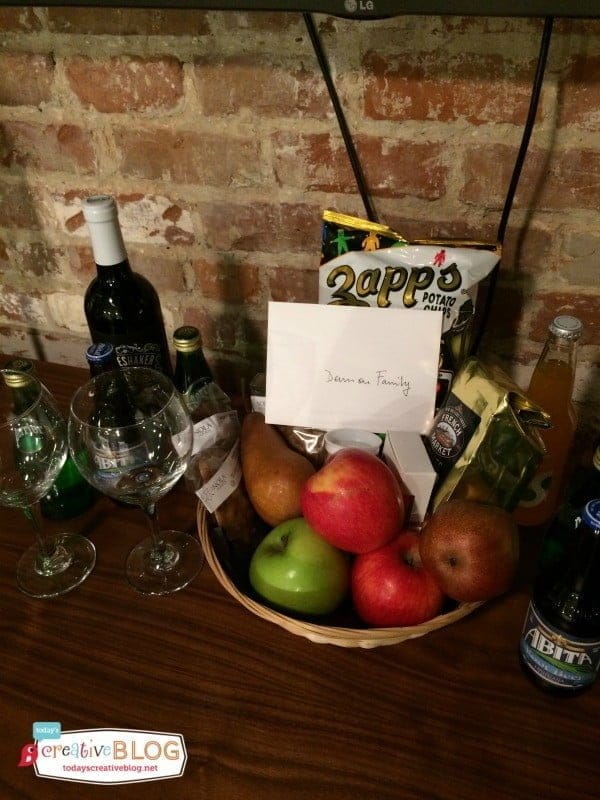 It was so nice to have a gift basket waiting with a few treats and drinks! Came in handy for sure!
We woke up Easter Morning and met my brother in law and Sister in law for a tour around the French Quarter. They live about 20 minutes from the city, so they have the touring down!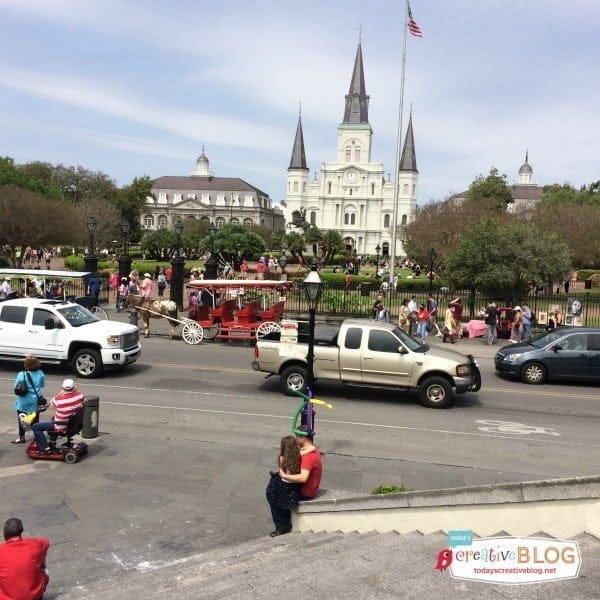 We of course stopped in at the famous Cafe Du Monde for Beignets and chicory coffee for breakfast, then walked and walked and walked taking in all the sights.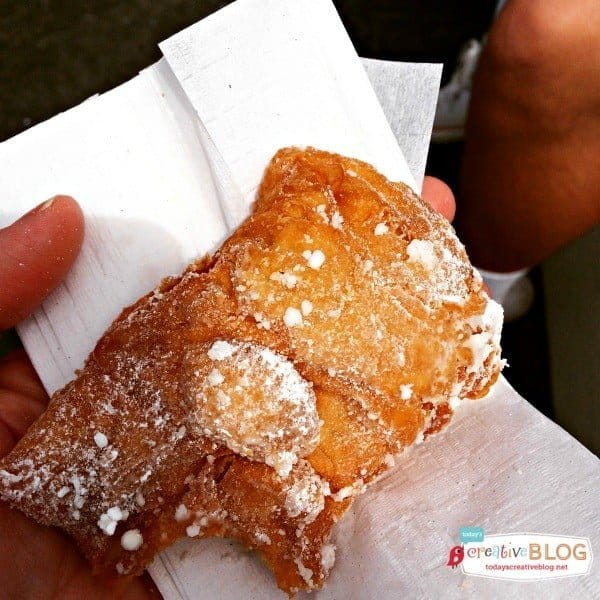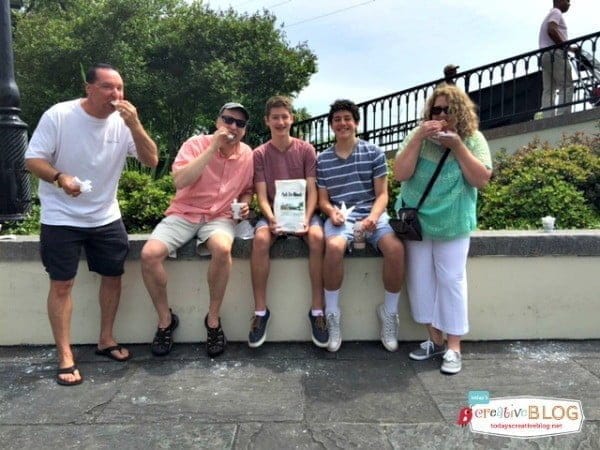 We sat here and ate our delicious powdered sugar treats and from the powdered sugar sprinkled around, this is obviously the place to do that.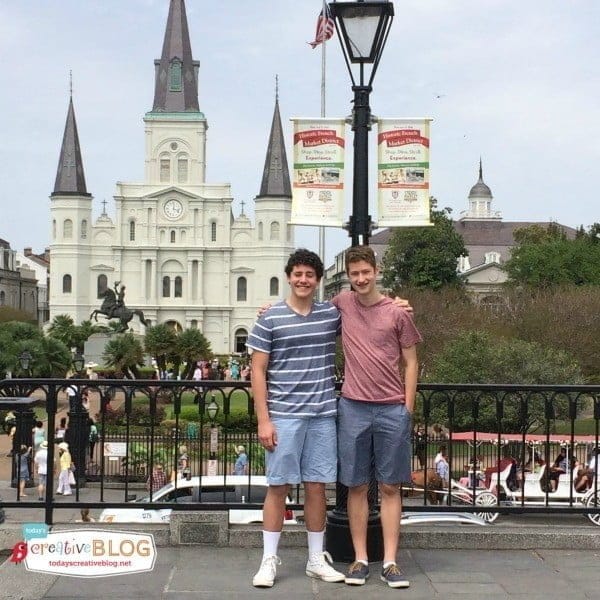 The Mississippi River is just behind me while taking this photo. My son and nephew ate their weight in beignets and loved the crowd.
New Orleans is known for their parades and we saw plenty!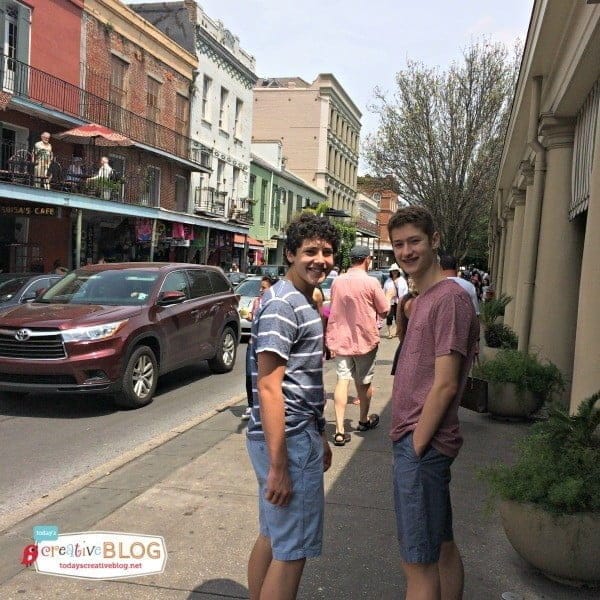 Yes we even got beads and I didn't have to pull up my shirt.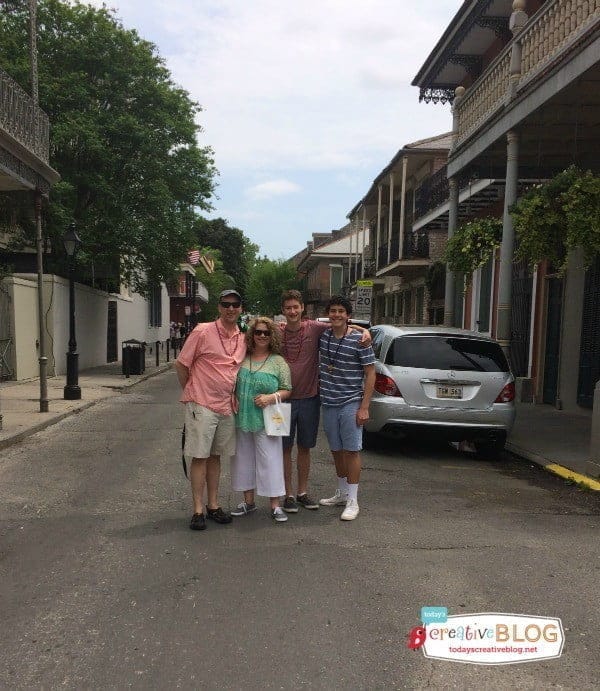 After a few hours we headed to their home for dinner. It was wonderful to see the neighborhood, lounge by the lake and meet their friendly ducks and swans. They remodeled the home before moving in, so you know I enjoyed seeing everything my sister in law did.
Day Two
If you're in New Orleans, you have to go on one of the Swamp Tours.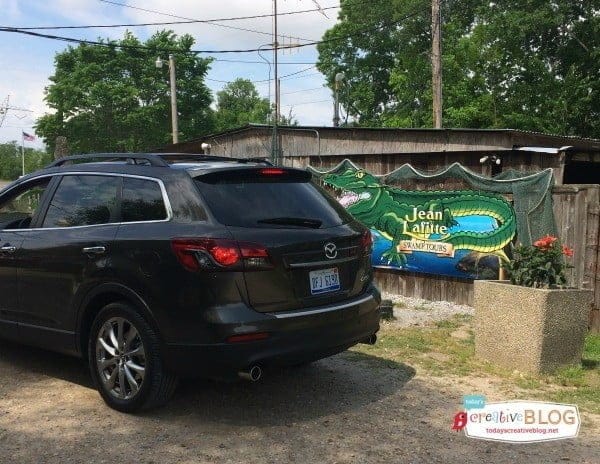 Since we had the Mazda CX9, we drove the 30 minutes to get there, but most tours have transportation if needed. Once again, the navigation was easy to program and off we went. I loved the blind spot indicator in your side view mirror and the back up camera! This SUV is on my watch list for when we're ready to purchase a new car……hopefully this summer.
We chose an airboat tour instead of the tour boat and it had the cutest guide. I pretended to take a photo of my nephew Zach……don't tell me you've never done that.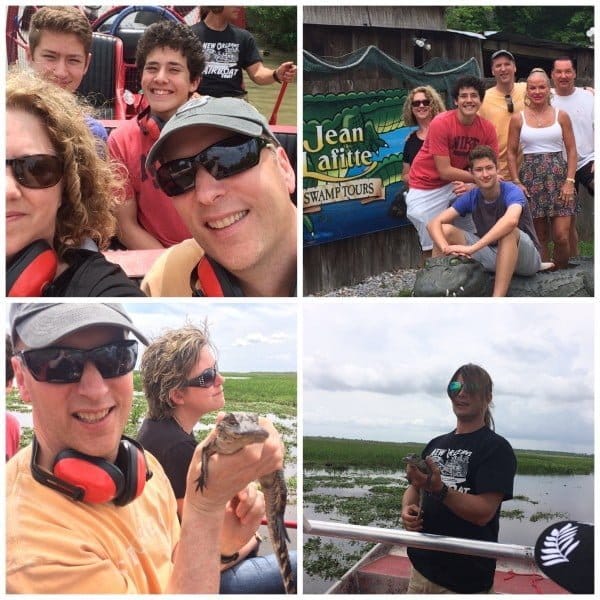 He had the most soothing southern drawl and knew his stuff. His family went back generations in the area. He even called me babe……..oh and we saw some gators.
There's a National Park not far from the Jean Lafitte Swamp Boat Tours, so we headed over and walked around. We saw several alligators there too. I was expecting a lot of mosquitoes, but I'm happy to report I didn't get bit…….. that day.
Back to the hotel to freshen up, then out for dinner. We walked back to the French Quarter and had dinner at the Royal House Oyster Bar on Royal Street.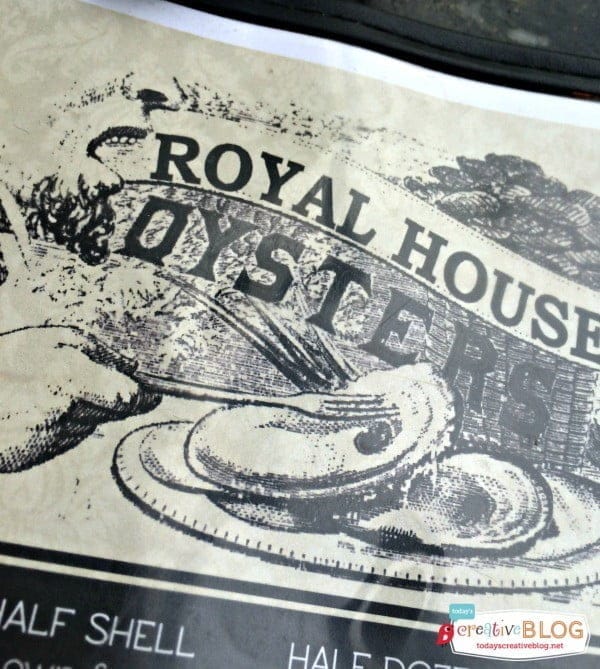 Royal Street is only one block away from the famous Bourbon street and we were warned many many times to stay away with our teen boys. One bus boy told us in his southern drawl…….. "if you see the Cat's Meow……You've gone too far". More on that later.
At the Oyster Bar, we asked for the balcony and I about died! It was super narrow and slanted……but oddly the railings were very secure.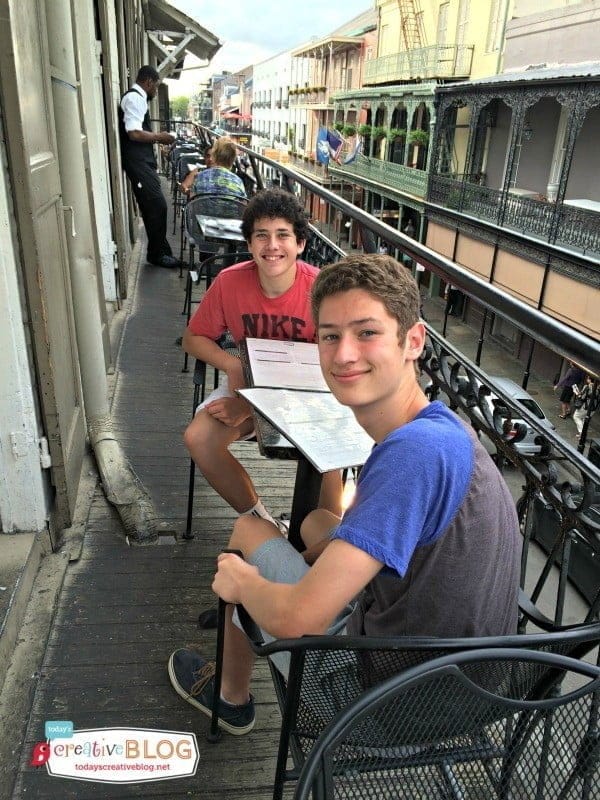 There were street musicians to entertain us and of course a lot of great people watching. The food was amazing.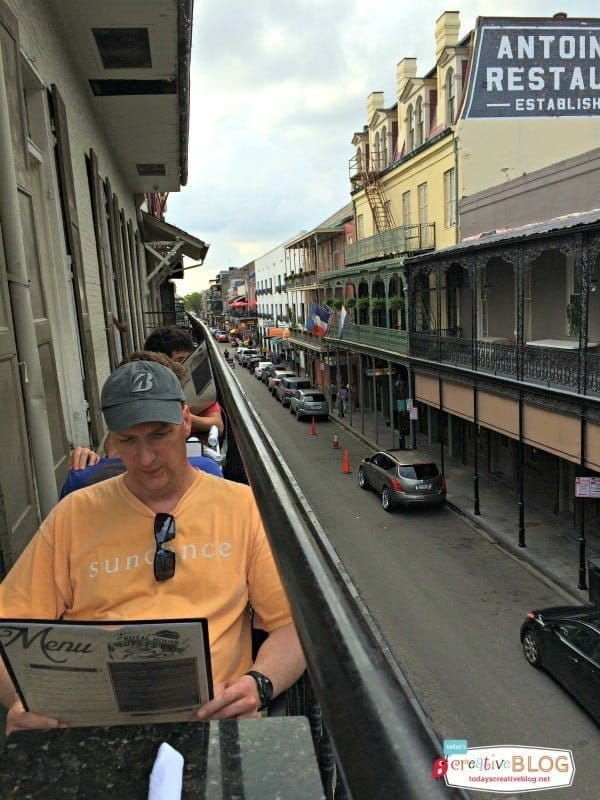 We ordered 2 plates of the Char Grilled Oysters and the Crab Claws for an appetizer and, let's just say, they didn't last long. I tried my first Mint Julep and about choked. Not my kind of drink…..it just tastes like whiskey and I'm not a whiskey drinker. I'm sure that surprises you. I had a Mojito and it was almost as good as my Mojito recipe.
After dinner, we were too full for dessert, so we just walked back to the hotel and turned in for the night.
Read Part Two – Visiting New Orleans
This post is sponsored. All opinions and ideas are 100% mine.