This post today is about real life moments. Keep reading to see my version of flowers in the sink. I completely missed the mark.
I've been blogging for a LONG time and I've loved seeing how blogger photos and especially photo styling has really come a long way. So many beautiful ideas, it's like reading a fancy magazine every day.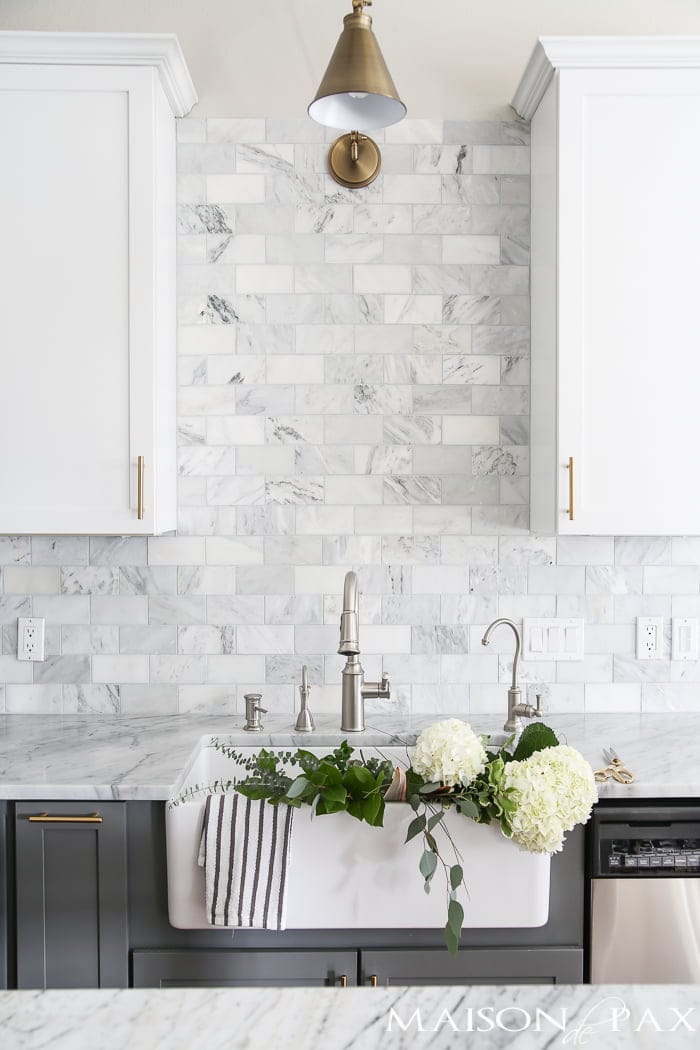 I love the seasonal home tours bloggers do. I LOVE seeing how people decorate and I always come away with fresh ideas. For as long as I remember, I've LOVED looking at people's homes.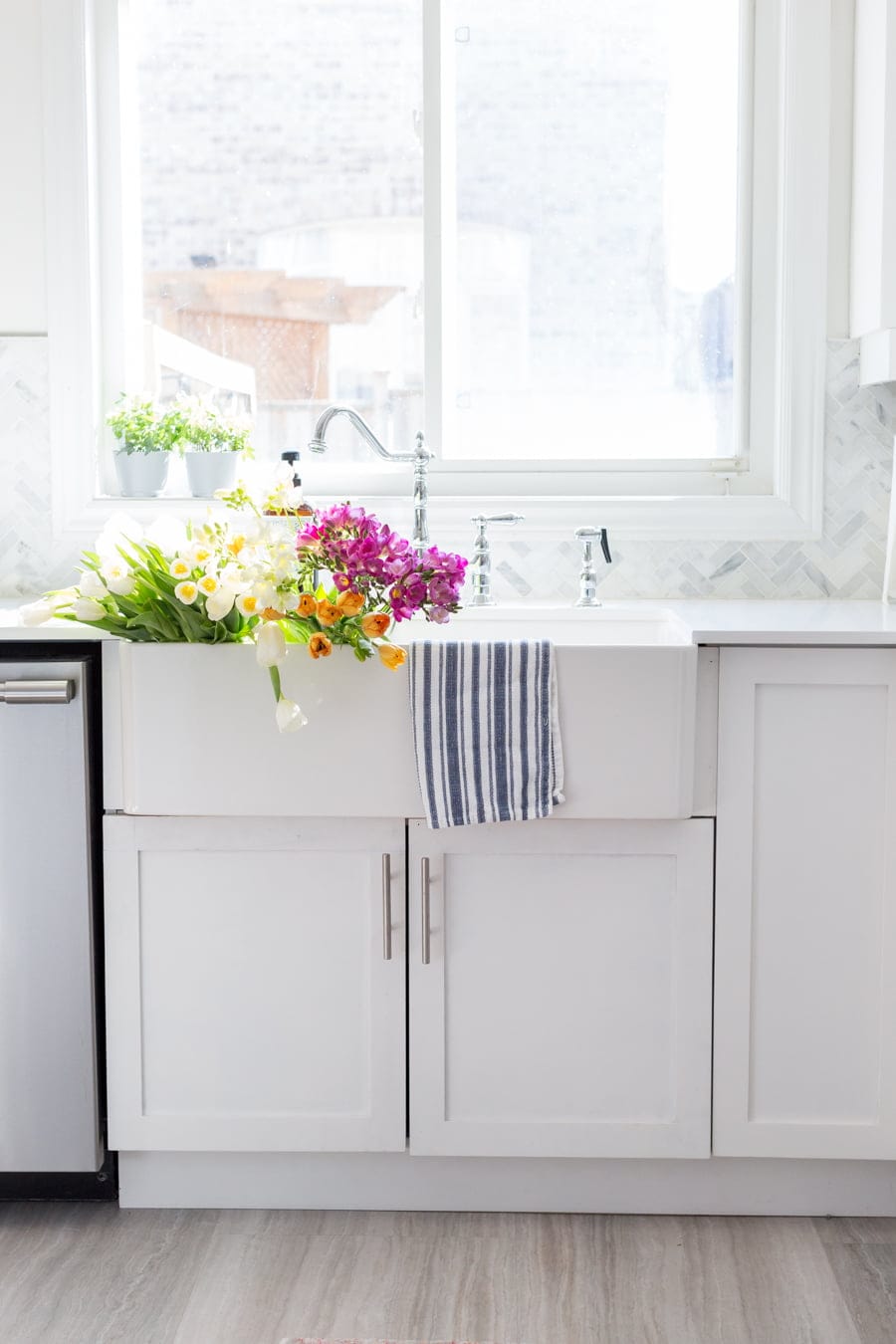 Yep… I was the one driving around at night hoping to get a glimpse into the beautiful homes in my old Mt. Tabor neighborhood in Portland. It sounds a little creepy, but it wasn't. This was before Pinterest…… I had to find inspiration somewhere, right? I won't even tell you how I LOVED taking my young son trick or treating, just to peek beyond the person holding the candy bowl.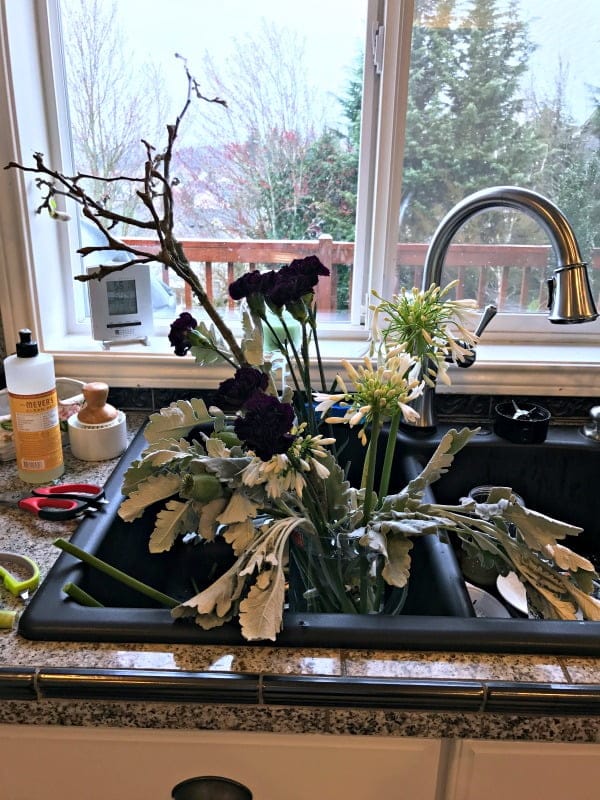 Well… today a fellow blogger and I were chatting about a spring home tour she is in and going on and on about the beautiful homes and such and that's when I noticed so many have flowers in their sink. All absolutly gorgeous! It kind of made me giggle though, because I had JUST put flowers in my sink, but it wasn't anything like their gorgeous photos. Theirs look like they had hopped on their cruiser and picked up a baguette and fresh flowers…. and mine, well…. it was just real life.
Here's the back story.
My hairdresser does up a new bouquet for his shop just about every week. He is amazing and always picks out the most creative blooms. When I arrived to get my gray colored (Hey, I'm 55, surely you didn't think I had no gray hair) he was putting the finishing touches on his weekly bouquet. He had a bunch left over and gave them to me to take home. I was so EXCITED! After my hair was done, I hurried to my car in the rain and placed them in the back seat. I stopped at Chipotle and grabbed a salad and went home. I was SO excited for my salad, that I completely forgot about the flowers until I got in my car early this morning. I teach injury prevention classes to the City of Portland (my before blogging life, I was a fitness professional and this is the one account I still do), I thought my car smelled a little "woodsy" and figured it was my umbrella. Then I realized I had forgotten my flowers in the back of the car! Dang it! Knowing I wasn't going to be home for a few hours, I was hoping I could revive them.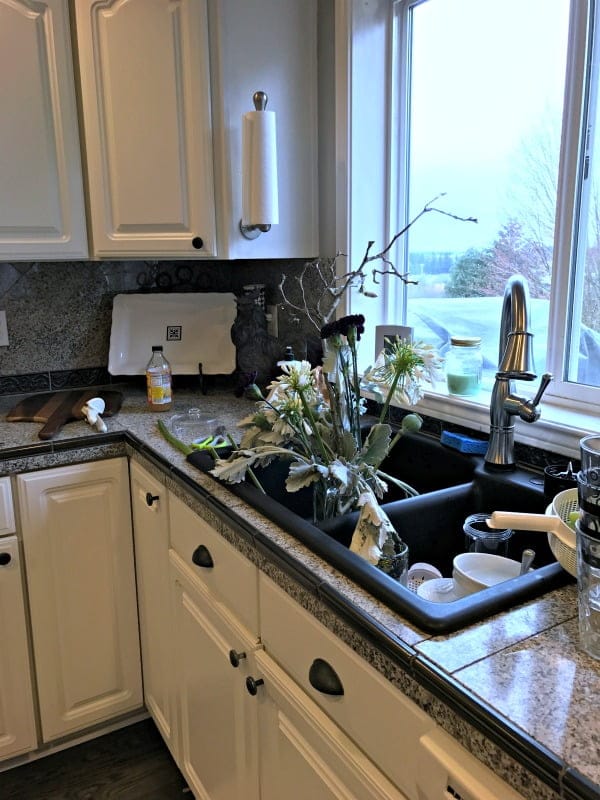 Once home, I brought them in, cut down the stems and placed them in a pitcher in the sink and noticed a note from my husband that he and my son were sorry for the mess they left, they had ran out of time (he always unloads the dishwasher while I'm teaching and the kitchen is clean when I come home) ….. and shortly after that I had the sink full of flowers conversation with my friend… when another friend (non decor friend) asked if people really put flowers in a sink….. like was that even practical… and that's when I told them both…. I have flowers in my sink RIGHT NOW, but it sure doesn't look pretty. So I snapped a real life photo of my mangy flowers and a sink full of breakfast dishes and a messy kitchen and texted it to them. It made their afternoon.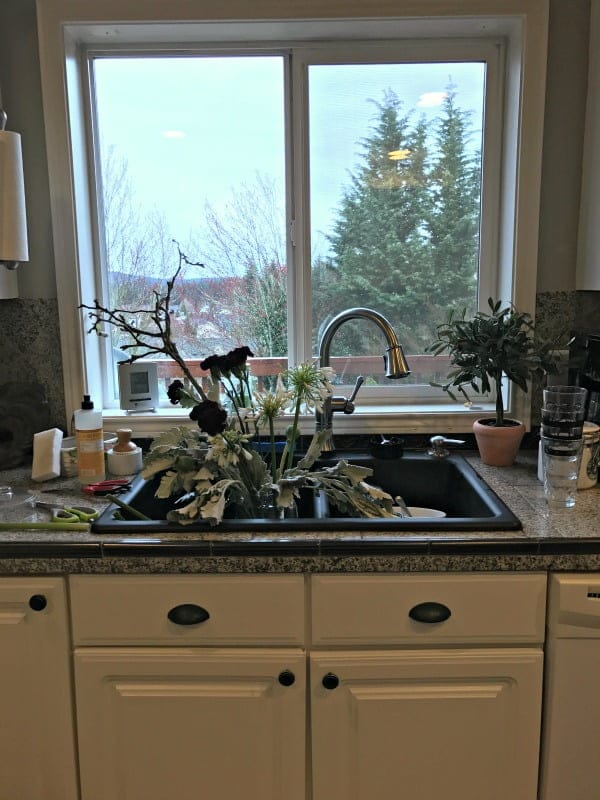 We were dying at the irony of it all….. and they talked me into sharing this with all of you. It's life…. real life. And real life is messy sometimes.
I'm sharing this because I think we bloggers want to always put our best foot forward, showing you the pretty side of everything and I just want to tell you…. it's not always "a pretty flowers in the sink" sort of day. It's a real "clean up the kitchen and bring my flowers back to life" sort of day.
We are all real people with real moments and I think in the climate of social media, we tend to think the grass is always greener on the other side.
Can you relate?
---
More Decorating Ideas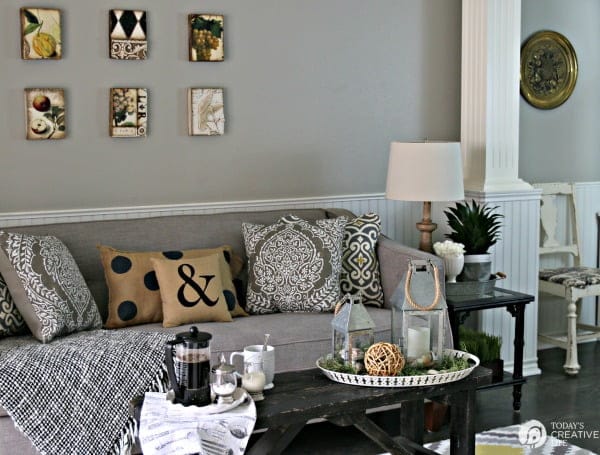 Easy Home Decorating Ideas