I am so excited to share a little bit of Portland Oregon with you along with my favorite Triscuit crackers, and my Triscuit cracker snack recipes.
Triscuit Cracker Snack Recipes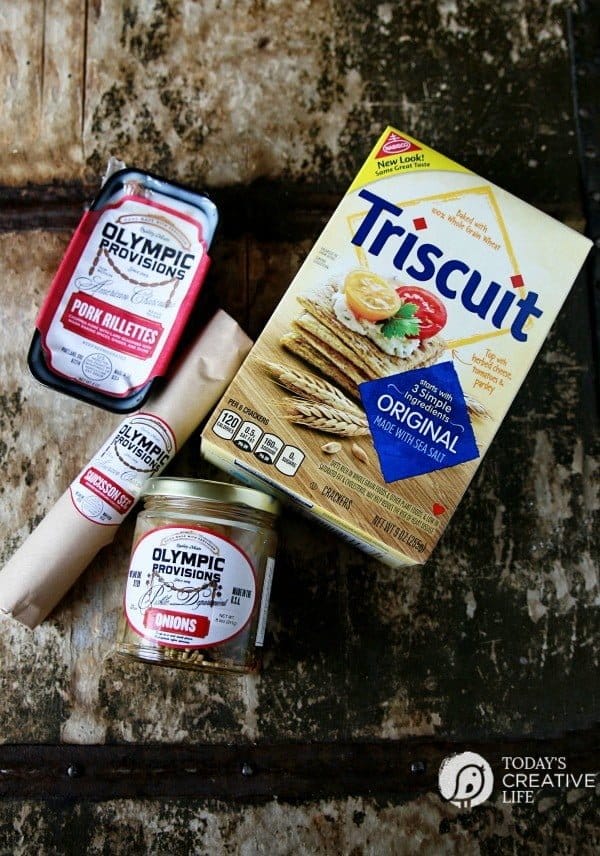 Triscuit has hand picked "Makers of More" creators to prove that Triscuit is not just a cracker, it's "Made for More"! Triscuit is presenting the "Makers of More" program by promoting a fellow craftsman's Triscuit Cracker Snack Recipes.
See all the Makers of More on the Triscuit Pinterest Page. There is a Pinterest board dedicated to each one!
I was to choose one of these Makers to share their creation and of course I HAD to choose Olympia Provisions! They are right here in Portland Oregon! A little home town pride for this amazing company and an excuse to visit one of their locations.
Their creation featured their summer sausage along with their pickled onions and some white cheddar cheese. This reminded me SO much of my dad!
My assignment was to create my own Triscuit Cracker Snack Recipes, and share theirs, so I hit the ground running!
I headed into town to visit their SE location. It's located in an industrial part of town full of many working and revitalized warehouses, making it a pretty hip place!
Olympia Provisions is located on the south east side of this huge mustard colored warehouse. As you walk in you're greeted by a wonderful red door, which we all know tickled my fancy!
I arrived during the busy lunch hour, and headed directly to the deli case. I would have taken more photos, but I didn't want to disturb any of the customers who were there to eat lunch.
Since they didn't carry the summer sausage they featured with their Triscuit recipe at this location, the nice gal suggested something else and I went with it. There were so many wonderful choices!
I was regretting not inviting a friend to join me for lunch, but I'll be back!
I could relate to Elias Cairo's story and how he'd come to create Olympia Provisions after being inspired through his father.
Salumist Elias Cairo grew up a first generation Greek-American with a father who made charcuterie at home. Doing things the old-fashioned way was commonplace. Elias later traveled to Europe and apprenticed in the kitchens of chactuterie masters, where he rediscovered the art of curing meat and finding inspiration in the markets and mountain towns of the "old world". The experience affirmed what he'd been taught all along: handmade is better.

Back in Portland, OR Elias set out to approach the craft of charcuterie with purity and patience, recreating a nearly extinct traditional technique that is seldom seen in the US. The result is Olympia Provisions, Oregon's first USDA-approved salumeria, established in 2009 but deeply rooted in the past. Everything made at Olympia Provisions is handcrafted naturally with the ultimate goal of quality. Ingredients are their inspiration and they seek out the best and freshest. Olympia Provisions butchers antibiotic-free Pacific Northwest pork to 100% lean, adding pure, soft fatback, and a judicious amount of sea salt, fresh garlic and freshly ground spices. Their cured meats are held in natural casings and maintained in the organic white mold that protects them. Such a deliberate approach promises the ultimate reward: vibrant yet gentle flavor and authentic, unique character. Charcuterie is crafted based upon the regional flavors and traditions of Europe, infusing a bit of their own style into each bite.
My dad would make his own summer sausage from the bounty of his hunting trips. He would grab a block of cheese, his homemade summer sausage and an onion. Then he'd carve a bit of each, popping it directly into his mouth right from the blade. Now I wouldn't recommend anyone doing that and when I have a snack of summer sausage and cheese, I use a plate, but my dad was a no-nonsense kind of guy and it just seemed OK.
I wasn't sure what I was going to put together yet, but I knew I was going to keep it simple. Because snacks should be simple, right?
I had never had sausage encased in a white mold before and was intrigued. My husband however, didn't question any of it since he once worked in a meat packing plant and was very excited to sample any snack I created.
I sliced a few pieces to expose the delicious salami, then opened the pickled onions.
I'm not a huge onion fan, but if something is pickled, I'm all over it! And these did not disappoint!
I just topped the Triscuit crackers with the salami and the pickled onions, leaving off the cheese. But you could certainly add cheese….. because it's your snack.
Then I realized I had some brie cheese in the fridge.
So I whipped up a quick appetizer that could be taken to a potluck or party.
I lined my baking sheeting with parchment paper and set out lines of Triscuit crackers, placing a small bit of brie cheese on each one.
I placed the baking sheet in the oven on broil for about 5 minutes. The cheese was starting to brown and bubble. Yum!
Using a fork, I placed a few of the pickled onions on each cheesy Triscuit, added a little fresh ground pepper and… Boom! So so simple.
Watch these disappear when you serve them at your next gathering! They're best served warm, so you may want to wait to broil them right before serving.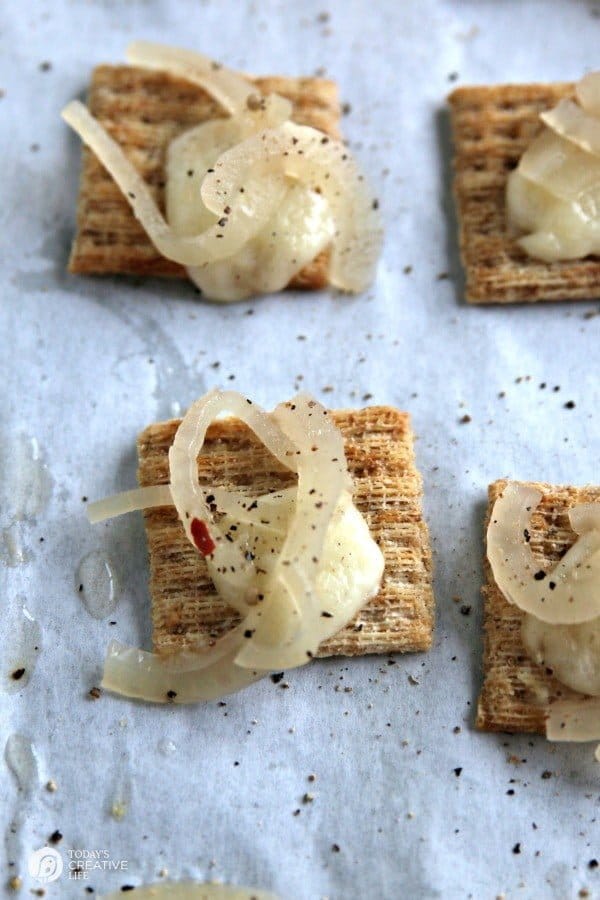 I had also purchased the Pork Rillettes, as I was told it would be a great spread for a Triscuit.
And that's what I did. I spread it on with a little fresh ground pepper. Just a quick snack. Simple and delicious.
As you can see, there is SO much more to the Triscuit! It's the perfect cracker to be topped with just about anything.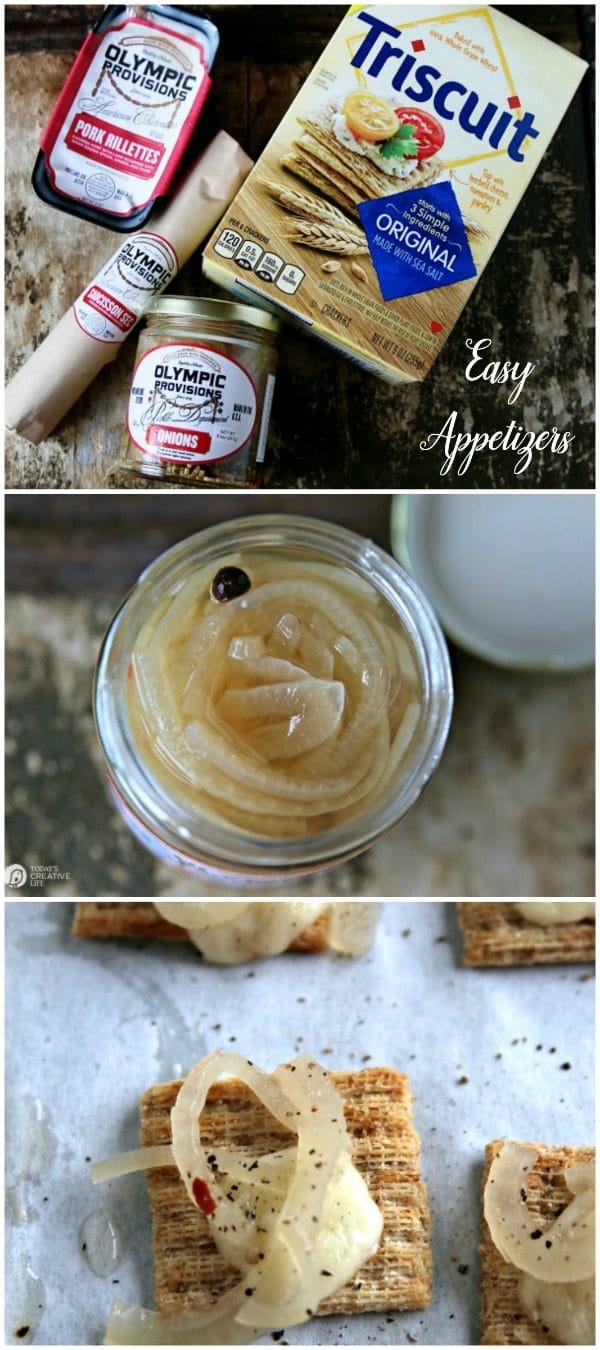 Visit Triscuit on Pinterest to see all the Maker's of More!
What would you put on your Triscuit?
Triscuit believes in simple things coming together to create something more. Whether it's just three ingredients on a Triscuit or about life, we believe that you (and Triscuit) are "Makers of More".
Triscuit sponsored this blog post. The opinions and text are all mine.