This isn't your normal Tropicana! I think you're gonna like this recipe!
Orange Juice
How's that New Years Resolution going? Raise your hand if one of your resolutions has anything to do with eating better or losing weight?  Yea, me too. Even though I teach fitness classes, I still struggle with weight.  I can thank my thyroid, my adrenal glands and my love of carbs for that.  I'm always looking for a healthy and quick alternative for breakfast or a quick pick me up.  I LOVE juice, but usually the sugar content is too high.
They've  given me three $25 Visa Gift Cards to giveaway!  See details below.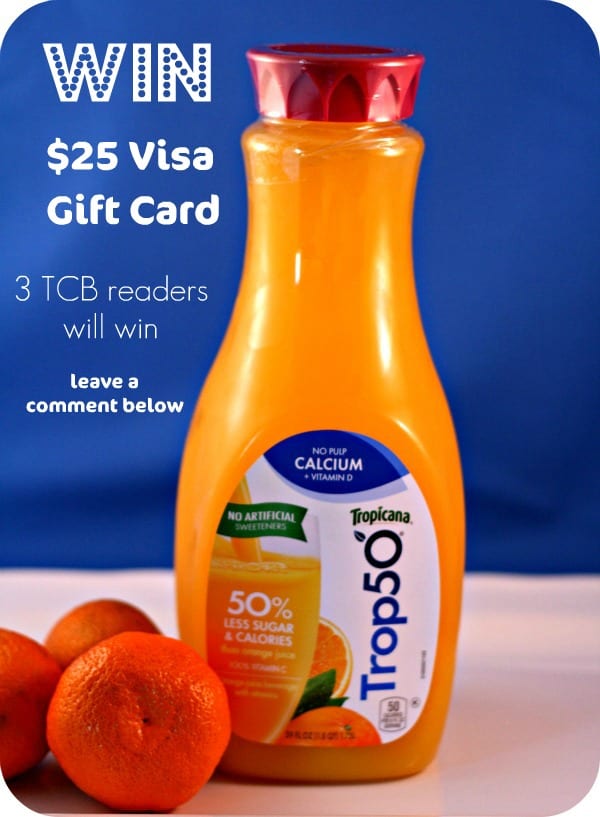 So when Tropicana contacted me asking if I'd like to try their new TROP50 Juice Beverage…….I first thought it was because I just turned 50 a couple of months ago.  🙂  But it's because it has 50% less sugar and calories!  That right there made me stand at attention. They also are letting me give away THREE $25 Visa cards to my readers…….more details on that below.
Tropicana Trop50
50% less sugar, 50% less calories, no artificial sweeteners ……but still delivers the goodness of fruit juice! Really?  Yes! really!
I also liked the idea of lower sugar for my son……who has had his juice watered down for years because of the sugar content.
Tropicana Trop50 juice beverage was delicious on it's own, but I thought I'd try blending it with my Vanilla Almond Milk.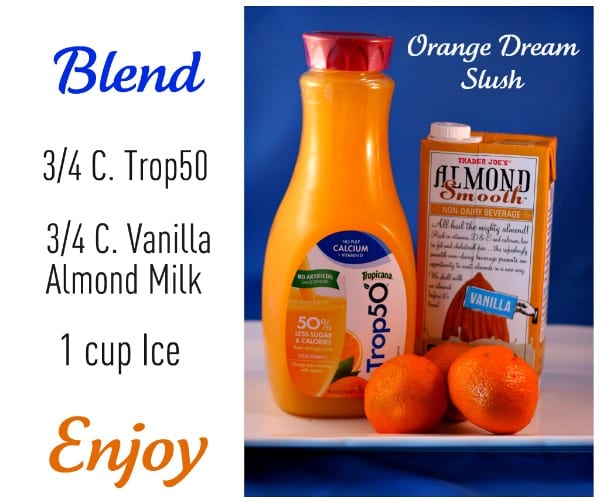 DE. LI. CIOUS! It's like a Cream Popsicle, but more nutritious and less sugar.  Using my magic bullet, I mixed about 3/4 cup of Trop50 juice, 3/4 cup Vanilla Almond milk, a few ice cubes for about 30 seconds.  Poured into a glass and enjoyed my afternoon pick me up.
Besides Orange, they also have Lemonade, Pink Lemonade, Apple, Pomegranate blueberry, Pineapple mango .  I also liked the choices for calcium, pulp, no pulp.

 Trop50 Coupons
Trop50 True Resolutions celebrates the real reasons behind New Year's resolutions.  Share your secret motivation and you'll earn a coupon for $1 off Trop50 for yourself and .50 cent off coupons for up to 50 of your friends.  You can even submit incognito with a fierce disguise.  Bonus: Whether you submit a resolution or not, you can also enter a sweepstakes to win a $1000 gift card!  You can leave your resolutions on the Trop50 Facebook page. 
TCB Giveaway- To win ONE of the $25 Visa Gift Cards.  (3 winners) (THIS GIVEAWAY IS NOW OVER)
Leave your Trop50 True Resolutions on the Trop50 facebook page. (you'll be entered to win their prizes there)
Leave me a comment here letting me know.
Extra entries for the $25 gift card
Tweet one of the following:
@TCreativeBlogs is juicing it up w/ @tropicanaOJ 50% less sugar & cal. Orange Dream Slush recipe. #trop50
It's getting juicy over at @TCreativeBlogs with @tropicanaOJ  enter 2 win a $25 gift card. #Trop50 http://ht.ly/8ozhb
A juice with Purevia! @TCreativeBlogs makes an Orange Dream Slush using #Trop50 @tropicanaOJ
I'm off to enjoy my Orange Dream Slush.
Yep, I was paid for this campaign, but it's my opinion through and through.