It's been a busy summer! I'm headed to BlogHer where I'll be speaking (yikes) and then I think I'll cruise around the bay area for a few days – While I'm away, Karen from Dogs Don't Eat Pizza is sharing her amazing Upcycled Home Decor! Help her feel appreciated by leaving a nice comment! I'll be back soon! See more DIY Projects here.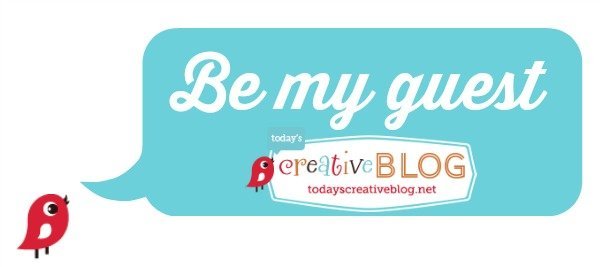 Upcycled Home Decor
Do you stop the car when you see a pile of old windows in someone's trash heap? Do you visit salvage yards to find a door to turn into something cool? If so, you already know the fun and joy of upcycling!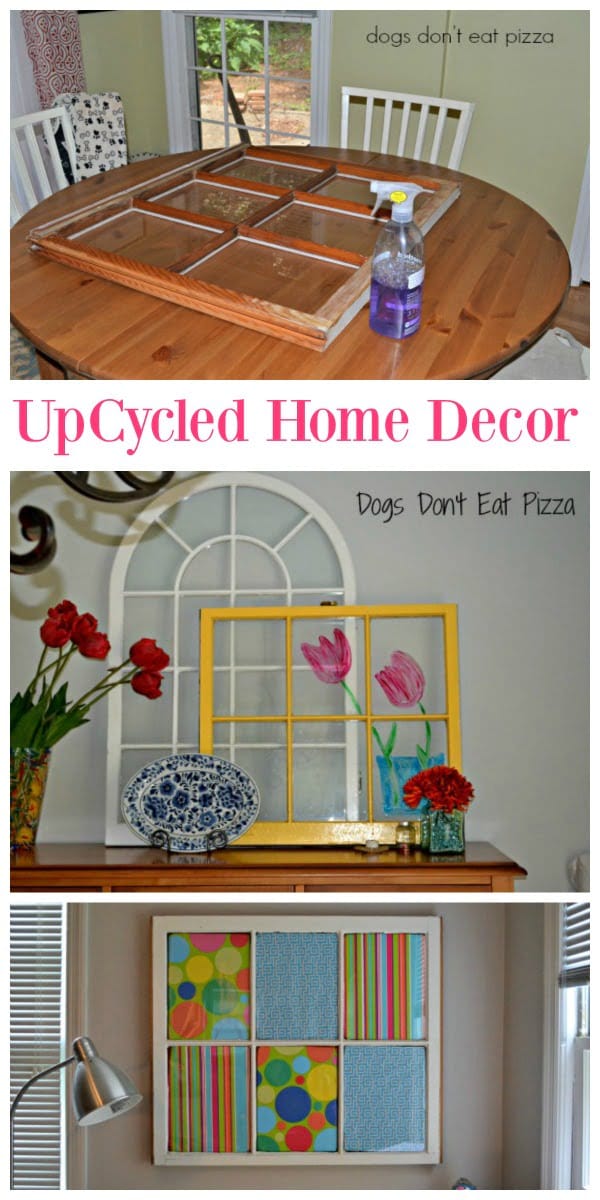 Upcycling simply means taking something old and making it new and beautiful again.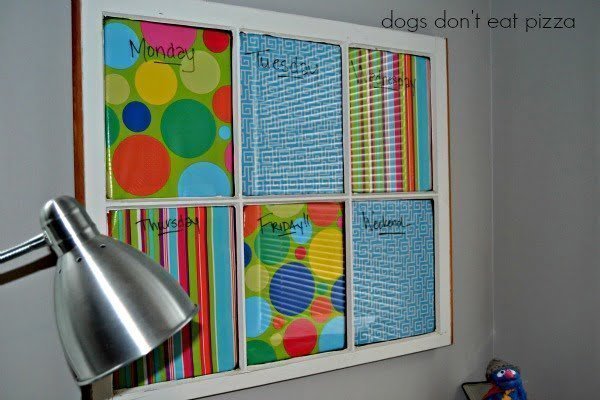 Here are five awesome and easy upcycling projects you can do for your home:
1. Upcycled Table – Give an Old Table New Life with Paint and TLC.
I found this table by the side of the road in my neighborhood. It was missing its glass top, but otherwise was in pretty good shape.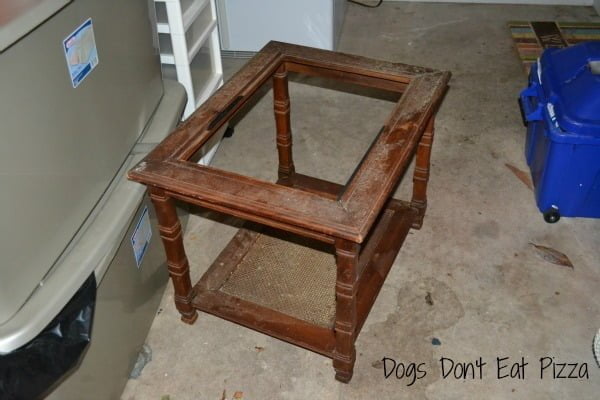 By just cleaning the table, then painting the table with spray paint (paint + primer is best here), and adding a glass top ($34 at a local glass shop), it became the perfect side table for our living room.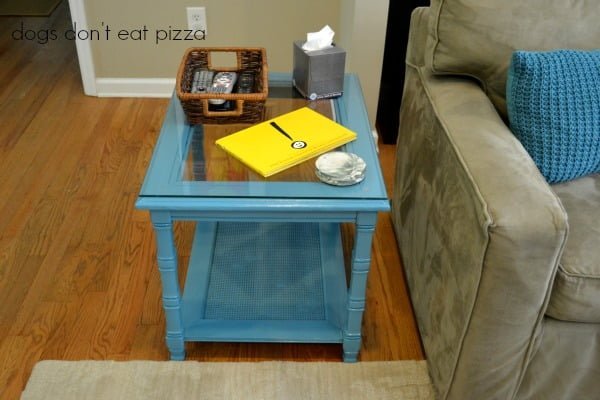 And to think someone was throwing this out! Before you toss a piece of furniture to the curb, consider whether a new coat of paint or some TLC can refresh it into something new.
2. Upcycled Old Window Becomes a Dry-Erase Memo Board.
I love old windows. I have a thing about them, actually. For a long time, I had a pile in my garage, just waiting for a project! I find them at the curb all the time.
I took one of my found windows and made a dry-erase memo board/calendar. Glass is the perfect dry-erase surface. First I cleaned the window well with all-purpose cleaner: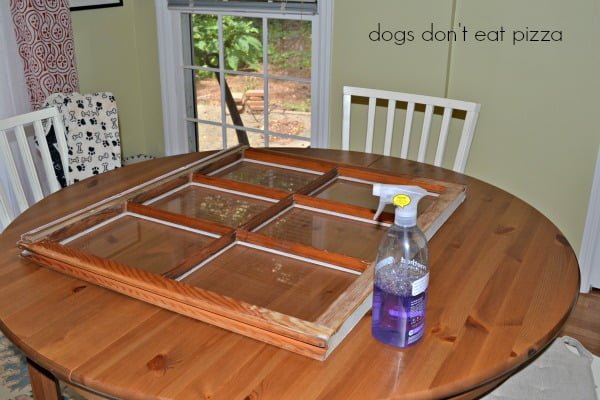 Then, for the background, I duct-taped wrapping paper to the panes. You could use any kind of decorative paper here. Voila! A dry-erase memo board that is perfect to keep track of a week's activities: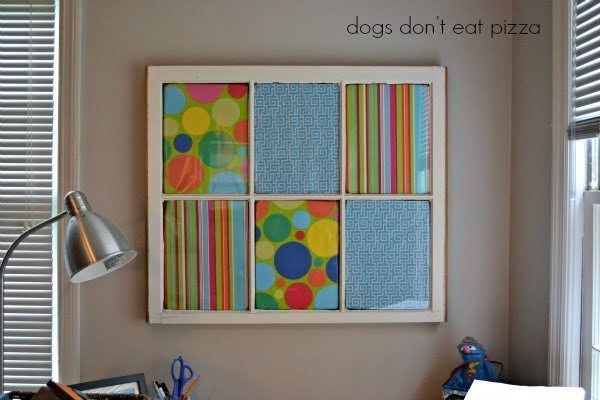 3. Upcycle Windows as Art.
You can use windows to create new art or frame art you already have.
I painted the back side of this yellow window and used it as art in my dining room: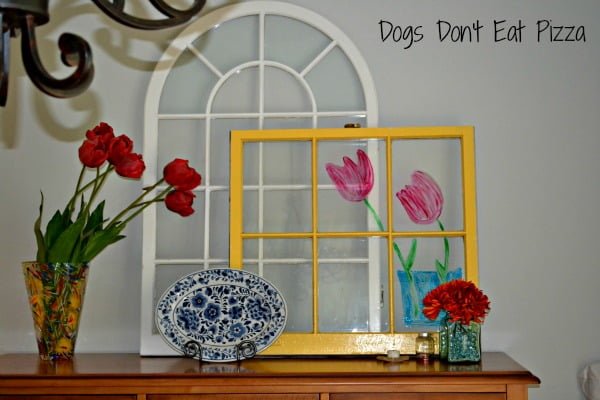 You can find paint for glass at any craft store. The white window behind it came from a cabinet that used to be in our breakfast room. The cabinet was falling apart, but the window was in good shape and I loved the shape of it.
You can also use windows to frame art. I loved this paint-on-metal art, but it needed a frame or something substantial to give it added pop. I used an old window to frame it and now it looks more substantial: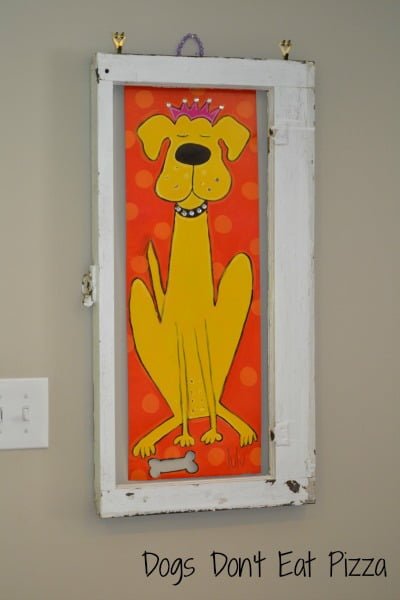 4. Upcycled Doors.
Old doors can be reused in many ways. For example, I turned an old door into my "new-to-me" desk: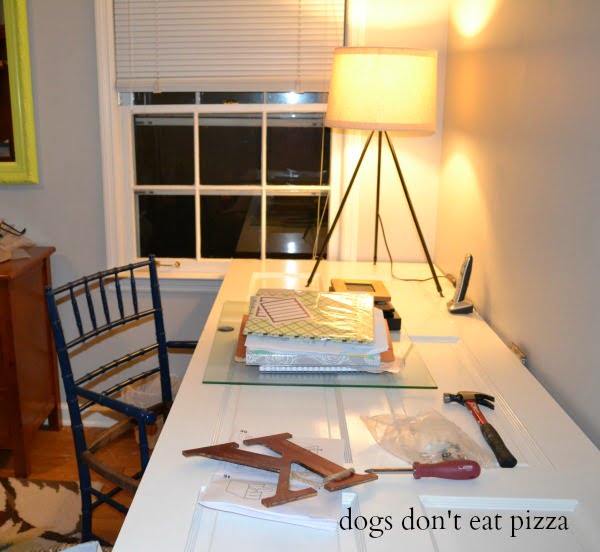 And I love this screen door reused as a trellis:
5. Ucycled Shutters.
Shutters are great to upcycle into something new. For example, I am using some shutters I got for free (yes, free!) at a salvage yard to make a privacy screen in our backyard.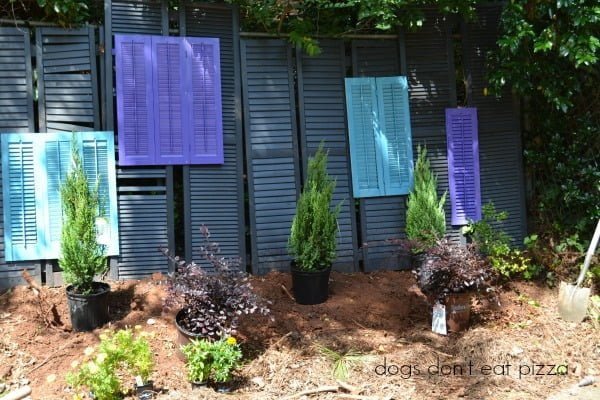 You can also use old shutters for message boards, by just adding some clothespins or clips:
I hope this has given you some ideas for how to transform old materials into new and funky items for your home. Visit Dogs Don't Eat Pizza for more ideas!
Thanks for stopping by,