Goal-setting just got easier! No matter the time of year, I've got the ultimate vision board kit with so many Vision Board Ideas…No magazines needed! This dream board bundle comes with everything you need to get in the right mindset, set your intentions and make your goals come to life. See a quick look on the Google Web Story.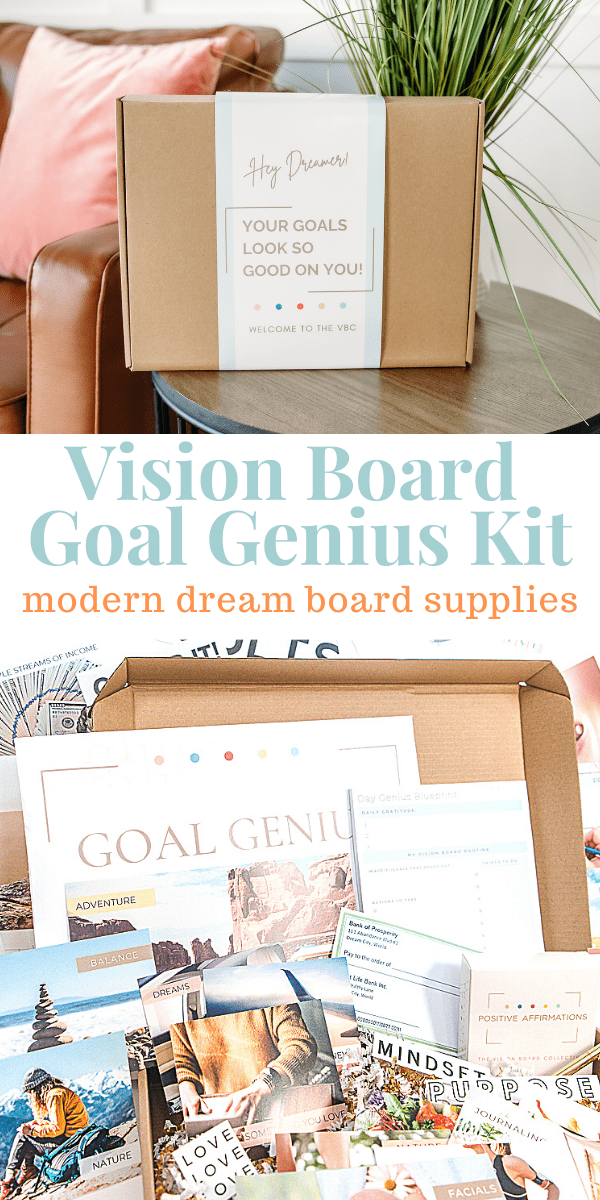 Vision Board Ideas
Make a vision board the easy way! Our Vision Board Collective Kit comes with all the accessories packed with everything you'll need to kick procrastination to the curb and start feeling like a goal-achieving machine. Sarah (pictured below) from Cultivate with Sarah is a fan and is using it to lay out her goals for her Event/Wedding Planning business located in Utah. She was the event planner for my nephew's wedding and did such an amazing job.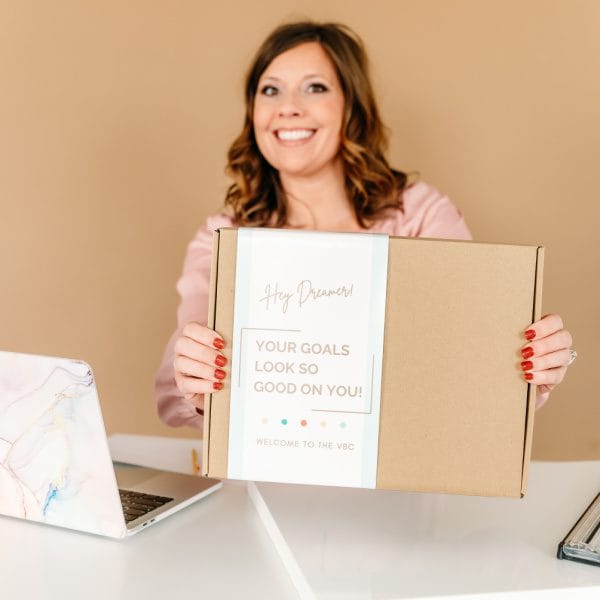 After launching the JackPine Jones Daily Planner, we got busy creating and sourcing all we needed to fulfill my sister and niece's dream of putting together and offering a physical Vision Board Kit that comes with everything you'll need.
You won't even need a stack of magazines… You can say goodbye to those messy magazines and searching endlessly to find the right picture for your board. No more excuses for getting your vision board completed!

PURCHASE YOUR BASIC VISION BOARD KIT HERE

PURCHASE YOUR DELUXE KIT HERE (comes with the magnetic board)
Vision Board Kit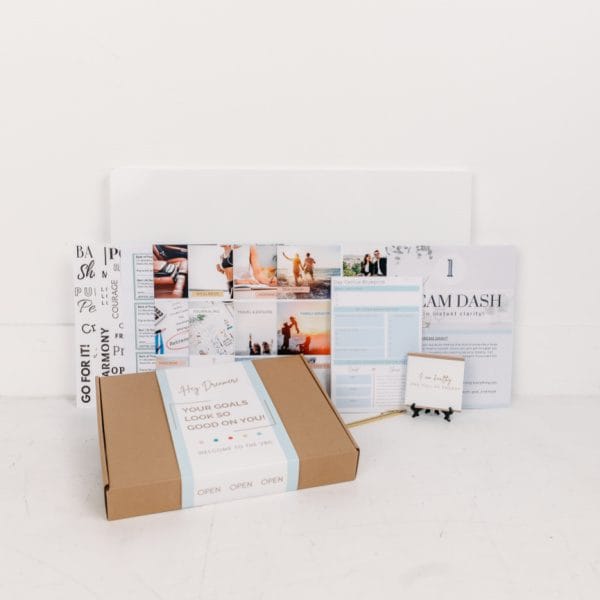 What makes this Vision Board / Dream Board Kit so good? The contents of course!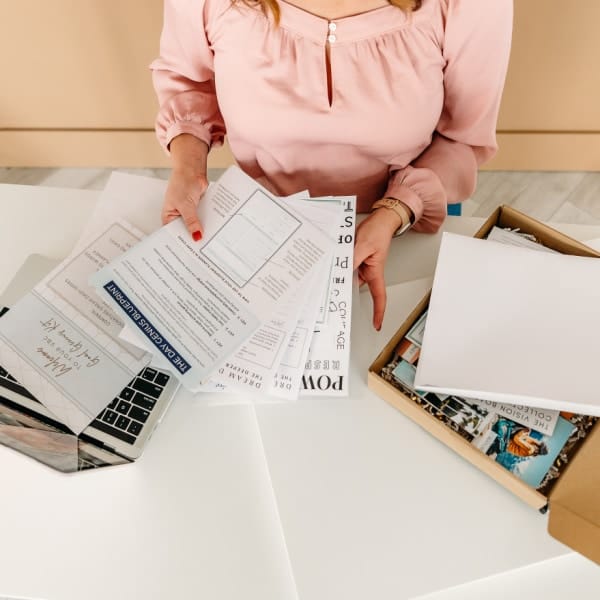 We pack this cute box full of motivational products that just opening it will make you smile.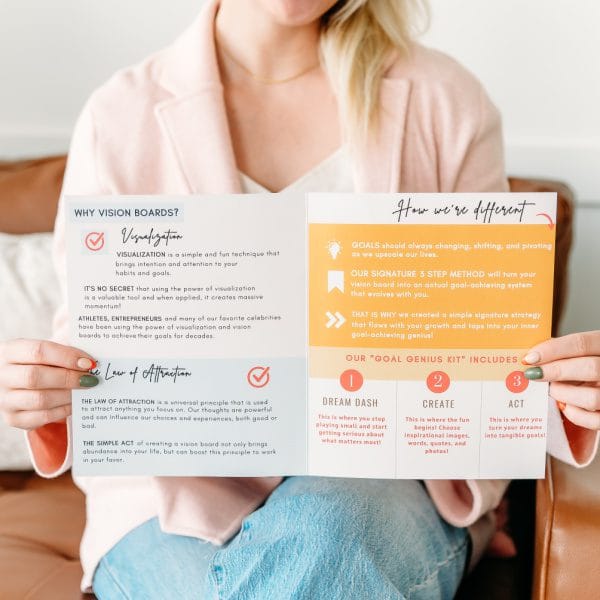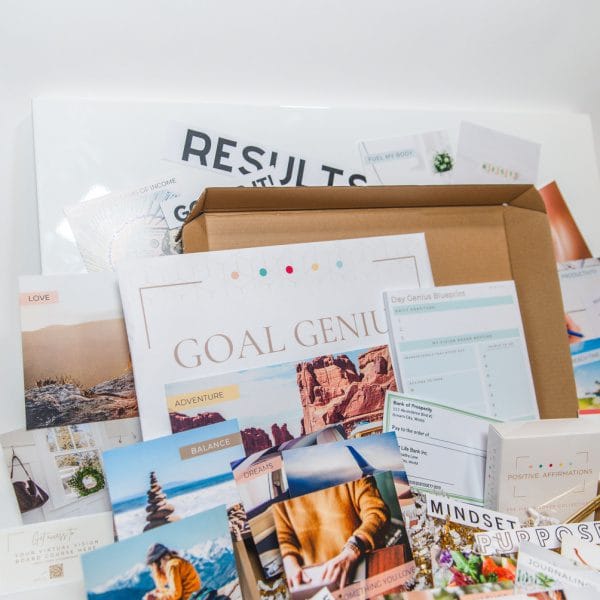 Vision Board Supplies
120 Images – This complete kit comes with 120 modern inspirational pictures.
65 fun font words – Cutouts for bold messages.
52 Affirmation Messages– front and back positive affirmation cards which is a total of 52 affirmations.
Small Easel – perfect for placing on your desk or wherever you'll see it to display your daily affirmation card.
Day Genius Blueprint Planner – Create instant routines and productivity with the "Day Genius Blueprint Planner" and create the focus and consistency you need.
Dream Dash Course – Our "Goal Genuis Kit" is the golden ticket to getting crystal clear on your goals, which includes our signature "Dream Dash" that you won't want to miss! Using all these accessories is a great way to feel like a goal-achieving genius and have a vision board that works for you!

The Dream Dash is a work at your own pace online course. This course helps you identify your goals and how to achieve them. This course is free with the purchase of The Vision Board Collective.

Magnetic Board – This comes with the deluxe kit. You can purchase with or without.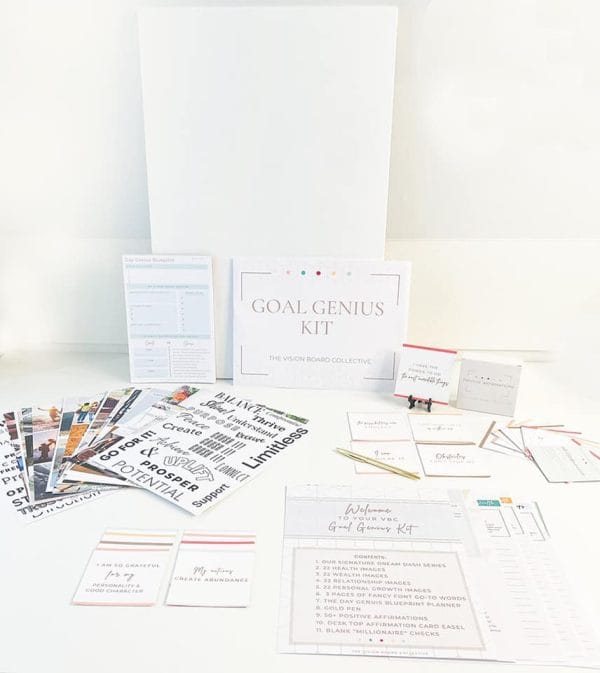 PURCHASE YOUR VISION BOARD KIT HERE!

PURCHASE YOUR DELUXE KIT HERE (comes with the magnetic board)
Vision Board – How to Make
When you use our vision board kit, making a vision board is SO EASY! All the contents (listed above) are great at prompting and giving your an inspirational nudge in getting started. That's the hardest part. Our dream board/vision board kit guides you to find and mark your goals. You'll be full of inspiration before you know it.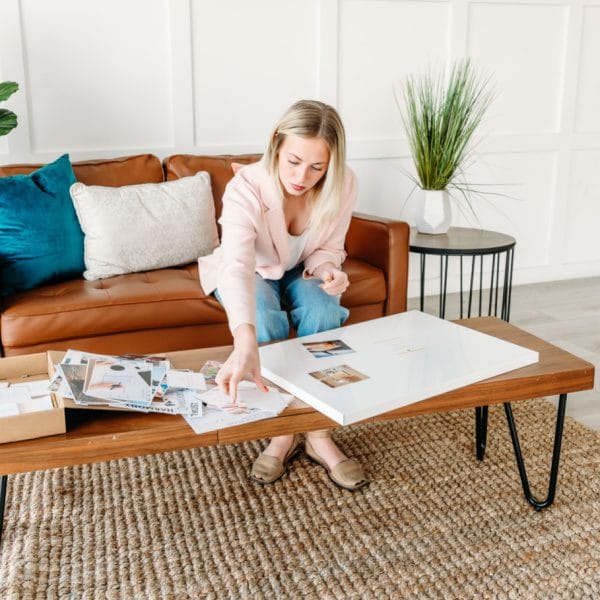 Open your Vision Board Kit and separate all the contents. You have your inspirational words, affirmation cards, Image sheets, day genius blueprint, and dream dash information.
Cut out the words & images that inspire you. I like having them all cut to thumb through. Some people like to cut out only what they're using for the time being.
If you have the Deluxe kit, you'll start placing your images and words on your magnetic board.
If you're not using our magnetic board, you can use a large poster board and a glue stick.
When placing things on your board, you can place them randomly, or perhaps you want a more minimal look. There is no wrong way. This is YOUR board. It needs to be inspiring to you only. It's all about the message.
Place your Vision Board somewhere you can easily see it when needed. Some people like to look at it daily to stay focused.
Vision Board Examples
It's always nice to see different vision board ideas and examples. But remember, your board is yours and should not be compared or judged.
You can leave white space to add more later, or you can fill it and layer as you please.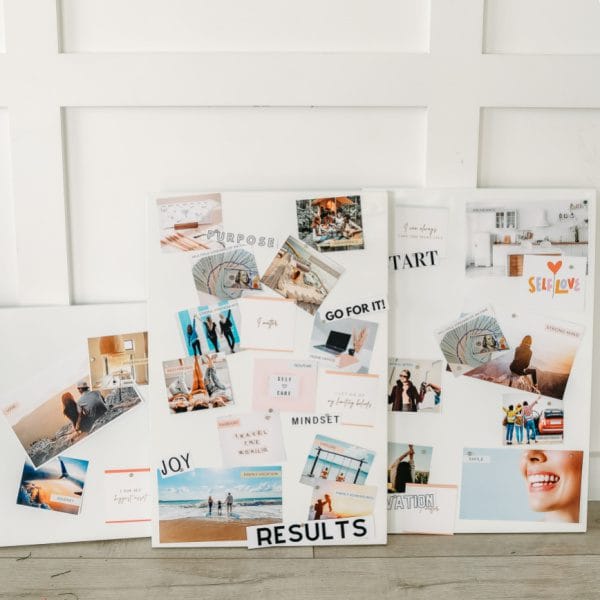 PURCHASE YOUR VISION BOARD KIT HERE!

PURCHASE YOUR DELUXE KIT HERE (comes with the magnetic board)
We all have goals, but finding the inspiration and motivation we need to reach those goals can be tricky. Creating a dream board using vision board ideas, along with hard work keeps you focused making your goals more attainable.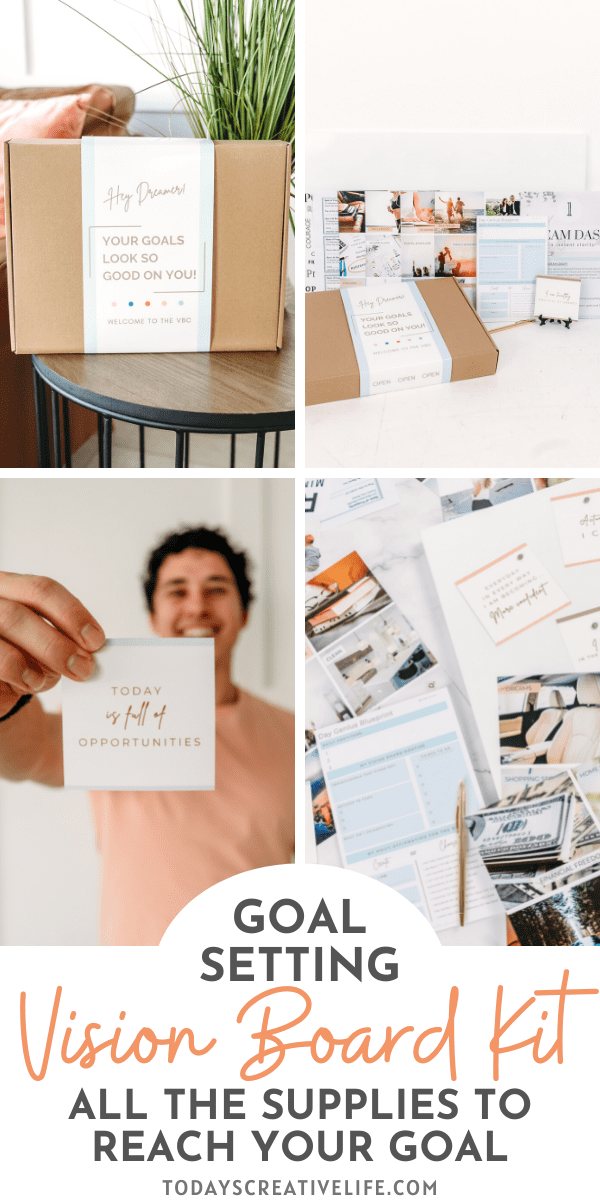 Photos by Britanee Jean Photography – Lifestyle, Brand & Product photographer.
Organizing Ideas for Your Home
Simple and creative ways to organize your home.