I'm so grateful to have such amazing bloggers to fill in while I'm gone. Kara from Happy Go Lucky is sharing her Watermelon Utensil Holder with you today, just in time for the 4th of July BBQs! How cute would this be? It's all about watermelons lately! Check out the Watermelon Stenciled pouch you can also make.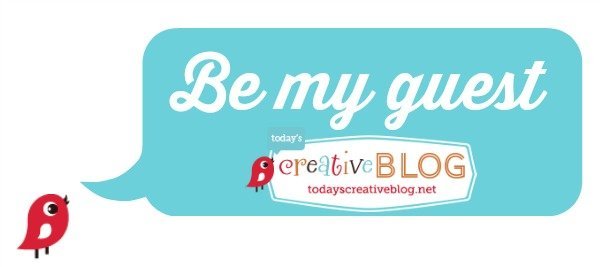 Happy 4th of July everyone!
I'm so excited to be Kim's guest today. I'm Kara and I blog over at Happy Go Lucky where I love sharing easy and inexpensive craft projects.
Watermelon Utensil Holder
Today I'm sharing two fun craft projects to brighten up your next barbeque.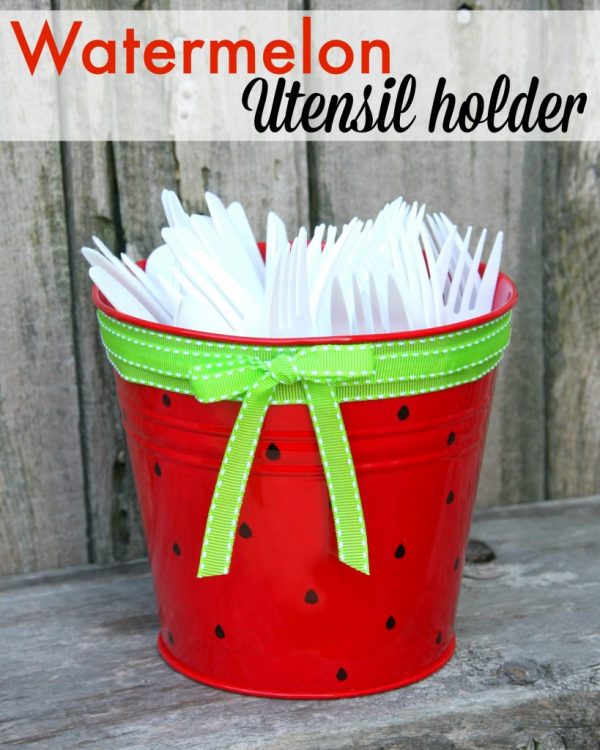 I've been a little obsessed with Watermelon lately. It all started with a watermelon candle I bought recently that smells amazing. So I thought it would be fun to make a watermelon utensil holder for our next backyard barbecue.
This is such a fun and easy craft project.
Supplies Needed
Red bucket
green ribbon
black sharpie
double sided tape.
Simply wrap the green ribbon around the top of the bucket and secure into place using the double sided tape. Then draw on your watermelon seeds using the sharpie.
That's it!
Now your utensil holder looks like a cute watermelon.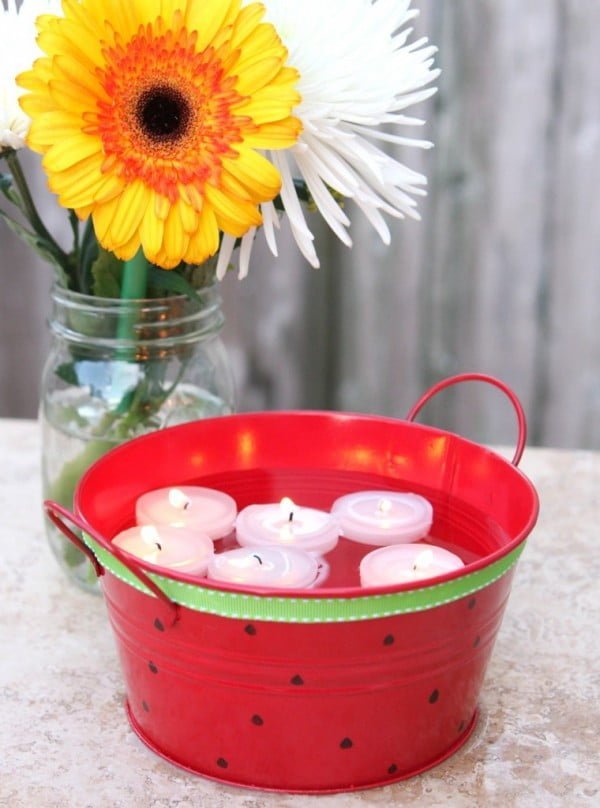 I also made a pretty candle holder using a small red bucket and some floating candles. I found both of the buckets at The Dollar Store so not only was this project easy but it was also inexpensive.
Such a fun little addition to any picnic table.
I hope you have fun making your own watermelon buckets. I think I'm going to make a watermelon chip bowl next:)
I would love for you to come visit Happy Go Lucky and say "Hi!". I would also be thrilled to see any watermelon buckets you make inspired by this tutorial.
Thank you Kim for having me as your guest today!