TCB readers are SO lucky to have all these amazing guest bloggers! What To Do with Kids Art is a dilemma every parent will face at some point. Emily from 52 Mantels has a great solution! Making our own wall art like her idea below or like this DIY Wood Sign is a great way to add a personal touch to your home. Enjoy!
What To Do with Kids Art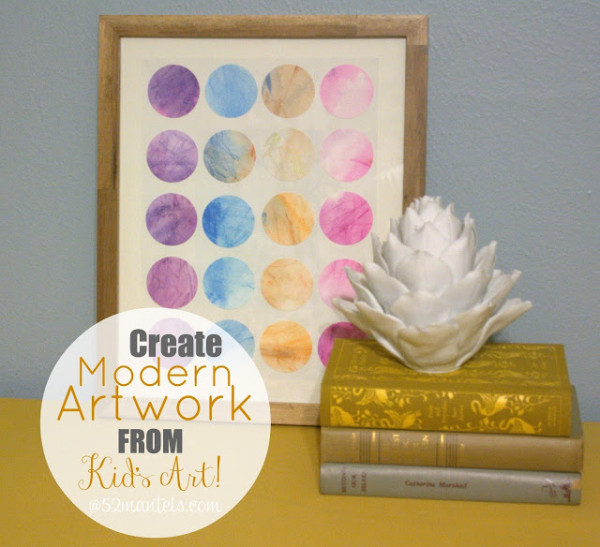 Hi, I'm Emily from 52 Mantels and I'm here to share a pretty tutorial for some modern artwork with the help of your child. A creative, fun activity with your kid AND cute artwork for your home?! This is a double-whammy of goodness!
Turning Kid's Art into Modern Watercolor Art
Supplies:
Pretty 11×17 Frame
1-3 pages of 8.5×11″ watercolor paper
1 pages of 9×12″ art paper
watercolor pencils
paintbrushes and water
2″ circle cutter
glue stick
cute kid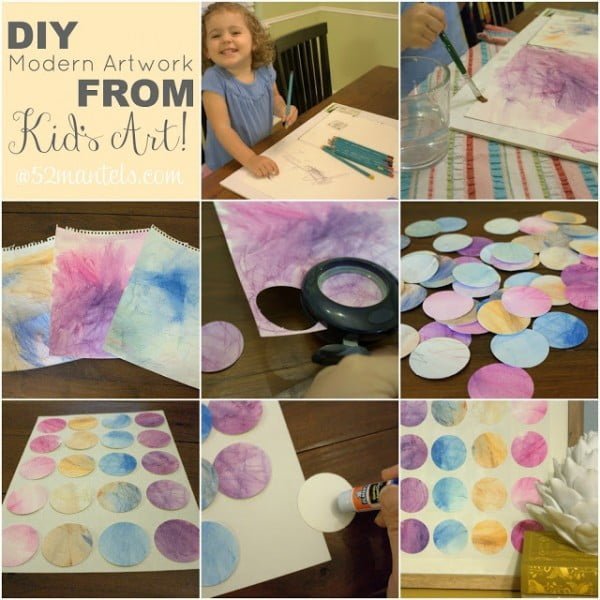 How to make Art from Kids Art
Lay out watercolor paper and pencils and let your child paint until their heart's content. Sit back and marvel at their creativity
After they've created art with the pencils, let them "paint" over the pencils with water and a paintbrush
Let the artwork dry completely
Use the 2″ circle cutter and cut as many circles as possible from each page (I got 20 circles/page).
Grab your 9×12 paper and arrange the circles in your pattern of choice (random would also be fun!)
Use a glue stick to attach each circle in place 7) frame the artwork and display! I chose to mount our artwork on top of mat board for a modern look.
I ended up with way more circles than I actually used. But, that's okay! The leftovers will be fun for another project.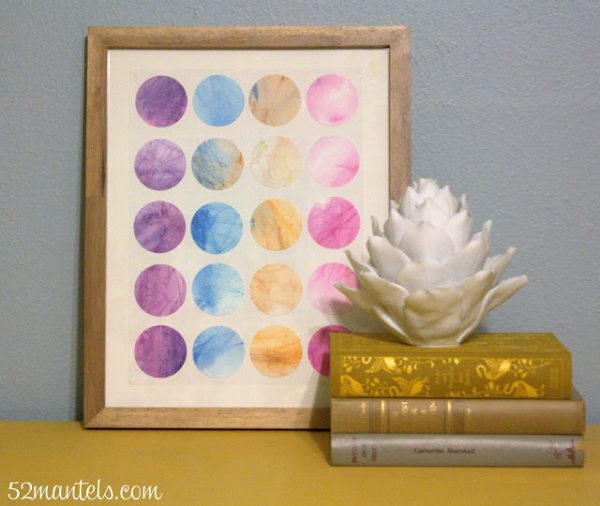 Do I even have to tell you that my daughter was OVERJOYED to help me with this project?! She was beyond proud of our finished product. And, you know what? So was I. Love getting creative with my little partner-in-crime! 🙂
For more fun ideas, visit me over at 52 Mantels. I'd love to have you!